The global energy measurement IC market size surpassed USD 5.14 billion in 2022 and is projected to rise to USD 11.56 billion by 2032, anticipated to grow at a CAGR of 8.5 percent during the projection period from 2023 to 2032.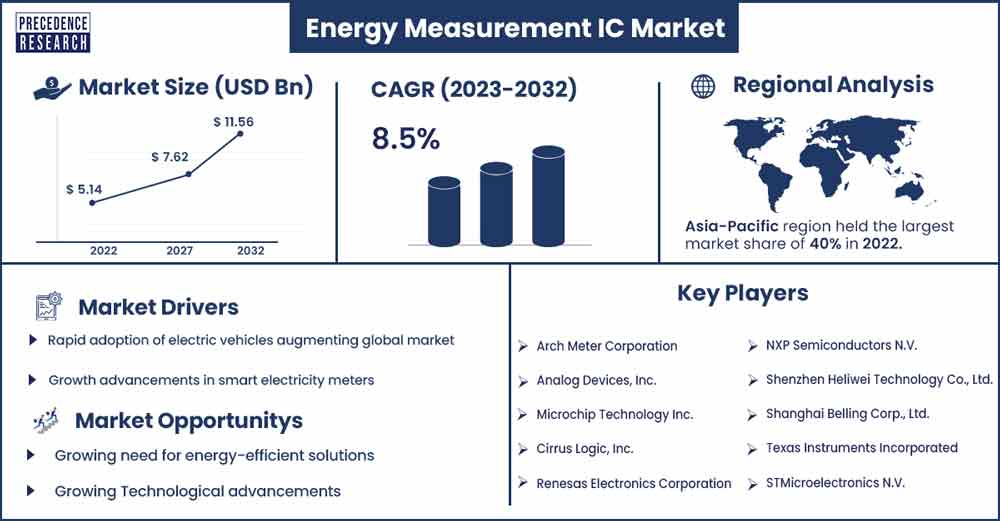 The market is expanding as a result of the rising use of polyphase meters, industrial instruments, and power meter ICs as well as the requirement to track energy use in order to achieve carbon neutrality. The global industry is also being driven by the rapid adoption of smart meters. Due to the development of new technologies like cloud analytics, modern energy measuring ICs provide utility businesses with real-time data and actionable insights on metre accuracy over time, metre malfunction), and better tamper detection. In order to create next-generation electrical meters and combine cloud analytics services to manage metre health, major players are working with leading utilities and metre manufacturing companies. This is making producers of energy measurement ICs to release cutting-edge goods like self-calibrating energy metering ICs.
Market Overview
Energy measuring IC is used in single, dual, and three phase power line systems for very accurate electrical energy measurement. It is able to monitor line voltage and current, compute active, reactive, and apparent energy, as well as instantaneous RMS voltage and current. Energy measuring ICs aid in resolving issues with upcoming smart meter systems. Due to the increased technological development in electric metering, substation automation, and developing applications like solar/wind generating and energy storage, the market demand for energy measurement ICs is anticipated to grow significantly in the future.
Regional Insights
Asia Pacific accounted for a considerable portion of the global energy measurement IC market in 2022 due to the presence of major market players and rapid technological development in the area. For producers of energy-measuring ICs, China, India, and Japan provide lucrative potential. Due to its biggest amount of smart meter installations, China controls the market in Asia Pacific. The region is making major investments in the field of electrical grids. The growth of data centers and IT hubs, as well as increased investment in smart grid and smart city initiatives, are thereby boosting the Asia Pacific market for energy measurement ICs.
3D Printed Composites Market Report Scope
| | |
| --- | --- |
| Report Coverage | Details |
| Market Revenue in 2023 | USD 5.55 Billion |
| Projected Forecast Revenue by 2032 | USD 11.56 Billion |
| Growth Rate from 2023 to 2032 | CAGR of 8.5% |
| Largest Market | Asia Pacific |
| Base Year | 2022 |
| Forecast Period | 2023 to 2032 |
| Regions Covered | North America, Europe, Asia-Pacific, Latin America, and Middle East & Africa |

Report Highlights
In terms of phase, the single phase and polyphase segments of the worldwide energy-measuring IC market have been identified. In 2022, the polyphase market sector held the maximum market share. A polyphase system consists of two or more voltages that are at equal electrical angles from one another yet have the same amplitude and frequency. In commercial and industrial settings, polyphase electricity meters are frequently utilized.
In terms of application, smart plugs, energy meters, solar inverters, smart power distribution units (PDU), street lighting, EV charger wall boxes, and others segments make up the global market for energy measurement ICs. In 2022, the global market was dominated by the sector of solar inverters. It is anticipated to expand at the quickest CAGR throughout the projection period.
Market Dynamics
Driver
Rapid adoption of electric vehicles augmenting global energy measurement IC market
The transition to electric mobility is a successful strategy for lowering carbon emissions in the transportation sector. The rapid adoption of electrical vehicles requires a network of EV charging infrastructure that is dependable and accessible. Many governments have implemented measures to promote the expansion of the charging infrastructure network. Consequently, there is a growing global demand for electric automobiles. EV charging stations are now accessible in public areas, private residences, even in commercial and residential buildings like offices and condos.
Energy measurement IC is only used in wall boxes with EV chargers. Due to its compatibility for MODBUS, Ethernet, and Bluetooth Low Energy (LE), it has the possibility to add new interfaces. Its modular design offers a variety of connectivity options, from Wi-Fi and LTE to PLC. Additionally, these ICs are utilised in systems for swappable battery charging. Electric car use is being encouraged by a number of developing economies. The Bureau of Energy Efficiency (BEE) estimates that 10.76.420 electric vehicles were on the road in India as of March 2022. Around 1.742 Public Charging Stations (PCS) were available at that time. Thus, the market for power monitoring is expanding as EV vehicles and charging facilities become more widely used.
Restraint
Regulatory standards
Regulatory standards and certifications are an important aspect of the energy measurement IC market as they ensure that products meet specific accuracy and reliability requirements. These standards are established by regulatory bodies such as the International Electrotechnical Commission (IEC) or national organizations like the National Institute of Standards and Technology (NIST) in the United States.
Complying with regulatory standards and certifications can be a significant challenge for companies operating in the energy measurement IC market. These standards typically require rigorous testing and verification processes to ensure that the ICs meet specific performance requirements, such as accuracy, precision, and stability. Compliance can involve testing under various environmental conditions, and for long periods of time, to ensure that the ICs continue to meet the required standards throughout their lifetime.
Meeting these standards can be costly and time-consuming, which can limit the number of companies that are able to enter the market. Companies must invest significant resources in research and development to ensure that their products meet the required standards. In addition, compliance with standards often requires a significant investment in equipment and facilities for testing and calibration.
However, compliance with regulatory standards and certifications is critical for companies operating in the energy measurement IC market. Non-compliance can result in legal and financial penalties, damage to the company's reputation, and potentially harmful consequences for end-users. Compliance with standards can also be a significant competitive advantage for companies in the market, as customers may be more likely to choose products that meet these rigorous requirements.
Opportunity
Technological advancements
Innovations in sensor, microprocessor, and wireless communication technologies have produced more sophisticated energy measurement ICs that are more accurate and dependable. These developments give businesses in the energy measuring sector the chance to build new products.
Challenge
Complex energy measurement requirements
In many sectors, like the automobile, building automation, and industrial automation, the demand for energy-efficient technologies is rising quickly. In these systems, energy measurement integrated circuits (ICs) are essential parts that allow for the monitoring of energy consumption as well as the optimization and control of energy use. However, the energy measuring specifications for these systems are getting more intricate, creating tough problems for IC manufacturers.
The fact that energy measuring requirements varies significantly between different applications is one of the main issues. For instance, an energy measurement IC used in a car application would be required to measure energy consumption for various parts like the air conditioning system, transmission, and engine. On the other hand, a building automation system's energy measuring IC can be required to track energy usage for various building components, including lighting, HVAC, and elevators. Energy measuring ICs must be extremely flexible and adaptable to many use cases due to the variety of applications.
The requirement for great accuracy in energy measurement presents another difficulty. The accuracy standards for energy measurement ICs are getting stricter in many applications. For instance, to guarantee the system operates effectively, the precision of energy measurement in some industrial automation applications must be within a few percentage points. It takes complicated calibration procedures and cutting-edge signal processing techniques to achieve such great accuracy.
Energy measurement ICs also need to be capable of working with a variety of energy sources, including AC and DC power as well as various voltages and currents. The variety of energy sources and the range of voltage and current levels increase along with the complexity of the needs for energy monitoring.
Recent Development
The energy metering IC ADE9153A with auto-calibration capability for single-phase energy measuring applications was introduced by Analog Devices, Inc. (ADI) in July 2018. The ADE9153A equipped with sure technology automatically calibrates the measurement system, cutting down on labour and equipment expenses as well as calibration time. This single-phase energy metering integrated circuit is widely utilised in industrial, data center, EV charging, and intelligent lighting applications.
Major key Players
Arch Meter Corporation
Analog Devices, Inc.
Microchip Technology Inc.
Cirrus Logic, Inc.
Renesas Electronics Corporation
NXP Semiconductors N.V.
Shenzhen Heliwei Technology Co., Ltd.
Shanghai Belling Corp., Ltd.
Texas Instruments Incorporated
STMicroelectronics N.V.
Market Segmentation
By Phase
By Application
Smart-Plugs
Energy Meters
Solar Inverters
Smart Power Distribution Units
Street Lighting
EV Charger Wall Boxes
Others
Buy this Research Report@ https://www.precedenceresearch.com/checkout/2837
You can place an order or ask any questions, please feel free to contact at sales@precedenceresearch.com | +1 9197 992 333