The global ferulic acid market size was evaluated at USD 73.38 million in 2022 and it is expected to touch over USD 135 million by 2030, growing at a CAGR of 7.92% during the forecast period 2022 to 2030.
Ferulic acid was a common chemical component in cell walls of plants that are covalently linked to molecules like xyloglucans & arabinoxylans as side chains. These are mostly present in the seeds of plants like wheat, rice, and oats, as well as in fruits and nuts including apples, artichokes, coffee, and peanuts. Additionally, polysaccharides found in cell membranes, such as arabinoxylans in grasses, pectin in spinach, sugar beet, and also xyloglucans in bamboo, are discovered to form ester cross-links using ferulic acid. Ferulic acid has strong antioxidant potential because of the free formation of a resonance stabilized phenoxy radical that is caused by its phenol center and extended chain length conjugate (proteins and carbs).
Ferulic acid or turmeric food supplements are regarded as a nutritional strategy to reduce Alzheimer's disease-related oxidative injury and amyloid pathogenesis. Due to its structural properties, it also functions as an apoptosis inhibitor, an anti-inflammatory drug, an antioxidant, and a cardioprotective agent. One of the key factors projected to fuel the target market's expansion is the expanding desire for ferulic acid within the healthcare industry for a variety of therapies. Because of its antioxidant properties, ferulic acid is essential in preventing heart disorders and decreasing cholesterol levels.
However, there may be factors impeding the expansion of the target audience, such as the high cost of ferulic acid and pre-existing adverse reactions with raw resources like barley, corn, and wheat. It is anticipated that expanding research and development efforts by major players to just provide ingredients with ethical and sustainable sourcing will offer attractive opportunities to the worldwide industry. In addition, it is projected that throughout the forecast period, prominent players in the worldwide ferulic acid market will benefit from the innovation of strategies to enhance cosmetic items.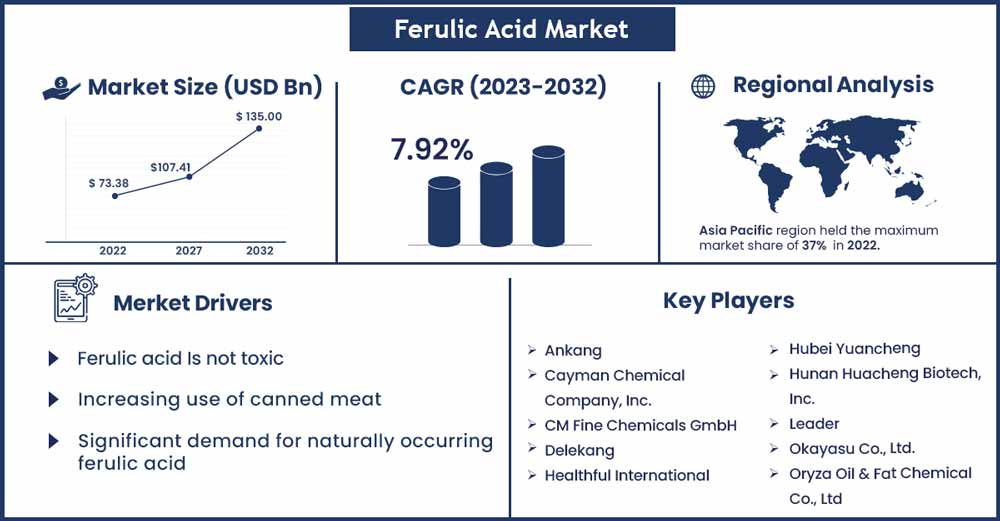 Report Highlights:
The growth of the global ferulic acid market is predicted to be driven by the rise in demand for anti-aging creams. Ferulic acid is also used in the food business as an ingredient. The cell reinforcement ability is often not just limited to preventing wrinkles; it also fights cancer and aids in the recovery of diabetes. Ferulic acid exhibits a broad range of biological effects, including sedation, the activation of transcriptional regulators, antimicrobial properties, metal chelation, resistance to negatively susceptible, antiplatelet, increased sperm viability, flag transduction, chemical mobility regulation, and performance elaboration. These adaptable qualities will obstinately entice the pharmaceutical industry, propelling the glycoside industry to a more notable degree. The ferulic acid marketplace is dominated by the cosmetics industry. The majority of synthesized ferulic acid is utilized in the manufacture of cosmetics. Ferulic acid is employed in the creation of goods used topically since it is known to have antioxidant, antibacterial, and anti-inflammatory qualities.
Ferulic Acid Market Report Scope:
| | |
| --- | --- |
| Report Coverage | Details |
| Market Revenue in 2023 | USD 79.19 Million |
| Projected Forecast Revenue in 2030 | USD 135 Million |
| Growth Rate from 2022 to 2030 | CAGR of 7.92% |
| Largest Market | Asia Pacific |
| Base Year | 2022 |
| Forecast Period | 2022 To 2030 |
| Regions Covered | North America, Europe, Asia-Pacific, Latin America, and Middle East & Africa |

Regional Snapshots:
A surge in chronic diseases and heightened public awareness of the value of children's health are the main reasons why North America, led by Mexico, Canada, and the U.S., should see a growth of over 5.5%. This chemical not only reduces the number of free radicals produced by muscles, but also improves lipid profiles, reduces oxidative stress, and lowers the risk of cardiovascular disease. Rising healthcare costs, increased demand for preventative treatment, and significant technical breakthroughs could all contribute to the expansion of the local organic ferulic acid sector.
The UK and Europe performed better in 2018 in terms of the rise of revolutionary medical procedures and tailored medications, with Germany and France in the lead. It is useful in the treatment of coronary heart disease, cancer, diabetes, atherosclerosis, and Alzheimer's disease. Due to rising urbanization and the growth of online retail, the processed food market in the Asia Pacific, led by India, Japan, and China, should approach million by 2025. This product is often used as a food ingredient because of its ability to prevent ingredient photo-oxidation and lack of toxicity. It is particularly suitable for dried fruits, cereals, juices, and soy products. Growing government attempts to boost the food industry's economy along with an increase in canned meat consumption because of its affordable pricing should help the organic ferulic acid market.
Market Dynamics:
Drivers:
The demand for organic ferulic acid has been rising on the global market because of its non-toxic properties. Ferulic acid's compatibility with soy products, cereals, juices, and dried fruits is essential for market growth. Recent growth in the demand for canned meat preservation has helped the global market for organic ferulic acid. Because it is non-toxic, organic ferulic acid is appropriate for usage in this field.
The market for pure ferulic acid is expected to expand dramatically during the next few years. Famous investors have taken notice of this big market development dynamic. The ongoing field of pharmaceutical testing and research has also contributed to the growth of the global market. The expansion of the chemicals industry has recently resulted in a sharp rise in demand for organic ferulic acid. It is essential to track global market trends in the aforementioned market segments for pure ferulic acid. These sectors play a significant role in understanding the ferulic acid market's growth rates globally.
Restraints:
The targeted market's expansion may be constrained by the high cost of ferulic acid and pre-existing adverse reactions to basic commodities including barley, corn, and wheat.
Opportunities:
The development of a unified industry for pharmaceutical testing and research has increased the size of the world market. The demand for natural ferulic acid has lately grown dramatically on a global scale as a result of the growth of the chemicals sector. The demand for canned, preserved foods has increased recently, which has benefitted the global market for natural ferulic acid.
Challenges:
Ferulic acid may cause an allergic reaction in people who have previously experienced hypersensitivity to its constituents, such as barley, corn, and wheat, which could limit market expansion. This could cause a rash, peeling skin, hives, redness, and itching. When breathed in, the substance can irritate the respiratory tract and aggravate illnesses including chronic bronchitis and emphysema. However, the majority of cosmetic producers make it a point to employ natural substances, which reduces these negative health consequences and should promote market expansion.
Recent Developments:
Leading suppliers like Kingherbs and Hunan Huachung Biotech are focusing on increasing their marketing expenses to draw in a wider consumer base. This strategy is anticipated to improve the yearly income of these companies.
Fat Chemical and Oryza Oil are engaged in significant research and development initiatives to provide new and improved products.
Major Key Players:
Ankang
Cayman Chemical Company, Inc.
CM Fine Chemicals GmbH
Delekang
Healthful International
Hubei Yuancheng
Hunan Huacheng Biotech, Inc.
Leader
Okayasu Co., Ltd.
Oryza Oil & Fat Chemical Co., Ltd
Shanghai Bettersyn Biotech
Sisco Research Laboratories Pvt. Ltd.
Suzhou Leader Chemical Co., Ltd.
Tateyamakasei
Top Pharm Chemical Group
TSUNO CO., LTD.
Xian App-Chem Bio (Tech) Co., Ltd.
Yuansen
Zhejiang Delekang Food Co., Ltd.
Market Segmentation:
By Type
By Application
Cosmetic
Pharmaceutical Intermediates
Others
By Packaging
Interior Packaging
Exterior Packaging
Buy this Research Report@ https://www.precedenceresearch.com/checkout/2198
You can place an order or ask any questions, please feel free to contact at sales@precedenceresearch.com | +1 9197 992 333