The global flight simulator market size surpassed USD 8.13 billion in 2022 and is projected to rise to USD 15.99 billion by 2032, anticipated to grow at a CAGR of 7 percent during the projection period from 2023 to 2032.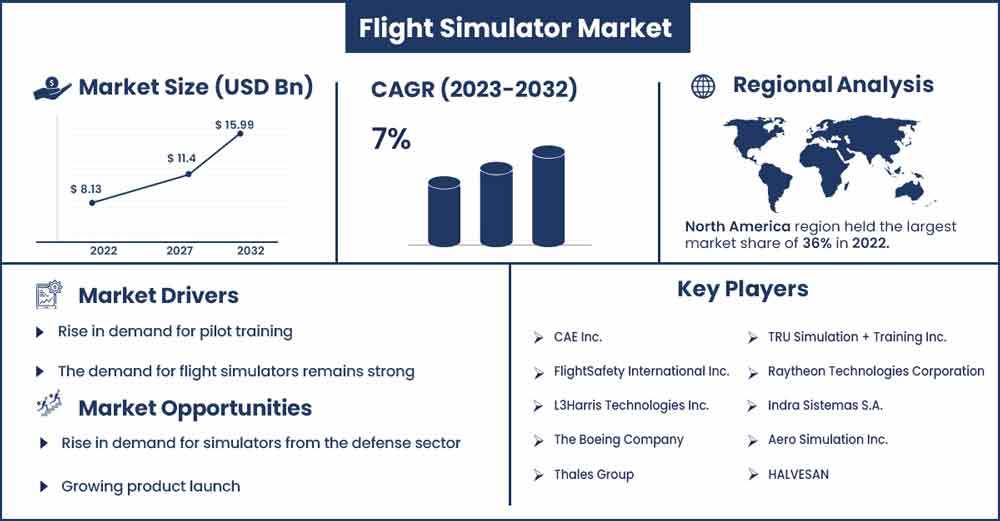 Market Overview
A complex training tool or component of software called a "flight simulator" is intended to stimulate flying an airplane. This offers a safe and controlled environment for pilots, aviation enthusiasts, and aspiring pilots to practice flying without the risks associated with actual flight. These are used for various applications such as pilot, design & testing and others. Flight simulators aim to accurately model the behavior, physics, and systems of specific aircraft types, from small general aviation planes to commercial airliners and military fighter jets. In addition, simulators provide realistic visuals through high-quality graphics and often include 3D cockpit displays. Additionally, they replicate aircraft engine sounds, communication with air traffic control, and environmental audio such as wind and turbulence.
The flight simulator market is driven by several factors including the expansion of commercial aviation, technological advancements, regulatory compliance, rising military training and others. Moreover, the primary driver of the flight simulator market is the ongoing demand for pilot training and certification. Airlines and aviation academies use flight simulators extensively to train both new and experienced pilots. This demand is driven by the global shortage of pilots and the need to maintain high safety standards. Over the next ten years, the Federal Bureau of Labor Statistics predicts that American Airlines will need to employ 14,500 pilots annually.
According to the Bureau of Labor Statistics, in 2022, there were 135,300 airline and commercial pilots working; this number is predicted to increase by 6% over the following ten years, or more than 18,000 new employees each year. According to Future & Active Pilot Advisors, a career advisory company for pilots, as of early July, airlines have employed more than 5,500 pilots, which is already more than in any entire year since at least 1990.
According to an analysis issued in August by Oliver Wyman, the North American aviation sector will need 8,000 more pilots by 2022, or 11% of the current workforce. By the end of the decade, it is predicted that this gap will increase to more than 29,000.
Regional Insights
North America is expected to dominate the market during the forecast period. In the region, the United States has one of the largest flight simulator industry. The presence of major aircraft manufacturers, increasing commercial flights, airlines and military organizations contribute to the market size and dominance in the region. For instance, according to statistics provided by the Federal Aviation Administration (FAA), every day, there are 40,000+ flights with 2.6 million passengers within the US alone.
Moreover, the region has a substantial demand for pilot training due to its large commercial aviation sector. Airlines, flight schools and military agencies rely on advanced flight simulators to train and certify pilots. Major airlines, including Delta Air Lines, America Airlines, and United Airlines, invest in modern simulator technology. For instance, as per the data given by Boeing, North America will need 128,000 pilots by 2032.
On the other hand, Canada holds a significant market share in the region owing to the robust aviation industry. The country has a robust aviation industry with a focus on both commercial and military aviation. Airlines like Air Canada and WestJet, as well as regional carriers, rely on flight simulators for pilot training and certification. The military, including the Royal Canadian Air Force (RCAF), also utilizes simulators for training purposes. For instance, in January 2023, for the RCAF, Canada committed to buy a new fleet of 88 cutting-edge fighter planes. The federal government said that the F-35s will make up this new fleet. The first deliveries of these aircraft are scheduled to start in 2026, and between 2032 and 2034, they want to have the entire fleet fully operational. Thereby, driving the market growth over the forecast period.
Flight Simulator Market Report Scope:
| | |
| --- | --- |
| Report Coverage | Details |
| Market Revenue in 2023 | USD 8.7 Billion |
| Projected Forecast Revenue by 2032 | USD 15.99 Billion |
| Growth Rate from 2023 to 2032 | CAGR of 7% |
| Largest Market | North America |
| Base Year | 2022 |
| Forecast Period | 2023 to 2032 |
| Regions Covered | North America, Europe, Asia-Pacific, Latin America, and Middle East & Africa |

Market Dynamics
Drivers
Growing utilization for training purposes
The market for flight simulation is expected to be boosted by the growing use of simulation and virtual training technologies in commercial and military sectors to ensure safety like situational awareness and skill competence. Similar to this, flight simulators have emerged as a consequence of R&D efforts focused on AI and VR, providing motion control and navigation mechanisms that will benefit the business.
Regulatory compliance
The use of approved flight simulators for pilot training is required by the strict laws and safety standards imposed by aviation authorities, including the Federal Aviation Administration (FAA) in the United States and the European Union Aviation Safety Agency (EASA). The demand for sophisticated simulators is driven by adherence to these rules. For instance, EASA, FAA, and CAAC FSTD regulations state that Avion simulators are qualified to the highest requirements (Level D). An aviation authority performs qualification, which comprises (subjective) flight testing and (objective) QTGs (Qualification Test Guidelines). Thus, this is expected to drive the market growth.
Restraints
Concern over data and environment
Flight simulator systems generate and store a vast amount of sensitive data. Ensuring the security of this data is a growing concern, particularly in the context of cyber threats. Additionally, the energy consumption and environmental impact of running large flight simulator facilities are considerations that need to be addressed, especially in the context of sustainability goals. Thus, this is expected to hamper the market growth during the forecast period.
Maintenance and operating cost
Flight simulators can have significant ongoing operation and maintenance expenditures in addition to the original purchase price. This covers costs for software upgrades, hardware upkeep, and facility requirements (such as space, power, and cooling). Thus, this is expected to hamper the market growth over the forecast period.
Opportunities
Growing product launch
The growing product launch is expected to drive market growth during the forecast period. For instance, in July 2022, at the Farnborough International Air Show 2022, CAE announced the release of CAE 700MXR Flight Simulator, newest innovation in pilot training. With a mini-motion platform and 3600 field-of-view images that give physics-based simulation suited to single-pilot operations, the CAE 700MXR, which is initially aimed at the eVTOL industry, will revolutionize flight training for challenging urban environments.
Pilot shortage and advanced training solutions
The flight simulator business has an enormous amount of opportunity due to the persistent global lack of trained pilots. To fulfil the rising demand for qualified pilots, airlines and aviation colleges need effective training solutions. The use of flight simulators provides a secure and economical solution to this problem. According to Boeing, North America will require 208,000 additional pilots by the year 2039. Over the next twenty years, China's passenger airlines will require the hiring of 124,000 pilots.
By 2039, Europe will require 146,000 additional pilots. Additionally, more efficient and realistic pilot training is now possible because of the development of modern flight simulator technology, which includes high-fidelity visuals, realistic flight dynamics, and immersive cockpit surroundings. Manufacturers might take advantage of the chance to produce innovative simulators that satisfy the changing requirements of training companies. Thus, this is expected to offer an attractive opportunity for the market growth.
Recent Developments
In April 2022, the Federal Aviation Administration (FAA) granted Level D qualification to TRU Simulation + instruction's Cessna SkyCourier Full-Flight Simulator (FFS), enabling pilot instruction to start. The SkyCourier was FAA-type certified by Textron Aviation just one month before this accomplishment. A subsidiary of Textron Aviation Inc., TRU Simulation + Training Inc. is a Textron Inc. business that creates and provides high-fidelity training equipment and support for civil and defense clients.
In July 2022, Airbus chose L3Harris Technologies to provide a comprehensive flight simulator for the A320 series for its Toulouse Training Center. The Reality7e FFS offers a variety of upkeep and support tools, including a secure customer site that lists software versions for upcoming updates and improvements, lowering the lifetime ownership expenses for the airline.
Major Key Players
CAE Inc.
FlightSafety International Inc.
L3Harris Technologies Inc.
The Boeing Company
Thales Group
TRU Simulation + Training Inc.
Raytheon Technologies Corporation
Indra Sistemas S.A.
Aero Simulation Inc.
HALVESAN
Market Segmentation
By Type
Full Flight Simulator
Flight Training Devices
By Platform
Fixed Wing Simulator
Rotary Wing Simulator
UAV Simulator
By Application
Buy this Research Report@ https://www.precedenceresearch.com/checkout/3277
You can place an order or ask any questions, please feel free to contact at sales@precedenceresearch.com | +1 9197 992 333