The global forklift market size surpassed USD 24.06 billion in 2022 and is projected to rise to USD 32.39 billion by 2032, anticipated to grow at a CAGR of 3.02 percent during the projection period from 2023 to 2032.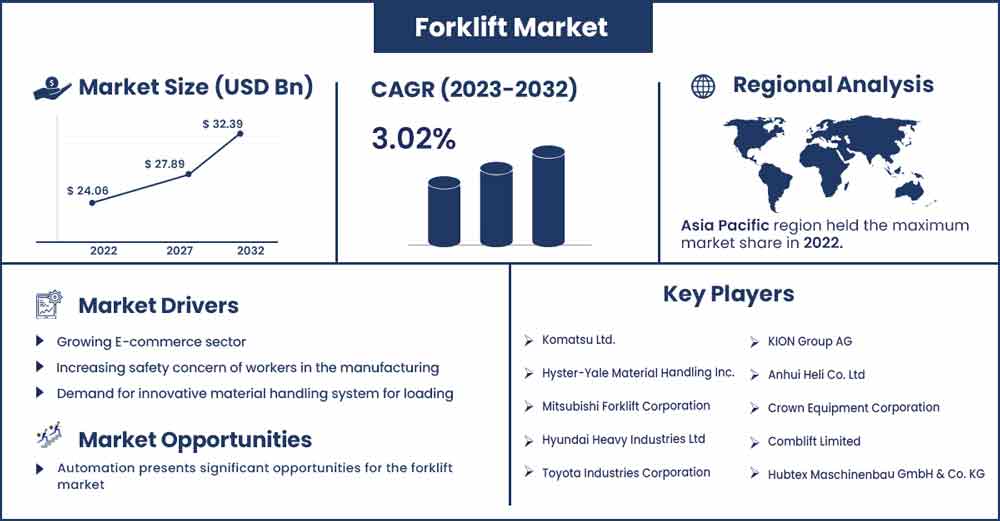 Market Overview:
The forklift market, also known as the industrial lift truck market, refers to the industry involved in the manufacturing, sales, and distribution of forklifts and related material handling equipment. Forklifts are industrial vehicles designed to lift, carry, and transport heavy materials and loads within warehouses, distribution centers, manufacturing facilities, construction sites, and various other industrial settings. Forklift Manufacturers design, engineer, and produce various types of forklifts, ranging from manual and electric-powered models to internal combustion engine-powered forklifts. Manufacturers constantly innovate and improve their product offerings to meet customer demands for efficiency, safety, and sustainability.
Regional Snapshot:
Asia Pacific held the largest share of the market in 2022, the region will continue to grow at a significant pace during the forecast period. Many countries in the Asia Pacific region, such as China, Japan, South Korea, and India, have experienced rapid industrialization and economic growth in recent decades. This growth has led to increased demand for material handling equipment like forklifts to support various industries, including manufacturing, construction, logistics, and warehousing. Asia Pacific is home to some of the world's largest manufacturing economies. The region's manufacturing sector produces a wide range of goods for domestic consumption and export, requiring efficient and reliable material handling equipment to support their operations.
With the rise of e-commerce and the growth of the logistics and warehousing industry in the Asia Pacific region, the demand for forklifts has surged. Forklifts play a crucial role in efficiently moving and organizing goods within warehouses and distribution centers. Urbanization in countries like China and India has driven infrastructure development, including the construction of new commercial and industrial facilities. Forklifts are essential equipment for construction projects and material handling in urban environments. Some governments in the Asia Pacific region have implemented policies and incentives to support domestic manufacturing and industrial sectors. These initiatives have encouraged businesses to invest in advanced technologies, including automation and forklifts, to improve productivity and competitiveness.
Forklift Market Report Scope:
| | |
| --- | --- |
| Report Coverage | Details |
| Market Revenue in 2023 | USD 24.78 Billion |
| Projected Forecast Revenue in 2030 | USD 32.39 Billion |
| Growth Rate from 2022 to 2030 | CAGR of 3.02% |
| Largest Market | Asia Pacific |
| Base Year | 2022 |
| Forecast Period | 2022 To 2030 |
| Regions Covered | North America, Europe, Asia-Pacific, Latin America, and Middle East & Africa |

Report Highlights:
By type, with a sizable revenue share, the rough terrain segment dominated the worldwide forklift market in 2022. Because of its stability on gravel, asphalt, and other uneven surfaces, rough terrain forklifts are frequently employed on construction sites.
By propulsion, the electric segment led the market in 2022. Electric forklifts are becoming increasingly popular among chemical producers and operators of recycling facilities, which is why this rise has occurred.
By operation, the autonomous forklift segment is expected to grow at a significant rate during the forecast period. The rising automation at manufacturing firms promotes the segment's growth.
By application, in 2022, the industrial segment had roughly fifty percent of its global forklift market revenue. Forklifts come in various types and sizes, making them suitable for a wide range of industrial applications. Their versatility contributes to their popularity in different sectors.
Market Dynamics:
Driver:
Growing E-commerce sector
E-commerce companies face pressure to deliver products quickly to customers, which necessitates streamlined order fulfillment processes. Forklifts aid in expediting order processing by enabling faster movement of goods within the warehouse, reducing the time taken to pick and pack orders. With the growing popularity of e-commerce, businesses need to maintain larger and more diverse inventories to meet customer demands. Forklifts are essential in managing this increased inventory turnover by facilitating quick and accurate stock replenishment and inventory management.
E-commerce operations require efficient and productive material handling to meet tight delivery schedules. Forklifts help optimize operations by reducing manual labor, increasing handling speed, and minimizing the risk of product damage. Thus, the booming e-commerce sector drives the market's growth.
Restraint:
Overheating issues
A damaged radiator or clogged radiator is among the most frequent reasons an engine overheats. As dirt and debris accumulate inside the radiator over time, they may clog the ports and cause overheating. Radiator ports need to be checked for caked-on mud or grime. If it is present, it needs to be carefully washed with clean water while not scratching the radiator fins. If the issue persists despite cleaning, the radiator may rust, preventing the circulation of coolant or water. It may either be fixed or replaced. The overheating issues with forklifts can cause damage to the internal components and may pause the operation. Thus, observed to act as a restraint for the market.
Opportunity:
Increasing automation
Automation presents significant opportunities for the forklift market, offering numerous benefits to businesses and industries that rely on material handling and logistics operations. While the initial investment in automated forklifts may be higher, they can lead to substantial cost savings in the long run. Automated forklifts eliminate the need for manual labor, reducing labor costs and minimizing the risk of human-related errors or accidents. Automated forklifts can operate continuously without the need for breaks or rest, leading to improved efficiency and productivity. They can handle repetitive tasks, such as loading and unloading goods, with greater speed and precision than human operators. Thus, it creates an opportunity for the market.
Challenge:
High investment cost and complex integration
The cost of implementing automation in the forklift market can be a significant barrier for many businesses. The initial investment required for purchasing automated forklifts and integrating them with existing systems and processes can be substantial, making it challenging for smaller companies to adopt this technology. Integrating automated forklifts into existing warehouse management systems and other smart technologies can be complex and time-consuming. Ensuring seamless communication and coordination between various automated components is crucial for optimal performance, but it may require specialized expertise and resources.
Recent Developments:
In March 2023, The K55 Pallet Stacker, one of Kivnon's newest AGVs, was introduced at this year's Advanced Factories Expo, which took place from April 18–20 in Barcelona. Customers now have access to an automobile that can autonomously move stack pallets thanks to this latest introduction to the portfolio of Kivon's AGVs, known for their reliability, safety, and precision. The K55 Pallet Stacker, featuring lifting forks, can raise objects to a maximum height of 1500 mm and automatically move goods weighing up to 1200 kg on pallets. The automated forklift is built on a well-engineered, straightforward, dependable design, guaranteeing it completes its tasks smoothly and dependably, similar to all Kivnon AGV/AMR ranges.
In July 2023, The PD, BXC, Platinum II Cushion, and Nomad Series now have new Quad Mast options from Mitsubishi Logisnext Americas Group, a producer and supplier of UniCarriers forklifts in North, Central, and South America. This new service will replace 2-ton Quad Masts from third parties with locally designed, manufactured, and put-together masts.
In January 2023, The German company Kion Group, which makes industrial vehicles, invested more in hydrogen propulsion for powering its machinery. It announced it would spend around $11.7 million on the technology to create its lift truck fuel cell systems. According to company executives, the first forklifts equipped with these systems will be made available, who announced that 24-volt fuel cell technology would be introduced, followed by further systems.
Major Key Players:
Komatsu Ltd.
Hyster-Yale Material Handling Inc.
Mitsubishi Forklift Corporation
Hyundai Heavy Industries Ltd
Toyota Industries Corporation
KION Group AG
Anhui Heli Co. Ltd
Crown Equipment Corporation
Comblift Limited
Hubtex Maschinenbau GmbH & Co. KG
Clark Material Handling Company
Hangcha Group Co. Ltd
Doosan Industrial Vehicle America Corporation.
Manitou Group
Konecranes
Lonking Forklift Co.
Godgej & Boyce Group
Unicarriers Americas
Market Segmentation:
By Type
Counterbalanced
Side Loaders
Rough Terrain
Powered Pallets
Telescopic Handler
Others
By Propulsion
Gasoline
Diesel
Hybrid Electric
Electric
By Operation
By Class
Class 1
Class 2
Class 3
Class 4
Class-5 & Above
By Application
Industrial
Logistics
Construction
Others
Buy this Research Report@ https://www.precedenceresearch.com/checkout/1032
You can place an order or ask any questions, please feel free to contact at sales@precedenceresearch.com | +1 9197 992 333