The global glutamic acid market size exhibited USD 12.43 billion in 2022 and is projected to increase USD 22.5 billion by 2030, poised to grow at a CAGR of 7.7 percent during the projection period from 2022 to 2030.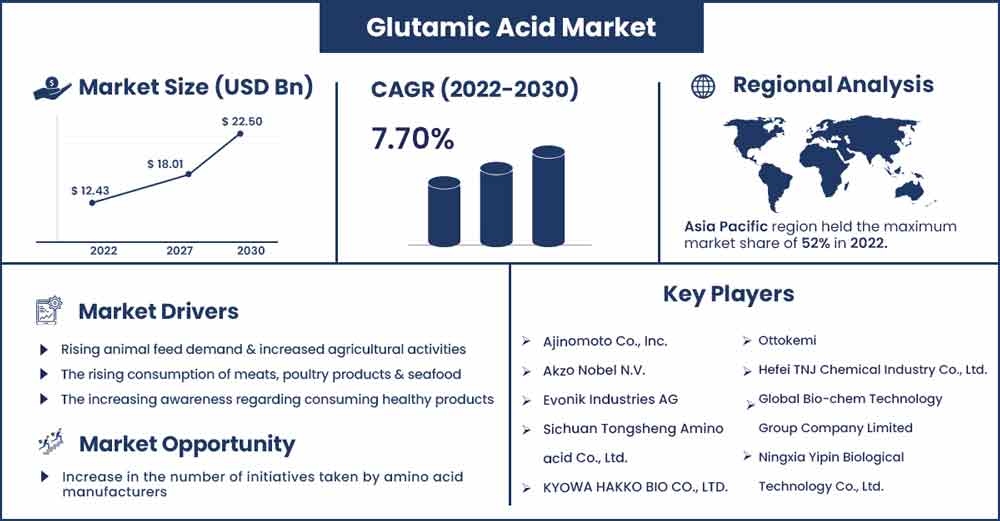 Glutamic acid is one of the most significant amino acids for protein synthesis. Sugarcane molasses, coryneform bacteria, and glucose are the primary raw materials utilized in the production of glutamic acid. This raw material is used in the fermentation process to make glutamic acid. Fermentation includes several steps such as fermentation, centrifugation, carbon adsorption, evaporation, crystallization, and ion exchange. Because of the excellent quality and purity of glutamic acid obtained through the procedure, the production technique is particularly popular among manufacturers. However, the fermentation process necessitates a significant capital investment as well as a significant amount of water and energy.
Glutamic acid is abundant in muscle, spinal fluid, brain, and blood plasma, as well as in all protein-rich meals such as meats, soy proteins, eggs, and cereals. It is required for the digestive system, immune system, neurological system, and energy production in the body. Furthermore, glutamic acid promotes muscle development and is thus widely included in supplements used by athletes and bodybuilders. It also aids in detoxification and acid balance regulation. It is also required for skin tightening and the generation of new skin cells.
Glutamic acid is also utilized in the food business as a flavor enhancer. Glutamic acid demand is increasing due to the growing demand for packaged foods as well as increased usage of food additives and enhancers in the food and beverage sector. As individuals become more aware of the value of consuming nutritious foods, the demand for glutamic acid in the food industry has grown. Furthermore, increased demand from the pharmaceutical industry will enhance glutamic acid use. Glutamic acid is extensively utilised in the treatment of human illnesses such as muscular dystrophy, epilepsy, neurotransmission problems, and cognitive and behavioral impairments. Favorable government policies aimed at assisting the pharmaceutical sector, as well as greater government investment in the industry, are predicted to accelerate the pharmaceutical industry, hence increasing glutamic acid demand in the future years.
Regional Snapshots:
The market is heavily dominated by North America. It is anticipated that the primary driver of glutamic acid use in the area would be the increased demand for medicines. The region's growing older population and the prevalence of non-communicable diseases such as chronic respiratory conditions, cardiovascular conditions, and cancer are two reasons that are driving the need for pharmaceutical goods, including nutritional supplements. Thus, it is anticipated that the increased demand for pharmaceuticals would make it easier to employ this acid. Additionally, the expanding animal feed and additive manufacturing sectors will benefit North American acid use.
In addition, the European market is anticipated to expand significantly over the forecast period due to the region's booming pharmaceutical industry, which is anticipated to profit from the region's growing aging population, increasing health consciousness, and the soaring use of pharmaceutical drugs and supplements. The significant presence of pharmaceutical producers and their increased emphasis on developing cutting-edge pharmaceutical goods are also expected to contribute to the demand for the acid.
Furthermore, it is anticipated that there will be a major increase in demand for this acid in Europe from the cosmetics and personal care sectors. Due to shifting consumer preferences toward dietary supplements as a result of growing health concerns, glutamic acid-based supplements are expected to increase in the area.
On the other hand, the APAC market is anticipated to have the quickest growth during the projected period, expanding at a CAGR of over 7.5%. This can be attributed to the region's expanding consumption of chicken products, rising consumer usage of organic edibles, and rising use of glutamic acid in the food and beverage sector. Also anticipated is an increase in the demand for pet food due to the increased adoption of pets in homes across many different countries, which will lead to an increase in the usage of this acid in pet feed.
In addition, the demand for animal-eatable goods is anticipated to rise in countries like China and India because to the high population of cattle. Because local cuisines are increasingly valuing animal-based items like meat, pork and poultry have emerged as the most popular livestock products in APAC.
Additionally, it is anticipated that the LATAM market would be driven by rising animal feed demand and increased agricultural activities. The demand for ready-to-eat food and drinks is also anticipated to rise as a consequence of changing lifestyle trends, changing consumer eating patterns, and advantageous regulatory advancements in the industry. Furthermore, the continued economic growth and the rise in the number of middle and high-income consumers in countries like Argentina, Brazil, and Mexico are predicted to be the main drivers of the consumption of high-end items like carbonated beverages, sweets, and bakery goods among others.
Glutamic Acid Market Report Scope:
| | |
| --- | --- |
| Report Coverage | Details |
| Market Revenue in 2023 | USD 13.39 Billion |
| Projected Forecast Revenue in 2030 | USD 22.5 Billion |
| Growth Rate from 2022 to 2030 | CAGR of 7.7% |
| Largest Market | Asia Pacific |
| Base Year | 2022 |
| Forecast Period | 2022 To 2030 |
| Regions Covered | North America, Europe, Asia-Pacific, Latin America, and Middle East & Africa |

Report Highlights:
The United States, Canada, Japan, China, and Europe will propel the segment's predicted 8% CAGR in the worldwide pharmaceutical market. By the end of the research period, these regional markets, which together account for a market size of US$508.6 million in 2020, are expected to have grown to US$873 million.
China will continue to have one of these regional marketplaces with the strongest growth rates. The market in Asia-Pacific is anticipated to reach US$169.7 Million by the year 2026, driven by nations like Australia, India, and South Korea, while Latin America will grow at a CAGR of 8.1% during the course of the study period.
The market is characterized by the existence of several large- and small-scale producers working in the glutamic acid industry. Due to their limited production volumes, local small-scale businesses have little influence on the overall market demand. The businesses are involved in the product's mass production, which is subsequently shipped to various locations throughout the world. In order to save costs and consumer delays, several businesses are now redesigning their supply chains.
Market Dynamics:
Drivers:
The market is expanding as a result of glutamic acid's widespread use in end-user industries like the food and pharmaceutical sectors. Moreover, the usage of glutamic acid in protein powders and nutritional goods is raising as people's knowledge of health issues rises.
Sales of glutamic acid are being further boosted by the growing dominance of the packaged food sector and the growing reliance on food enhancers by different food product producers. Due to glutamic acid's nutritional value, the demand for it is anticipated to rise in the future years.
The demand for glutamic acid from the end-use industries has a significant impact on both production and consumption. In the near future, it is predicted that the rising demand for animal feed will be accompanied by an increase in the use of food enhancers and additives in the food and beverage sector. The usage of glutamic acid in the food business is being maximized by the rising demand for packaged foods and food enhancers.
Due to its many advantages, glutamic acid is also widely employed in the pharmaceutical business. Glutamic acid is used to treat children's behavioral issues and aids in the improvement of personality disorders. Additionally, glutamic acid is utilized to treat ulcers, epilepsy, mental retardation, muscular dystrophy, and hypoglycemia coma.
Restraints:
Unsupervised direction and excessive consumption of glutamic acid may be harmful to one's health. Glutamic acid overconsumption can cause headaches and tiredness issues. People's health is not only negatively impacted by this, but they also experience prolonged fatigue as a result. Additionally, glutamic acid usage is limiting the market's expansion due to the danger of stroke it carries.
Opportunities:
The industry is also being driven by a movement in consumer preference toward natural food items, which is being reinforced by growing health concerns. Additionally, dairy products include glutamic acids to improve flavor and extend shelf life. The demand for glutamic acid in the food and beverage and pharmaceutical industries has been positively affected by people's growing knowledge of the need of consuming nutritious goods.
Challenges:
The implementation of strict rules governing food safety and quality as well as the adverse effects of amino acids, such as weariness, headaches, and anxiety, may limit the worldwide market's ability to develop in terms of revenue.
Recent Developments:
In September 2020, Evonik, a German firm that deals with glutamic acid, and Unilever, a British corporation that makes consumer goods, have partnered strategically. Through this partnership, Evonik's biotech know-how would serve as a key tenet for Unilever's Clean Future programme.
Major Key Players:
Ajinomoto Co., Inc.
Akzo Nobel N.V.
Evonik Industries AG
Sichuan Tongsheng Amino acid Co., Ltd.
KYOWA HAKKO BIO CO., LTD.
Ottokemi
Hefei TNJ Chemical Industry Co., Ltd.
Suzhou Yuanfang Chemical Co., Ltd.
Global Bio-chem Technology Group Company Limited
Ningxia Yipin Biological Technology Co., Ltd.
Market Segmentation:
By Application
Food & Beverages
Pharmaceuticals
Animal Feed
Others
Buy this Research Report@ https://www.precedenceresearch.com/checkout/2301
You can place an order or ask any questions, please feel free to contact at sales@precedenceresearch.com | +1 9197 992 333