The global green fertilizers market size surpassed USD 3.53 billion in 2022 and it is expected to rake around USD 6.72 billion by 2032, poised to grow at a CAGR of 6.7% during the forecast period 2023 to 2032.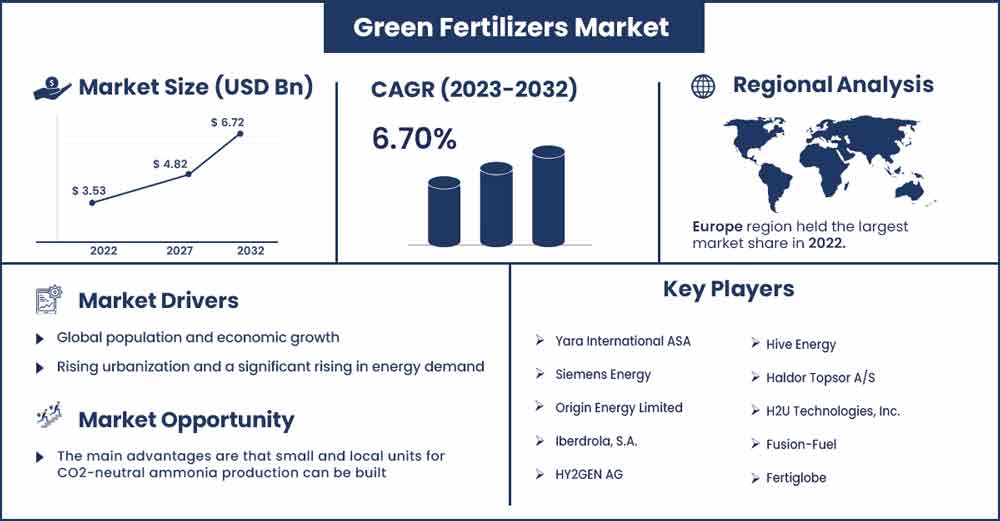 The most promising green fertilizer technology have been selected by the fertilizer industry. Making a commercial case for low-carbon products is a problem. This may be done through reducing costs, addressing supply-side technical issues, and developing a market for high-end foods with low carbon footprints. 50% of the world's food production is currently made possible by mineral fertilizers. Ammonia manufacturing, which accounts for around 5% of all gas use worldwide, is energy-intensive. The production of ammonia—a crucial component of mineral fertilizers—using fossil fuels must be replaced with renewable energy in order to lessen the process' carbon impact. The use of green ammonia, sometimes referred to as low-carbon fertilizer, might aid in the decarbonization of the food industry.
Nitrogen fertilizer production today is energy intensive. Ammonia production in the world is primarily based on natural gas as a raw material and steam methane reforming (SMR) as the primary technology. The first step is to split the natural gas molecules using steam and high temperatures to produce hydrogen and CO2. This hydrogen is then combined with nitrogen from the air in a subsequent step to produce ammonia. Despite being the least carbon-intensive technology available today, SMR produces a significant amount of CO2.
Green fertilizers are fertilizers based on nitrates that have the same physical composition as fertilizers produced with fossil fuels a natural gas, coal, and oil that lowers carbon footprint to produce with renewable electricity (hydro, wind, solar). That is, green fertilizers are a non-fossil, low-impact, and simple way to decarbonize food production. Ammonia is the foundation of all mineral fertilizers. Ammonia is now produced using hydrogen derived from fossil fuels. The hydrogen required to produce green fertilizers will be obtained from water via electrolysis using renewable electricity. All other processes will remain unchanged after the hydrogen is extracted to produce green ammonia. This includes employing available technology catalytic processes that reduce glasshouse gas emissions (GHG) during manufacturing.
Regional Snapshots:
Europe will lead the worldwide market upcoming years. Overall, the European fertiliser industry has made significant improvements in the energy efficiency of ammonia production. Because of the physicochemical limitations of current technology, future investments are only likely to improve efficiency marginally. New plants are generally very efficient, but despite their average age, Europe's ammonia plants are still the most energy efficient in the world and have the lowest CO2 emissions. European fertiliser producers are the only region in the world that has drastically reduced N2O emissions from production. Going beyond current production technology necessitates significant advancements in energy infrastructure, green energy price competitiveness, scientific breakthroughs, and markets for low-carbon products. During the forecast period, the United States is expected to remain one of the world's fastest growing markets for the production and consumption of green fertilizer. By 2032, the country is expected to hold a significant share of the global green fertilizer market. Green fertilizer market growth in the United States is being influenced by the presence of leading green fertilizer manufacturing companies and key technology providers, the implementation of stringent regulations, and the growing trend of using green fertilisers..
Green Fertilizers Market Report Scope:
| | |
| --- | --- |
| Report Coverage | Details |
| Market Revenue in 2023 | USD 3.75 Billion |
| Projected Forecast Revenue in 2032 | USD 6.72 Billion |
| Growth Rate from 2023 to 2032 | CAGR of 6.7% |
| Largest Market | Europe |
| Base Year | 2022 |
| Forecast Period | 2023 to 2032 |
| Regions Covered | North America, Europe, Asia-Pacific, Latin America, and Middle East & Africa |

Report Highlights:
All mineral nitrogen fertilizers begin with ammonia, which acts as a link between the nitrogen in the air and the food we eat. Around 70% of ammonia is used in the production of fertilizers, with the remainder being used in a variety of industrial applications such as plastics, explosives, and synthetic fibers. In the future, ammonia could be used as a low-carbon energy vector, but this application is not included in the core analytical scope of this technology roadmap. Ammonia production accounts for approximately 2% of total final energy consumption and 1.3% of total energy system CO2 emissions. A growing and affluent global population will increase ammonia production at a time when governments all over the world have declared that emissions must be reduced. More ammonia will be required in the future, but with fewer emissions. A growing and affluent global population will drive up ammonia demand at a time when governments all over the world have declared that emissions from the energy system must fall to Net Zero.

Market Dynamics:
Drivers:
Global population and economic growth, combined with rising urbanization, and a significant rising in energy demand. As per the United Nations (UN), world's population to increase with around 7.6 billion in 2017 to 9.7 billion by 2050. Meeting rapidly increasing energy demand while reducing harmful glasshouse gas emissions is a significant challenge. Global energy-related carbon dioxide (CO2) emissions reached 33.3 Gt in 2019, the highest level on record and roughly 45% higher than in 2000. (23.2 Gt). Because of the corona-virus pandemic response, primary energy demand declined by around 4% in 2020, while CO2 emission declined by 5.8%. For many years, the growth of electricity demand has outpaced the growth of energy demand. Rising electrification of end-users such as space cooling, transportation, large appliances, and others is a major contributor to rising electricity demand.
The European Commission (EC) issued a policy paper titled Energy 2050 Roadmap in December 2011. This was very positive about nuclear power, stating that it can make "a significant contribution to the energy transformation process" and is "a key source of low-carbon electricity generation" that will keep system costs and electricity prices low. "Nuclear energy will remain in the EU power generation mix as a large-scale low-carbon option." The paper examined five scenarios that could lead to the EU's low-carbon energy economy goal of 80% CO2 reduction by 2050, based on energy efficiency, renewables, nuclear power, and carbon capture and storage (CCS). All scenarios show that electricity will have to play a much larger role than it does now, nearly doubling its share of final energy consumption.
Restraints:
The capital-intensive nature of green ammonia plants is currently the major impediment to the market's growth. A modern ammonia plant has a life expectancy of 15 to 20 years. A greenfield project's average CAPEX cost is around USD 1,300-2,000 per tonne of ammonia produced. Green ammonia, on the other hand, is 1.5 times more expensive than natural gas-based ammonia plants. Natural gas or coal are the major operational costs in ammonia production, accounting for 75% of the plant's operating costs. The cost of electrolyzers raises the operating costs of a green ammonia plant. As a result of the higher capital intensity of green ammonia plants, small-scale production is inefficient.
Opportunities:
The main advantages are that small and local units for CO2-neutral ammonia production can be built. This could reduce transportation costs and allow for the storage of solar energy for local use from summer to winter. An important aspect of this is that such a possibility would strengthen a future renewable energy system. Farmers, for example, who frequently have large farm buildings, could install solar cells on them and use any excess electricity to produce ammonia. They can then store it and use special fuel cells to convert it back to electricity when needed, or they can use the ammonia as fuel to drive their tractors or to make fertiliser.
Challenges:
So far, researchers have discovered conditions that allow for a highly specific conversion of nitrogen gas to ammonia, but the production rates are low. Researchers have now begun the project's second phase, in which we hope to develop new and more efficient catalysts that will allow for efficient ammonia production under ambient conditions. Researchers are drawing inspiration from the enzyme nitrogenase, which performs this exact reaction. Researchers want to be at least as good as this enzyme, but in a more direct solar-light-driven process that is more applicable in a technological context.
Recent Developments:
In January 2022, Lantmännen and Yara have signed the first commercial agreement to bring fossil-free fertilizers to market. These green fertilisers, which are made with renewable energy, are critical for decarbonizing the food chain and providing consumers with more sustainable food options.
In 2019, Yara and Lantmännen the commercial viability of green fertilizers with the goal of creating the world's first fossil-free food chain. The collaboration resulted in a commercial contract for green fertilisers, which will be manufactured by Yara and marketed in Sweden by Lantmännen beginning in 2023.
Major Key Players:
Yara International ASA
Siemens Energy
Origin Energy Limited
Iberdrola, S.A.
HY2GEN AG
Hive Energy
Haldor Topsor A/S
H2U Technologies, Inc.
Fusion-Fuel
Fertiglobe
Eneus Energy Limited
Enaex Energy
Dyno Nobel
CF Industries Holdings, Inc.
Ballance Agri-Nutrients
Aker Clean Hydrogen
Air Products Inc.
ACME Group
Market Segmentation:
By Technology
Alkaline water electrolysis
Proton Exchange Membrane
Solid Oxide Electrolysis
By Fertilizer
Packaging
Ammonium nitrate (AN)
Calcium ammonium nitrate (CAN)
Buy this Research Report@ https://www.precedenceresearch.com/checkout/2399
You can place an order or ask any questions, please feel free to contact at sales@precedenceresearch.com | +1 9197 992 333