The green ammonia market size was valued at USD 0.3 billion in 2022 and is projected to surpass around USD 70.19 billion by 2032 and is poised to grow at a compound annual growth rate (CAGR) of 72.6% over the forecast period 2023 to 2032.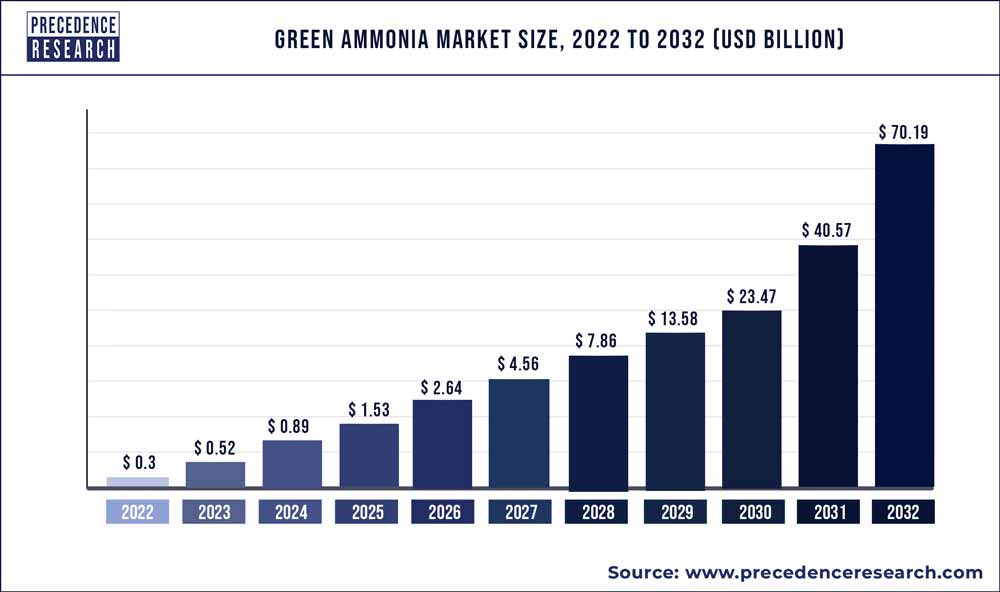 Access our Premium Real Time Data Intelligence Tool, Visit: Precedence Statistics
The industry for green ammonia is yet in the planning stages. The creation of green ammonia seems to be the subject of more efforts in research and development that are anticipated to rise as a result of increasing public awareness and governmental laws regarding carbon dioxide emissions and the preservation of the atmosphere's wellness.
Green ammonia also can able to have a big effect by lowering the world's fossil fuel reliance and helping to lower greenhouse emissions. Green ammonia is created by electrolyzing water to generate hydrogen, which is fueled by renewable energies including sun, air, and hydroelectric. Numerous industries, including farming, power storage, and the ocean, can benefit from the use of green ammonium.
Key Takeaway:
By technology, the proton exchange membrane technology segment held the highest revenue share of over 44.5% in 2022.
By end-use, the transportation segment accounted for 30.8% of revenue share in 2022.
The North America is expected to grow at a CAGR of 75.% through 2032.
Asia Pacific market is expected to reach a CAGR of 124.6% by 2032.
Growth factors:
Over the upcoming evaluation period, a significant shift towards zero-carbon via carbon reduction is anticipated to increase the usage of green ammonia. The need for green ammonia has been fueled by strict pollution rules and an emphasis on zero emission ambitions. In 2032, the proportion of a green ammonia industry is anticipated to reach between 3 and 4 percent of the total ammonia market. Additionally, according to the most recent projections, the end-user segment for fertilizer will continue to rise at a rate of about 75.4% between 2023 and 2032. This is a result of a rising preference for green ammonia in fertilizer production above traditional ammonia.
The explosive development in end-use sectors like transport, fertilizer, and electricity production, the adoption of strict federal regulations, and the increasing popularity of green fertilizers are the main drivers of industry growth.
A greater growth prognosis for the industry is also anticipated as a result of increased technology development, rising governmental and private expenditures, and also the fast-falling cost of producing renewable power.
Additionally, over the next 10 years, a wider range of green ammonia uses in various large factories will drive revenue for green ammonia. Due to its zero greenhouse gas emissions and sulfur content, green ammonia is gaining more attention in the transportation industry as a marine and ocean fuel, which is anticipated to boost the expansion of the green ammonia industry.
Nevertheless, despite these promising futures, several obstacles are probably impeding industry expansion. These constraints provide a large initial outlay again for green ammonia plants, a lack of knowledge regarding green ammonia as well as the equipment used in its manufacturing, and others.
Report Scope of the Green Ammonia Market
| | |
| --- | --- |
| Report Coverage | Details |
| Market Size in 2023 | USD 0.52 Billion |
| Market Size by 2032 | USD 70.19 Billion |
| Growth Rate from 2023 to 2032 | CAGR of 72.6% |
| Base Year | 2022 |
| Forecast Period | 2023 to 2032 |
| Segments Covered | Technology, End User, Sales Channel, Geography |
| Companies Mentioned | ACME Group, Air Products Inc., Aker Clean Hydrogen, AquaHydrex (US), Ballance Agri-Nutrients, BASF SE (Germany), CF Industries Holdings, In, Dyno Nobel, Electrochaea (Germany), Enaex Energy, Enapter (Italy), Eneus Energy Limited, ENGIE (France), EXYTRON (Germany), Fertiglobe plc, Fusion-Fuel, Green Hydrogen Systems (Denmark), Greenfield Nitrogen LLC, H2U Technologies, Inc., Haldor Topsoe (Denmark), Hiringa Energy (New Zealand), Hive Energy, Holder Topsoe, HY2GEN AG, Hydrogenics (Canada), Iberdrola, S.A., ITM Power (UK), Maire Tecnimont S.p.A., MAN Energy Solutions (Germany), McPhy Energy (France), Nel Hydrogen (Norway), Origin Energy Limited, Queensland Nitrates Pty Ltd (Australia), Siemens Energy (Germany), Starfire Energy (US), ThyssenKrupp AG (Germany), Uniper (Germany), Yara International ASA |

Key Market Drivers:
Demand for long-term renewable energy storage
In terms of total capacity growth, the output of renewable electricity frequently outpaces that of fossil fuels. According to the Global Sustainable Power and Energy Association, renewable power offers enormous development prospects, so it will likely overtake other renewable energy sources in demand in the future years. But by end of 2020, the production of electricity production reached 289 Gigawatt globally. Hydroelectricity made the largest contribution to the world total, 12.11 percentage points higher. offshore wind received an equal share of residual energy. Additionally, there had been 128 Gigawatts of biofuel, 15 Gigawatts of hydroelectric, and 501 Megawatts of wave energy.
Growing Uses in a Wide Range of Industries Supporting Green Ammonia Business Expansion
The 2nd extensively manufactured substance within the globe, ammonia was mostly used as a fertilizer in the agricultural industry. Additionally, it is discovered that green ammonia seems to have the ability to be employed in a variety of situations in addition to its current leading usage in the fertilizer business with expanding advanced technologies and advances.
Growing Consumer Need for Eco-Friendly Fertilizers to Boost Market Sales of Green Ammonia
Globally, the soil conditions have significantly declined as a result of the widespread utilization of chemical fertilizers and pesticides. The market for organic fertilizers is developing quickly in response to the growing demand for agricultural production practices that reduce risk creation and carbon pollution. Important chemical producers are being compelled by this to change their choice for sustainable and environmentally friendly goods such as green ammonia. Thus, it is anticipated that over the projected timeframe, green ammonia revenues will rise due to increased demand for environmentally fertilizers to decrease potential consequences and contamination.
Key Market Challenges:
A lack of knowledge regarding green ammonia: The development of green ammonia technologies remains in its infancy. Synthesis method, photochemistry synthesizing, and biochemical cycling are methods for rapidly generating ammonia using water and nitrogen. These procedures, though, come with serious technological difficulties that call for effort and R&D expenditures. The majority of ammonia manufacturers today create ammonia utilizing traditional techniques. The biggest issue concerning green ammonia is also that chemical manufacturers don't know enough about it.
Initial Installation costs of green ammonia plants will be higher: The investment character of green ammonia facilities is now the main barrier preventing the industry for green ammonia from expanding. The typical lifespan of a conventional electrolysis process is 15 to 20 years. For each ton of methane produced, a new program's CAPEX costs typically range from USD 1,300 to 2,000. Green ammonia, though, is 1.5 times more expensive than ammonia facilities powered by fossil fuels. Biogas or fuel is the primary financial cost inside the manufacturing of ammonia, accounting for 75% points of the plant's running expenses. The expense of electrolysis of water raises operating costs inside a green ammonia factory. Therefore, green ammonia factories are not cost-effective for small-scale production due to their greater capital investment. The main factors that might impede market expansion are pharmaceutical companies' limited knowledge and expensive option levels.
Key Market Opportunities:
Using ammonia as a marine fuel: Currently, the transportation sector is responsible for 3% of the world's greenhouse gas emissions, primarily because vessels utilize a lot of petroleum and elevated gasoline. Heavy petroleum oils, which are produced as a by-product of petroleum products distilling, are the main form of bunker fuel for vessels. Once this fuel with a high sulfur concentration is used in a vessel's motor, toxic SOx is released into the atmosphere. The IMO's 2050 carbon reduction targets can be met, as per Decarbonization Forecast, issued by DNV GL, by using cutting-edge ship layouts and urea as renewable fuels. The best energy transporter of protons is ammonia. As a result, it can supply energy for ships. By 2050, ammonia could account for 25% of the fuel supply used in ships, based on the IMO.
Growth of a hydrogen-based business: Developments in hydrogen connectivity will eventually open up chances for carbon-free hydrogen to be reused for an extended period in green methane formation.
Segmental Insights
Technology Insights
During the forecast timeframe, alkaline water electrolysis was anticipated to hold the greatest share of the market in the Green Ammonia industry. The most well-known, reliable, and conventional method of electrolysis is reverse osmosis water electrophoresis. The electrode is a watery, alkaline solution containing sodium or potassium ions. It's an economical innovation that is still very young.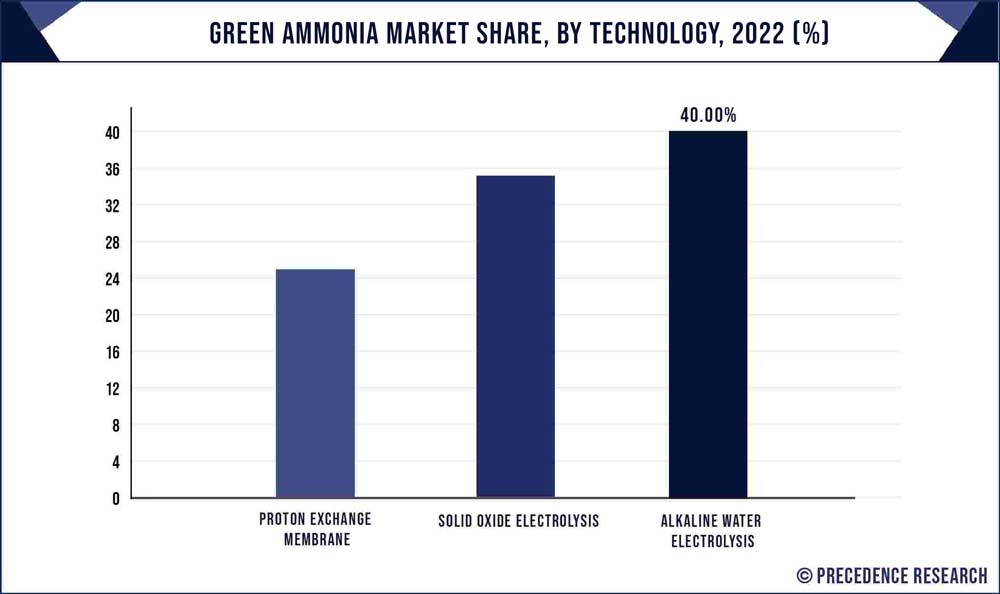 Alkaline water electrolysis is predicted to expand at a CAGR over the projected timeframe because it is a trusted, common style of electrolytic. Electrodes working in a fluid electrolyte of sodium or potassium hydroxide define the alkaline water electrolysis form of the electrolytic cell. Because the catalyst is less expensive and the gas quality is better, this is widely used to make green ammonia. Alkaline water electrolysis offers increased longevity thanks to interchangeable electrolytes and fewer oxide layer catalysts dissolving, both of which are projected to support the company's expansion.
End User Insights
In 2022, it is anticipated that electricity production would hold the greatest share of the market within the green ammonia industry. The type of ammonia gas made from renewable resources that are healthier is called green ammonia. Electrolytes could be utilized to create fuel ammonia, which can serve as a renewable fuel for electricity generation, from surplus renewable energy produced in remote regions. Renewable energy source deployment is rising on a worldwide scale. This could be due to growing government initiatives to promote completely carbon-free agricultural operations as well as the growing acceptance of green ammonia for such creation of ecologically friendly fertilizers.
Green Ammonia Market Share, By Region, 2022 (%)
| | |
| --- | --- |
| Regions | Revenue Share in 2022 (%) |
| North America | 27.5% |
| Asia Pacific | 23.7% |
| Europe | 38% |
| Latin America | 8.3% |
| MEA | 3.5% |

Regional Insights
In terms of quantity, the European sector is predicted to be the biggest segment in 2022. The state's green ammonia industry is projected to see prospects as a result of an increase in hydrogen fuel developments and government initiatives to install hydrogen fuel in residential and commercial markets. Throughout the projected timeline, the U.S. is anticipated to continue to be one of the global markets with the quickest rate of growth for the manufacture and use of green ammonia. By 2032, the nation will probably have a sizeable portion of the global industry for green ammonia.
The U.S. green ammonia industry is being impacted by the sizeable presence of major green ammonia industrial companies and interesting technological sources, the execution of strict laws, and the rising prevalence of employing environmental fertilizers. Correspondingly, it is anticipated that during the projected timeline, rising investments through eco-friendly hydrogen, growing significance of green ammonia as a source of hydrogen, as well as growing concentration on the creation of alternative energies again for power and transportation growing environment will drive the demand for sustainable ammonia within the nation.
Recent Developments:
A Memorandum of Agreement establishing a partnership to find efficient and sustainable solutions for the creation of environmentally friendly ammonia within Iceland was announced by Green Energy and Haldor Topsoe in Nov 2021.
In Aug 2021, the Norwegian businesses Yara Worldwide Aker Fresh Hydrogen, Stat kraft AS, and ASA established a brand-new company called HEGRA with the goal of electrifying and decarbonizing the Heroya ammonia factory and establishing a new sector of the Norwegian economy.
In Mar 2021, the Indian business ACME Company, which produces solar energy, secured a contract with Tatweer of Oman to launch a green ammonia manufacturing plant in Duqm, Oman.
A joint development contract was signed in March 2022 between the solar energy producer ACME Corporation of India and the Norwegian business Scatec ASA to start the manufacturing produce green ammonia in the Sultanate of Oman. The plant may have a yearly volume of production of roughly 100,000 tonnes.
Khalifa Investors Based Abu Dhabi or the KIZAD stated in May 2021 that it would deliberately construct a natural ammonia factory with a manufacturing capacity of roughly 200,000 tonnes per year.
A green ammonia processing unit will be built in Denmark, in Dec 2020, according to plans revealed by wind farm producer Vestas, Danish renewable power producer Skovgaard Investment, and emissions reduction technologies expert Haldor Topsoe.
The world's largest ammonia manufacturing plant in Europe will be built in Denmark, according to the planning processes released in February 2021 by Copenhagen Organization Associates and A.P. Moller-Maersk.
In July 2021, the Irish business Fusion-Fuel, as well as the international construction firm Consolidation Contractor Company announced plans to develop Morocco's "Hevo Ammonia Development," a sustainable clean ammonia initiative.
Key Market Players:
ACME Group
Air Products Inc.
Aker Clean Hydrogen
AquaHydrex (US)
Ballance Agri-Nutrients
BASF SE (Germany)
CF Industries Holdings, In
Dyno Nobel
Electrochaea (Germany)
Enaex Energy
Enapter (Italy)
Eneus Energy Limited
ENGIE (France)
EXYTRON (Germany)
Fertiglobe plc
Fusion-Fuel
Green Hydrogen Systems (Denmark)
Greenfield Nitrogen LLC
H2U Technologies, Inc.
Haldor Topsoe (Denmark)
Hiringa Energy (New Zealand)
Hive Energy
Holder Topsoe
HY2GEN AG
Hydrogenics (Canada)
Iberdrola, S.A.
ITM Power (UK)
Maire Tecnimont S.p.A.
MAN Energy Solutions (Germany)
McPhy Energy (France)
Nel Hydrogen (Norway)
Origin Energy Limited
Queensland Nitrates Pty Ltd (Australia)
Siemens Energy (Germany)
Starfire Energy (US)
ThyssenKrupp AG (Germany)
Uniper (Germany)
Yara International ASA
Segments covered in the report:
(Note*: We offer report based on sub segments as well. Kindly, let us know if you are interested)
By Technology
Alkaline Water Electrolysis
Proton Exchange Membrane
Solid Oxide Electrolysis
By End User
Transportation
Power Generation
Fertilizers
Others
By Sales Channel
Direct Sale
Indirect Sale
By Geography
North America
Europe
Asia-Pacific

China
India
Japan
South Korea
Malaysia
Philippines

Latin America

Brazil
Rest of Latin America

Middle East & Africa (MEA)