The global green coatings market size was valued at USD 125.02 billion in 2022 and is expected to hit around USD 202.87 billion by 2032, poised to grow at a CAGR of 4.96% during the forecast period from 2023 to 2032.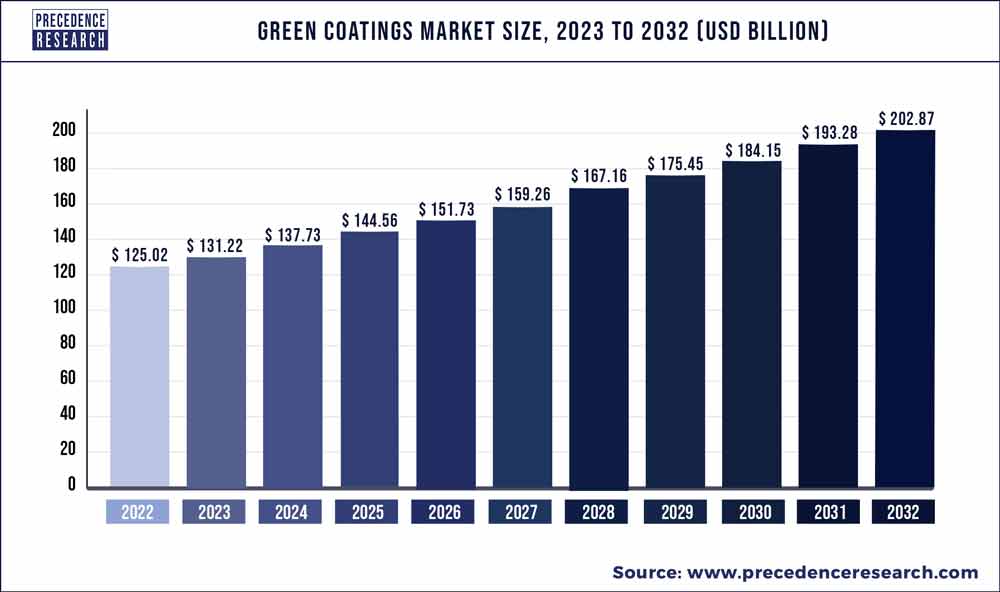 Access our Premium Real Time Data Intelligence Tool, Visit: Precedence Statistics
Key Takeaways:
By type, the waterborne coatings segment has generated revenue share of around 74% in 2022.
By application, the architectural segment has captured revenue share of 39% in 2022.
Asia-Pacific is poised to grow at a CAGR of 5.1% over the forecast period 2023 to 2032.
Environmentally friendly coatings, or "green coatings," release almost no volatile organic compounds (VOCs) during manufacture. Some of the most popular choices for green coatings include radiation-hardened coatings, powder coatings, high-solid paints, and water-based paints. These coatings are made with all-natural components like clay, milk, castor oil, soybean, and vegetable oil. They improve the overall efficiency of the equipment while also assisting in reducing the negative impacts of infrared and ultraviolet (UV) radiations. They are thus used in a variety of industries, including maritime, aerospace, aviation, mining, oil & gas, automotive, and construction.
The construction industry has seen tremendous growth worldwide, which is one of the main factors supporting the market's optimistic outlook. Green coatings are painted on interior extrusions, roofs, door frames, windows, panels, and walls as protective and decorative paints. They are also utilized on a variety of consumer goods, including oven parts, electronic boxes, rooftop heating, HVAC (heating, ventilation, and air conditioning) units, furniture, fixtures, and furniture.
Also, the general public's growing environmental consciousness and the surge in demand for aqueous and powder-based coatings are driving the industry ahead. These versions are safer for human health than conventional solvent-borne coatings because they are block-resistant and VOC-free. Other elements that promote expansion include a variety of product developments, such as the creation of radiation-curable coatings. They are created from plant-based materials and processed utilizing low-energy electron beams (EB) or ultraviolet (UV) rays.
Additional reasons, such as quick industrialization and the adoption of supportive government policies to encourage sustainability, are projected to fuel the growth of the green coatings market.
Report Scope of the Green Coatings Market:
| | |
| --- | --- |
| Report Coverage | Details |
| Market Size in 2023 | USD 131.22 Billion |
| Market Size by 2032 | USD 202.87 Billion |
| Growth Rate from 2023 to 2032 | CAGR of 4.96% |
| Base Year | 2022 |
| Forecast Period | 2023 to 2032 |
| Segments Covered | By Technology and By Application |
| Regions Covered | North America, Europe, Asia-Pacific, Latin America and Middle East & Africa |

Growth Factors:
There are the following factors which are expected to boost the green coatings market growth:-
Presence of zero volatile organic compounds
Increasing attention to sustainability and health
Key Market Drivers:
Presence of zero volatile organic compounds
The demand for green coatings has grown over the past ten years due to the availability of ultra-low or zero volatile organic compounds (VOCs). In addition, there is an increasing tendency towards the need to reduce VOCs in paints, and both regionally and globally, government rules are becoming stricter on VOC laws. Also, being an environmentally friendly product, the green coating has piqued customers' interest in the market, which is growing steadily as consumers become more aware of the health risks associated with VOC exposure, which is boosting the demand for green coatings in the marketplace. Thus, fuelling the expansion of the global market for green coatings.
Due to consumer demand for a low-odour interior finish and improved indoor air quality, businesses like PPG Industries, Inc. are implementing green manufacturing practices for the fabrication of their products by adhering to legal requirements in line with Leadership in Energy & Environmental Design (LEED) criteria.
Increasing attention to sustainability and health
There has been a gradual shift in demand from solvent-borne coatings to environmentally friendly products, such as UV-curable coatings, high solids, powder coatings, and waterborne, since these products contain fewer solvents that evaporate during the curing phase, as a result of growing awareness of the negative effects of VOC emissions and rising global warming, supported by the aforementioned regulations. Given that it doesn't contain any solvents and only seldom emits VOCs into the atmosphere, powder coating has become increasingly popular.
Because of the creation of novel products and formulations as well as improvements in application procedures, this industry is expanding quickly. Asia Pacific is anticipated to have the largest and fastest-growing market for green coatings during the forecast period. This can be attributable to the area's expanding construction and automobile sectors.
Key Market Challenges:
There are the following factors which can restrain the market from growing
The cost and accessibility of specialty raw ingredients required for green coatings
Environmental concerns
The cost and accessibility of specialty raw ingredients required for green coatings - The market for green coatings with low or no solvent content is increasing as people become more aware of issues like global warming, climate change, and personal health. However, this industry still has several challenges to overcome before it can compete with coatings made from fossil fuels. There are several things to consider. When compared to petrochemical products, the cost of renewable materials is significantly higher. Green coatings go through a difficult procedure to become environmentally friendly, which raises their price when they are finished. When there are cheaper options accessible, users are reluctant to pay the higher price.
To create synthetic technologies that are less or not damaging to the environment and human health - Green chemistry can be used to create synthetic treatments that are environmentally friendly and eco-friendly coatings. Several industrial processes have used industrial reactions and green solvents to significantly reduce toxicity, which is a very difficult task. Every synthetic reaction leaves some by-products behind, and these by-products can be detrimental to both the environment and people's health.
Key Market Opportunities:
The green coatings market presents several opportunities for growth and expansion in the coming years. Here are some of the key opportunities:
Rising need for raw commodities that are renewable
Rising environmental concern
Rising need for raw commodities that are renewable: In order to comply with regulations and profit from government subsidies for the use of renewable resources, many firms are striving to lower their carbon footprint. Also, green resources are always available and their prices are not as volatile as those of oil and its derivatives. Alkyds, acrylics, and other resins made from bio sources are offered by various resins producers to improve the performance of green coatings in comparison to conventional coating technologies.
Rising environmental concern - The key element driving the market expansion is the population's growing environmental concerns in developing regions, which are manifested in higher spending on infrastructure. In growing nations like Japan and China, the need for aqueous and powder coatings to replace solvent-borne coatings is also rising, particularly in the industrial and automotive sectors. The market for green coatings is being driven by a number of factors, including rising demand for plant-based wood coatings and radiation cure coatings, increased awareness of VOC emissions, increased use of ultraviolet curing coatings and plant-based sources for producing wood coatings, and rising usage of ultraviolet curing coatings and radiation cure coatings. In addition, the market for green coatings will see new opportunities as coatings technology advances, the use of radiation cure coatings increases, research and development efforts increase, and end-user industry demand for the product rises.
Segments Insight:
Technology Insights:
Due to the early acceptance of the technology, particularly in architectural applications across Europe and North America, waterborne coatings have dominated the business. Due to rising product demand in automotive and industrial applications in growing nations like India and Brazil, the technology is anticipated to rise at a high rate. With over 80% of the total demand for waterborne coatings in 2016, the architecture industry accounted for the largest application category. Over the next eight years, the expansion of the green coating market is anticipated to be driven by increased infrastructure spending as well as expanding economies in Asia Pacific and the Middle East.
Increased demand for household items including microwaves, washing machines, and freezer cabinets is anticipated to boost the expansion of the powder coating sector. Due to the shift in OEM preference from liquid coatings to powder coatings, the demand for technology for the manufacturing of consumer goods is anticipated to increase at a significant rate during the forecast period.
Application Insights:
The manufacture of automobiles depends heavily on automotive OEM coatings. These are quite durable and of high quality. They have superior mechanical qualities that shield cars from scuffs, climate, and chemical exposure. Interior automotive coatings increase an automobile's surface area. The manufacturing of cars and trucks is rising, which is boosting the demand for coatings.
The OICA estimates that 80.1 million passenger automobiles were produced worldwide in 2021. Because EVs are becoming more and more popular, these figures are also anticipated to rise over the projected period. The advent of IoT and the employment of robots in the manufacturing cycle have led to higher efficiency, a decrease in labour, and shorter cycle times, for example, which have all benefited the automobile sector.
Due to innovation, numerous producers have recognized the growing client needs and are now utilizing green coatings to address their health-related worries. It also fits with the green attitude used by producers of electric vehicles.
Regional Insights:
Due to the expanding population and burgeoning economies of Italy, Spain, and U.K, Europe is predicted to increase. In the UK National Infrastructure Delivery Plan 2016–2021, a number of infrastructure projects, including seaports and airports, have been planned. These projects are expected to drive market demand during the following eight years. The main market for green coatings is anticipated to be India, which is anticipated to increase rapidly between 2021 and 2025. Over the anticipated time, it is anticipated that the country's manufacturing sector will expand quickly due to the Make in India initiative adopted by the Indian government.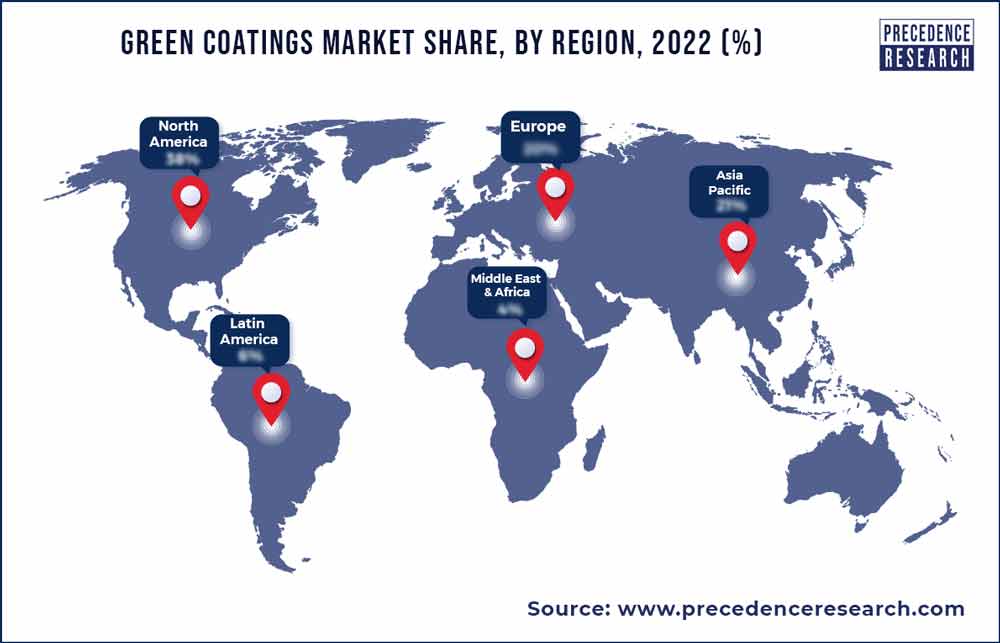 The building industry in the area is anticipated to benefit from rising consumer disposable income and changing consumer lifestyles in Brazil, which will also favourably affect the market for green coatings. Growth is anticipated to be fueled by government initiatives to address the nation's housing shortage, cheap interest rates, and an escalating middle-class population. Because of the region's quickening industrialization and urbanisation, the Middle East and Africa are predicted to experience tremendous growth. Over the next eight years, market trends are anticipated to be positively impacted by the expansion of the leading coating manufacturers in this region and the growth of the application sectors.
Key Developments:
August 2021- The product was introduced by AkzoNobel N.V. in the Indian market. It is the first green paint to receive a USDA certification in India.
October 2020 - This product was introduced in the Indian market by AkzoNobel N.V. The item is the country's first green paint with USDA certification.
Key Market Players
The Sherwin-Williams Company
Nippon Paint Holdings Co. Ltd.
Koninklijke DSM N.V.
Kansai Paint Co. Ltd.
Jotun
Hempel A/S
BASF SE
Axalta Coating Systems Ltd.
Asian Paints Limited
Akzo Nobel N.V.
Segments Covered in the Report:
(Note*: We offer report based on sub segments as well. Kindly, let us know if you are interested)
By Technology
Radiation-Cure
High-Solids
Powder
Waterborne
By Application
Product finishes
Packaging
Wood
High-Performance
Industrial
Automotive
Architectural
By Geography
North America
Europe
Asia-Pacific
Latin America
Middle East and Africa