The global green steel market size was estimated at USD 196.84 million in 2022 and it is projected to hit around USD 6,24,414.85 million by 2032, growing at a CAGR of 123.94% between 2023 and 2032.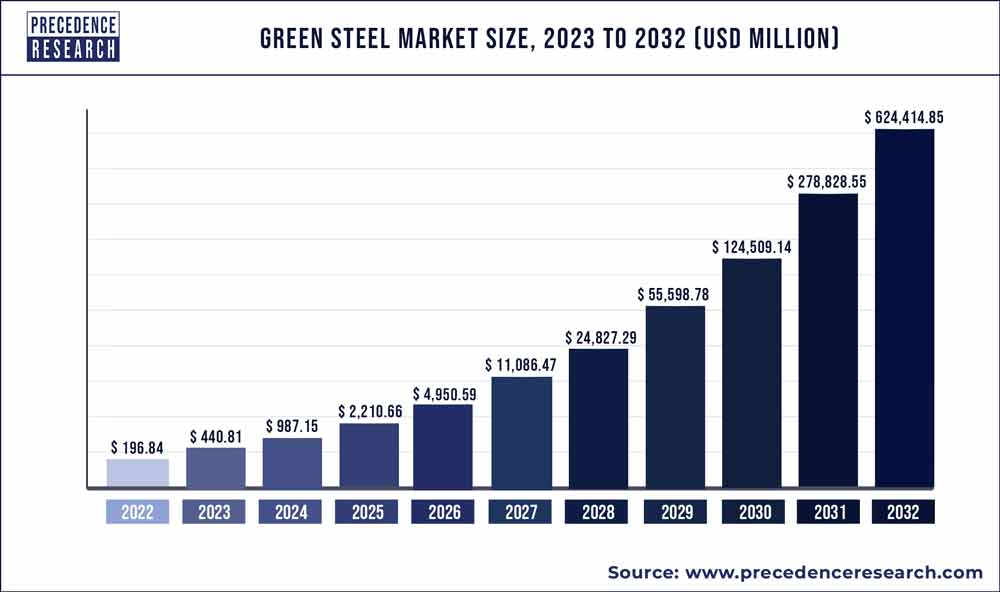 Access our Premium Real Time Data Intelligence Tool, Visit: Precedence Statistics
Key Points:
Europe region is expected to grow at the highest CAGR from 2023 to 2032.
North America region is a highly profitable market between 2023 and 2032.
By production technology, the electric arc furnaces segment is predicted to grow at the highest CAGR from 2023 to 2032.
By production technology, the molten oxide electrolysis segment is projected to grow at the fastest CAGR between 2023 and 2032.
The solar energy source is anticipated to grow the fastest from 2023 to 2032.
The automotive & transportation end-user segment is projected to capture a remarkable share of the global market.
The building and construction end-user segment is enlarging in 2022.
Market Overview:
Green steel industry demand has increased in the last year due to innovative branded products introduced by steelmakers in Europe and the United States that offer consumers a carbon-efficient alternative while utilizing available capacities. Public and private steel buyers in the construction, automotive, and metal products sectors are signaling a commitment to purchase green steel. This includes the initiatives of the First Movers Coalition and CEM Industrial Deep Decarbonization.
As per the World Steel Association, approximately 1.85 tons of CO2 was introduced into the atmosphere due to the production of 1860 million tons of steel. There has been a boost in the manufacturing of green steel owing to the rising industrial emissions from various steel products, which further pushes organizations to introduce partnerships and strategies with private steelmakers.
Additionally, green steel is generated entirely from renewable sources like green hydrogen, the burgeoning R&D in Fuel Cell Electric Vehicles (FCEVs) and hydrogen-powered automobiles has a positive influence on technological advancement in green steel. Furthermore, some Asian countries, including China, South Korea, New Zealand, and others, currently use FCEVs manufactured by Toyota, Hyundai, and others. They also intend to use green hydrogen in their vehicles in the coming years, which will fuel the worldwide green steel growth.
Report Scope of the Green Steel Market
| | |
| --- | --- |
| Report Coverage | Details |
| Market Size in 2023 | USD 440.81 Million |
| Market Size by 2032 | USD 6,24,414.85 Million |
| Growth Rate from 2023 to 2032 | CAGR of 123.94% |
| Largest Market | Europe |
| Base Year | 2022 |
| Forecast Period | 2023 to 2032 |
| Segments Covered | By Production Technology, By Energy Source and By End-User |
| Regions Covered | North America, Europe, Asia-Pacific, Latin America and Middle East & Africa |

Market Dynamics:
Drivers
Rising CO2 emission
Total carbon dioxide emissions from the steel and iron sector have increased over the last decade, owing primarily to rises in steel consumption and the energy required for production. Significant reductions in CO2 emissions are needed to achieve the Net Zero Scenario. Short-term Carbon dioxide emission reductions are possible primarily through improved energy efficiency and increased scrap collection, allowing for more scrap-based production.
Significant changes in emissions intensity will necessitate the use of new technologies like electricity-based production, hydrogen use, and CCUS. Green Steel initiatives are anticipated to reduce carbon dioxide emissions.
Various government initiatives
Green steel is predicted to play an important role in assisting nations around the world in achieving their sustainable advancement goals and reducing their carbon footprints. Green steel is critical to lowering countries' dependence on energy imports, protecting the environment, and meeting the world's growing energy needs. Furthermore, the production of steel produces a significant quantity of carbon dioxide. As a result, governments worldwide are expanding decarbonization strategies and promoting green steel, particularly in sectors like automotive and construction.
Restraints
The market will be hinder by complicated carbon accounting calculations
The primary challenge in the global green steel market has been a need for understanding carbon accounting calculations, as forecasting the levels of carbon tax during a manufacturing process is highly complex. This, in turn, is delaying the procedure of recognizing green steel, even though only a small percentage of companies in Northern Europe will be producing fossil-fuel-free steel in 2022.
Industries such as SMS groups and others have created a few digital tools. Nonetheless, companies have found it difficult to quantify the number of CO2 emissions from various processes of a complete manufacturing unit in recent years. As a result, when original equipment producers are not able to show emission-free products, market development is impeded.
High production expenses related to green steel
Since both direct hydrogen reduction and molten oxygen electrolysis use electricity as their primary energy input rather than coking coal, their cost structures are exposed to vastly different energy markets.
Impact of COVID-19:
COVID-19 has had an adverse effect on the worldwide green steel industry, particularly in the power and energy sectors. The pandemic also had an impact on the export and import of steel products in all regions, resulting in a decrease in the supply of green steel. During the COVID-19 period, demand for green steel fell by about 12%-14%.
The current green steel demand conditions in the majority of developing countries show that steel consumption has decreased during the pandemic. Several large industries involved in the manufacturing of green steel have faced numerous challenges.
On the other hand, the post-pandemic scenario has already increased both technological advancement and the green transition. Following COVID-19, developing economies such as China is expected to move more quickly towards normalization of economic activity across sectors. This will increase demand for green steel products as well as green steel imports.
Due to stringent government regulations, particularly in the field of infrastructure, the need for green steel products such as hot-rolled sheets and cold-rolled sheets would rise. Automobile companies are heavily investing in the market. Green steel demand is expected to grow as demand for modern electric vehicles increases.
Segments Insight
Production Technology Insights
On the basis of production technology, the electric arc furnaces sector is anticipated to grow at the highest CAGR from 2023 to 2032. This is due to the fact that the electric arc furnace efficiently decreases the energy needed to manufacture green steel, planning to make it widely accepted as a method of manufacturing carbon-free steel.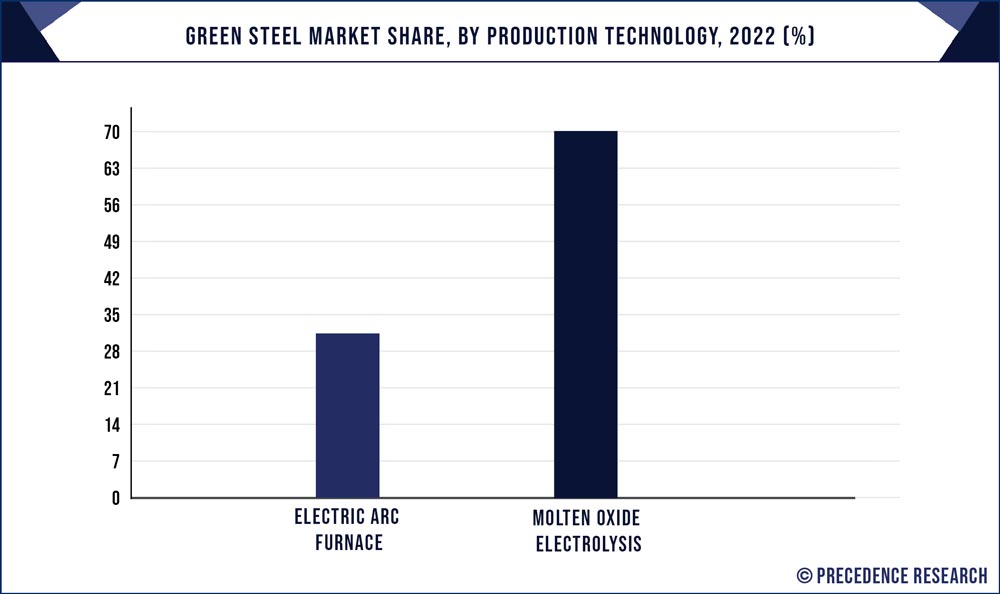 Tata steel Europe announced plans in 2020 to produce green steel in the Netherlands using electric arc furnace (EAF) production technology. ArcelorMittal, along with tata steel, announced its strategy for producing fossil-free steel using EAF technology in Hamburg, Germany. As a result, EAF is expected to have a significant market share in the coming years, with a considerable growth rate.
Furthermore, the government's efforts to reduce carbon dioxide emissions in steel production within Europe result in an increase in the implementation of electric arc furnaces for the production of green steel.
The molten oxide electrolysis sector is expected to expand at the fastest CAGR. MOE uses roughly 3,500 units of energy to produce one ton of steel because it is an electricity-intensive process. This energy was derived from a carbon-free source (possibly renewable) and had an emission factor of 0.09 kg of Carbon dioxide per unit of energy produced. Total CO2 emissions were 0.315 tons CO2 per ton of steel, a fivefold reduction from the existing conventional steel-making procedure.
Since no carbon is introduced into the process in MOE, the steel generated will comprise non-carbon elements, possibly chromium. Aside from the alloy grade, there is no control over the steel composition produced by MOE, and the yield will depend on a specific steel grade. MOE has already been designated as one of the likely technologies to reduce CO2 emissions from the iron and steel industry by the American Iron and Steel Institute (AISI).
Energy Source Insights
Based on the source, wind energy is expected to play a significant role in the global production of green steel. Green hydrogen production plants use wind energy to generate hydrogen. Enhanced investment in renewable energy generation to decrease carbon emissions are projected to boost their market for the manufacturing of green steel in the near future.
Furthermore, the solar energy source is predicted to grow fastest. Solar energy is the most common of all energy resources and is available even in cloudy conditions. The rate at which the Earth intercepts solar energy is approximately 10,000 times more than the speed at which humans consume energy. Solar panel manufacturing costs have dropped significantly over the past decade, making them affordable as well as the cheapest form of energy. Solar panels have a durability of about 30 years and come in a variety of colors depending on the material used in their manufacture. For instance, EVRAZ North America announced that solar energy would be used to power its steel manufacturing operations in Pueblo, Colorado.
End-User Insights
During the projection period, the automotive & transportation segment is expected to capture a significant share of the worldwide green steel market. It is primarily due to automakers' growing awareness of their considerably greater carbon footprints recently, which has driven their preference for using sustainable materials, such as green steel, in the manufacture of automobiles and spare parts.
Several companies, including daimler AG, Mercedes-Benz AG, and Volvo AB, are showing an increased interest in green steel applications. Changes in raw material purchases for automotive manufacturers are anticipated to kickstart demand for green steel and help the market grow during the forecast period.
The building and construction sector is expanding in 2022. The green steel building is a prefabricated structure that preserves the environment, saves resources, as well as reduces pollution significantly over the course of the building's life cycle. This allows people to live in harmony with nature by making practical, efficient, and healthy use of space.
Renovation of areas, demolition of homes, road construction, growth of buildings, and other activities have resulted in an increase in construction waste year after year. Though steel structure buildings have a small share of the infrastructure industry, they are unable to be compared to concrete structures. According to the survey, China's annual construction waste output is approximately 3 billion tons, whereas the capacity for reuse is just 100 million tons.
Green steel construction has numerous advantages, including quick construction speed, high strength, good seismic performance, lightweight, high industrialization, and high housing yield. It is the simplest way to achieve standardization, modularization, factorization, mechanized, and assembly building production. Steel structure buildings are frequently used in public structures such as super high-rise office buildings, large-span spatial structures, industrial plants, airport terminals, etc.
Regional Insights
Europe is predicted to expand at the highest CAGR from 2023 to 2032. According to the European Commission, the steel industry accounts for approximately 5% of CO2 emissions in the region and 7% globally, which is a significant concern that must be addressed in order to meet carbon emission targets. To address this, the European Union is implementing a long-term strategy to achieve a climate-neutral Europe by 2050, which will have a positive impact on the region's green steel market.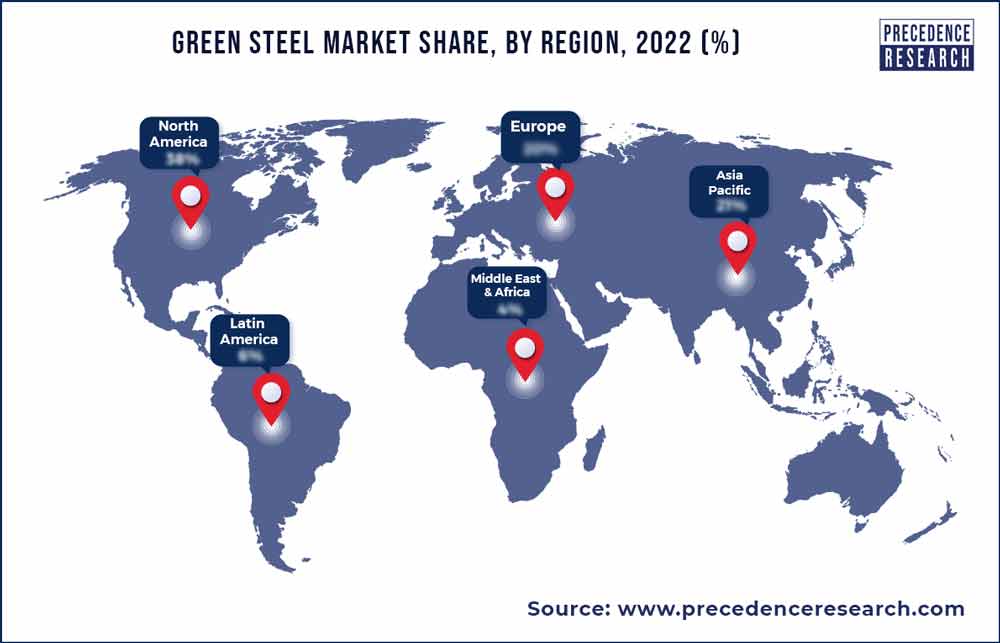 In line with this, many steel manufacturers in countries such as Germany, Sweden, the United Kingdom, Norway, and others are implementing effective clean steel-making solutions to support carbon-neutral targets.
North America is also a hugely profitable market in the region for green steel. The green steel industry in the United Kingdom has grown in recent years as a result of rising investments and offtake partnerships among new companies to meet new business strategies.
Recent Developments:
In January 2023, ResponsibleSteel, as well as global banks, reached an agreement to accelerate steel decarbonization.
In January 2023, Boston Metal, a green steel technology company, raised $120 million, with ArcelorMittal investing $36 million.
Nucor Corporation, an American steel titan, announced the release of Econiq for General Motors in 2022.
In 2022, ArcelorMittal invested USD100 million in green steel technologies to accelerate the steel sector's decarbonization.
Key Market Players:
Deutsche Edelstahlwerke
SSAB
Salzgitter AG
JSW Steel
ArcelorMittal
H2GreenSteel
Hesteel Group
Liberty Steel Group
Nucor
Voestalpine
Segments Covered in the Report:
(Note*: We offer reports based on sub-segments as well. Kindly, let us know if you are interested)
By Production Technology
Molten Oxide Electrolysis
Electric Arc Furnace
By Energy Source
By End-User
Automotive & Transportation
Building And Construction
Electronic Industrial Equipment
By Geography
North America
Europe
Asia-Pacific
Latin America
The Middle East and Africa