The global healthcare payer services market size was reached at USD 26.99 billion in 2022 and is expected to hit over USD 59.1 billion by 2030, expanding growth at a CAGR of 10.3% from 2021 to 2030.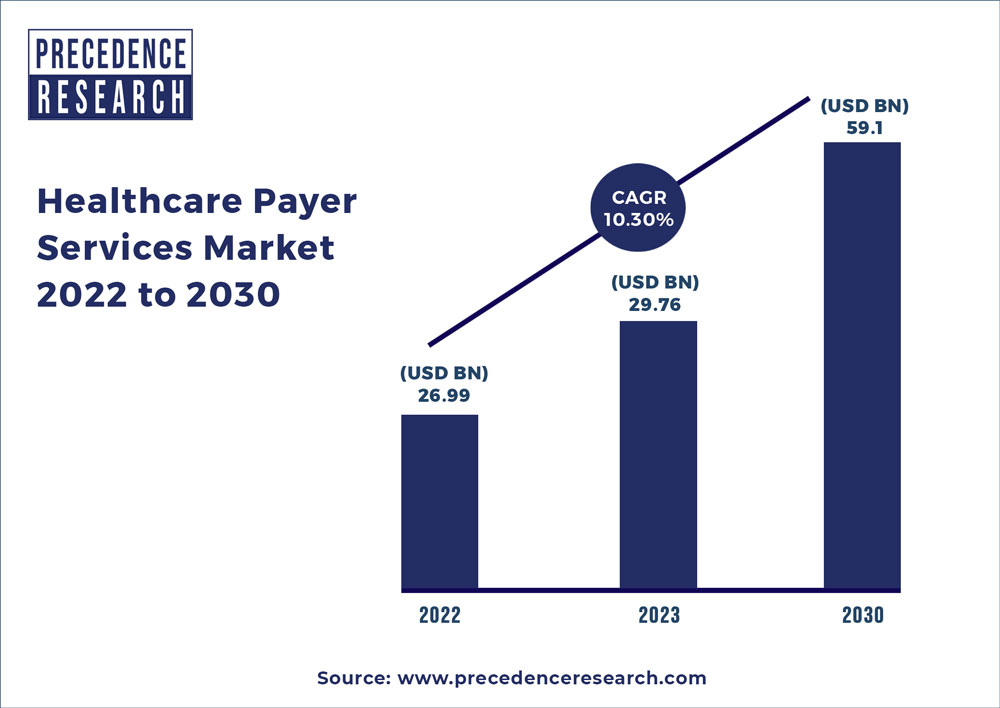 The providers of healthcare payer solutions assist private and public payers, as well as healthcare insurers, in managing claims, member involvement, audits, medical documentation, and customer relations. These companies have dedicated units that improve overall health system performance by optimizing care quality, lowering costs, and improving consumer experience and care provider performance, as well as leveraging unique capabilities in data and analytics, pharmacy care services, population health, healthcare delivery, and healthcare operations. The healthcare payer services providers assist their clients in improving operational efficiency and lowering operational costs through all of these services.
The services that are outsourced by healthcare insurance payers are included in the healthcare payer services market. These outsourcing options aid payers in streamlining their company procedures and providing better customer service.
Healthcare Payer Services Market Report Scope
Report Coverage
Details
Market Size In 2022
USD 26.99 Billion
Market Size By 2030
USD 59.1 Billion
Growth Rate from 2022 to 2030
CAGR of 10.3%
Base Year
2021
Forecast Period
2022 to 2030
Segments Covered

By Service
By Application
By End User

Regions Covered

North America
Europe
Asia-Pacific
Latin America
Middle East and Africa

Report Highlights
Based on the service, the business processes outsourcing services segment dominated the global healthcare payer services market in 2020 with the highest market share. The factor driving the growth of the healthcare payer services market is a surge in investment in cloud computing by major key players to diversify their portfolios.
Regional Snapshot
North America is the largest segment of the healthcare payer services market in terms of region. Due to the presence of important firms that offer healthcare payer services in the region, as well as the high demand for healthcare payer solutions, the North American region dominated the market.
Asia-Pacific region is the fastest growing region in the healthcare payer services market. This is attributed to the increased use of healthcare IT solutions and the presence of a huge unpaid population base, the Asia-Pacific is predicted to develop at a rapid pace during the forecast period.
Market Dynamics
Drivers: Surge in the use of big data analytics
The volume of electronic data produced in the healthcare industry has risen to terabytes and petabytes in recent years, owing primarily to the digitization of administrative, clinical, and financial data. With the volume nearly doubling every year, it is expected to reach exabytes and even zettabytes in the coming years. In addition to the increasing volume, the sheer diversity of data in healthcare presents a significant challenge for healthcare providers. When compared to other industries, healthcare data is more complex due to its length and heterogeneity. To address these challenges in the healthcare industry, service providers are increasingly implementing healthcare analytics and data management solutions. Thus, the use of big data analytics is propelling market growth.
Restraints: High costs of outsourcing
Improper outsourcing planning and financial allocation frequently have a negative impact on cost savings and the business value that can be derived from outsourcing. Companies that plan their finances while outsourcing their business processes fail to account for unforeseen costs, such as those incurred while evaluating and selecting a vendor, managing offshore contracts, transitioning processes, and improving employee security and severance pay. Thus, the high costs of outsourcing is a restricting factor for the expansion of the healthcare payer services market during the forecast period.
Opportunities: Technological advancements
Artificial intelligence and machine learning, in particular, increase the efficiency of the drug discovery process and significantly improve success rates in the early stages of drug development. As artificial intelligence plays an important role in the discovery of drugs for chronic diseases such as cancer, this will assist healthcare payer service providers in making significant breakthroughs. AI's capabilities significantly shorten the time required to bring a cancer-fighting drug to market, resulting in significant growth in the healthcare payer services market. Several pharmaceutical companies are increasingly focusing on partnering with established and emerging AI-driven companies in order to leverage the power of AI-based solutions to accelerate their drug discovery programs. Because of the increased number of clinical trials and research on drugs, the contract research organizations (CROs) services market will be impacted. As a result, technological advancements is creating growth opportunities for the healthcare payer services market.
Challenges: Data privacy concerns
Approximately one-third of data breaches in healthcare result in medical identity theft, owing to a lack of internal control over patient information, a lack of top management support, outdated policies and procedures or non-adherence to existing ones, and insufficient personnel training. As a result, patient confidentiality is a major issue in the healthcare industry. Because healthcare payer services involve data transfer between healthcare organizations and healthcare payer service providers, vendors catering to the healthcare industry face a significant challenge in developing a secure communication platform. Thus, data privacy concerns is a major challenge for the growth of the healthcare payer services market during the forecast period.
Key Players in the Report
Hinduja Global Solutions Ltd.
Cognizant Technology Solutions
Hexaware Technologies Ltd.
HCL Technologies Ltd.
Teleperformance Group
Sutherland Global Services
Concentrix Corporation
Wipro Ltd.
Accenture Plc.
FirstSource Solutions Ltd.
Market Segmentation
By Service
Business Process Outsourcing Services
Information Technology Outsourcing Services
Knowledge Process Outsourcing Services
By Application
Audit & Analysis Systems
Claims Management Services
Fraud Management Services
Computer-assisted Coding Systems
Member Eligibility Management Services
Provider Network Management Services
Payment Management Services
Customer Relationship Management Services
Medical Document Management Services
General Ledger & Payroll Management
By End User
Buy this Research Report@ https://www.precedenceresearch.com/checkout/1525
You can place an order or ask any questions, please feel free to contact at sales@precedenceresearch.com | +1 9197 992 333