The global hospital surgical disinfectant market size surpassed USD 402.19 million in 2022 and is projected to rise to USD 811.37 million by 2032, anticipated to grow at a CAGR of 7.27 percent during the projection period from 2023 to 2032.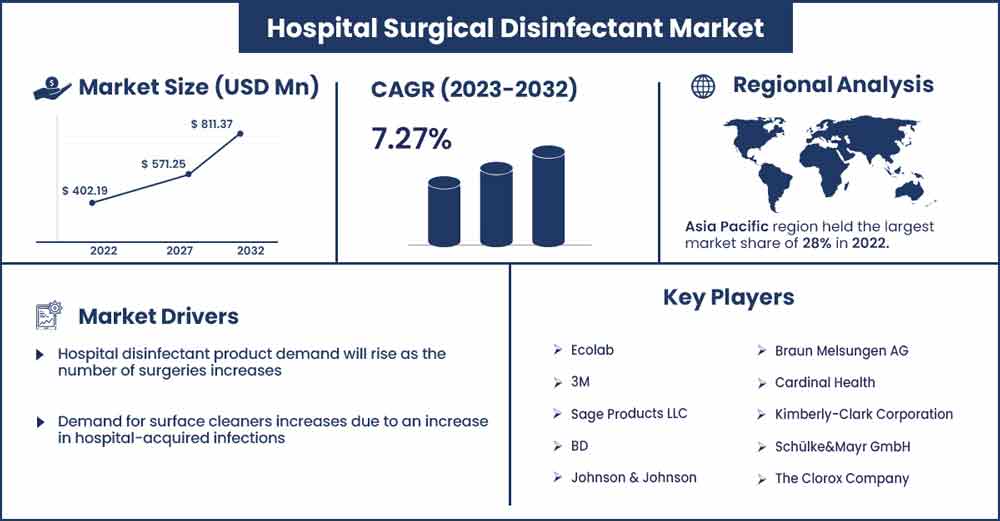 The rise in the frequency of nosocomial infections (healthcare-associated diseases) and surgical procedures fuel demand for sterilization equipment and are the main factors driving the global market for hospital disinfection products. Hospitals frequently utilize liquid, gel, and lotion products because they are less dangerous and more straightforward. Chemicals used in hospital disinfection are used to stop the spread of COVID-19 and other harmful bacteria and viruses. These disinfectants are also required to prevent contagious infections, typically after surgery. Opportunities for producers arise as the number of disinfectants used in hospitals increases.
Healthcare-associated infections (HAI) are receiving more public attention, which calls for safe, sterile, and hygienic medical processes. Since liquids are the most traditional hospital cleaning solutions and include liquid-based disinfection goods, including surface cleaners, air cleaners, and water cleaners, the liquid segment is anticipated to be very appealing during the forecast period. The market for these disinfection solutions is rising due to more stringent medical regulations, an increase in the geriatric population's demand for hygiene, and an increase in the prevalence of chronic health disorders. The EPA has approved and given permitted the use of cleaning products in hospitals. Due to the rise in global healthcare awareness, various governments and groups have also imposed standards and rules for the healthcare industry.
Report Highlights
Based on products, Chlorhexidine is considered an effective and long-lasting antiseptic since it protects against SSIs, central line-associated bloodstream infections, or other comparable disorders. The need for hand rubs such as sanitizers, which are efficient against various bacteria, has also increased. Different concentrations, such as 0.9%, 2%, and 4%, are used.
Based on end-user, in 2022, the hospital segment held a revenue share of more than 46.0% of the market. People in many nations choose ASCs since they are less expensive than hospitals. Growing public awareness of one-day procedures is a crucial driver of the segment's expansion.
Based on region, Asia Pacific was in the lead with a market share of over 28% in 2022 and is expected to grow at the highest rate between 2023 and 2032. This is related to factors like the high prevalence of hospital-acquired infections and improvements in healthcare infrastructure that promote the use of hospital surgical disinfectants.
Hospital Surgical Disinfectant Market Report Scope:
| | |
| --- | --- |
| Report Coverage | Details |
| Market Revenue in 2023 | USD 431.43 Million |
| Projected Forecast Revenue in 2032 | USD 811.37 Million |
| Growth Rate from 2023 to 2032 | CAGR of 7.27% |
| Largest Market | Asia Pacific |
| Base Year | 2022 |
| Forecast Period | 2023 To 2032 |
| Regions Covered | North America, Europe, Asia-Pacific, Latin America, and Middle East & Africa |

Regional Snapshot:
Asia Pacific led with a market share of over 28% in 2022 and is likely to grow at the highest rate between 2023 and 2032, owing to the high prevalence of hospital-acquired infections and improvements in healthcare infrastructure that promote the use of hospital surgical disinfectants. Additionally, that market expansion is expected to be fuelled by regulatory requirements to provide safe and high-quality healthcare services during the forecast period. For instance, the Chinese regulatory body, the National Medical Products Administration (NMPA), declared that it would expedite the registration of medical disinfectants that adhere to the EU, Japanese, and US requirements. Therefore, these factors are anticipated throughout the projected period to fuel market expansion.
The region's rising incidence of illnesses and procedures could further fuel market expansion. The area's highest rate of operations and surgeries is another factor driving the industry's growth. Asian nations, including India, China, and Thailand, are seeing increased medical tourism. For instance, the AIIMS New Delhi in India broke the record for the most surgeries performed in a calendar year with 1.97 lakh procedures. These nations' expanding healthcare systems have led to an increase in the consumption of hospital surgical disinfectants.
One of the key market drivers is the rise in healthcare spending in both the public and private sectors. A situation like this is expected to spur the entry of several national and local businesses, boosting regional market expansion. Major market participants are also working to access untapped areas like Korea, China, and India, broadening the market's potential. Additionally, the region's fast-expanding hospital and laboratory population and thriving medical tourism sector are fuelling the Asia Pacific region's market expansion. Such elements help the local economy even more.
Market Dynamics:
Drivers:
Hospital disinfectant product demand will rise as the number of surgeries increases
Increased surgical and minimally invasive procedures fuel the market for hospital disinfection products. The demand for medical equipment is growing due to more processes, which calls for using the most advanced sterilizers for cleaning. In hospitals, sanitizers and lotions are convenient items to carry. Hand sanitizers function best in places where hands come into direct contact with pathogens, such as medical clinics. These elements are likely to increase the need for hospital hygiene and disinfection solutions. During the projection period, a steady rise in consumer awareness and increased purchasing power will likely fuel the market for hospital disinfectant solutions.
Demand for surface cleaners increases due to an increase in hospital-acquired infections
Application-wise, the hospital disinfection products market has been divided into disinfectants, instruments& accessories, air cleaners, surface cleaners, water cleaners, and surveillance providers. In 2022, the surface cleansers market category held a sizable market share, and it is anticipated to keep its market share throughout the forecast. The category will likely develop at a healthy rate during the projected period owing to the increasing number of illnesses acquired in hospitals.
The air freshener sub-segment under air cleaners is likely to be very lucrative and expand quickly throughout the forecast period. Air neutralizer is more expensive than an air freshener, and products with air freshening effect are used to lessen unpleasant odors. Various scents and air fresheners include gel, spray, and liquid. Manufacturers are also releasing brand-new goods like air fresheners with sanitizers to meet consumer demand. Focusing on creating cutting-edge products has enormous financial rewards for the makers of hospital disinfection products.
Recent Developments
In 2021, the TruShot 2.0 Hospital Cleaner & Disinfectant, a Trust 2.0 Mobile Dispensing System component, was introduced by SC Johnson Professional USA, Inc. This spray-and-wipe virucide and disinfectant are efficient against various bacteria, viruses, and fungi. In addition, it satisfies client needs and prevents mold formation and mildew.
In 2021, to stop the spread of the highly infectious SARS-CoV-2 virus, producers have made new products and technological advancements, including cleaning robots that are utilized in public settings. The Breezy One robot from Fetch Robotics, Inc. (US) was employed in the Albuquerque airport to clean airplanes. In addition, a lot of hospitals started using robots to disinfect equipment in their labs. Six hospitals in Naples will receive NCH Healthcare Organization's germ-zapping robots in 2020. NCH Healthcare System is a non-profit healthcare system established in Florida (US). These robots clean the environment with pulsed spray sanitizers.
Competitive Analysis:
Two primary competitive strategies market participants employ significant R&D investments and product revisions. Manufacturers are introducing innovative solutions to boost sales and expand their clientele; a crucial aspect anticipated to fuel the market's expansion. Additionally, businesses are expanding their distribution networks and corporate footprint in new markets through strategic alliances and agreements, which will likely further fuel the demand for high-level disinfection services.
Additionally, the growing collaborations between regional and international companies are anticipated to transform surgical disinfectants in general hospitals by spurring significant market growth. For instance, one of the top market expansion service providers, DKSH and Schülke&Mayr, formed a distribution deal in February 2019. According to the terms of the deal, DKSH will market and distribute a variety of Schülke's disinfection products in China. A situation like this is expected to spur the entry of several local and foreign businesses, boosting market expansion. As a result, manufacturers are concentrating on growing their sales or business by diversifying their product lines or establishing new manufacturing facilities worldwide. Leading companies in the global market for hospital surgical disinfectants include:
Ecolab
3M
Sage Products LLC
BD
Johnson & Johnson
Braun Melsungen AG
Cardinal Health
Kimberly-Clark Corporation
Schülke&Mayr GmbH
The Clorox Company
Market Segmentation:
By Product
Chlorhexidine
Alcohols
Octenidine
Povidone-iodine
Hydrogen Peroxide
Others
By End-Use
Clinics
Hospitals
Ambulatory Surgical Centers
Others
Buy this Research Report@ https://www.precedenceresearch.com/checkout/2493
You can place an order or ask any questions, please feel free to contact at sales@precedenceresearch.com | +1 9197 992 333