The hydrogen combustion engines market is predicted to be worth USD 35 billion in 2030 and is expected to reach around USD 89 billion by 2040, growing a CAGR of 9.78% during the projection period.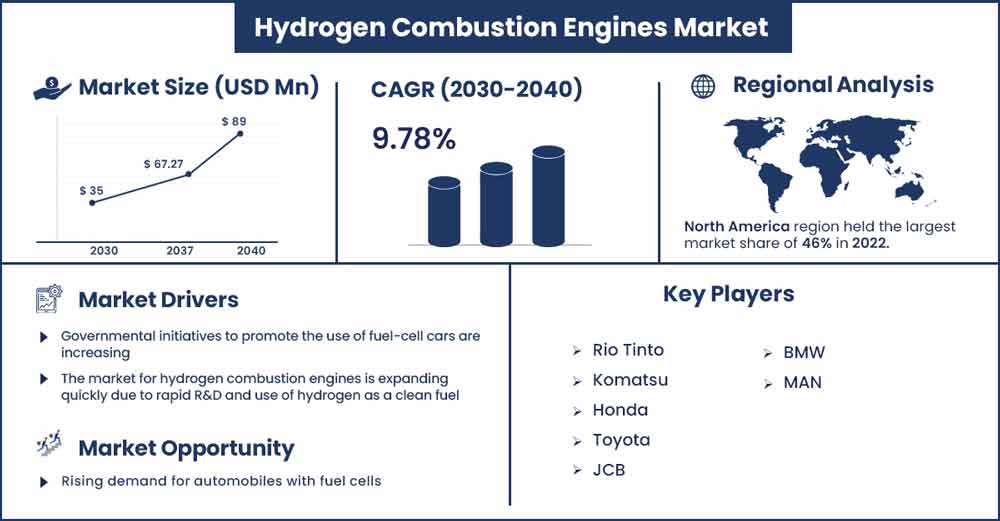 The purpose of propulsion, hydrogen combustion engines, which are often modified versions of the traditional gasoline-powered combustion engines, need hydrogen fuel. These engines may take advantage of current technology, providing a zero-emissions option for certain applications while promoting the expansion of hydrogen infrastructure on a worldwide scale. Additionally, a lot of businesses are spending in R&D to develop effective hydrogen combustion engines for various kinds of cars, which is promoting market expansion internationally.
The market for hydrogen combustion engines has been adversely impacted by the new COVID-19's proliferation. These days, every market is unclear because of the pandemic's disruptive impact on nations all over the world. Governments from all across the world issued directives to curb the spread of the COVID-19 virus by strictly enforcing lockdowns in various economies, which limited vehicle activity and restrained market expansion throughout the pandemic. Although the market has not yet reached its full potential because to the COVID-19 epidemic, it is anticipated to rise rapidly in the near future.
Hydrogen Combustion Engine Market Report Scope:
| | |
| --- | --- |
| Report Coverage | Details |
| Market Revenue in 2030 | USD 35 Billion |
| Projected Forecast Revenue in 2040 | USD 89 Billion |
| Growth Rate from 2030 to 2040 | CAGR of 9.78% |
| Largest Market | North America |
| Base Year | 2022 |
| Forecast Period | 2030 To 2040 |
| Regions Covered | North America, Europe, Asia-Pacific, Latin America, and Middle East & Africa |

Market Dynamics:
Drivers:
The market for hydrogen combustion engines is expanding quickly due to rapid R&D and use of hydrogen as a clean fuel. The advantages of hydrogen fuel cells in the automotive industry have received much media coverage. The expense of separating water molecules into oxygen and hydrogen, however, prevents the widespread use of hydrogen fuel cell vehicles. The creation of a low-cost method for manufacturing hydrogen energy has been the focus of scientific research. Researchers from Swinburne University of Technology and Griffith University were able to separate hydrogen from water molecules by using inexpensive metals like iron and nickel as catalysts, according to a report that was published on May 6th, 2022 in Nature Communications. The use of these metals enhances the chemical reaction while using less energy. Furthermore, on January 6, 2022, Toyota, a pioneer in the automotive industry, unveiled grand plans for a metropolis powered by hydrogen. According to the company, the city would be built at the base of Mount Fuji in Japan, and workers, their families, as well as scientists and researchers, would live there. The city's name is Woven City, and its surroundings will be interconnected.
Demand for hydrogen fuel cell cars is anticipated to continue to be supported by significant advancements in this field. As a new era of fuel technology in transportation arises, increased emphasis on lowering manufacturing costs and innovations are anticipated to bring up new and attractive income prospects.
Restraints:
Hydrogen is found in abundance in nature, but its extraction is challenging. Since it does not naturally occur, hydrogen must be extracted from water or separated from fossil fuels that include carbon. These two processes each require a significant amount of energy to finish. This energy might be more expensive and more potent than that derived from hydrogen alone.
Opportunities:
In order to create cutting-edge automotive machines and present this technology to the market, many industry participants are concentrating on R&D. The cars may now be comprehended more fully thanks to extensive primary research, which is carried out before the vehicles are introduced onto the automotive marketplaces.
Researchers are continually able to satisfy public demand for research. Due to the development of a low-cost technology to produce hydrogen energy, more hydrogen-powered cars are now available on the market. Growing scientific knowledge inspired automakers to create eco-friendly automobiles for the market in an effort to decrease carbon emissions in the environment.
Additionally, depending on the source of the hydrogen utilised, vehicles with internal combustion hydrogen engines can run completely without producing any direct or indirect CO2 emissions.
Driving without emitting any CO2 is possible because to hydrogen created by electrolysis using power from sources such as solar or wind energy. Furthermore, there are no emissions of volatile organic compounds, carbon monoxide, or particulate matter from hydrogen fuels.
Challenges:
The electrolysis method, which separates hydrogen and oxygen atoms from water by running a strong electric current across it, is typically used to extract hydrogen from water. Due to the significant energy needs, the electrolysis process is highly costly. Additionally, hydrogen presents difficulties for designers in terms of weight and space constraints, as well as in terms of managing and storing fuel onboard aircraft. As contrast to older aircraft powered by kerosene, liquid hydrogen has a high volume to energy ratio, which means that hydrogen-powered aircraft must carry a lot more fuel. Higher air drag results from this, which reduces the aircraft's fuel efficiency.
One characteristic of hydrogen is its decreased density, which is significantly lower than that of gasoline. As a result, in order to maintain its usefulness and efficiency as a power source, it must be compressed, brought to a liquid condition, and stored in the same way at lower temperatures. This is the rationale behind why using hydrogen for transportation and everyday use is now impractical since it must be delivered and stored at high pressure conditions. Additionally, switching to hydrogen-powered automobiles and aeroplanes entails significant expenses. To develop and produce the new, personalised automobiles, significant expenditures are needed. The market for hydrogen combustion engines might thus be hampered by such reasons.
Report Highlights:
Proton exchange membranes are the main product on the market for hydrogen-powered internal combustion engines. It is anticipated that the proton exchange membrane, which moves protons from the anode to the cathode across the membrane, would expand at a higher pace throughout the forecast period since it is essential to the effective completion of the electrochemical process.
Geographically speaking, North America is predicted to have a sizeable market share for hydrogen combustion engines for the foreseeable future. This is brought on by the increased R&D costs incurred in order to develop cutting-edge solutions and satisfy customer needs.
Commercial vehicles are expected to account for a sizeable portion of the hydrogen combustion industry in the upcoming years, according on the kind of vehicle.
Due to accelerated R&D and the usage of hydrogen as a clean fuel, the market for hydrogen combustion engines is growing significantly.
During the projected period, the market for hydrogen combustion engines is anticipated to grow at a CAGR of 8.7%.
Recent Developments:
With the acquisition of Helion Hydrogen Power on April 1, 2021, Alstom bolstered its position in the hydrogen market. By purchasing this business, Alstom has increased the number of cutting-edge, competitive solutions it offers and moved closer to realising its Alstom in Motion strategic strategy.
On January 22, 2019, Toyota and Paccar Inc. partnered on the creation of 10 Class 8 fuel cell trucks for usage in Southern California, United States.
Major Key Players:
Rio Tinto
Komatsu
Honda
Toyota
JCB
BMW
MAN
Market Segmentation:
By Technology
Proton membrane exchange
Phosphoric acid fuel cell
Others
By Application
Passenger vehicle
Commercial vehicle
Ships
Others
Buy this Research Report@ https://www.precedenceresearch.com/checkout/2332
You can place an order or ask any questions, please feel free to contact at sales@precedenceresearch.com | +1 9197 992 333