The global hyperconnectivity market size surpassed USD 379.54 billion in 2022 and is expected to rise to USD 1,872.2 billion by 2030, anticipated to grow at a substantial CAGR of 22.08% during the projection period from 2022 to 2030.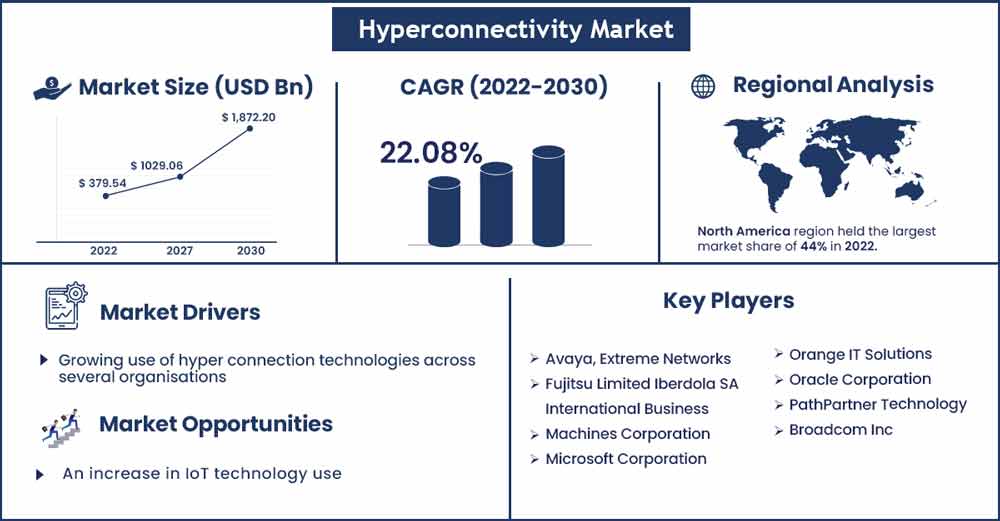 The disease has spread to nearly every country in the world since the COVID-19 viral outbreak in December 2019, and the WHO has declared it a public health emergency. In 2020, it is anticipated that the disease's global effects will have a substantial influence on the market for hyper connectivity. The desire for workers to stay connected through various methods to interact and voice their ideas is increasing as workplace trends shift toward remote working. Hyperconnection is a potent collaboration tool that promotes worldwide alignment and boosts efficiency; as a result, the industry is anticipated to benefit. Overall, it is anticipated that the pandemic would benefit the market for global hyperconnection.
Report Highlights:
During the anticipated era, which is from 2022 to 2030, the market is anticipated to expand quickly.
The components of the hyperconnectivity market have been divided into service and solutions, with the solutions segment anticipated to have the biggest market share throughout the course of the projection period due to the rising demand for hyperconnection software solutions among large and SMEs.
North America, a technologically advanced region, is a significant contributor to the global market for hyper connectivity. Because both the United States and Canada are developed economies, they can invest a lot of money in R&D initiatives. Rapid digitization across industrial focus areas, increased usage of smart connected devices, and technical breakthroughs have all contributed to the expansion of the North American hyperconnectivity market.
Internet connectivity, as well as connected devices, offer organisations wonderful opportunities to retrieve relevant data, like customer behaviour in retail stores, for real promotional analysis, instantaneous control and sensor-driven analytics decisions.
Regional Snapshots:
The market forecast for North America will be favorable given the growing popularity of cloud-based platforms in the United States and Canada. The BFSI, healthcare, and sustainable energy sectors will all see an increase in IoT-enabled products and R&D development activities, which will further fuel the market's desire for high levels of connection. Additionally, the presence of well-known corporations like IBM, Microsoft, Amazon Web Services, and Google has sped up innovation in the United States. Leading businesses predict that the demand from the healthcare industry will lead to a noticeable increase in market growth for hyperconnectivity in Europe. The growth of smart technology and the thriving healthcare sector will increase the need for hyperconnection and IoT.
Due to active smart city initiatives and investments in IT and telecom, the Asia Pacific market revenue will experience a significant increase. Notably, consumers have increased their investments in smart gadgets in order to increase their presence in developing nations. China is responsible for 64% of the 1.5 billion connections in the worldwide Internet of Things, according to GSMA Intelligence Report 2020. In essence, over the evaluation period, the BFSI and healthcare industries will continue to be major IoT users.
Hyperconnectivity Market Report Scope:
| | |
| --- | --- |
| Report Coverage | Details |
| Market Revenue in 2023 | USD 463.33 Billion |
| Projected Forecast Revenue in 2030 | USD 1,872.2 Billion |
| Growth Rate from 2022 to 2030 | CAGR of 22.08% |
| Largest Market | North America |
| Base Year | 2022 |
| Forecast Period | 2022 To 2030 |
| Regions Covered | North America, Europe, Asia-Pacific, Latin America, and Middle East & Africa |

Market Dynamics:
Drivers:
Increasing the number of smart homes will boost the hyper-connection market's growth potential. Stakeholders have been urged to increase their penetration into previously untouched regions for hyperconnection by the growing need for smart city solutions. The desire for smart homes and buildings will cause the use of smart meters, smart light, and sensors to further acquire significance for hyperconnection solutions.
It is important to note that Industry 4.0 has sparked an innovation tsunami in both developed and developing nations. The Red Sea Project, NEOM, Amaala, and Qiddiya are four of Saudi Arabia's large initiatives that have distinguished the country for their development of smart cities. Industry participants foresee a large increase in market share for hyperconnection with the adoption of smart technology.
Opportunities:
During the projection period, the market for hyperconnectivity is seeing growth due to the Internet of Homes. As AI home virtual assistants become more widely adopted, demand for contactless fingerprints and voice control security solutions is increasing. The makers of smart home devices must provide products with many functions that can manage a variety of appliances as well as enable the integration for simplicity and control. There is potential for insurance, telecommunications firms, and internet merchants to collaborate strategically in this area. Connect Security Policies (CSP) will also evolve into data controllers and dataflow orchestrators, thus they must foster an open ecosystem of orchestrators based on relevance, scalability, expertise, and trust. Network service providers may establish a reputation as reliable partners and create a system for installing, controlling, and managing data across various contexts.
In the upcoming years, all of these reasons will propel the hyperconnectivity market's expansion.
Challenges:
The two main elements that make Hyper connection work well are technological breakthroughs and operational effectiveness. Many nations in the Middle East, Asia Pacific, Africa struggle with the lack of simple technologies, including such telecom or networking infrastructure, thus are unable to quickly implement smart-based projects because of a variety of factors, including a limited budget and a very less literacy rate.
Many nations have yet to fully develop or even adopt 4G technology, while others, like China, have finished their 5G technology testing. Although the government and businesses of these nations are aware of the advantages of IoT and the significant return on investment from the market the starting budgetary restriction plays a critical role in slowing the growth of hyper connection in such nations. Even wealthy nations like those in North America and Europe struggle to replace their outdated infrastructures with modern ones.
Recent Developments:
In December 2021, Oracle announced plans to purchase Cerner, a prominent supplier of digital information systems used by hospitals and health systems to improve the quality of care given to patients and communities by medical personnel.
The French hardware and software firm Wattsense, which provides cutting-edge, plug-and-play IoT management solutions for small and mid-size buildings, was bought by Siemens Smart Infrastructure in October 2021. Siemens' line of construction goods would grow as a result.
Major Key Players:
Avaya, Extreme Networks
Fujitsu Limited Iberdola SA
International Business Machines Corporation
Microsoft Corporation
Orange IT Solutions
Oracle Corporation
PathPartner Technology
Broadcom Inc
Market Segmentation:
By Organizational Size
By Component
By Product
Enterprise Wearable Devices
Middleware Software
Cloud Platforms
Business Solutions
By Industry Vertical
BFSI
Healthcare & Life Sciences
Telecommunications & IT
Government & Public Sector
Manufacturing
Consumer Goods & Retail
Media & Entertainment
Others
Buy this Research Report@ https://www.precedenceresearch.com/checkout/2226
You can place an order or ask any questions, please feel free to contact at sales@precedenceresearch.com | +1 9197 992 333