The global industrial fabric market revenue was evaluated at USD 19.32 billion in 2022 and is expected to attain around USD 30.67 billion by 2032, growing at a CAGR of 4.73% from 2023 to 2032.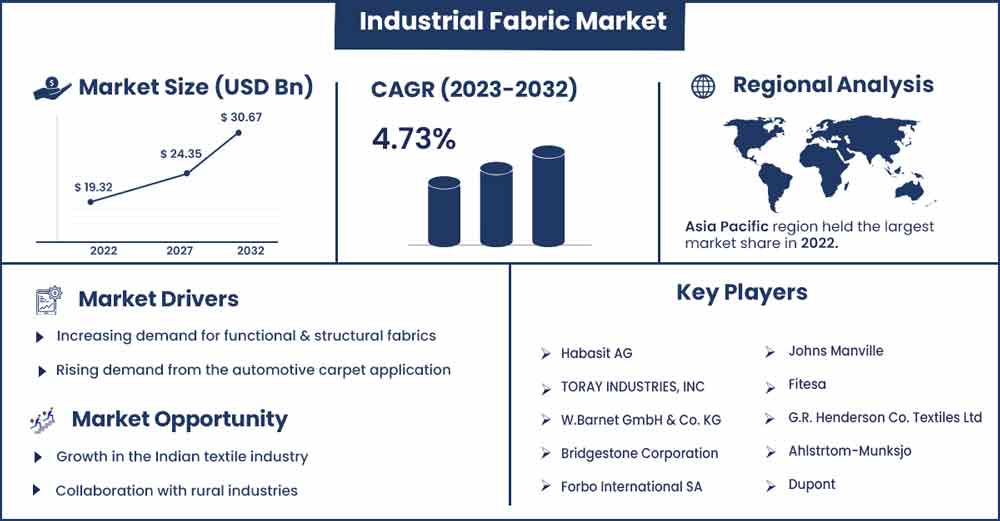 Industrial fabrics are used in various applications, including automotive, printing, belting, filtering, and processing. Industrial fabrics are made from synthetic and natural materials, woven or knitted in multiple patterns, or produced in unwoven textures. Some materials used to make industrial fabrics include fiberglass yarns, aramid fibers, graphite, nylon, Kevlar, polyester, and Teflon.
Regional Insights:
North America is estimated to be the fastest-growing region during the forecast period. The high demand for protective apparel and automotive carpet applications drives the growth of this region. It is a developed region in terms of industrialization and technological advancement. Moreover, the rising adoption of geotextiles for soil reinforcements and geotechnical engineering is expected to drive the market.
Furthermore, Europe is estimated to grow faster during the forecast period. The well-established automotive manufacturing sector and significantly increasing vehicle demand are expected to drive demand for industrial fabrics for automotive applications. The installation of safety kits in all vehicles is expected to stimulate regional growth.
Industrial Fabric Market Report Scope:
| | |
| --- | --- |
| Report Coverage | Details |
| Market Revenue in 2023 | USD 20.24 Billion |
| Projected Forecast Revenue by 2032 | USD 30.67 Billion |
| Growth Rate from 2023 to 2032 | CAGR of 4.73% |
| Largest Market | Asia Pacific |
| Base Year | 2022 |
| Forecast Period | 2023 to 2032 |
| Regions Covered | North America, Europe, Asia-Pacific, Latin America, and Middle East & Africa |

Market Dynamics:
Driver: Rising demand from the automotive carpet application to drive demand for the industrial fabric
Given the high demand from the automotive sector, industrial fabrics are expected to grow rapidly. According to a survey, nearly 45 square meters of textile materials are used in car interiors. Seats, headliners, carpets, side panels, and other components are included. Fabrics and textiles account for nearly 2% of a vehicle's total weight. These fabrics are widely used in lightweight vehicles, heavy-duty trucks and other vehicles. One of these fabrics' applications is in the reinforcement of vehicle tires. Tires are reinforced with glass cords, polyester carcasses, aramid fibers, and webbed fibers. Tire reinforcement materials include glass cords, polyester carcasses, aramid fibers, and webbed fibers. Increased production of passenger and heavy vehicles will drive demand for industrial textiles even further. Government legislation and pressure on installing and using safety devices in cars and other automobiles are two significant factors driving the market growth. The primary safety devices in a vehicle are seat belts and airbags. Seatbelts are made from about 1 kg of industrial fabrics, and airbags, which are made of nylon, help to keep the driver and passengers safe.
Restraint: Stringent Government regulations
The main factor limiting the growth of the industrial fabric market is stringent government regulations. The industrial fabric market is facing a significant challenge in meeting strict government regulations. In comparison to natural fiber fabric, which is environmentally friendly and biodegradable, synthetic fabric is difficult to degrade. Industrial fabrics made from synthetic fabrics contain chemicals that are harmful to humans and the environment and are non-biodegradable. This, in turn, leads to increased pollution and the implementation of stringent rules due to the growing emphasis on reducing pollution from the environment, which has further hampered the production and manufacturing of industrial fabrics and may potentially restrain market growth to some extent over the forecast period. Furthermore, lower durability, lower strength properties, and high moisture absorption, which causes fibres to swell, limit the use of industrial fabrics in specific applications, limiting the market growth.
Opportunity:
Collaboration with rural industries
Collaboration with emerging local rural industries will boost industrial fabric market sales. Denim fabric manufacturers intend to focus on quality and supply expansion globally. For instance, Arvind Limited has collaborated with village industries to cross-sell industrial fabrics to reach a large customer base.
COVID-19 Impact:
The pandemic has significantly impacted the overall market; the deadly virus has severely disrupted the industrial sector's operational activities. Since the COVID-19 outbreak, manufacturing facilities have had to halt production to comply with regional government regulations. Governments have been forced to implement various stringent social distancing practices, lockdowns, and other preventive measures to overcome the sensitive situation. For instance, as directed by various state governments, many automotive manufacturers in Asia, the United States, and Western Europe halted production. TATA Motors, for instance, temporarily was shut down its manufacturing facility in Pune to prevent the virus from spreading.
However, the rising demand for protective clothing in the medical and healthcare sectors has been a boon. The coronavirus has wreaked havoc on the global economy and disrupted the raw material supply chain for all market segments. The market is expected to be impacted by the massive disruption in demand and supply of processed goods and their raw materials due to the lockdown and government regulations.
Fibre Type Insights:
The polyamide segment is expected to grow faster during the forecast period. According to a plastic insights survey, polyamide fibre production has steadily increased over the last decade. Due to the material's strong properties of heat stabilization and flame retardation, it is widely used in producing flame-retardant clothing and other protective clothing. Polyamide is used in several industries, such as automotive, Food & beverages, robotics, etc. In automotive, Polyamide is commonly used to make air intake manifolds, engine covers, valve covers, and airbag containers, as well as exterior components such as handles, grilles, wheel covers, and fuel caps and lids. These components were previously made of metal, but polyamide allows for lighter, more fuel-efficient vehicles while lowering production costs.
Moreover, the aramid segment is estimated to grow faster during the forecast period. The growth is due to the growing number of applications. Aramid fibers are synthetic fibre that is both heat resistant and strong. They are used in aerospace and military applications, as ballistic-rated body armour fabric and ballistic composites, bicycle tires, marine cordage, marine hull reinforcement, and as an asbestos replacement., Moreover, Global aramid fiber capacity has approached 130kt, with most of it concentrated in North America, Europe, and Asia. Para-aramid fibres, which account for approximately 63% of total global aramid fibre capacity, are primarily used in protection materials, high-temperature resistant materials, and rope/optical cable. In contrast, meta-aramid fibres are predominantly used in insulation, flame resistance, and filtration fields.
Application Insights:
The protective apparel segment is estimated to be the fastest-growing segment during the forecast period. Protective apparel includes textile or apparel products that protect from danger, and it protects the risks while lowering the risk of exposure to hostile elements or environments. Along with normal clothing, this type includes body armor such as bulletproof vests, historical armor, and futuristic-powered armor.
Furthermore, flame-resistant apparel is estimated to be the fastest-growing segment during the forecast period. Fire retardant fabrics are commonly used in industrial worker wear, firefighter uniforms, military pilots' suits, war-combat dress, tent fabric, parachute fabric, professional motor racing apparel, and other applications. Materials such as 'Twaron' are commonly used in industries such as firefighting to withstand high temperatures. A fire-retardant fabric shields the wearer from fires, electrical arcs, and other hazards. It is primarily used in interior materials such as curtains in hotels, hospitals, and trees, among other places.
Key Developments:
In 2020, TrustShield Biological, a personal protective apparel medical fabric designed to shield against hazardous pathogenwaseen launched by Ahlstrom-Munksj6. This advancement strengthens the company's position in the global industrial fabric market, particularly in the medical sector.
In 2020, Continental introduced the CT1228 timing belt, which replaced the CT1188 for special Citroen and Peugeot engines. It is designed for machines with timing belts that run directly in oil, and it provides greater efficiency and smoother operation even in older, high-mileage engines.
Major Key Players:
Habasit AG
TORAY INDUSTRIES, INC
W.Barnet GmbH & Co. KG
Bridgestone Corporation
Forbo International SA
Johns Manville
Fitesa
G.R. Henderson Co. Textiles Ltd
Ahlstrtom-Munksjo
Dupont
Market Segmentation:
By Fiber Type
Polyester
Aramid
Polyamide
Composite
Others
By Applications
Transmission Belt
Protective Apparel
Conveyor Belt
Automotive Carpet
Flame Resistance Apparel
Others
Buy this Research Report@ https://www.precedenceresearch.com/checkout/2761
You can place an order or ask any questions, please feel free to contact at sales@precedenceresearch.com | +1 9197 992 333