The global industrial fabric market size was estimated at USD 19.32 billion in 2022 and is expected to hit around USD 30.67 billion by 2032, growing at a CAGR of 4.73% from 2023 to 2032.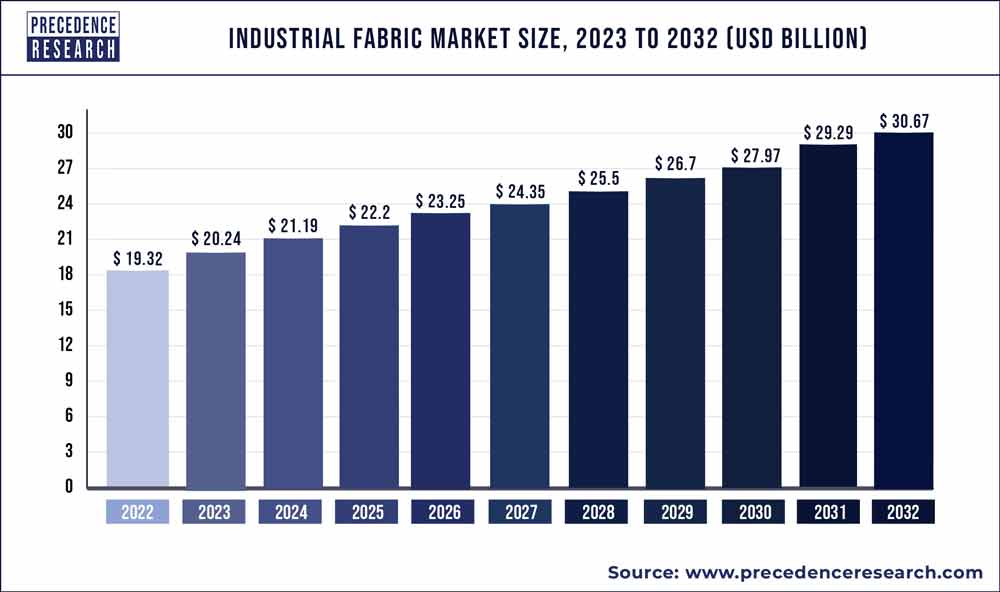 Factors such as the increased quality of industrial fabric features and the increasing application of industrial fabric in the automotive industry are driving the growth of the market. However, stringent government regulations are one of the major factors impeding the growth of the Industrial Fabric Market. Furthermore, the expansion of filtration applications will provide a tremendous opportunity in the industrial fabrics market during the forecast period.
Key Takeaways:
Asia Pacific led the global market and generated for the largest market share in 2022.
By Fiber Type, the polyester fibre type segment captured for the largest market share in 2022.
By Applications, the automotive carpet segment dominated the market share and is predicted to grow from 2023 to 2032.
Report Scope of the Industrial Fabric Market:
| | |
| --- | --- |
| Report Coverage | Details |
| Market Size in 2023 | USD 20.24 Billion |
| Market Size by 2032 | USD 30.67 Billion |
| Growth Rate from 2023 to 2032 | CAGR of 4.73% |
| Largest Market | Asia Pacific |
| Base Year | 2022 |
| Forecast Period | 2023 to 2032 |
| Segments Covered | By Fiber Type and By Applications |
| Regions Covered | North America, Europe, Asia-Pacific, Latin America and Middle East & Africa |

Market Dynamics:
Driver: Increasing demand for functional and structural fabrics
Industrial fabrics are non-apparel, high-performance, and highly functional fabrics predominantly used in commercial and industrial applications. They are frequently used as components of other products to modify their functional properties, strength, and functionality. The growing demand for such tough fabrics is intended to prevent mishaps and to withstand environmental and mechanical stress. Furthermore, one of the potential drivers for this market is the growing demand for geosynthetics from various end-use sectors.
The growing use of geotextiles for geotechnical applications and environmental engineering is also expected to drive industrial fabric growth. Geotextiles and similar products are used in civil engineering applications such as railways, embankments, retaining walls, and other structures. For instance, the National Highways and Infrastructure Development Corporation of India announced the use of geosynthetics due to their life-extension and durability benefits.
Geosynthetics is one of the industrial fabric applications that has grown in popularity over the last few decades. Technical textiles such as geomembranes and geotextiles are widely used in various applications such as barrier tubes, liners, structural supports, reservoir covers, geotechnical, hydraulics, and other niche applications.
The growing popularity of such materials can be attributed to their high functionality and superior properties, which are expected to drive the market. Furthermore, technological advances in textile manufacturing processes and the implementation of automated systems for manufacturing and packaging processes are increasing in demand for conveyor belts, transmission belts, and other fabric components of industrial machines. This is expected to have a positive effect on market growth.
Restraint: Complexed manufacturing process
One of the most challenging and complicated processes is the production of these fabrics. These processes use highly valued fibers and materials that are difficult to manipulate due to their configuration and intrinsic performance specifications. For instance, glass fibres are highly abrasive and must be handled cautiously during manufacturing. On the other hand, regular and detailed testing using highly accurate and reliable methods can extend the life of these industrial fabrics.
Moreover, Industrial fabric is expensive due to the high investment required for manufacturing. New technologies for producing low-cost industrial fabric must be developed to commercialise the end products. Several production and development projects are underway to reduce the manufacturing costs of industrial fabric products using technology and process solutions. Low-cost industrial fabric development is expected to enable its use in a wide range of applications.
The majority of industrial fabric products are made with expensive synthetic fibre. Carbon and aramid fibres, which are commonly used in the production of industrial fabric for use in military and protective apparel applications, are expensive. As a result, market participants face a significant challenge in producing cost-effective industrial fabric.
Opportunity: Growth in the Indian textile industry
The advancement of Indian E-Commerce companies opens opportunities for the Indian textile industry in domestic and international markets. The major players in the Indian e-commerce industry are Amazon, Flipkart, Jabong, and Myntra. The textile industry in India is one of the country's oldest, dating back several centuries. Also, presently, the textile industry is one of the most important contributors to India's exports, accounting for approximately 13% of total exports.
The Indian textile industry is highly diverse, with hand-spun and hand-woven textile sectors on one end of the spectrum and capital-intensive sophisticated mills on the other. The decentralized power dominates the textiles sector, looms/hosiery, and knitting sector.
The textile industry's close relationship to agriculture (for raw materials such as cotton) and the country's ancient textile culture and traditions distinguish the Indian textile sector from other industries. The Indian textile industry can produce a wide range of products suitable for various market segments in India and worldwide.
COVID-19 Impact:
The COVID outbreak led to supply chain disruptions for industrial fabrics. Increased raw material prices, particularly for cotton and cotton yarn, reduced industrial fabric output during COVID-19. According to a report published by the Denim Manufacturers Association of India, cotton and cotton yarn prices increased by 20-30% in December 2020 compared to March 2020. (DMAI). In addition, there has been a significant shift in investment from other sectors to healthcare to limit the increase in novel coronavirus cases.
Furthermore, some industrial fabric production enterprises and mills have closed or reduced their operations due to the risk of infection among their employees. This has temporarily slowed the rate of production in the industrial fabric market.
Segments Insight:
Fibre Type Insights:
Based on the fibre type, the global industrial fabric market is segmented into polyester, aramid, polyamide, composite, and others. In 2022, the polyester fibre type segment accounted for the largest market share. Polyester fibers are used in clothing and home furnishings, upholstered furniture, and a wide range of industrial applications such as car tire reinforcements, safety, and conveyor belts.
Furthermore, these materials can create sportswear and high-quality clothing combined with natural fibers. Rapidly changing fashion trends and modern living standards will develop opportunities for high-end polyester fibers with high durability, quick-drying, and easy-to-clean properties. Rising income levels and rapid urbanization have fueled fashion trends in several emerging economies. With easy internet access in many rural and semi-urban areas, demand for the latest fashion products in the apparel and home decoration segments is expected to rise further.
Furthermore, the rise of the e-commerce industry is expected to boost demand for polyester fiber. It enables a wide range of affordable products, quick delivery options, simple return policies, and material assurance, increasing product demand globally. Furthermore, factors such as the digitalization of manufacturing facilities, shorter lead times, and the growing textile industry in developing countries contribute to market share.
Application Insights:
Based on applications, the global industrial fabric market is segmented into transmission belts, protective apparel, conveyor belt, automotive carpet, flame resistance apparel, and others. In 2022, the automotive carpet segment held the largest market share and is expected to grow during the forecast period. Carpets are used for a variety of purposes in the automotive industry. The carpet is a dense full-floor package typically made of cotton or man-made fibers, primarily if it covers the entire floor. A carpet is a fabric floor covering that usually has a stacked top layer attached to the backrest. Molded carpets are typically carpets used inside automobiles. Carpet backing comes in two varieties: poly backing and large-area backing.
The majority of cars use mass support. The carpet is designed to be attached to the vehicle's bottom/bottom, so there should be no air passages or pockets to prevent dust from entering the compartment. Carpets on the floor of a vehicle reduce noise, improve the aesthetic appearance of the interior, and provide insulation.
The floor carpet is made of various materials depending on the requirements. Carpets on car floors also provide cushioning for the passengers. It also keeps water and dirt out of the car and protects the floor from corrosion. Moreover, the development and innovation of advanced technology in automotive keys are expected to drive the growth of this segment.
Regional Insights:
Asia Pacific dominated the global industrial fabric market, holding a maximum market share in 2022. This is due to the high demand applications for interior trims of automobiles, fire protective apparel in countries such as China, India, and Japan. The Asia-Pacific region is the world's largest producer of industrial fabric. Bridgestone Corporation, Forbo International SA, Habasit, and TORAY INDUSTRIES, INC. are some leading industrial fabric manufacturers.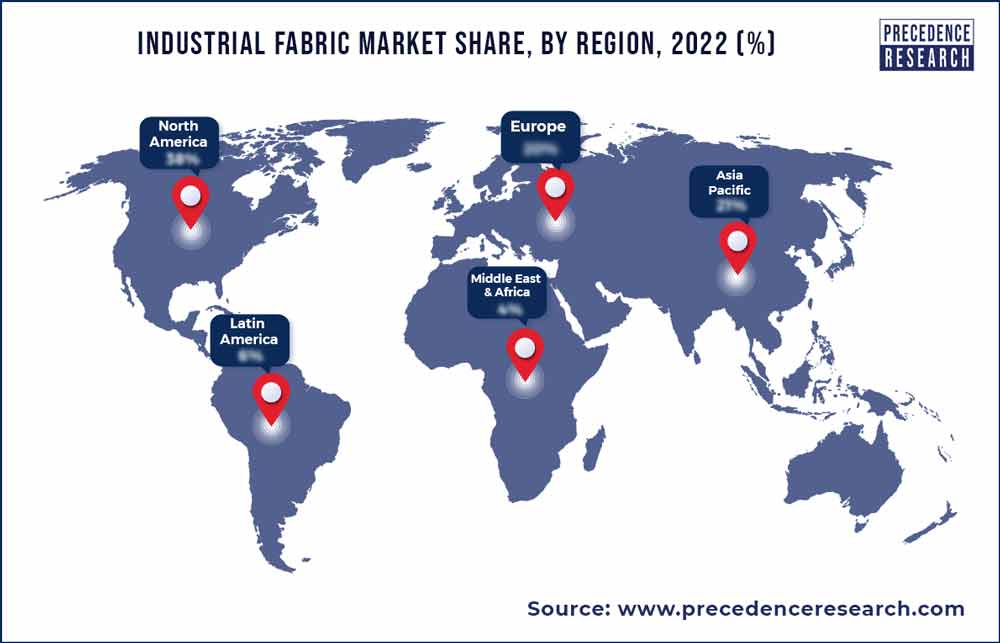 Furthermore, the rising mining activities are expected to drive market growth for this region. Moreover, a significant market trend in the global market is the increasing use of industrial fabric in the production of a wide range of denim products such as jeans, shirts, jackets, and other denim products. Cotton's widespread availability has fueled the advancement of the region's industrial fabric market.
Furthermore, preferential market access has been a critical component in boosting Bangladesh's textile sector, resulting in a significant increase in demand for industrial fabric. China is likely to maintain its dominance over the forecast period due to steady economic growth and urbanization. Increased government investment in innovative textiles, a growing consumer preference for luxury brands, and changing lifestyles are expected to propel India's textile and clothing industry into double-digit growth.
Recent Developments:
In March 2021, Toray Industries announced that its MAKSPEC V Antiviral Textile is effective in combating COVID-19 and lowering its concentration (SARS-CoV-2).
In 2020, The production of non-woven fabrics for medical gowns began at the John Manville plant in Spartanburg, South Carolina. The global COVID-19 pandemic has created a high demand for disposable medical gowns.
Company Profiles and Competitive Intelligence:
Market players attempt to increase their market share through investments, partnerships, acquisitions and mergers. Businesses are also investing in the development of new products. Furthermore, they are concentrating on maintaining competitive pricing. Some of the prominent market players include:
Habasit AG
TORAY INDUSTRIES, INC
W.Barnet GmbH & Co. KG
Bridgestone Corporation
Forbo International SA
Johns Manville
Fitesa
G.R. Henderson Co. Textiles Ltd
Ahlstrtom-Munksjo
Dupont
Segment Covered in the Report:
(Note*: We offer report based on sub segments as well. Kindly, let us know if you are interested)
By Fiber Type
Polyester
Aramid
Polyamide
Composite
Others
By Applications
Transmission Belt
Protective Apparel
Conveyor Belt
Automotive Carpet
Flame Resistance Apparel
Others
By Geography
North America
Europe
Asia-Pacific
Latin America
The Middle East and Africa