The global leather goods market size was exhibited at USD 420 billion in 2022 and it is projected to attain around USD 735 billion by 2032, poised to grow at a CAGR of 5.76% between 2023 and 2032.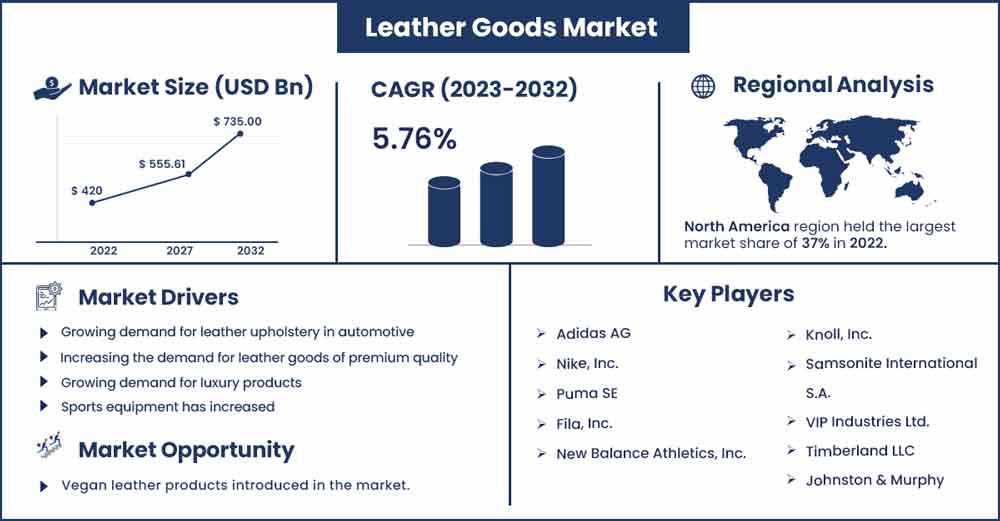 Market Overview:
Articles made of leather are often considered as leather goods. They can appear in various things, including apparel, accessories, bags, gloves, etc. Leather items are favored over other materials due to their durability, fire proofness, and dust proofness. The leather business is an ancient branch of manufacturing that creates a wide range of products, including leather bags, leather clothing, and leather footwear. The leftovers of the food business, notably from meat processing, are the source of the raw material utilized in the leather industry. This discarded material is transformed into appealing and practical leather goods. Among the most traded items worldwide is leather and its byproducts. They are made using easily accessible, renewable resources. The commerce in leather already exceeds US$ 80 billion annually, and as populations rise and nations become more urbanized, this figure is likely to increase.
Regional Snapshot:
North America dominates the leather products industry. A region that has benefited from significant bovine wet blue export volumes is the USA. Additionally, the USA is well known for being a substantial producer of upholstery leather, which would increase the already strong demand for and development in the market for leather goods in this region. Additionally, the enormous demand for vehicle leather upholstery, which has been impacted by problems faced by the three main US automakers, supports the market for leather items. In addition, the local leather goods market is anticipated to increase over the coming few years due to the presence of major industry participants in this area. Additionally, the industry is expanding due to customers' rising demand for stylish goods made of leather.
Asia Pacific is expected to witness the fastest rate of growth during the forecast period. Rapid economic growth in countries like China, India, and Southeast Asian nations has led to a rise in disposable income levels. As people's purchasing power increases, they are more inclined to spend on luxury and high-quality products like leather goods. There has been a shift in consumer preferences towards branded and fashionable products. The demand for premium leather goods, such as handbags, wallets, shoes, and accessories, has increased as consumers prioritize quality, style, and status symbols. Many international luxury brands have recognized this trend and expanded their presence in the region.
Report Highlights:
By type, the genuine leather segment has made significant market contributions in 2022 and is expected to sustain its position during the forecast period. While there is an increasing focus on sustainable and eco-friendly alternatives, genuine leather still holds an advantage in terms of biodegradability and recyclability. Some consumers prefer genuine leather products because they are seen as more environmentally friendly compared to synthetic materials made from petroleum-based products.
By product, the footwear industry segment controlled the largest share of the market, the segment is expected to grow at a significant rate during the forecast period. Well-established footwear brands invest in marketing campaigns, endorsements, collaborations, and retail presence to create brand awareness and loyalty. This brand recognition helps them capture a significant share of the market and maintain their dominance.
Leather Goods Market Report Scope:
| | |
| --- | --- |
| Report Coverage | Details |
| Market Revenue in 2023 | USD 444.17 Billion |
| Projected Forecast Revenue in 2032 | USD 735 Billion |
| Growth Rate from 2023 to 2032 | CAGR of 5.76% |
| Largest Market | North America |
| Base Year | 2022 |
| Forecast Period | 2023 To 2032 |
| Regions Covered | North America, Europe, Asia-Pacific, Latin America, and Middle East & Africa |

Market Dynamics:
Driver:
Increasing use in the clothing sector
One important driver in expanding the leather products business is the rising usage of leather in the clothing sector. Due to its strength and opulent appearance, leather is utilized more frequently in the clothing industry. As the fashion industry, including multiple fashion shows, encourages the use of leather in shoes, jackets, handbags, and other accessories, leather products, the popularity of leather in the clothing industry is observed to grow in the upcoming years. Leather clothing has become timeless because of its durability, protection, and obvious fashion appeal. Thus, the increasing use in the clothing sector is observed to fuel the growth of the market.
Restraint:
Environmental concerns
Significant environmental effects and sustainability issues are associated with the leather industry. Dangerous chemicals, extensive water use, air contamination, and deforestation are key environmental issues in manufacturing leather. The use of harmful chemicals during the tanning process is one of the biggest ecological issues with leather manufacturing. Chemicals like chromium, which may harm humans and the environment, are frequently used to tan leather. These substances have the potential to pollute the water, air, and soil, which would harm the environment and human health.
High water use in the manufacture of leather is another problem. Large volumes of water are needed for tanning, and the wastewater produced can be heavily polluted with chemicals and other contaminants. In addition to harming aquatic habitats, this wastewater can contaminate nearby streams. Deforestation is another serious issue for the leather industry because it contributes significantly to the degradation of natural ecosystems and biodiversity extinction. For cattle ranching, the main source of the raw materials used to create leather, forests are frequently removed.
Opportunity:
Technological advancements:
Manufacturing processes for leaders have become more sophisticated and effective due to the introduction of new technologies like machine learning, artificial intelligence, and the Internet of Things (IoT). This has made it simpler for businesses to produce high-quality leaders in less time. Several technologies are being developed by major participants in the market to improve the quality of leather items. Additionally, as several processes are involved in turning leather into completed items, producers are attempting to maximize quality and output while lowering costs and environmental damage. A Florida-based company called Graphix on Finishes, for instance, has introduced 2D as well as 3D printing technologies for improving leather. This leather is extremely robust, waterproof, and fade-resistant. Similarly, LANXESS, a manufacturer of specialty chemicals, created LEVOTAN W, a silicone-functionalized microemulsion, to create waterproof leathers. During the projected period, these improvements are anticipated to enhance the market for leather products worldwide.
Challenge:
Health and safety issues
Risks to health and safety are a serious problem and concern for the leather production sector. Hazardous chemicals that may culminate in various health issues are exposed to workers involved in manufacturing leather. Formaldehyde, chromium, and solvents are just a few of the dangerous compounds that workers in the leather industry are exposed to. In addition to numerous health risks, these substances can irritate the skin and the respiratory system. High noise levels from the machinery used in leather production might result in loss of hearing and other health issues. High-temperature techniques are used in several parts of the leather-making process, making employees feel overheated and dehydrated. Employers are responsible for ensuring that workers have access to the right safety gear and training to address safety and health risks associated with manufacturing leather. Employers must also put safety procedures and safeguards in place to reduce the likelihood of mishaps and injuries. These worries would hamper the expansion of the leather products market.
Recent Developments:
In February 2023, Patina, a sister brand of Portland Leather Goods known for selling high-quality leather bags at competitive prices, has just been launched to provide clients with leather footwear and accessories. With the launch of the new brand Patina, consumers can buy leather footwear and other items from the parent firm, which has established a reputation for making excellent leather accessories at competitive prices. With the same values of artistry and affordability, our partnership with Patina will allow Portland Leather Goods consumers to purchase stylish, premium leather footwear at a cost they can feel good about.
In June 2023, a famous luxury leather fashion manufacturer called GARRTEN launched a stunning assortment of stylish leather accessories designed for men and women. Leather backpacks of 4 different types—Signature, Rolltop, Slim, and Travel—and leather accessories of two kinds—Dopp Wallets and Kits—are a part of the recently released line. All items are made of saffiano leather or full grain. These goods are available in a dazzling selection of colors.
In June 2023, Riblor, a company located in the UAE and recognized for its supreme quality in men's leather merchandise and accessories, is pleased to announce the release of its newest line of handcrafted items. The new collection includes Italian-made leather wallets, card holders, bracelets made of leather, and men's finest cufflinks. These gorgeous accessories exemplify Riblor's dedication to high-end, timeless, elegant designs.
Major Key Players:
Adidas AG
Nike, Inc.
Puma SE
Fila, Inc.
New Balance Athletics, Inc.
Knoll, Inc.
Samsonite International S.A.
VIP Industries Ltd.
Timberland LLC
Johnston & Murphy
Woodland Worldwide
Hermès International S.A.
Louis Vuitton Malletier
VF Corp.
COLLAR Company
LUCRIN Geneva
Nappa Dori
Saddles India Pvt. Ltd.
Lear Corp.
Market Segmentation:
By Type
Genuine Leather
Synthetic Leather
Vegan Leather
By Product
Handbags

Tote Bag
Clutch
Satchel
Others

Small Leather Goods/ Accessories

Wallets
Pouches
Card Holders
Phone Covers/Cases
Watch Straps
Others (Luggage Tags, Pencil Cases, etc.)

Apparel

Men

Shirts
Pants
Suits, Coats & Jacket
Overalls
Others (Kilts, Vests, Chaps, etc.)

Women

Skirts
Coats & Jackets
Pants
Others (Vests, Chaps, etc.)

Children

Suits, Coats & Jackets
Vests
Pants
Skirts
Chaps

Footwear
Home Décor and Furnishing

Decorative Wall Hangings'
Tabletop decorative items
Hanging Storage
Leather Furniture
Other

Pet Accessories

Pet Collar and Leads
Leather Pet Toys

Automotive Accessories
Buy this Research Report@ https://www.precedenceresearch.com/checkout/2607
You can place an order or ask any questions, please feel free to contact at sales@precedenceresearch.com | +1 9197 992 333