The lithium titanate batteries market size reached USD 61.1 billion in 2022 and is expected to be worth around USD 178.19 billion by 2030, growing at a CAGR of 14.32% during the forecast period from 2022 to 2030.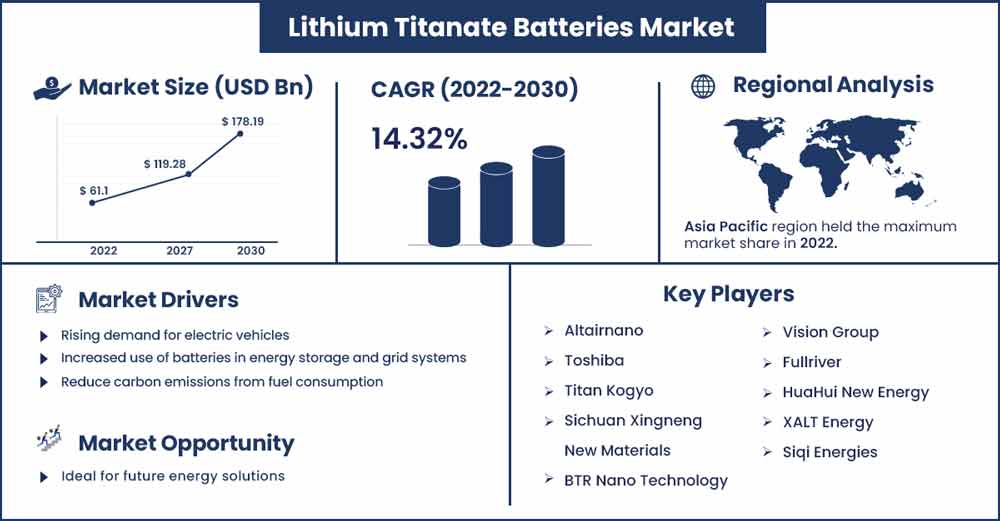 Due to advances in nanotechnology, a type of lithium-ion rechargeable battery called as a lithium-titanate (LTO) battery runs across a larger temperature range (-30 – 55°C) and recharges with a 98% efficiency rate. This kind of battery has a longer life cycle than conventional lithium batteries, which have >3000-7000 cycles. It is famous for being both ecologically friendly and having extremely high levels of reliability, security, and efficiency.
The rise in demand for lithium titanate batteries for consumer use, rising demand in the automotive industry, the rising surge to power critical infrastructures, particularly in the medical sector where said industry is challenged by the spread of the COVID-19 virus, rising demand for electronic vehicles, rising demand for battery-operated equipment in several industries due to automation, and more are the main factors contributing to the growth of this market.
Along with these drivers, the industry also confronts obstacles that might slow its expansion. These limitations include the risk of combustion, the potential for uncontrolled discharge, and the controlled storage and transit of batteries by national governments. Hazardous compounds including acids and heavy metals are also present in discharged batteries.
Lithium Titanate Batteries Market Report Scope:
| | |
| --- | --- |
| Report Coverage | Details |
| Market Revenue in 2023 | USD 69.85 Billion |
| Projected Forecast Revenue in 2030 | USD 178.19 Billion |
| Growth Rate from 2022 to 2030 | CAGR of 14.32% |
| Base Year | 2022 |
| Forecast Period | 2022 To 2030 |
| Regions Covered | North America, Europe, Asia-Pacific, Latin America, and Middle East & Africa |

Regional Snapshot:
The American government is in favor of new transportation regulations and laws that are based on environmental factors. Lead-acid, lithium-ion, and other types of batteries will be the focus of a USD 258 million investment in advanced vehicle technology announced by the US Department of Energy. Over the projected period of 2022 to 2030, this will have a favorable effect on the demand for electric cars generally as well as its components, particularly lithium titanate Batteries, leading it to rise in this region. The use of internal combustion engines in automobiles is presently not restricted by any specific laws or regulations in the United States.
The Latin American lithium titanate (LTO) battery market is expected to grow significantly over the next several years as a result of the increased popularity of electric vehicles, the quick urbanization of the region, andthe burgeoning construction industry. The deployment of electric cars and an increase in government programs supporting various technical advancements are both expected to lead to a growth in the market for lithium titanate batteries in Latin America. A increasing trend toward energy storage solutions is expected to have an impact on the regional lithium titanate battery market throughout the course of the forecast period.
Market dynamics:
Drivers:
During the forecast period, the market for lithium titanate batteries is expected to expand significantly. The development of the use of these batteries in automotive and consumer electronics applications, due to their high safety requirements, extended cycle lives, and thermal stability qualities, are the primary drivers that are anticipated to support the demand for this sector. Additionally, it is projected that increased focus on R&D efforts for creating new technologies and enhancing product efficiency would drive market expansion in the next years.
Restraints:
Over the past two decades, the lithium-titanate battery sector has seen substantial research and development efforts, which have caused the technology to become a standard component in contemporary machinery and equipment. To allow the technology to become competitive enough for untapped markets, major lithium ion battery makers and industry leaders are continuing their quest of additional cost optimization and technical advancement in numerous aspects.
For instance, ongoing work is being done to further enhance the cost and performance characteristics for battery applications in electric cars in order to increase demand in markets with tight budgets and obtain a decisive edge over traditional fuel vehicles.
Opportunities:
Lithium titanate (LTO) batteries are becoming more and more well-liked as a more environmentally friendly solution to the expanding need for energy storage in sectors like electric vehicles, high-capacity backup, and power grid storage. The anodes surface of the lithium-titanate battery is coated with nano crystals of lithium-titanate rather than carbon, making it an upgraded version of the lithium-ion battery. Benefits of this unique improvement include quick charging, long cycle life, high power, and outstanding durability of lithium titanate batteries. It also helps to meet the growing demand for more environmentally friendly energy sources.
Compared to conventional lithium-ion batteries, rechargeable lithium-titanate batteries (LTO) have quite a lower energy density but can charge faster. Renewable energy sources require technologies including lithium titanate batteries, that provide possibilities centered on automotive and smart phone energy utilization. Due to its longer lifespans, higher efficiency, increased safety, low-temperature performance capabilities, and substantial potential for use in tandem with wind power, the lithium-titanate battery (LTO) is a leading candidate for future energy storage solutions.
Challenges:
The longevity and performance of lithium titanate batteries are influenced by a number of variables, mainly the four primary components. It is hard to provide the product an unassailable advantage since lithium titanate is merely a negative electrode material, regardless of how innovative the material is. The component that most affects how effectively lithium batteries function is the cathode material. The main downsides of lithium titanate batteries are their poor energy density and expensive cost. Due to the performance of the anode material lithium titanate and the overall idea of low energy density, considerable progress is difficult to accomplish. Scale makes cost reduction possible, but technology cannot change cost since the underlying assumptions are flawed. The claimed long service lifetimes of lithium titanate batteries are more difficult to certify. Battery life is also influenced by the electrolyte, separator, cathode material, and operating temperature in combination.
When employed as a negative electrode, lithium titanate itself has drawbacks such flatulence and decreased consistency over time. It is now unable to demonstrate that lithium batteries with excessive acidity will, in theory, last longer than other batteries. Few businesses specialize on lithium titanate batteries, which will have a negative impact on the industry's total R&D spending. Few businesses will concentrate on the development of lithium titanate batteries, based on the existing R&D investments and projected investments of battery companies.
Report highlights
LTO batteries are currently being utilized in more EVs as a consequence of the increased demand for EVs due to their environmental friendliness, which helps reduce carbon emissions from the automotive sector.
Due to its high-power density, rapid charging, and extended cycle life, small lithium-titanate batteries are anticipated to have a bigger market share and are mostly used in consumer and medical gadgets.
The market is expanding as a result of more batteries being used in grid and energy storage systems.
Rechargeable lithium-titanate batteries (LTO) have quite a lower density of energy than some other lithium-ion batteries but can charge more fast than other varieties.
Because the American government is in favour of passing new transportation regulations and policies that are based on environmental concerns, the lithium titanate battery sector in North America is expected to be lucrative in the future.
Recent developments
In January 2022, Toshiba will add the new 20 Ah HP lithium-ion battery cell to its SCiB lineup. The new lithium titanium oxide cell is claimed to be more versatile than the prior type, making it ideal for usage in plug-in hybrid vehicles as well as buses.
Major Key Players:
Altairnano
Toshiba
Titan Kogyo
Sichuan Xingneng New Materials
BTR Nano Technology
Vision Group
Fullriver
HuaHui New Energy
XALT Energy
Siqi Energies
PICELL Electronics
Market Segmentation:
By Type
15-1000mAh
1000-5000mAh
5000-10000mAh
Others
By Application
By Geography
North America
Europe
Asia-Pacific
Latin America
Middle East & Africa (MEA)
Buy this Research Report@ https://www.precedenceresearch.com/checkout/2343
You can place an order or ask any questions, please feel free to contact at sales@precedenceresearch.com | +1 9197 992 333