The global lithium titanate batteries market size was estimated at USD 56 billion in 2022 and is expected to be worth around USD 185.93 billion by 2032 and is poised to grow at a CAGR of 12.8% during the forecast period from 2023 to 2032.
A form of lithium-ion rechargeable battery known as a lithium-titanate battery uses nanotechnology to work across a broader temperature range (-30 to 55 °C) and at a 98% recharge efficiency. In comparison to other lithium batteries, which have > 3000-7000 cycles, this type of battery has a longer life cycle. It is renowned for its high levels of stability, security, and efficiency as well as for being environmentally friendly.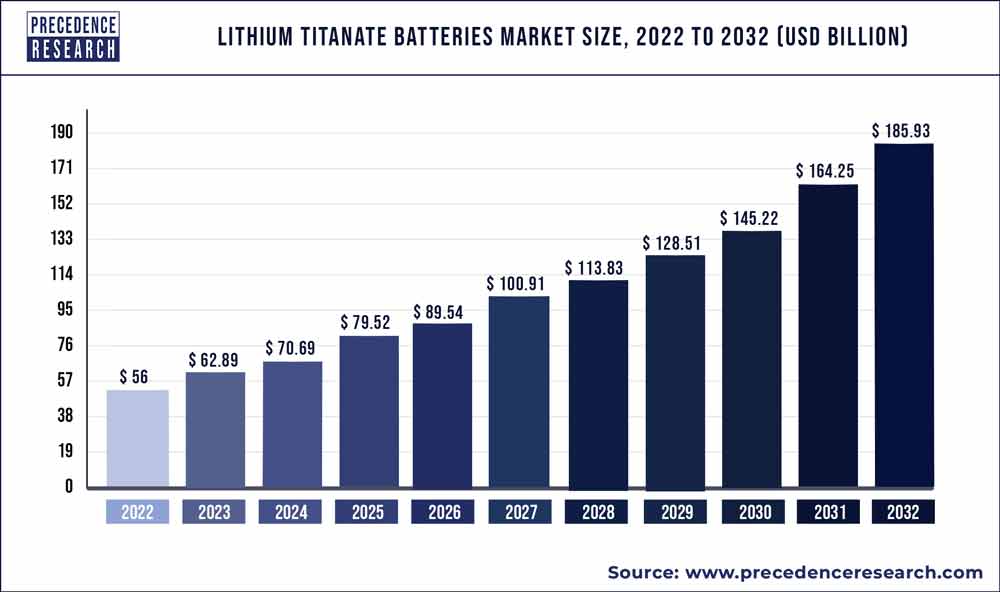 Growth Factors
Electric cars and portable electronic gadgets both have a significant need for lithium-ion batteries. The chemical required for its anode, Lithium Titanium Oxide (LTO), must first undergo a laborious production process, which raises the cost of the battery. Indian researchers have recently discovered a less complicated way to create LTO, which might reduce the price of the battery. The LTO is a rechargeable battery that is essentially a modified version of or a base for Lithium-Ion (Li-ion) battery technology. The anode of a common Li-Ion battery uses Li-titanate oxide (LTO) instead of graphite, forming the materials into a spinel 3D crystal structure. It generates a high current discharge current that is ten times as large as the capacity of the other types of lithium batteries while having a nominal cell voltage of 2.40V.
LTO batteries are thought to be both safer and more capable than lithium-ion batteries made of graphite. Both lithium titanate and lithium titanate batteries are not yet produced industrially in India. Toshiba, a Japanese business, is one of the world's top manufacturers of LTO batteries. One of the top automakers exploring the possibilities of titanate-based batteries over graphite-based ones is American electric car giant Tesla. Titanate batteries will last 10 to 20 times longer than other batteries, and they charge faster than other batteries. They take 10 to 15 minutes to completely charge. Additionally, it implies that fleets of public transportation might be promptly charged at halt places. The great durability of LTO batteries under adverse weather is well recognized. It would function flawlessly at temperatures as low as minus 10 or 20 degrees Celsius as it would in tropical settings when the ambient temperature may reach 45 degrees or more. The LTO batteries are fire-resistant due to their great resilience.
High demand for lithium titanate batteries in consumer use
Increased demand in the automotive industry
rising demand to power essential infrastructures, particularly in the medical sector where COVID-19 viral propagation
Growing need for electronic cars, rising demand for battery-operated equipment due to automation in numerous industries, and ongoing advancements in smart gadgets
The growing use of lithium-ion batteries, particularly in the field of renewable energy
Report Scope of the Lithium Titanate Batteries Market
Report Coverage
Details
Market Size in 2023
USD 62.89 Billion
Market Size by 2032
USD 185.93 Billion
Growth Rate from 2023 to 2032
CAGR of 12.8%
Base Year
2022
Forecast Period
2023 to 2032
By Type

15-1000mAh
1000-5000mAh
5000-10000mAh
Others

By Application
Regions Covered

North America
Europe
Asia-Pacific
Latin America
Middle East & Africa

Key Market Drivers
Augmented usage of batteries in power grid and energy storage systems - Increased use of batteries in energy storage and grid systems is increasing the growth of the market. In addition, lithium-ion batteries are increasingly being used in smart grid and energy storage systems due to their low price, low self-discharge rate, and little installation area. The product is ideal for use in remote locations and thermal control applications since it is more resistant to high temperatures.
Increased demand for electric vehicles - The Lithium Titanate Battery Market is primarily being driven by the rising demand for electric vehicles. To reduce carbon emissions from fuel consumption, there has been a strong push toward electrifying transportation in recent years. Governments have reacted to the continued threat that climate change poses to our planet's natural resources by taking steps to reduce our reliance on fossil fuels, such as by promoting the sale of electric vehicles and tightening regulations governing the use of alternative energy sources. Increased use of sodium-ion batteries, a technology that has the potential to offer far bigger capacities than standard lithium-ion cells while being more environmentally friendly, will undoubtedly be a result of the increased focus on renewable energy sources.
Key Market Challenges
High cost with less value - When it comes to commercial acceptability, the price of LTO batteries is a limiting issue. Because of its high price, it is impossible to compare it to conventional NMC and LFP batteries available on the market.
LTO battery manufacturers have not increased their manufacturing capacity as much as other Lithium-ion battery chemistries since the price and weight of the battery are greater.
Numerous factors, particularly the four main materials, have an impact on the lifespan and performance of lithium batteries. No matter how cutting-edge a material is, lithium titanate is simply a negative electrode material, making it impossible to provide the product with an unbeatable advantage. The cathode material is also the substance that has the most impact on how well lithium batteries work. It is more challenging to certify lithium titanate batteries' allegedly lengthy service lives. The combination of the cathode material, electrolyte, separator, and operating temperature also has an impact on battery life. All of these things are impeding the market's expansion for lithium titanate batteries.
Key Market Opportunities
Ideal for future energy solutions - As an ecological answer to the growing need for storage of energy in areas including electric cars, strong capacity backup, and power grid storage, lithium titanate (LTO) batteries are gaining popularity. A lithium-titanate battery is a reformed version lithium-ion battery that has its anode's surface covered in lithium titanate nanocrystals rather than carbon. Fast charging (increased charging current), high power, long cycle life and high durability of lithium titanate batteries are all benefits of this special modification, which also contributes to the rising need for more environmentally friendly energy sources.
Rechargeable lithium-titanate batteries (LTO) have a lower energy density than other lithium-ion batteries but can charge more quickly than other types. Technologies like lithium titanate batteries, which offer potential focused on automobiles and mobile energy usage, are a necessity for renewable energy sources. The lithium-titanate battery (LTO) is a prime contender for future energy storage solutions due to its longer lifespans, more efficiency, improved safety, low-temperature performance capabilities, and significant potential for incorporation with wind power.
Segments Insight
Type Insights
Small lithium-titanate batteries have a 15 to 1000mAh capacity. They are mostly utilized in consumer and medical electronics. High power density, quick charging, and long cycle life are all features of these batteries. Additionally, they are safe for the environment and non-toxic. There are several uses for lithium-titanate batteries, including in electric cars (EVs), hybrid electric vehicles (HEVs), medical equipment, power tools, and drones.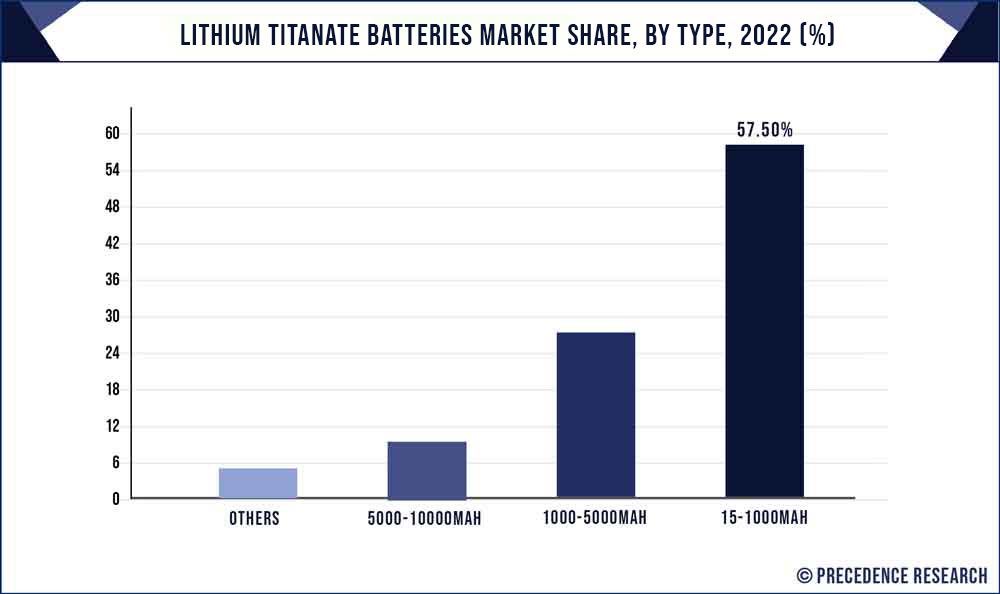 A rechargeable battery with a capacity of 1000 to 5000 mAh is known as 1000-5000mAh. Batteries have ratings that are expressed in milliamp-hours (mAh). It shows how many Ampere-hours the battery can discharge under particular circumstances. Electric automobiles, hybrid electric vehicles, and other applications employ lithium titanium oxide (LTO) batteries. During the forecast period, the 5000-10000mAh category is anticipated to account for the biggest market share for LTO batteries worldwide. This is because hybrid electric vehicles (HEVs) and electric cars (EVs) are becoming more and more popular all over the world. Furthermore, LTO batteries are being used more and more in a variety of applications, such as EVs, HEVs, medical equipment, and drones, because of their benefits including high stability, extended life cycles, and low self-discharge rates.
Application Insights
Electric vehicles (EV), hybrid electric vehicles (HEV), and other uses for the LTO battery are many. Due to the rising demand for EVs as a result of their environmental friendliness, which helps lower carbon emissions from the automotive industry, LTO batteries are now being used in more EVs. Government incentives for EV adoption also have an effect on how frequently LTO batteries are used as a result of increased EV use. LTO batteries are used in HEVs to improve fuel efficiency and lower pollution. Electric and hybrid electric cars use the LTO battery as their power source. By making the battery smaller and lighter, it enhances the vehicle's performance. In addition to these commercial uses, LTO batteries are also utilized in trains, buses, and other vehicles.
Regional Insights
The American government is in favor of enacting new transportation laws and policies that are based on environmental considerations. The U.S. Department of Energy has announced plans to invest USD 258 million into advanced vehicle technologies, including lead-acid, lithium-ion, and other types of batteries. This will have a positive impact on the overall demand for electric vehicles as well as their components, including LTO Batteries, and will cause it to grow in this region over the forecast period from 2022 to 2030. To date, however, no concrete guidelines or legislation have been adopted in the United States to outlaw internal combustion engine cars.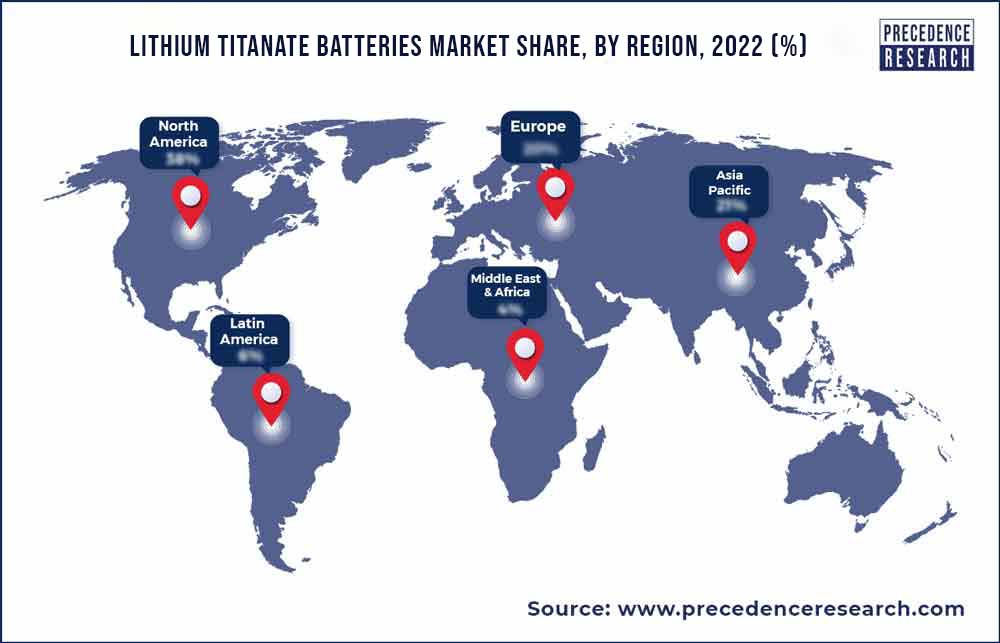 Due to the rising use of electric cars, quick urbanization, and expanding construction sector in the area, the Latin American lithium titanate (LTO) battery market is anticipated to experience considerable expansion in the next years. Additionally, it is projected that a growing number of government programs supporting different technology breakthroughs, including the deployment of electric vehicles, would fuel LTO battery demand throughout Latin America. Over the course of the forecast period, the regional LTO battery market is also anticipated to benefit from a growing trend toward energy storage solutions.
Recent Developments
Bureau Veritas will certify Echandia's Lithium Titanate Oxide (LTO) Battery Technology for Marine Use in June 2021. Commercial workboats and passenger ferries need to be able to charge quickly since they frequently run continuously for extended periods of time. According to Echandia, the battery systems for the energy storage systems will be modular, air-cooled, and based on Toshiba's LTO cells. This is a crucial turning point for the brand-new, secure, and reliable LTO battery technology.
A Li-ion Cell with a World-Beating Carbon Footprint is Delivered by Echion Technologies - XNO® in October 2022. While simultaneously relieving pressure on the world's battery materials supply chain, XNO® will offer a greener option to conventional LTO battery anode materials. From the perspective of carbon footprint, XNO® performed noticeably better than the LTO anode.
Key Market Players
Altairnano
Toshiba
Titan Kogyo
Sichuan Xingneng New Materials
BTR Nano Technology
Vision Group
Fullriver
HuaHui New Energy
XALT Energy
Siqi Energies
PICELL Electronics
Segments Covered in the Report
(Note*: We offer reports based on sub-segments as well. Kindly, let us know if you are interested)
By Type
15-1000mAh
1000-5000mAh
5000-10000mAh
Others
By Application
By Geography
North America
Europe
Asia-Pacific
Latin America
Middle East & Africa (MEA)