The global medical device contract manufacturing market size surpassed USD 72.89 billion in 2022 and is projected to rise to USD 211.66 billion by 2032, anticipated to grow at a CAGR of 11.30 percent during the projection period from 2023 to 2032.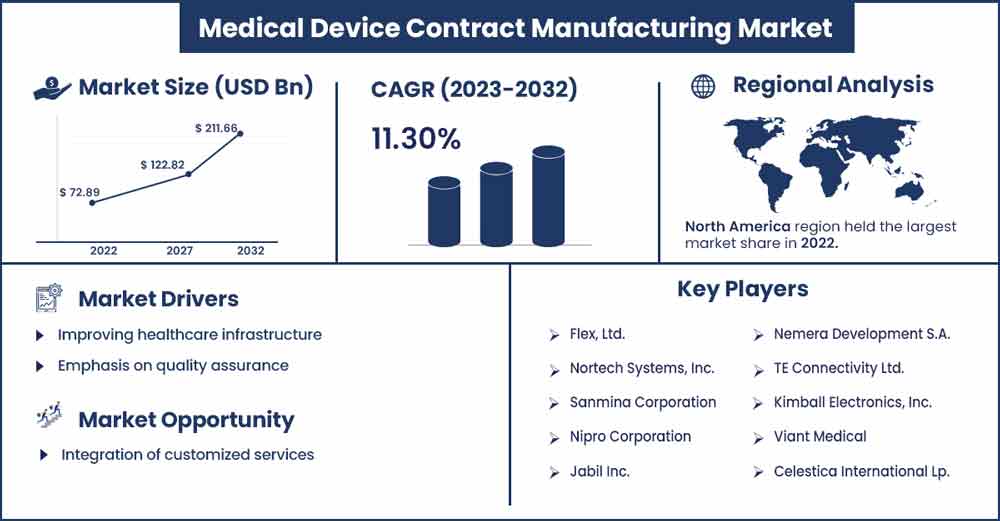 Market Overview
Medical device contract manufacturing is a significant segment of the medical device industry that involves the production of medical devices to the specialized contract manufacturers organization instead of manufacturing them in-house. This process allows medical device companies to focus on research, development, and marketing while using contract manufacturers' expensive capabilities to produce their devices. Contract manufacturers use a wide range of medical devices, including diagnostic equipment, surgical instruments, orthopedic implants, cardiovascular machines, and more. Contract manufacturers of medical devices provide different kinds of services, including product design and development, prototyping, quality control, assembly, packaging, sterilization, and disturbance.
Substantial support from governments is observed to lead to higher quality and more efficient production of medical devices. While observing medical device production as an opportunity, the Indian government has initiated the Production Linked Incentive Scheme (PLI) and Promotion of Medical Device Parks Scheme. These schemes promote large-scale manufacturing of medical devices. Under the scheme, the Indian government has aimed to offer an outlay of Rs.400 crores to give financial assistance for building infrastructure for medical devices across 4 states.
An increase in the geriatric population, rising chronic disease, and advancement in medical technology are the factors that supplement the growth of the medical device contract manufacturing market. Medical device companies are shifting to contract manufacturers to reduce production costs, a process that helps save labor, facility management, and raw material procurement costs. It also improves the capabilities and efficiency of contract manufacturers, making them more attractive to medical device companies. Globalization and expansion of the supply chain has made it easier for medical device companies to collaborate with contract manufacturers.
Regional Insights
North America dominated the market in 2022, the region is expected to sustain the position in upcoming years. The United States is the central medical device contract manufacturing hub, focusing on companies in states like California, Massachusetts, and Minnesota. On the other hand, Canada is also observed to grow at a robust pace in the medical device contract manufacturing sector with companies. The industry has grown due to technological advancements and increased demand for healthcare services.
The United States precisely boasts a well-established medical device industry with some contract manufacturing companies. Contract manufacturers for medical devices in the overall region are well known for maintaining strict quality and regulatory standards to ensure their devices meet safety and efficacy requirements. Many contract manufacturers in the United States specialize in the types of medical devices, including orthopedic implants, diagnostic equipment, or cardiovascular devices. They offer various services, including product design and development, material sourcing, precision machining, sterilization, quality control, and packaging. Some CMOs also provide post-market support, such as repair and maintenance services.
Mexico plays a crucial role in the medical device contract manufacturers market due to its cost-effectiveness and skilled workforce. in recent years, multiple medical device manufacturing companies have shifted in Mexico in order to achieve benefits in the industry.
In November 2022, Minnetronix expanded from contract manufacturing to launch its products; Minnetronix made products for original equipment manufacturers in the medical industry and released Mind eye, a neurosurgical expand brain port. It helps in the controlled way to see the effect of hemorrhagic strokes and tumors deep inside the brain. After the Food and Drug Administration's (FDA) approval of the United States, Minnetronix moved from contract manufacturers for OEMs to OEMs.
The market for medical device contract manufacturing in North America is fragmented with multiple companies, key players in the region include Medtronic, Celestica, Plexus, Jabil, Biomerics, Flex, Gerresheimer, Intricon, Nipro, and others.
In August 2023, Intricon announced plans to open the first facility to develop and manufacture medical devices incorporating microelectronics, biosensors, and electromagnetic navigation sensors.
Meanwhile, in May 2023, Biometrics announced a deal to hold the medical business of precision concept. Biometrics also stated it has the largest contract manufacturers in Costa Rica with 100 engineers and 290,000ft manufacturing capacity.
Medical Device Contract Manufacturing Market Report Scope:
| | |
| --- | --- |
| Report Coverage | Details |
| Market Revenue in 2023 | USD 80.76 Billion |
| Projected Forecast Revenue by 2032 | USD 211.66 Billion |
| Growth Rate from 2023 to 2032 | CAGR of 11.30% |
| Largest Market | North America |
| Base Year | 2022 |
| Forecast Period | 2023 to 2032 |
| Regions Covered | North America, Europe, Asia-Pacific, Latin America, and Middle East & Africa |

Market Dynamics
Drivers
Improving healthcare infrastructure
Improving healthcare Infrastructure is observed to be a significant driver for the global medical device contract manufacturing market. As healthcare infrastructure improves, access to healthcare services becomes more widespread. This leads to an increased demand for medical devices to support medical procedures, diagnosis and patient care. Enhanced healthcare infrastructure typically comes with more stringent regulatory standards. Contract manufacturers are well-versed in navigating these regulations and can help medical device companies ensure compliance, which is crucial for market entry.
The Indian Ministry of Health and Family Welfare has allocated a budget with 13% increase in FY 2023-24 as compared to 202-23 in order to improve the healthcare infrastructure.
In July 2023, MAC Hospitals in Mexico announced an investment of $160 million to expand quality healthcare services across Mexico.
Emphasis on quality assurance
Quality assurance plays a pivotal role in medical devices. Manufacturers are required to follow the regulatory requirements where their products are marketed. Medical device contract manufacturers generally follow good manufacturing practice (GMP) guidelines, which are international quality standards for medical device production, including facility cleanliness, equipment calibration, process validation, and personnel training. Contract manufacturing of medical devices also follows the design control process to ensure that the design and development of the devices meet all requirements, including design review, risk management, and design validation. As overall medicine industry focuses on the utilization of high-quality and reliable medical devices with improving healthcare infrastructure, the probability of adopting contract manufacturing services increases in the upcoming period.
Restraints
Cost management
Medical devices often require customization to meet the unique needs of healthcare providers. This customization can drive up costs as it necessitates specialized manufacturing processes and additional testing. The medical device manufacturing market is highly competitive, with players from around the world. To remain competitive, manufacturers may need to invest in cost-cutting measures or risk losing contracts. The cost of raw materials used in medical devices can be high, especially for specialized materials. All these factors are observed to cause an obstacle for the market.
Supply chain management
Managing a complex supply chain while sustaining the availability of multiple raw materials and component suppliers can be challenging for contract manufacturers of medical devices. Choosing a supplier is crucial to their ability to meet safety standards, regulatory requirements, pricing, and capacity. This includes raw materials, components, and specialized equipment. Maintaining optimal inventory levels is critical to avoid shortage or overstock situations. Disruption in the supply chain can lead to increased costs, delays and higher shipping costs.
Opportunities
Global expansion
Diversifying production locations across the globe can mitigate risks associated with supply chain disruptions, geopolitical issues or natural disasters. Having multiple manufacturing facilities in different regions ensures a more robust supply chain. Expanding globally allows medical device manufacturers to access new markets and customer bases. This, in turn, increases the demand for medical devices, driving the need for contract manufacturing services to meet the growing market requirements. Different regions have unique regulatory requirements, expanding globally requires compliance with these regulations, which can be complicated. Contract manufacturers often have expertise in navigating these regulations, making global expansion more feasible. Thereby, the global expansion of businesses is observed to offer multiple opportunities for the market.
Integration of customized services
Customized services in medical device contract manufacturing can drive growth, profitability and industry relevance by addressing specific needs and fostering innovation and collaboration. In the rapidly evolving healthcare industry, the ability to adapt and customize products quickly in response to changing market demands is essential for success. Streamlined and customized manufacturing processes can lead to greater efficiency in the supply chain, reducing costs and improving lead times.
Recent Developments
In April 2023, the Indian government announced a national medical device policy 2023. The policy aims to turbocharge medical device manufacturing, especially in Bengaluru. The CEO of MedTech company Axio BioSolutions, Leo Mavely, said this is a massive step for India's medical device ecosystem.
In March 2023, NVIDIA collaborates with Medtronic, the world's largest healthcare technology provider. Thus, collaboration aims to accelerate the development of artificial intelligence in the healthcare system.
In June 2023, the recent partnership between medical device manufacturing companies EOS Precision ADM, Orthopedic Innovation Centre (OIC), and TECO will provide end-to-end solutions for medical device additive manufacturing.
Major Key Players
Flex, Ltd.
Nortech Systems, Inc.
Sanmina Corporation
Nipro Corporation
Jabil Inc.
Nemera Development S.A.
TE Connectivity Ltd.
Kimball Electronics, Inc.
Viant Medical
Celestica International Lp.
Plexus Corp.
SMC Ltd.
Phillips-Medisize Corporation
Benchmark Electronics Inc.
Integer Holdings Corporation
Gerresheimer AG
Consort Medical PLC
Tessy Plastics Corp
Tecomet, Inc.
Market Segmentation:
By Device Type
IVD Devices
Drug Delivery Devices
Diagnostic Imaging Devices
Patient Monitoring Devices
Therapeutic Patient Assistive Devices
Minimally Access Surgical Instruments
Others
By Service
Device Development and Manufacturing Services
Quality Management Services
Final Goods Assembly Services
By Application
Laparoscopy
Pulmonary
Urology & Gynecology
Cardiovascular
Orthopedic
Oncology
Neurovascular
Radiology
Others
Buy this Research Report@ https://www.precedenceresearch.com/checkout/1051
You can place an order or ask any questions, please feel free to contact at sales@precedenceresearch.com | +1 9197 992 333