The global metal powder market size was valued at USD 5.47 billion in 2022 and it is expected to hit around USD 10.33 billion by 2032, poised to grow at a CAGR of 6.6% from 2023 to 2032.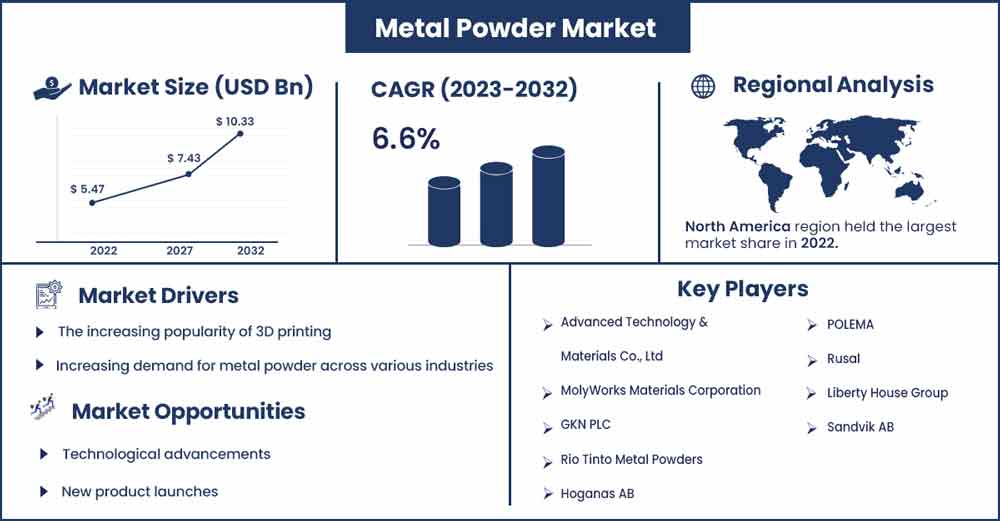 Market Overview
Metal powder refers to metal that has been broken down into a fine powder form, which can be used for a variety of applications metal powders are used in various applications, including friction materials, chemical processes, food supplements, polymer filtration, printing, surface coatings, magnetic composites, and welding. There are four primary processes used to produce metal powder such as solid-state reduction, atomization, electrolysis, and chemical processes.
The most commonly used metal powders include iron, aluminum, copper, nickel, titanium, tungsten, lead, magnesium, and others. Metal powder products are in high demand in various sectors, such as the automotive, aerospace, and others. Powder producers worldwide are developing new materials and additives for metal manufacturing processes such as metal injection molding (MIM), metal additive manufacturing, and conventional press and sinter powder metallurgy to meet industry needs.
The metal powder market is driven by several factors including technological advancement, rapid growth in the aerospace, defence, and automotive sectors, increasing demand for 3D printing or additive manufacturing, government initiatives to support the manufacturing sector, rising demand for electronic devices, and rising demand for gears, turbine discs, or medical devices.
In March 2022, IperionX Ltd, a leading American titanium metal and critical materials company announced that it has scaled titanium metal powder production at its Titanium Pilot Facility located in Utah using 100% recycled titanium metal as the feedstock in order to meet industry quality specifications. The company mentioned that it is accelerating its plans to build a new Titanium Demonstration Facility that will utilize 100% recycled scrap metal and produce low-carbon titanium metal powder with an initial target capacity of around 125 tonnes per annum. The company stated that the project will develop in two phases with a lumpsum investment of $82.1 million, phase one includes a USD 12.5 million investment and the second phase includes a USD 69.6 million investment. IperionX Ltd aims to maintain supply chains with industries including aerospace, electric vehicles, space, and 3D printing. ]
In July 2023, U.S. Awarded Meltio's Additive Manufacturing Technology. The United States Department of Defense has awarded Meltio for its patented and unique 3D printing technology of the Spanish multinational metal additive manufacturing leader solutions. The new technology allows printing parts utilizing 3d printing, solving logistical problems while improving the supply chains in the defense sector.
Regional Insights
North America is expected to hold the dominating share of the market during the forecast period owing to the increasing investment in defence and aerospace, presence of prominent market players, rapid growth of the automotive sector, and increasing government expenditure in the medical/dental sector. The United States, as the largest contributor to defence spending globally, allocates a significant portion of its defence budget to purchase effective defence items. According to the Metal Powder Industries Federation, North American shipments of metal powder increased in 2022, such as Molybdenum shipments surged by nearly 23.4 percent to 695 mt, Tungsten powder shipments surged by an estimated 8.8 percent to 3,389 mt, and aluminium powder shipments surged by 1.4 percent to 19863.
Nearly 70% of the iron powder shipped in North America is projected to be used for parts in passenger vehicles. As per the report published by the Metal Powder Industries Federation Metal Powder Industries Federation. The tungsten market witnessed strong growth in the semiconductor market in 2022, boosting demand for high-purity and better-quality tungsten powder for new-generation chips, and demand for simpler chips continues to outpace capacity.
This industry is expected to grow in the coming years as the United States plans to build 14 to 24 new semiconductor plants in the next 3 to 7 years' time period. The United States has surged the defence products that use tungsten and also trying to replenish its depleting inventory. The rapid growth of tungsten powder helps to reduce supply chains and risk as well as dependence on China. Molybdenum is highly used in Powder Metallurgy applications for automotive, industrial, medical, defence, aerospace, and electronics.
The automotive industry in the region is the largest consumer of Powder Metallurgy (PM) parts. Government policies such as Corporate Average Fuel Economy (CAFE) standards and minimizing the dependency on fossil fuels, with an emphasis on green energy, resulted in increasing focus on the automotive industry to comply with the development of PHEV and BEV. Therefore, this is expected to fuel the metal powder market growth in the region during the forecast period.
Metal Powder Market Report Scope:
| | |
| --- | --- |
| Report Coverage | Details |
| Market Revenue in 2023 | USD 5.81 Billion |
| Projected Forecast Revenue by 2032 | USD 10.33 Billion |
| Growth Rate from 2023 to 2032 | CAGR of 6.66% |
| Largest Market | North America |
| Base Year | 2022 |
| Forecast Period | 2023 to 2032 |
| Regions Covered | North America, Europe, Asia-Pacific, Latin America, and Middle East & Africa |

Market Dynamics
Drivers
The increasing popularity of 3D printing
The increasing popularity of 3D printing around the globe is the major driver for the growth of the metal powder market. The major contribution by the key market players in 3D printing such as mHöganäs, ATI, Carpenter Technology, General Electric, Renishaw plc., GKN Powder Metallurgy, Sandvik AB, and others is expected to carve the way for market growth. 3D printing is also popularly known as additive manufacturing and metal powder is the backbone of metal 3D printing. The majority of metal 3D printing technologies use metal powder and require high purity, good sphericity, narrow particle size distribution, and low oxygen content metal powder. The materials used in metal 3D printing mainly include titanium alloy, cobalt-chromium alloy, aluminum alloy, and others.
Increasing demand for metal powder across various industries
The increasing demand for metal powder across several industries is expected to boost the growth of the market during the forecast period. With the significantly increasing demand for innovative products across various industries, the need for cost-effective and high-quality metal powder is also rising. Metal Powder is widely used in several applications such as aerospace & defense, automotive, electrical & electronics, healthcare, and others.
Restraints
Environmental implications
The environmental implications of using metal powder are projected to obstruct the growth of the market. The metal dust is dangerous and hazardous to inhale and can also result in irritation to the eyes and skin. If metal powders are not stored properly or handled in a controlled environment, the dust from metal powders can be generated which is detrimental to the health of employees. Many metals are usually strong in powder form and they are very hard to wash off. Thus, these factors are projected to restrain the market's growth.
Fluctuation in the raw material prices
The metal powder market's expansion is anticipated to be constrained by the fluctuation in raw material prices during the forecast period. In addition, the adverse effect of reactive metals is projected to retrain the market's growth. The proper care must be taken when storing metal powders to avoid the chance of accidental mixing. Volatility in the prices of raw materials create a major obstacle for the overall supply chain and production. Thereby, the element is observed to act as a restraint for the market.
Opportunities
Technological advancements
The rapid technological advancements are projected to offer lucrative opportunities for the market's growth during the forecast period. Nations across the globe are coming up with advanced technologies to serve the needs of the market. In addition, collaboration/ partnership or acquisition is expected to boost market growth during the forecast period.
For instance, in April 2023, IperionX Limited, a pioneer in sustainable titanium technologies announced the signing of a non-binding memorandum of understanding (MOU) with SLM Solutions Group AG (SLM), a global leader in 3D printing technology, for the supply of low carbon and recycled titanium powders from IperionX's Titanium Demonstration Facility (TDF) in Virginia to SLM. This collaboration recognizes the importance of sustainable, high-quality titanium powders from 100% recycled titanium metal powders with less carbon footprint and environmental impact, for leading companies and will be a unique titanium powder offering for SLM's customers worldwide.
New product launches
The rising product launches are anticipated to create significant growth opportunities for the market during the forecast period. For instance, in September 2023, Meltio came out with a new turnkey robotic arm metal 3D printing cell it says gives industrial manufacturers a safer and more reliable environment in which to fabricate metal parts. Meltio specializes in wire-fed direct energy deposition (DED) technology in other words, using a laser to melt metal wire as it's deposited. The company's technology has long integrated with a range of robotic arms to enable metal 3D printing, but now, this new hardware system is a ready-to-use cell for robotic metal 3D printing that removes the integration process and long assembly lead times. Such product launches are observed to accelerate the market's growth.
Recent Developments
In September 2023, GKS Aerospace announced that it has selected Nikon SLM Solutions to provide state-of-the-art additive manufacturing machines, accelerating its industrialization of sustainable aero engine solutions. Nikon SLM Solutions' extensive printing area is align with GKN Aerospace's vision in order to develop large parts with extended productivity.
Major Key Players
Advanced Technology & Materials Co., Ltd
MolyWorks Materials Corporation
GKN PLC
Rio Tinto Metal Powders
Hoganas AB
POLEMA
Rusal
Liberty House Group
Sandvik AB
Market Segmentation
By Type
By Technology
Press & Sinter
Additive Manufacturing
Metal Injection Molding
Others
By Application
Healthcare
Automotive
Aerospace & Defense
Others
Buy this Research Report@ https://www.precedenceresearch.com/checkout/1181
You can place an order or ask any questions, please feel free to contact at sales@precedenceresearch.com | +1 9197 992 333