The global military satellite market revenue was evaluated at USD 14.14 billion in 2022 and is expected to attain around USD 27.67 billion by 2032, growing at a CAGR of 6.95% from 2023 to 2032.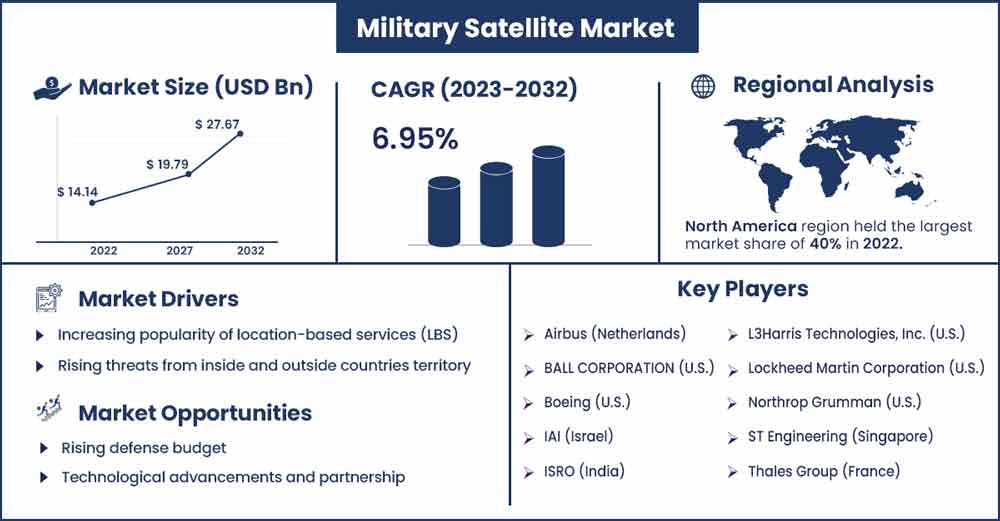 Market Overview
A military satellite is a specialized artificial satellite designed and used by a country's military or defense establishment for various purposes related to national security and defense. These satellites are deployed into Earth's orbit or other celestial bodies to perform a wide range of tasks and functions that support military operations and strategic interests. Military satellite provides secure and reliable communication channels for military personnel, units, and platforms, facilitating real-time data exchange, voice communication, and command and control capabilities. These systems are often encrypted to protect sensitive information from unauthorized access.
The military satellites market is driven by several factors including rising government funding, technological advancements, growing national security concerns, rising product innovations and the need for efficient communication requirements. Additionally, the need for precise positioning, navigation, and timing (PNT) information is critical for accurate targeting, troop movement coordination, and the success of modern military operations. Military satellite-based navigation systems, like GPS, are indispensable for these purposes.
The Defense Science and Technologies Laboratory (DSTL) has granted In-Space Missions Ltd a USD 9.9 million contract for the development of the Titania satellite, which will conduct critical research on next-generation communications technologies.
The Morrison government has initiated its $7 billion investment in space capabilities over the next ten years, it will launch the first wholly owned and managed military satellite communication network, as stated in the Defense Strategic Update and Force Structure Plan.
According to the SIPRI, in real terms, global military spending increased by 3.7% in 2022 to a record-high $2240 billion. The increase in spending in 2022 was mostly caused by Russia's invasion of Ukraine. The biggest yearly rise in overall European expenditures since the conclusion of the Cold War was a 13% increase in military spending during the year. Significant increases in Russian and Ukrainian spending were mostly responsible for the remarkable gain in 2022, but several other European nations also increased their military spending. Parts of Asia and Oceania had gains in spending in 2022, which helped boost the global economy.
According to the Union of Concerned Scientists, the total number of operating satellites across the globe is 6,718.

United States – 4,529

Civil – 26
Commercial – 3,996
Government – 260
Military - 247

Russia – 174
China – 590
Others – 1,425
Regional Insights
North America is expected to hold the largest market share over the forecast period owing to the increasing defense budgets. The United States, as the largest contributor to defense spending globally, allocates a substantial portion of its defense budget to space-related initiatives, including military satellites. This financial commitment enables the development and maintenance of an extensive constellation of military satellites. In addition, the United States at the forefront of satellite technology development. They possess advanced capabilities in areas such as satellite design, manufacturing, launch and control systems. For instance, in January 2023, Lockheed Martin's sixth Global Positioning System III (GPS III) satellite was launched and is currently travelling to its operational orbit, which is 12,550 miles above the surface of the planet. There, it is expected to contribute to the continuous modernization of the GPS constellation used by the United States Space Force. Thus, this is expected to propel the market growth in the region during the forecast period.
Military Satellite Market Report Scope:
| | |
| --- | --- |
| Report Coverage | Details |
| Market Revenue in 2023 | USD 15.12 Billion |
| Projected Forecast Revenue by 2032 | USD 27.67 Billion |
| Growth Rate from 2023 to 2032 | CAGR of 6.95% |
| Largest Market | North America |
| Base Year | 2022 |
| Forecast Period | 2023 to 2032 |
| Regions Covered | North America, Europe, Asia-Pacific, Latin America, and Middle East & Africa |

Market Dynamics
Drivers
Growing national security concerns and the commercial space industry
National security remains a top priority for governments across the globe. The need to protect borders, deter potential adversaries, and respond to emerging threats drives investment in military satellite technology. In addition, the growing commercial space sector offers opportunities for governments to leverage commercial satellite services and technologies for military purposes, potentially reducing development and operational costs. Thereby, driving the market growth.
Rising communication requirements
Reliable and secure communication is crucial as military activities spread out and grow more distant geographically. Military satellites offer a way to keep coalition partners, dispersed deployments, and various military branches connected. Thus, the communication requirements are expected to drive market growth during the forecast period.
Restraints
High cost
Over the projected period, the military satellite market's expansion is anticipated to be constrained by the high cost of military satellites. An artificial satellite used for military operations is known as a military satellite. Military satellites are expensive stuff, both to develop and to deploy. A total of USD 300 million can be considered to be spent on the military communications satellite, which includes USD 95 million for release and launch insurance, USD 20 million for in-orbit insurance, USD 15 million for running expenditures, and USD 150 million for the spacecraft.
Technological complexity and cybersecurity risks
Advanced military satellites require cutting-edge technology to build and maintain. Complexity in technology can cause delays in development, cost overruns, and challenges in obtaining required capabilities. Military satellites are also susceptible to hacks that might obstruct data transfer, navigation, or communication. Keeping satellite systems secure is a never-ending task. Thus, this is expected to hamper the market growth over the forecast period.
Opportunities
Product launches
The growing product launches are expected to offer a lucrative opportunity for market growth during the forecast period. For instance, in August 2023, a military satellite carried by the Soyuz-2 was successfully launched by Russia. The Plesetsk Cosmodrome in the Arkhangelsk area successfully launched the military satellite, according to the Russian Ministry of Defence (MoD), and it is "in the interests of the authority." The Global Navigation Satellite System's (GLONASS-K2) initial generation of radio-based navigation satellites is the system in concern. The RUB484 billion (USD4.9 billion) 10-year (2021-30) program to replace the older generation satellites requires the launch of a total of two GLONASS-K2 satellites.
Technological advancements and partnership
Nations now have additional options for developing and deploying their military satellite constellations because of developments in satellite technology, downsizing, and cost reduction. These developments make space-based capabilities more accessible and affordable. Additionally, several nations work together on space programs to split the costs and resources needed for creating and deploying military satellites. Such collaborations can improve a country's space capabilities while cutting program expenses. Thus, this is expected to offer a lucrative opportunity for market growth during the forecast period.
Recent Developments
In July 2023, Europe's Spaceport in Kourou, French Guiana and Guiana Space Center announced a successfully launched of SYRACUSE 4B communications satellite. The satellite was created by Airbus and Thales Alenia Space.
In February 2023, U.S. defense contractor CACI International declared that they collaborated on the creation of space sensors and payloads for location, navigation, and timing with the U.S. Army. A five-year cooperative research and development agreement (CRADA) was signed by the Reston, Virginia-based firm and the Huntsville, Alabama-based U.S. Army Space and Missile Defense Command Technical Center.
Key Market Players
Airbus (Netherlands)
BALL CORPORATION (U.S.)
Boeing (U.S.)
IAI (Israel)
ISRO (India)
L3Harris Technologies, Inc. (U.S.)
Lockheed Martin Corporation (U.S.)
Northrop Grumman (U.S.)
ST Engineering (Singapore)
Thales Group (France)
Viasat, Inc. (U.S.)
Market Segmentation
By Orbit Type
By Type
Nano-Micro Satellite
Small Satellite
Medium Satellite
Heavy Satellite
By Application
ISR
Communication
Navigation
Buy this Research Report@ https://www.precedenceresearch.com/checkout/3301
You can place an order or ask any questions, please feel free to contact at sales@precedenceresearch.com | +1 9197 992 333