The global military satellite market size was estimated at USD 14.14 billion in 2022 and it is expected to hit around USD 27.67 billion by 2032, poised to grow at a CAGR of 6.95% during the forecast period 2023 to 2032.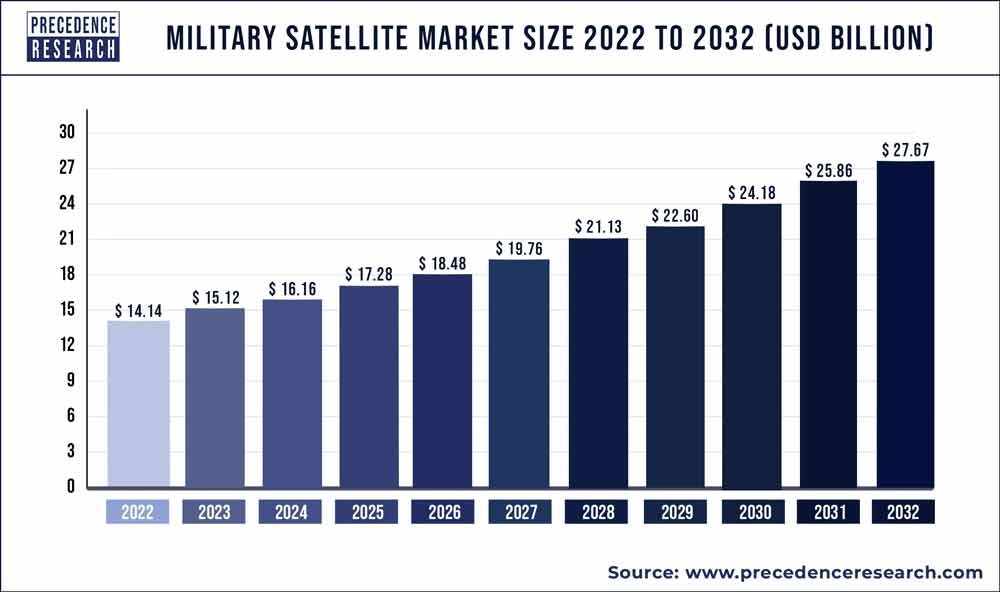 Access our Premium Real Time Data Intelligence Tool, Visit: Precedence Statistics
Key Takeaways:
North America contributed more than more than 40% of the revenue share in 2022.
Asia-Pacific is expected to expand at the fastest CAGR over the forecast period.
By Orbit Type, the LEO segment generated the largest market share in 2022.
By Orbit Type, the GEO satellite orbit type is expected to grow at the fastest CAGR over the projected period.
By Type, the nano-micro satellite segment contributed the largest revenue share in 2022.
By Type, the small satellite segment is expected to expand at the fastest CAGR between 2023 and 2032.
By Application, the communication segment contributed the largest market share in 2022.
By Application, the navigation segment is expected to expand at the fastest CAGR during the projected period.
U.S. Military Satellite Market Size By 2032
The U.S. military satellite market size was valued at USD 3.67 billion in 2022 and is projected to surpass around USD 7.19 billion by 2032, expanding at a CAGR of 6.95% between 2023 and 2032.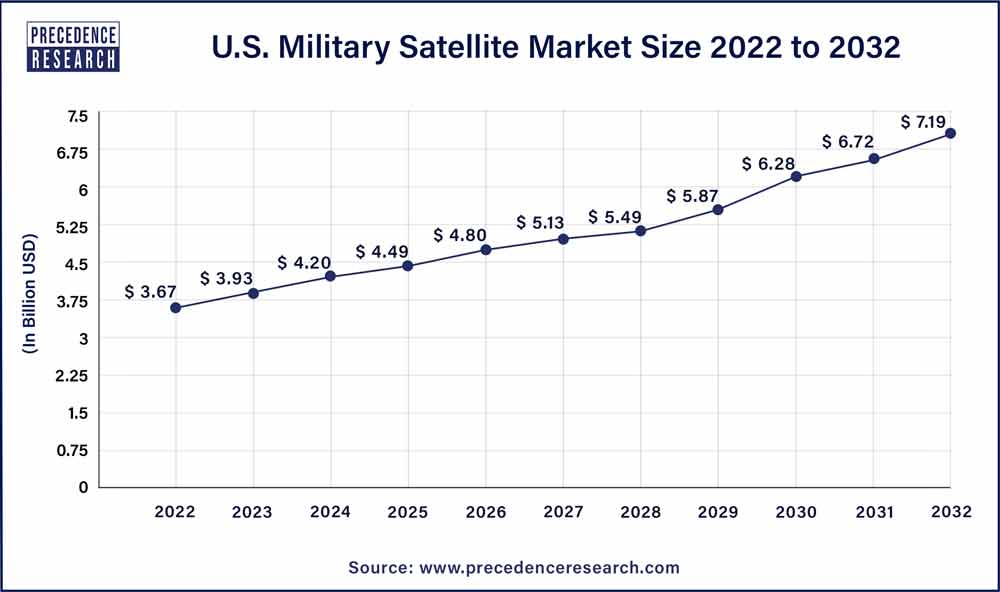 North America has held the largest revenue share of 40% in 2022. North America has an extensive network of military satellites, and the U.S. Department of Defense (DoD) plays a pivotal role in maintaining global security and strategic advantage. Collaborations with North American allies, such as Canada, bolster the region's military satellite capabilities, fostering shared resources and cost-sharing initiatives. North American military satellites, including those in geostationary orbits, offer worldwide coverage, facilitating effective communication, surveillance, and navigation for military forces.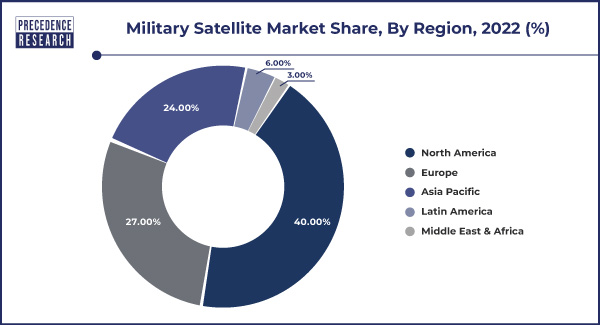 Asia-Pacific Estimated to Observe the Fastest Expansion in the Market in 2022.
The Asia-Pacific military satellite market is a dynamic and rapidly evolving sector within the global aerospace and defense industry. Countries such as China, India, and Japan are investing heavily in the deployment, development, and enhancement of military satellite systems for communication, reconnaissance, surveillance, and navigation.
Moreover, geopolitical tensions continue to shape regional security dynamics, which poised for significant growth in the Asia-Pacific military satellite market, with countries focusing on modernization initiatives, cybersecurity, and strategic partnerships to maintain technological superiority and ensure national security in an increasingly contested space domain.
The European military satellite market represents a vital and growing segment within the global aerospace and defense industry. Comprising nations such as France, the United Kingdom, Germany, and others, Europe has made substantial investments in military satellite technology. The European Space Agency (ESA) plays a key role in coordinating collaborative efforts among European nations to develop and deploy advanced military satellite systems. These systems are used for secure communication, reconnaissance, surveillance, navigation, and space-based missile warning capabilities. Europe is also increasingly focused on strengthening its space surveillance and space traffic management capabilities. In response to evolving security threats, European countries prioritize cyber security measures to protect their satellite assets.
Military Satellite Market Overview:
The military satellite market is a specialized sector within the broader satellite industry that focuses on the development and deployment of satellites tailored to the unique needs of national defense and security. It plays a crucial role in enabling communication, surveillance, and other essential functions for military and intelligence agencies.
Moreover, the military satellite market includes a wide range of satellite types, such as earth observation satellites, communication satellites, navigation satellites, space-based missile warning satellites, and others. Some military satellite technologies have civilian applications, leading to dual-use advancements that benefit both defense and commercial sectors.
In addition, governments and military organizations often collaborate with private aerospace companies to design, build, and launch military satellites. For instance, in September 2023, Falcon 9 rocket launched 13 demonstration satellites from Vandenberg Space Force Base in California for a U.S. military mega-constellation.
Growth Factors:
The growth of the military satellite market can be attributed to various factors such as a combination of security imperatives, technological innovations, and the evolving nature of modern warfare. Advances in satellite technology have made it possible to develop more capable and cost-effective military satellites. These advancements include miniaturization, improved propulsion systems, higher-resolution imaging, and better encryption methods.
Moreover, security has become more complex, with rising threats from inside and outside countries territory. This has led nations and companies to invest in advanced military satellite systems to enhance their situational awareness, secure communication, and intelligence-gathering capabilities. As cyber threats and electronic warfare capabilities grow, there is a growing need for military-grade communication satellites that can withstand jamming and interference.
For instance, in March 2023, Space Force announced that it is planning to develop new jam-resistant satellite communications (SATCOM) systems worth more than $3 billion. It enable warfighters on the battlefield stay steadily connected in the face of adversary electronic warfare systems.
Report Scope of the Military Satellite Market:
| | |
| --- | --- |
| Report Coverage | Details |
| Market Size in 2023 | USD 15.12 Billion |
| Market Size by 2032 | USD 27.67 Billion |
| Growth Rate from 2023 to 2032 | CAGR of 6.95% |
| Largest Market | North America |
| Base Year | 2022 |
| Forecast Period | 2023 to 2032 |
| Segments Covered | By Orbit Type, By Type, and By Application |
| Regions Covered | North America, Europe, Asia-Pacific, Latin America, and Middle East & Africa |

Market Dynamics:
Driver:
Increasing popularity of location-based services (LBS)
Surging geopolitical tensions and conflicts between nations have become powerful catalysts for the growing demand within the military satellite market. In an increasingly interconnected world, nations find themselves engaged in complex geopolitixcal rivalries, necessitating reliable and strategic communication, surveillance, and intelligence capabilities. Military satellites serve as a linchpin in this dynamic landscape.
One key factor contributing to this heightened demand is the imperative for secure and resilient communication. In times of conflict, maintaining secure channels for military units and command centers becomes paramount. Military satellites offer a solution by providing global coverage and ensuring that communication remains uninterrupted, even in remote or hostile environments.
Furthermore, these satellites play a pivotal role in surveillance and reconnaissance operations, offering real-time data and high-resolution imagery. They empower nations to monitor adversaries, track troop movements, and assess emerging threats swiftly and comprehensively.
Additionally, military satellites equipped with advanced sensor technologies serve as critical tools for early warning systems, especially in detecting and tracking missile launches, providing vital seconds or minutes that can make a substantial difference in national defense strategies.
In this environment of geopolitical uncertainty, the military satellite market is poised for continuous growth as nations seek to bolster their national security and defense capabilities, underscoring the integral role these satellites play in safeguarding their interests and ensuring strategic advantage on the global stage.
Restraints:
Government regulation
Government regulations can have a significant impact on the demand for the military satellite market. While regulations are essential for maintaining order and safety in the space domain, they can also create challenges and limitations for military satellite development and deployment. One key factor is international treaties and agreements governing outer space activities, such as the Outer Space Treaty. These agreements promote peaceful uses of space and restrict the deployment of certain weapons in space.
While these regulations contribute to global security and stability, they can limit the scope of military satellite capabilities and deter aggressive militarization of space. Export controls are another aspect of government regulations that can affect the market. Governments often impose restrictions on the transfer of advanced satellite technologies to prevent their proliferation. While these measures enhance security, they can hinder international collaboration on military satellite projects among allied nations.
Spectrum management is a critical concern. Governments allocate radio frequency spectrum for various purposes, including military satellite communication. Spectrum congestion can occur, limiting the available bandwidth for military satellite systems and potentially impacting their performance.
Furthermore, national laws and policies, as well as complex procurement processes, can introduce delays and administrative burdens in acquiring and deploying military satellites. Compliance with environmental regulations, particularly those related to space debris mitigation, can also add complexity and costs to satellite operations. Despite these regulatory challenges, governments continue to navigate them to ensure the security and functionality of their military satellite programs.
Opportunities:
Rising defense budget
Increased defense budgets have the potential to usher in significant opportunities for the military satellite market. As governments allocate more resources to bolster their national security and defense capabilities, they invariably seek to invest in cutting-edge technologies that enhance their strategic advantage. Military satellites, with their pivotal roles in secure communication, global surveillance, reconnaissance, and early warning systems, align seamlessly with these priorities.
The infusion of additional funding enables several crucial developments within the military satellite domain. Moreover, it supports the research, development, and deployment of state-of-the-art satellite systems. These investments drive innovation in areas such as miniaturization, propulsion, data processing, and encryption, leading to more sophisticated and secure military satellite capabilities.
In addition, increased defense budgets facilitate the expansion of satellite constellations. This expansion can provide broader global coverage, reduced data transmission latency, and improved redundancy, all of which are vital for enhancing operational effectiveness. Furthermore, the allocation of more significant financial resources enables nations to address emerging security threats. It permits investment in advanced cybersecurity measures, countermeasures against anti-satellite (ASAT) threats, and strategies to protect satellites from cyberattacks, ensuring the security of military satellite assets. Thus, heightened defense budgets open doors to the development of advanced military satellite systems that are essential for maintaining national defense readiness, safeguarding communication, and addressing evolving security challenges in an increasingly interconnected world.
Impact of COVID-19:
The pandemic disrupted global supply chains, affecting the production and delivery of satellite components. This led to delays in satellite manufacturing and deployment, impacting project timelines. Many governments faced budgetary challenges due to increased healthcare and economic support expenditures during the pandemic. This led some nations to reevaluate their defense spending priorities, potentially affecting investments in military satellites. However, despite budget constraints, many countries continued to recognize the strategic importance of space assets, including military satellites and maintained their investments in space capabilities.
Moreover, the pandemic highlighted the vulnerability of critical infrastructure to cyberattacks, leading to increased emphasis on the need for secure satellite communication and satellite system protection. Thus, the COVID-19 pandemic has introduced challenges and opportunities for the military satellite market. While supply chain disruptions and budget constraints have posed obstacles, the increased demand for secure communication and the continued recognition of the importance of space assets have provided opportunities for growth and adaptation in the sector.
Orbit Type Insights:
Based on the orbit type, LEO satellite orbit type is anticipated to hold the largest market share in 2022. LEO satellites are known for their relatively short orbital periods and are often used for Earth observation, reconnaissance, and communication. They offer low latency communication and are less susceptible to signal delay, making them suitable for real-time applications.
On the other hand, the GEO satellite orbit type is projected to grow at the fastest rate over the projected period. GEO satellites remain in fixed positions relative to the Earth's surface, making them ideal for applications requiring constant coverage of a specific region, such as communication and weather monitoring. GEO satellites provide high data throughput but have higher latency due to their distance from Earth.
Type Insights:
According to the type, the nano-micro satellite has held the highest revenue share in 2022. These are the smallest and lightest military satellites, typically weighing less than 100 kilograms (220 pounds). They are often used for tasks such as technology demonstration, scientific research, and experimentation. While their capabilities are limited compared to larger satellites, they offer cost-effective options for specific mission requirements.
The small satellite type is anticipated to expand at a significant CAGR during the projected period. Small satellites typically weigh between 100 kilograms (220 pounds) and 500 kilograms (1,102 pounds). They are versatile and can be used for various purposes, including Earth observation, communication, and reconnaissance. Small satellites offer a balance between capability and cost-effectiveness, making them attractive for military applications.
Application Insights:
Based on the application, communication is anticipated to hold the largest market share in 2022. Military communication satellites are essential for secure and reliable communication between military forces, command centers, and other assets worldwide. They enable encrypted voice, data, and video transmissions, ensuring seamless and confidential communication, even in remote or hostile environments. These satellites play a pivotal role in coordinating military operations, disaster response, and peacekeeping missions.
The navigation segment is anticipated to expand at a significant CAGR during the projected period. Navigation satellites are part of global navigation satellite systems (GNSS) like the Global Positioning System (GPS). Military navigation satellites provide accurate positioning, timing, and navigation services to military personnel, vehicles, and equipment. They are crucial for precision-guided munitions, target tracking, troop movements, and situational awareness on the battlefield.
Recent Developments:
September 2023: Lockheed Martin LMT launched 10 satellites into low-Earth orbit. It supports the Space Development Agency's (SDA) Tranche 0 Transport Layer (T0TL) mission.
September 2023- Space Development Agency (SDA) announced that it is planning to begin the demonstration phase of a new approach to transmitting data to support military operations. It is building a space data network that includes a transport layer and a missile-tracking sensor layer.
June 2023: Space Development Agency (SDA) announced that it has made a final request for next procurement of 100 satellites and these 100 satellites, named Alpha, as the agency continues to build out a military constellation in low Earth orbit. It will be part of a mesh network known as Transport Layer Tranche 2. The Transport Layer Tranche 2 also consists 72 Beta satellites for which SDA already has requested bids.
May 2023: North Korea announced that it will launch a reconnaissance satellite in June, to observe and monitor military movements of the United States and its partners in real time.
March 2023: Indian defence ministry signed a contract with Isro's New Space India Ltd (NSIL) worth nearly Rs 3,000-crore for a five-tonne satellite for the land force. In this contract, NSIL will provide advanced communication satellite, GSAT-7B boost its communication network and security operations along the country's borders.
Key Market Players:
Airbus (Netherlands)
BALL CORPORATION (U.S.)
Boeing (U.S.)
IAI (Israel)
ISRO (India)
L3Harris Technologies, Inc. (U.S.)
Lockheed Martin Corporation (U.S.)
Northrop Grumman (U.S.)
ST Engineering (Singapore)
Thales Group (France)
Viasat, Inc. (U.S.)
Market Segmentation:
(Note*: We offer reports based on sub-segments as well. Kindly, let us know if you are interested)
By Orbit Type
By Type
Nano-Micro Satellite
Small Satellite
Medium Satellite
Heavy Satellite
By Application
ISR
Communication
Navigation
By Geography
North America
Europe
Asia-Pacific
Latin America
Middle East and Africa