The global military communication market size reached USD 36.12 billion in 2022 and is projected to hit USD 70.49 billion by 2032, registering a CAGR of 6.92% from 2023 to 2032.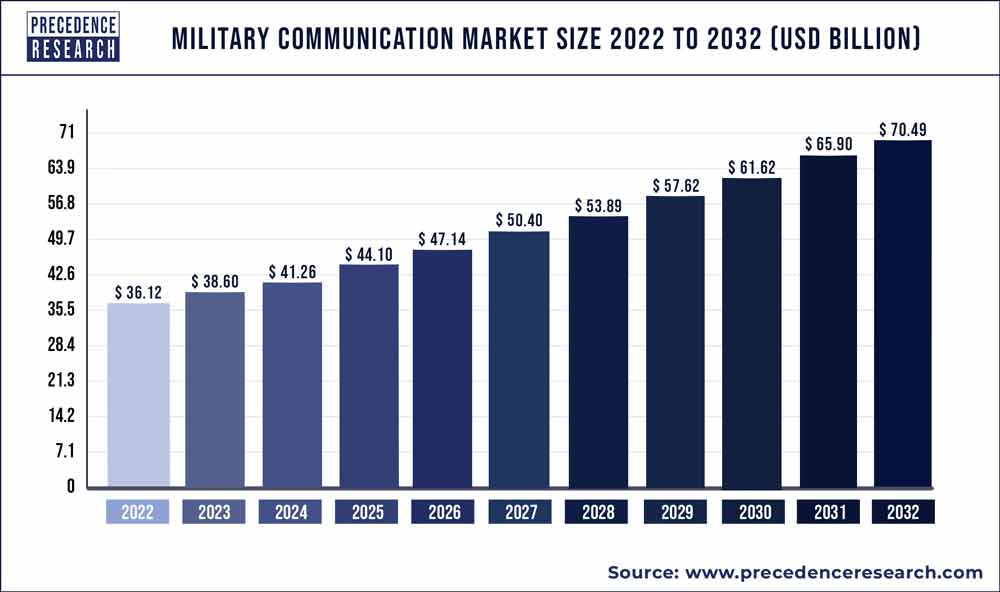 Access our Premium Real Time Data Intelligence Tool, Visit: Precedence Statistics
Key Takeaways
North America has held the biggest revenue share of 36% in 2022.
Asia-Pacific is expected to expand at the fastest CAGR over the forecast period.
By Component, the hardware segment is expected to hold the largest market share in 2022.
By Component, the software is expected to grow at the fastest CAGR over the projected period.
By Technology, the SATCOM segment contributed the highest revenue share in 2022.
By Technology, the data links segment is expected to expand at a significant CAGR during the projected period.
By Application, the command & control segment contributed the largest market share in 2022.
By Application, the ISR segment is anticipated to grow at the fastest CAGR over the projected period.
By Platform, the ground segment contributed the highest market share in 2022.
By Platform, the airborne platform segment is expected to expand at the fastest CAGR over the projected period.
Military Communication Market in the U.S. 2023-2032
The U.S. military communication market size accounted for USD 7.8 billion in 2022 and is estimated to reach around USD 15.22 billion by 2032, growing at a CAGR of 6.92% from 2023 to 2032.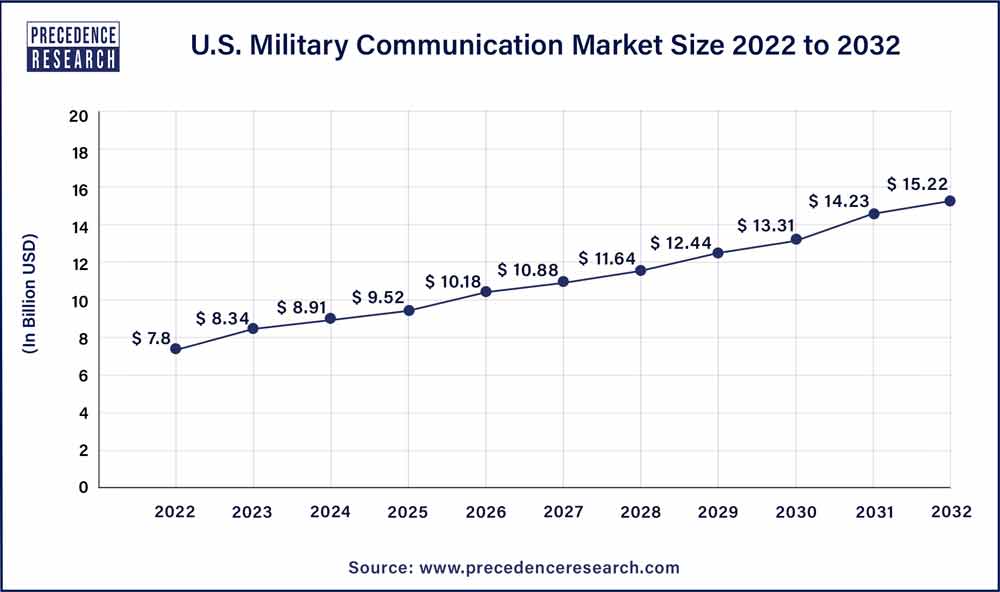 North America dominated the market with the largest market share of 36% in 2022. This is due to the North American countries such as the United States and Canada, has some of the world's largest defense budgets. The significant allocation of funds for defense and military modernization programs allows for substantial investments in advanced communication systems and technologies.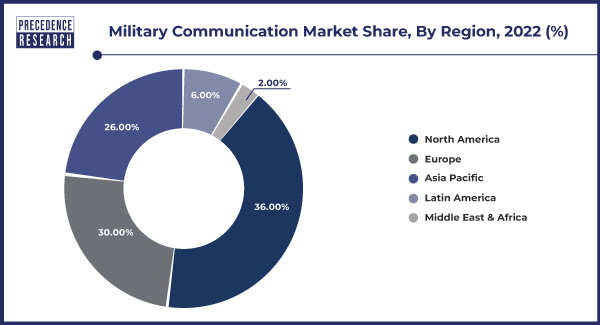 Asia-Pacific is estimated to observe the fastest expansion in the military communication market in 2022. Several countries in the Asia-Pacific region, including China, India, South Korea, and Japan, have been actively modernizing their defense capabilities. This modernization effort includes investments in advanced military communication systems to enhance interoperability, situational awareness, and overall defense capabilities.
Military Communication Market Overview
The military communication market focuses on providing communication and information technology solutions and services to military organizations and defense forces worldwide. It provides unique communication needs and requirements of the armed forces, including the army, navy, air force, and other military branches.
The market is expected to grow during the forecast period due to the growing emphasis on security, reliability, and resilience of various countries and military organizations that require uninterrupted and secure communication to achieve their mission objectives.
Governments and defense contractors are investing heavily in research, development, and procurement of technological advanced & innovative communication solutions to maintain a strategic advantage and protect national security interests of their country.
Growth Factors
The growth of the military communication market can be attributed to various factors such as including technological advancements, evolving threat landscapes, geopolitical developments, and changing military strategies. Moreover, Higher defense budgets allocated by governments to enhance national security and military capabilities often lead to increased investment in advanced communication systems and technologies.
For instance, according to the Stockholm International Peace Research Institute (SIPRI) published report on global defense spending, The total global military expenditure to reach $2113 billion and surged by 0.7 per cent in 2021 in real terms. India, China, the United Kingdom, United States, and Russia were the five largest spenders in 2021, and accounting for 62% of expenditure.
Also, military forces around the world seek to modernize their communication systems to maintain a competitive edge and address emerging threats. This includes upgrading legacy systems with more advanced and secure solutions.
The military communication market is dynamic and continually evolving to address these factors and meet the evolving needs of defense forces. As technology advances and security challenges change, the market is expected to grow as governments and defense organizations prioritize communication solutions that enhance their capabilities and protect national interests. The need for real-time data and situational awareness in modern warfare necessitates the development of advanced command and control systems, driving investment in communication technologies.
For instance, in May 2021, The marine corps announced that it is modernizing and reshaping its force for the future naval expeditionary fight and it will require increased mobility and active communication to circumvent difficult situations. Its modernization investments offers Marines technological advancement that helps in conduct command, communicate, and control, enhance situational awareness and allow learned decision-making in the battlespace.
Moreover, military forces are adapting to new forms of warfare, including urban warfare and asymmetric threats. Effective communication is crucial in these environments, leading to investments in specialized communication solutions.
Military Communication Market Scope
| | |
| --- | --- |
| Report Coverage | Details |
| Growth Rate from 2023 to 2032 | CAGR of 6.92% |
| Market Size in 2023 | USD 38.60 Billion |
| Market Size by 2032 | USD 70.49 Billion |
| Largest Market | North America |
| Base Year | 2022 |
| Forecast Period | 2023 to 2032 |
| Segments Covered | By Component, By Technology, By Platform, By Application |
| Regions Covered | North America, Europe, Asia-Pacific, Latin America, and Middle East & Africa |

Military Communication Market Dynamics
Driver:
Ongoing geopolitical tensions and conflicts in various regions
In an increasingly complex and unpredictable global security landscape, the need for secure, reliable, and sophisticated communication solutions is paramount. Geopolitical tensions may involve not only traditional military threats but also asymmetric challenges, including cyberattacks and information warfare. To effectively counter these multifaceted threats, modern armed forces require cutting-edge communication capabilities. In times of heightened conflict, these systems enable military organizations to establish secure lines of communication, ensuring commanders can rapidly disseminate orders and troops can share critical intelligence. Situational awareness, a cornerstone of military effectiveness, relies heavily on real-time data transmission, which advanced communication systems facilitate.
Furthermore, interoperability, especially in multinational coalitions, becomes a strategic imperative. Advanced military communication systems offer standardized protocols and compatibility, enabling seamless collaboration among allied forces. This cooperation enhances the collective defense posture and strengthens deterrence efforts. Moreover, emerging technologies such as artificial intelligence, satellite communication, and advanced encryption are essential components of modern military communication.
For instance, in July 2023, Indian Army signed a contract for the procurement of an remotely piloted aerial vehicle (RPAV). It features various technologies such as communication systems and advanced sensors, that allows it to conduct reconnaissance and surveillance operations with enhanced efficiency and accuracy.
These innovations bolster the capacity to protect sensitive information and ensure effective communication in contested environments. Thus, ongoing geopolitical tensions underscore the indispensable role of advanced military communication systems in safeguarding national security interests and maintaining peace.
Restraints:
High Initial Development Cost
Military communication systems are critical for modern defense operations, their upfront expenses can be daunting for governments and military organizations. The research, development, and procurement of advanced military communication systems involve substantial investments in cutting-edge technology. These systems require rigorous testing, integration, and adaptation to meet specific military requirements.
The cost of developing secure and highly resilient communication networks can strain defense budgets. The rapid pace of technological advancement means that military organizations must continually invest in upgrading their communication infrastructure to maintain relevance and effectiveness. This ongoing expenditure can be a financial burden, particularly for governments facing budget constraints or competing defense priorities.
The customization and complexity of military communication systems often lead to higher costs. Tailoring systems to meet the unique needs of different branches of the armed forces and adapting them to diverse operational environments adds to the overall expenses. Moreover, the need to comply with stringent cybersecurity standards and ensure data encryption and protection against cyber threats further inflates development costs. As the threat landscape evolves, ongoing investments are necessary to stay ahead of potential vulnerabilities. Thus, the high initial development cost associated with military communication systems can be a significant deterrent for some governments and organizations.
Opportunities:
Increasing reliance on satellite communication
Satellites have become the strength of modern military communication networks due to their supreme ability to deliver safe, protected and dependable connectivity in any part of the world, including remote and hostile regions. Furthermore, military organizations need satellite-based solutions that supports high bandwidth, low latency, and secure data transmission abilities. This has formed opportunities for satellite communication providers to develop and deliver innovative satellite services tailored to military needs. Moreover, the development of small and microsatellite constellations has transformed satellite communication, making it more agile and cost-effective. These constellations allows real-time global coverage and are valuable for military applications, such as remote sensing, tactical communication, and intelligence gathering.
Evolving technologies including high-frequency (HF) satellite communications and phased-array antennas are improving the abilities of military satellite systems. These advancements and innovations deliver opportunities for companies to create advanced satellite communication hardware and software solutions. Furthermore, the integration of satellite communication with other military systems, such as surveillance, command and control, and navigation, is becoming gradually important. This integration provides opportunities for companies to develop comprehensive, cross-domain communication solutions that enhance the efficiency and effectiveness of military operations. Therefore, the growing reliance on satellite communication in remote and contested areas opens up a wide range of opportunities for companies in the military communication market.
Impact of COVID-19
The COVID-19 pandemic significantly impacted the military communication market, ushering in a range of changes and challenges for defense organizations globally. The pandemic also caused supply chain disruptions affected the availability of components and equipment required for military communication systems, leading to delays in procurement and deployment. In addition, the economic impact of the pandemic strained defense budgets in some countries, potentially affecting funding for communication projects and research and development efforts. The increased reliance on digital communication also raised cybersecurity concerns, necessitating significant investments in protecting sensitive military information.
However, military organizations started prioritizing redundancy and resilience in their communication networks, aiming to withstand disruptions like pandemics and cyberattacks. The pandemic underscored the critical importance of secure and efficient communication systems for military operations. With lockdowns and social distancing measures disrupting traditional modes of interaction, the demand for remote communication tools surged. This led to an accelerated digital transformation within military forces, emphasizing the adoption of advanced technologies like encrypted messaging platforms and secure video conferencing. Furthermore, closer collaboration with private sector companies led to innovations in satellite communication, secure data transmission, and network optimization.
Component Insights
Based on the components, the hardware segment is anticipated to hold the largest market share in 2022. Hardware encryption devices are used to protect sensitive information from interception and unauthorized access. This segment consists a various hardware devices used for military communication, such as antennas, switches, satellite communication terminals, radios, routers, and network infrastructure. Moreover, these devices are designed to enable voice, data, and video communication, both in the field and within command centers.
On the other hand, the software is projected to grow at the fastest rate over the projected period. Military communication software includes applications and protocols designed for secure and efficient data transmission. This software often integrates encryption, authentication, and network management features to ensure the confidentiality and reliability of communication. These software solutions enable military personnel to collaborate effectively, even when geographically dispersed. They may include secure messaging platforms, video conferencing software, and unified communication tools that support real-time communication and information sharing.
Technology Insights
According to the technology, the SATCOM technology has held the highest revenue share in 2022. SATCOM involves the use of satellites to enable long-range communication and data transmission for military purposes. It offers global coverage, making it valuable for remote and mobile military operations. SATCOM systems provide high bandwidth, which supports various communication needs, including voice, data, video, and secure military networks.
The data links technology is anticipated to expand at a significant CAGR during the projected period. Data link technology encompasses a range of systems and protocols used for secure and efficient data exchange between military platforms, including aircraft, ships, and ground vehicles. Data links support the transmission of tactical data, sensor information, targeting data, and more, enabling real-time coordination and decision-making.
Application Insights
Based on the application, command & control is anticipated to hold the largest market share in 2022. Command and control (C2) applications encompass the communication systems and technologies used by military commanders and decision-makers to manage and direct military operations. This includes the transmission of orders, tactical information, and strategic directives to ensure coordinated and effective responses to various threats and situations.
On the other hand, the ISR application is projected to grow at the fastest rate over the projected period. The ISR communication networks are vital for real-time data sharing between military assets, such as ground sensors, drones, satellites, and command centers, to improve situational awareness and intelligence analysis.
Platform Insights
In 2022, the ground had the highest market share on the basis of the platform industry. Communication systems for ground platforms enable voice and data communication, situational awareness, coordination between units, and connectivity with higher command levels.
The airborne platform is anticipated to expand at the fastest rate over the projected period. Communication systems on airborne platforms are crucial for mission-critical functions such as reconnaissance, air-to-ground and air-to-air communication, surveillance, command and control, and data transmission. It encompasses all forms of military aircraft, including helicopters, transport planes, fighter jets, and unmanned aerial vehicles (UAVs).
Recent Developments
July 2023: The Airbus and Thales Alenia Space announced that it launched SYRACUSE 4B communications satellite from the Guiana Space Center.
May 2023: Cubic DTECH Mission Solutions announced a collaboration in tactical radio interoperability that is poised to support and enhance seamless coalition force communications for the U.S. military and its global allies.
April 2023: Northrop Grumman announced that it is developing a geostationary communications satellite. It include advanced extremely high frequency (AEHF) satellites that are used for classified-level communications. it provide uninterrupted communications even in the presence of sophisticated jamming threats.
February 2023: L3Harris, US-based aerospace and defence company Technologies, signed a memorandum of understanding with AL TAIF. The collaboration helps in identifying and exploring potential opportunities to develop military communications solutions, as well as provide associated maintenance services in the UAE.
Military Communication Market Players
ASELSAN A.S. (Turkey)
BAE Systems PLC (U.K.)
Cobham PLC (U.K.)
General Dynamics Corporation (U.S.)
Iridium Communications Inc. (U.S.)
L3Harris Technologies, Inc. (U.S.)
Lockheed Martin Corporation (U.S.)
Northrop Grumman Corporation (U.S.)
Raytheon Technologies Inc. (U.S.)
Rohde & Schwarz (Germany)
Thales Group (France)
Viasat Inc. (U.S.)
Military Communication Market Segments
(Note*: We offer reports based on sub-segments as well. Kindly, let us know if you are interested)
By Component
By Technology
SATCOM
VHF/UHF/L-Band
HF Communication
Data Link
By Platform
Airborne
Ground
Naval
Space
By Application
Command and Control
Intelligence, Surveillance, and Reconnaissance (ISR)
Situational Awareness
Routine Operations
Others
By Geography
North America
Europe
Asia-Pacific
Latin America
Middle East and Africa