The global electronic warfare market size was valued at USD 22.4 billion in 2022, and it is anticipated to surpass around USD 36.56 billion by 2032, expanding at a CAGR of 5.02% during the forecast period 2023 to 2032.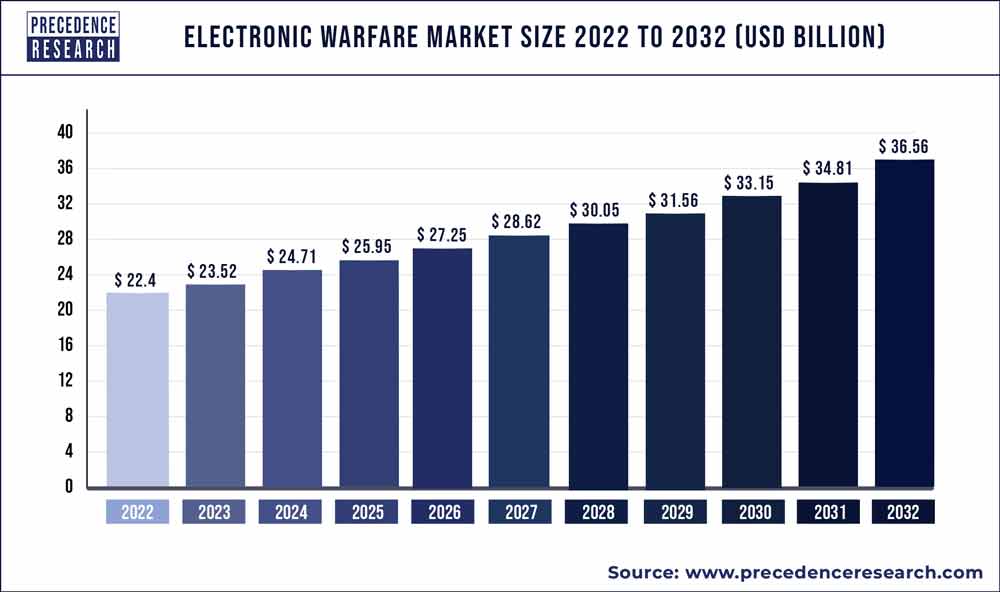 Access our Premium Real Time Data Intelligence Tool, Visit: Precedence Statistics
Key Takeaways:
North America contributed more than 46% of market share in 2022.
Asia-Pacific region is expected to expand at the fastest CAGR between 2023 and 2032.
By Domain, the electronic support segment captured the largest revenue share in 2022.
By Equipment, the jammers segment accounted the largest market share in 2022.
By Platform, the land-based generated the highest market share in 2022.
By Platform, the air-based segment is predicted to grow at a remarkable CAGR from 2023 to 2032.
Electronic Warfare Market Overview:
The electronic warfare market consists of the deployment, development, and production of electronic warfare (EW) technologies and systems. It is used for the electromagnetic spectrum (EMS) of several military purposes, including radar detection and jamming, communication, electronic countermeasures, and electronic intelligence gathering. Moreover, electronic support measures systems intercept, analyze, and identify electromagnetic signals for intelligence gathering, threat detection, and situational awareness.
The market comprises an extensive range of hardware, software, and services designed to safeguard and enhance the capabilities of military and defense organizations in the EMS domain.
Growth Factors:
The growth of the market for electronic warfare is driven by advancements in technology, evolving threats in the electronic domain, and the need for modern military forces to maintain a competitive edge in a rapidly changing operational environment. It includes both government defense agencies and private defense contractors as key players and is an integral part of modern defense and national security strategies.
The ever-evolving threat landscape, characterized by the proliferation of advanced electronic systems and emerging technologies in potential adversary arsenals, fuels the demand for cutting-edge electronic warfare solutions. Geopolitical tensions and regional conflicts worldwide also play a pivotal role, prompting governments to allocate substantial budgets for defense and security, including investments in electronic warfare capabilities to safeguard national interests and maintain a strategic edge.
Moreover, modernization programs are driving the replacement of aging electronic warfare systems with more sophisticated counterparts. These initiatives, coupled with technological advancements like software-defined radios and the integration of artificial intelligence and machine learning, encourage governments and private sector firms to invest in research and development, bolstering the market. The convergence of cyber warfare and electronic warfare capabilities further accentuates the importance of integrated solutions in the contemporary threat landscape, underpinning market growth.
The increasing deployment of unmanned systems in military operations adds to the market's expansion, necessitating tailored electronic warfare solutions for these platforms. Furthermore, the dual-use nature of electronic warfare technologies opens civilian applications, thus expanding market potential. All-domain operations, which emphasize seamless electronic warfare integration across land, sea, air, space, and cyberspace, are reshaping military strategies and driving demand for comprehensive and interoperable electronic warfare solutions. Thus, the electronic warfare market's growth is fueled by the continuous evolution of technology and the changing nature of warfare, with a focus on electronic dominance and the protection of critical assets in an increasingly interconnected world.
Report Scope of the Electronic Warfare Market:
| | |
| --- | --- |
| Report Coverage | Details |
| Market Size in 2023 | USD 23.52 Billion |
| Market Size by 2032 | USD 36.56 Billion |
| Growth Rate from 2023 to 2032 | CAGR of 5.02% |
| Largest Market | North America |
| Base Year | 2022 |
| Forecast Period | 2023 to 2032 |
| Segments Covered | By Domain, By Equipment, and By Platform |
| Regions Covered | North America, Europe, Asia-Pacific, Latin America, and Middle East & Africa |

Electronic Warfare Market Dynamics:
Driver:
Geopolitical tensions and conflicts
In an increasingly interconnected world, nations are grappling with heightened security concerns and the imperative to safeguard their interests, both regionally and globally. As rivalries intensify and uncertainties persist, governments are allocating substantial resources to bolster their defense capabilities, prominently including electronic warfare systems. These tensions necessitate a robust response to emerging threats, such as the proliferation of advanced electronic systems, radar networks, and communication technologies employed by potential adversaries.
The need for effective countermeasures to protect critical military infrastructure and maintain operational superiority is paramount. Consequently, defense agencies and armed forces are investing heavily in electronic warfare technologies that can detect, disrupt, and neutralize these threats, ensuring the protection of national sovereignty and security interests.
Furthermore, geopolitical tensions often prompt alliances and partnerships among nations seeking to enhance their collective defense capabilities. This collaboration fosters the exchange of electronic warfare expertise and technologies, stimulating research and development efforts and creating opportunities for international cooperation in the electronic warfare market. For instance, in August 2022, U.S. announced that Russia-Ukraine war is motivating the U.S. Army to get its own in-development jammers deployed as soon as possible. Thus, the electronic warfare market thrives in an environment where geopolitical tensions and conflicts underscore the critical importance of electronic dominance and the protection of sensitive electronic assets, propelling innovation and driving sustained growth in the industry.
Restraint:
Technological complexity
These systems are designed to counteract advanced threats and ensure national security, their intricate nature can present several challenges that may hinder their widespread adoption and utilization. Cost associated with developing, manufacturing, and maintaining technologically complex electronic warfare systems one of the primary concerns in the electronic warfare market. The research, engineering, and integration efforts required can result in high procurement costs, straining the budgets of governments and defense agencies. This can lead to limited investments in these systems, potentially slowing down the growth of the electronic warfare market.
Moreover, the specialized training and expertise required to operate and maintain these complex systems can be a deterrent. Personnel must undergo rigorous and ongoing training to effectively utilize these technologies. This need for highly skilled individuals can create human resource challenges and increase the overall operational cost.
Integration complexities can also impact the demand for electronic warfare systems. The process of integrating diverse components and ensuring their interoperability can be time-consuming and error-prone, potentially delaying the deployment of critical systems. In addition, the vulnerability of complex electronic warfare systems to cyber-attacks raises security concerns. Ensuring the cyber security of these systems demands extra resources and measures, adding to the overall complexity. Thus, technologically advanced electronic warfare systems offer unparalleled capabilities, their complexity can limit demand due to cost constraints, training requirements, integration challenges, and cyber security vulnerabilities.
Opportunity:
Increasing integration of cyber electronic warfare capabilities
As modern conflicts extend into the digital domain, the synergy between cyber and electronic warfare has become critical for military operations and national security. This convergence offers several compelling opportunities. Firstly, it enables more comprehensive and adaptive responses to threats. By combining cyber and electronic warfare capabilities, military forces can disrupt enemy communications, deceive their sensor networks, and simultaneously launch cyberattacks, creating a multifaceted assault that overwhelms adversaries. Furthermore digitalization of critical infrastructure continues, the need to protect it from cyber threats becomes paramount. This opens a significant market for electronic warfare systems designed to safeguard essential sectors such as power grids, telecommunications, and transportation networks.
Moreover, the integration of these capabilities fosters cross-disciplinary collaboration between electronic warfare and cyber security experts. This knowledge exchange drives innovation, leading to the development of cutting-edge technologies and tactics that can counter emerging threats effectively. The cyber and electronic warfare also accelerates the adoption of artificial intelligence and machine learning in these fields. These technologies improve real-time data analysis, enabling for quicker and more precise decision-making in complex electronic and cyber environments. Thus, the integration of cyber and electronic warfare capabilities not only enhances military capabilities but also unlocks a wealth of opportunities within the electronic warfare market.
Impact of COVID-19:
The pandemic disrupted global supply chains, leading to delays in the production and delivery of electronic warfare components and systems. Shutdowns and restrictions in various countries affected the availability of critical materials and technologies, impacting the manufacturing and maintenance of electronic warfare equipment.
The pandemic has introduced both challenges and opportunities for the electronic warfare market. While disruptions and budget constraints have impacted some aspects of the industry, the evolving threat landscape and the increasing need for secure communication and cyber security may drive further innovation and investment in electronic warfare capabilities.
For instance, in November 2021, Elbit Systems UK and QinetiQ received a contract from Defense Equipment and Support (DE&S) worth £100-million to deliver electronic warfare (EW) systems to the Royal Navy. The EW technology enables more simultaneous identification and detection of radio signals over a greater frequency range than current capabilities. This supports faster operational decision-making, enhanced situational awareness and anti-ship missile defense capability.
Domain Insights:
According to the domain, the electronic support segment held the highest revenue share in 2022 and is anticipated to expand at a significantly CAGR during the projected period. Electronic support measures involve the passive collection, analysis, and identification of electromagnetic signals for intelligence gathering and situational awareness. ESM systems are used to detect and locate enemy radar, communication networks, and other electronic emissions, providing critical information for decision-making.
Electronic support, protection and attack domains work together to provide comprehensive electronic warfare capabilities. Electronic attack seeks to disrupt or incapacitate enemy systems, electronic protection safeguards friendly systems, and electronic support measures gather intelligence and identify threats, allowing for informed responses. This segmentation helps defense organizations and manufacturers design and develop electronic warfare systems that can effectively fulfill their roles within the electromagnetic spectrum.
Equipment Insights:
Based on the equipment jammers is anticipated to hold the largest market share in 2022 and projected to grow at the fastest rate over the projected period. Jammers are electronic warfare devices designed to disrupt, block, or deceive enemy communication systems, radar, or other electronic signals. They are used in electronic attack operations.
Each equipment serves specific roles in electronic warfare operations, allowing military forces to detect, manipulate, and protect against electronic threats while conducting both offensive and defensive electronic warfare missions.
Platform Insights:
In 2022, the land-based had the highest market share on the basis of the platform. Land-based electronic warfare systems are positioned on the ground and used to protect military installations, defend borders, and support ground operations. They include ground-based radars, jamming equipment, and other electronic warfare capabilities deployed on land.
The air-based segment is anticipated to expand at the fastest rate over the projected period. Air-based electronic warfare systems are installed on aircraft, including fighter jets, reconnaissance planes, electronic warfare aircraft (such as the EA-18G Growler), and unmanned aerial vehicles (UAVs). These systems are essential for both offensive and defensive electronic warfare operations in the air domain.
Regional Insights:
North America has held largest revenue share in 2022. The region's growth is primarily due to greater funding in electronic warfare technologies by nations such as the United States in the region. The United States electronic warfare market provide a robust ecosystem for defense contractors, research institutions, and government agencies dedicated to advancing electronic warfare capabilities. North American companies, including industry giants such as Lockheed Martin, Northrop Grumman, Raytheon Technologies, and BAE Systems, are renowned for their innovations in electronic warfare systems and technologies. Furthermore, U.S. government allocates substantial budgets to support the development and procurement of advanced electronic warfare solutions. For instance, in 2021, the U.S. government announced that it has allocated USD 3.17 billion for 45 electronic warfare programs across the military service departments and other platforms.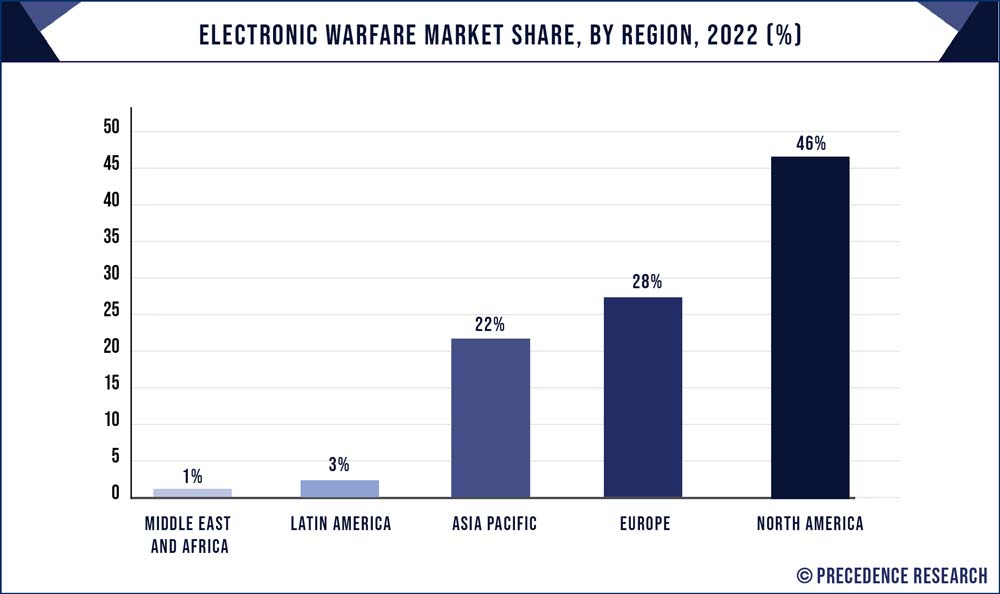 Asia-Pacific is estimated to observe the fastest expansion in the electronic warfare market. Growing demand for advanced electronic warfare capabilities, driven by geopolitical tensions, military modernization efforts, and evolving threat scenarios. Several countries in the Asia-Pacific region, including China, India, South Korea, and Japan, have been actively investing in electronic warfare research, development, and procurement to enhance their national security and strategic positioning. These investments encompass a wide range of electronic warfare systems, including electronic attack, electronic protection, and electronic support measures.
Due to Russia's weapon modernization, market share in Europe is projected to rise significantly over the projected period. European nations, including the United Kingdom, France, Germany, and Italy, have been active in developing and deploying advanced electronic warfare systems to safeguard their national interests and contribute to international security efforts. The market is driven by various factors, including the evolving threat landscape, regional security concerns, and investments in military modernization programs. European defense organizations and industry leaders are committed to enhancing their electronic warfare capabilities, focusing on electronic attack, electronic protection, and electronic support measures.
Recent Developments:
October 2022: India's Centum Electronics Ltd. Ltd. signed a memorandum of understanding (MoU) with and Israel's Rafael Advanced Systems to jointly develop an electronic warfare (EW) system for the Indian Coast Guard and the Indian Navy.
February 2023: Israel Aerospace Industries signed a memorandum of understanding (MoU) with MBDA Germany for a cooperation agreement of electronic air defense and electronic warfare training for the German Armed Forces.
August 2023: Australia's Alaris Antennas announced its partnership with Asension's role as a provider of electronic components and systems in the region.
Key Market Players:
BAE Systems plc (U.K.)
Elbit Systems Ltd. (Israel)
General Dynamics Corporation (U.S.)
Israel Aerospace Industries Ltd. (IAI) (Israel)
L3Harris Technologies Inc. (U.S.)
Leonardo SpA (Italy)
Lockheed Martin Corporation (U.S.)
Northrop Grumman Corporation (U.S.)
Raytheon Technologies Corporation (U.S.)
SAAB AB (Sweden)
Thales Group (France)
Segments Covered in the Report:
(Note*: We offer reports based on sub-segments as well. Kindly, let us know if you are interested)
By Domain
Electronic Attack
Electronic Protection
Electronic Support
By Equipment
Jammer
Antenna
Radar Warning Receiver
Directed Energy Weapon
Anti-radiation Missile
Counter Measure Dispenser System (CMDS)
Directional Infrared Countermeasure (DIRCM)
Self-protection EW Suite
Others
By Platform
Air-based
Sea-based
Land-based
By Geography
North America
Europe
Asia-Pacific
Latin America
Middle East and Africa