The global nanocellulose market size surpassed USD 0.2 billion in 2022 and it is expected to rake around USD 1.45 billion by 2032, poised to grow at a CAGR of 22% during the forecast period 2023 to 2032.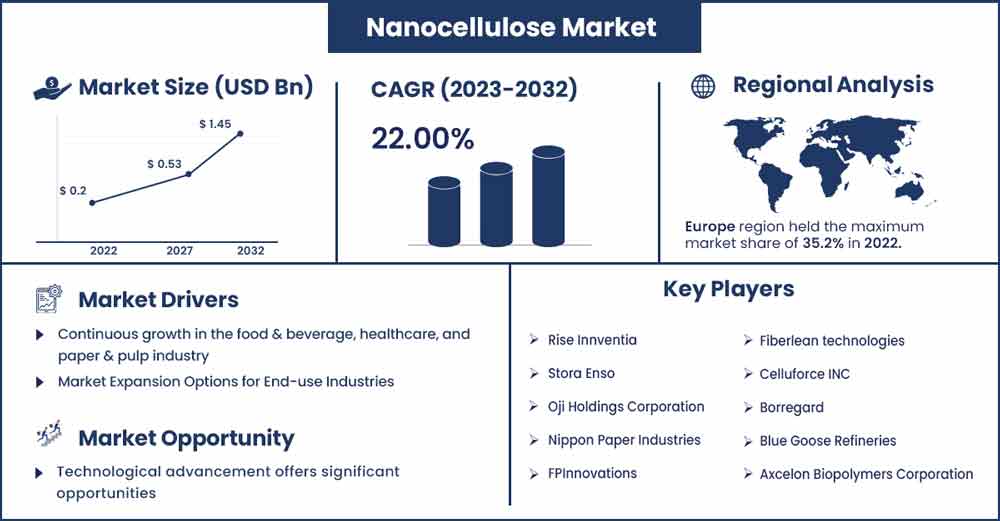 Nanocellulose is procured from plants that can be described as a lightweight substance that includes nanosized cellulose fibrils. This material has several characteristics of a glue-like substance in normal conditions, which is basically a conductor of electricity and it has transparency in color. The tensile strength of the substance is quite high and is non-toxic in nature.
Nanocellulose is nanostructured cellulose. It can be used to create Nanocellulose fibrils from wood-based materials. Nanocellulose is the elementary building block of natural cellulose. It occurs naturally and the material is isolated from the cellulose of wood, various plants, bacteria or algae. Nanocellulose can also be separated from natural fiber through the method of acid hydrolysis resulting in hard nanoparticles and highly crystalline.
Nanocellulose is made from various cellulosic waste biomass, such as microorganisms, crops, and organic waste. It includes the properties such as high tensile strength and biocompatibility which appeals to an extensive range of markets, from construction and medical to aircraft. Nanocellulose is commonly classified as cellulose nanofibers (CNF), cellulose Nanocrystals (CNC), and bacterial Nanocellulose (BNC). These are being generated in various ways. These three major varieties differ in physio-chemical properties from size to size. Production of commercial Nanocellulose is cellulose nanofibers synthesized on a significant scale in Japan.
Nanocellulose Technology is being used in several applications such as biomedical products, catalytic substrates, electronic component templates, electrochemically active polymer, composite, packaging, cosmetics, ultra-capacitor, pharmaceuticals, and batteries. The most crucial application is it is being used as an additive to produce a strong paper. The growing demand for nanocellulose materials is due to their biodegradability and compatibility. Nanocellulose applications related to the fields of biomedical engineering and material science due to their exceptional mechanical properties including optical properties and tailorable surface chemistry are driving the demand for nanocellulose. There are mainly two major types of nanocellulose including cellulose nanofibrils and cellulose nanocrystals. The unique properties such as low density, high tensile strength, and a high degree of thermal stability are spurring the demand for nanocellulose for the end-user industries.
The primary growth of the global nanocellulose technology market is driven by the rapid expansion of the packaging sectors and pharmaceutical sectors. The major competitors in the nanocellulose technology market use research and development as one of their most important strategies for the growth of the industry's potential applications.
Report Highlights:
By Product Insights, The micro fibrillated cellulose & nanofibrillated cellulose segment is expected to expand at a robust rate during the forecast period beacuse of their nano size and capacity to create a strongly entangled impermeable network. It is gaining more popularity because of its features such as high yield, high particular surface area, ease of preparation, and strength properties. The bio-based nanomaterial has been extensively utilized in several nanocomposites because of its excellent strengthening capability.
By Application Insights, The Pulp & Paper segment is projected to record a considerable CAGR during the forecast period because of its high utilization application of Nanocellulose as a papermaking ingredient to make stronger, lighter paper and board associated with lower production costs. It makes paper with enhanced qualities such as less transparency, less porosity, and better printing quality. Nanocellulose technology is commonly used in paper products as it increases the bonding strength between the two fiber layers and acts as a membrane without permeability in grease-proof papers. Nanocellulose also helps in scaling up the retention properties of the material along with increasing the dry and wet strength of paper and board products.
Nanocellulose Market Report Scope:
| | |
| --- | --- |
| Report Coverage | Details |
| Market Revenue in 2023 | USD 357.67 Billion |
| Projected Forecast Revenue in 2032 | USD 380.12 Billion |
| Growth Rate from 2023 to 2032 | CAGR of 4% |
| Largest Market | Asia Pacific |
| Base Year | 2022 |
| Forecast Period | 2023 To 2032 |
| Regions Covered | North America, Europe, Asia-Pacific, Latin America, and Middle East & Africa |

Regional Snapshots:
In terms of regions, the global nanocellulose technology market is classified as Asia Pacific, North America, LAMEA, and Europe. In terms of regions, the global frozen yogurt market is classified as Asia Pacific, North America, Latin America, Europe, Middle East & Africa. Europe is expected to dominate the market during the projected time because of the growing demand for paper and pulp applications and huge capital investment in R&D of Nanocellulose substances in this region. In Europe, product innovation projects have been financed and supported by both the commercial and public sectors and these influencing factors are expected to boost the global Nanocellulose technology market growth during the forecast period. On the other hand, the Asia Pacific market is anticipated to expand at a rapid pace during the forecast period because of the growth of the automotive, composites, and packaging industries.
Moreover, there is a gradual increase in the middle-class population and the rising number of newly purchased lightweight cars. In this region, there are cheap sources of raw materials, labor, and low manufacturing costs are the most influencing drivers for the region's growth during the forecast period. However, North America is expected to experience a moderate increase in the Nanocellulose technology market owing to the high potential for consumption and expanding production capabilities.
NC-based biosensors are best suitable for observing environmental analytes and food quality control, mainly in health-related diagnostics, such as COVID-19 detection. These grown analytical devices were described as a table, including information about the sensor molecule, range, reading system, sensitivity analyte, range, sensitivity, analytical performance and detection limit.
Market Dynamics:
Nanocelluloses are a type of biomaterial that is gaining momentum across the globe owing to their unique characteristics. Nanocelluloses offer a variety of applications in the domains such as biomedical engineering and material science due to their outstanding mechanical qualities, including optical properties and tailorable surface chemistry. Moreover, increasing government-backed investment and support have propelled the market and as a result, there is a significant increase in the growth of the global Nanocellulose technology market during the forecast period.
Emerging sustainability trends are prompting companies to mitigate carbon emissions, thus positively influencing the nanocellulose technology market. For instance, in July 2022, Sappi Biotech, a South African renewable company, recently received the approval from Science Based Targets Initiative (SBTi) with the aim to reduce the carbon footprint with scientifically-derived emission reduction targets.
The rapidly growing use of sustainable products with the best material science in developed as well as developing economies, and the increasing resource restrictions shifting slowly towards the market demand for bio-based products globally are the major factors fuelling the growth of the Nanocelluloses technology market during the forecast period.
The bio-based materials are less expensive and renewable but they are light in weight, strong, and non-toxic as compared to other types of Nanocellulose which are being utilized as an additive, Effective Nanocellulose due to the feature of compatibility and biodegradability of Nanocellulose is expected to boost the growth of global Nanocellulose technology market during the forecast period.
The huge capital required for the production of Nanocellulose technology along with the high maintenance cost is projected to hamper the Nanocellulose technology market growth. The medium and small-scale industries are expected to back out from financial investment in the market for the production of Nanocellulose technology. The lack of raw materials in many developing countries acts as the major challenge that can hamper the market expansion during the forecast period.
Increasing focus by several companies on the innovation of nanocellulose technology to produce and for the enhancement of end-use products is expected to encourage players to gradually reduce product prices.
R&D investment and technological advancement including advanced biorefineries are expected to offer immense opportunities for the market players during the forecast period. Increasing healthcare expenditures in developing and undeveloped nations are projected to create lucrative global blood coagulation testing market opportunities. The increase in the growth of exceptional materials especially paper and pulp to get the approach in traditional business through using recent biorefineries lead to the rise in the production of Nanocellulose technology.
Key Developments:
In 2017, Borregaard, a key player in the nanocellulose technology market invested huge capital in the increase of the production of nanocellulose. The partnership agreement was made between Cellu Force Inc and Fibria Cellulose with the aim of manufacturing nanocellulose crystals.
In 2016, Nippon Paper Industries Co., Ltd acquired the liquid packaging board business of Weyerhaeuser and this acquisition is expected to assist Nippon Paper Industries to sharpen its product portfolio in its wood along with the cellulose fiber products. Biodegradable nanocellulose products, developed by Stora Enso are used for packaging dairy products.
Major key Players:
Rise Innventia
Stora Enso
Oji Holdings Corporation
Nippon Paper Industries
FPInnovations
Fiberlean technologies
Celluforce INC
Borregard
Blue Goose Refineries
Axcelon Biopolymers Corporation
American Process Inc
Market Segmentation:
By Product
Microfibrillated Cellulose & Nanofibrillated Cellulose
Cellulose Nanocrystals or Cellulose Nanofibers
Bacterial Cellulose
Others
By Application
Pulp & Paper
Composites Manufacturing
Paints & Coatings
Electronics Sensors
Food and Beverage
Biomedical & Pharmaceuticals
Composites
Others
Buy this Research Report@ https://www.precedenceresearch.com/checkout/2444
You can place an order or ask any questions, please feel free to contact at sales@precedenceresearch.com | +1 9197 992 333