The global nephrology drugs market size surpassed USD 15.9 billion in 2022 and it is expected to rake around USD 27.2 billion by 2032, poised to grow at a CAGR of 5.52% during the forecast period 2023 to 2032.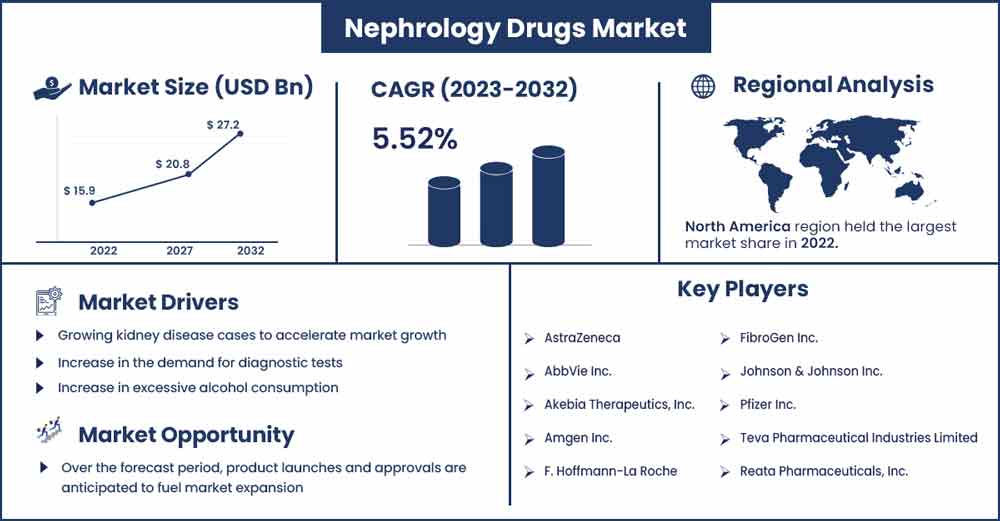 The kidney's nephron, which is important for blood filtration, is one of the kidney's major organs. Both diabetes as well as hypertension affect nephrons by impairing their function. Additionally, this affects how quickly nephrons filter blood. Drugs used in nephrology address chronic kidney issues such kidney failure, kidney cancer, and kidney stones. Such diseases cause the kidney's function to gradually decline. Nephrology treatment may involve the use of Phoslo, Invokana, Renvela, Procrit, and Sensipar. The growth of nephrology drugs is fueled by factors such as an increase in kidney failure cases, an increase in unhealthy lifestyle adaptation, an increase in the prevalence of chronic nephrology diseases, an increase in the geriatric population, an increase in demand for diagnostic tests, an increase in extreme consumption of alcohol, and an increase in the obese population.
The global impact of COVID has significantly disrupted healthcare workflows. The illness has temporarily compelled a huge number of enterprises to close their doors, including various subfields of healthcare. The COVID pandemic continued to have a negative overall effect on important companies in the nephrology medicine sector. The world's healthcare system is under stress as a result of the COVID-19 outbreak. Clinical studies for nephrology drugs have been delayed as a result of COVID-19, and these medicines are not being used as intended. Widespread lockdowns have interrupted production, complicating the supply chain. The COVID-19 pandemic has significantly slowed down the development of nephrology treatment studies during this period. Worldwide, the coronavirus pandemic is wreaking havoc on clinical studies, disrupting both their management and their planning. On the other hand, market rivals and academic institutions are concentrating on beginning COVID-19 clinical studies to better comprehend the impact of chronic renal disease treatment drugs on COVID-19 patients.
Report Highlights:
The market for nephrology pharmaceuticals is predicted to have exceptional growth during the forecast period due to the increased incidence of kidney illness among millennial globally.
The medication class segment for calcium channel blockers has the biggest market share since it is mostly used to treat chronic renal disease.
Compared to specialist clinics, the hospitals category held the biggest market share thanks to the availability of cutting-edge diagnostic tools for the early identification of the ailment.
The bulk of the chronic kidney disease medicine producers are located in the North American area, which is why it dominates the market.
Nephrology Drugs Market Report Scope:
| | |
| --- | --- |
| Report Coverage | Details |
| Market Revenue in 2023 | USD 15.9 Billion |
| Projected Forecast Revenue by 2032 | USD 27.2 Billion |
| Growth Rate from 2023 to 2032 | CAGR of 5.52% |
| Largest Market | North America |
| Base Year | 2022 |
| Forecast Period | 2023 to 2032 |
| Regions Covered | North America, Europe, Asia-Pacific, Latin America, and Middle East & Africa |

Regional Snapshots:
The market for nephrology medications in North America had sales of $5,558.2 million in 2022 and is anticipated to reach $8,581.8 million in revenue by 2028. The expansion is linked to the presence of significant pharmaceutical firms like Abbott Laboratories in the area. Additionally, it is anticipated that the prevalence of chronic kidney diseases like kidney fibrosis in the aging population and their increased susceptibility to infection will drive the growth of the global market for nephrology drugs in the coming years.
The market for nephrology pharmaceuticals in Asia-Pacific is anticipated to develop at the quickest rate and reach $4,398.2 million in sales during the forecasted period. Middle-aged adults with chronic renal diseases are on the rise, which is affecting the region's growth. In addition, significant market companies are currently investing in the introduction of new goods in the area to improve the healthcare infrastructure there. In the coming years, the market for nephrology medications is projected to increase strongly due to these causes.
Market Dynamics:
Drivers:
Chronic kidney disease eventually develops as a result of the increasing prevalence of renal illnesses. Around 15% of American adults, or about 37 million people, have chronic renal disease, according to a 2019 study from the Centers for Disease Control and Prevention (CKD). Nine out of ten individuals with chronic renal disease, according to current estimates, do not have a diagnosis. Furthermore, according to recent estimates, the prevalence of chronic renal disease is 38 percent among the senior population, namely those who are 65 years of age or older.
Incidence rates for this disease are predicted to be 13% in individuals aged 45 to 64 and 7% in those between the ages of 18 and 44. In addition, the paper notes that women are more likely than males to have chronic renal disease, with prevalence rates of 15% and 12%, respectively. Furthermore, an increasing supply of better medications should be available on the market as a consequence of government measures to support research efforts and increase public understanding of the illness. The market for nephrology medications globally is growing as a result of this.
Restraints:
High Nephrology Drug Prices Will Limit Market Growth. Drugs used to treat kidney illness with nephrology are quite pricey. As a result, few patients, particularly in underdeveloped countries, can afford the exorbitant expense of therapy. In the coming years, this aspect is probably going to limit the market share growth of nephrology medications. Additionally, few people are aware that kidney disorders exist, which prevents them from recognizing any symptoms of disease prevalence. Therefore, it is estimated that this factor would further restrain market expansion throughout the anticipated time frame.
Opportunities:
Major Companies Expand Product Portfolios to Drive Market Growth. Future market share growth for nephrology pharmaceuticals is anticipated to be fueled by new product introductions and improvements to already available treatments. To address the growing need for cutting-edge treatment options for chronic kidney disorders, major industry participants in the nephrology medicines market have been concentrating on developing and releasing new products. For instance, according to a report in the online news source Business Standards, the pharmaceutical company Zydus Cadila released the oral medication Oxemia (Desidustat) on March 7, 2022, to treat chronic kidney disease. Future market expansion for nephrology pharmaceuticals is projected to be fueled by these factors.
Challenge:
The lack of knowledge regarding kidney problems is the key factor anticipated to restrain the growth of the nephrology medication market. Chronic kidney disease (CKD) awareness is still unacceptable low despite government efforts to increase it through the distribution of clinical practice recommendations and guidelines for patients with CKD or its risk factors, community awareness events like World Kidney Day, or any free screening programs arranged for high-risk individuals like the Kidney Early Evaluation Program (KEEP). For instance, in March 2018, a study for the evaluation of chronic kidney disease that people living in Australia have very less knowledge of chronic kidney disease (CKD), with only 50 % of participants having to know that medications could indeed help to slow the evolution of chronic kidney disease. This study was published in BMC Public Health.
Recent Developments:
AstraZeneca announced in April 2022 that it will be expanding in Cambridge, Massachusetts to create a new strategic R&D facility and Alexion headquarters. The project, which is scheduled to be finished in 2026, will be adjacent to a number of significant academic, pharmaceutical, and biotech institutions, which will foster more collaboration and innovation and provide access to the next generation of talent.
NetVation DL Medicine announced its research partnership with Pfizer Inc. in May 2022. This collaboration's study will make use of HitGen's DNA-encoded libraries to confirm early targets, find new chemicals, and improve leads.
Major Key Players:
AstraZeneca
AbbVie Inc.
Akebia Therapeutics, Inc.
Amgen Inc.
F. Hoffmann-La Roche
FibroGen Inc.
Johnson & Johnson Inc.
Pfizer Inc.
Teva Pharmaceutical Industries Limited
Reata Pharmaceuticals, Inc.
GlaxoSmithKline plc.
Ardelyx, Inc.
Boehringer Ingelheim International GmbH
Novo Nordisk A/S
Novartis AG
Market Segmentation:
By Drug Class
ACE Inhibitors
Angiotensin Receptor Blockers (ARBs)
B-Blockers
Calcium Channel Blockers
Loop Diuretics
Erythropoiesis-Stimulating Agents (ESAs)
Phosphate Binders
Others
By Route of Administration
Oral
Subcutaneous
Intravenous
By Distribution Channel
Hospital Pharmacies
Retail Pharmacies
Online Pharmacies
Buy this Research Report@ https://www.precedenceresearch.com/checkout/2577
You can place an order or ask any questions, please feel free to contact at sales@precedenceresearch.com | +1 9197 992 333