The global on-board diagnostics (OBD) aftermarket size was exhibited at USD 3.55 billion in 2022 and is projected to attain around USD 23.32 billion by 2032, growing at a CAGR of 20.71% during the forecast period 2023 to 2032.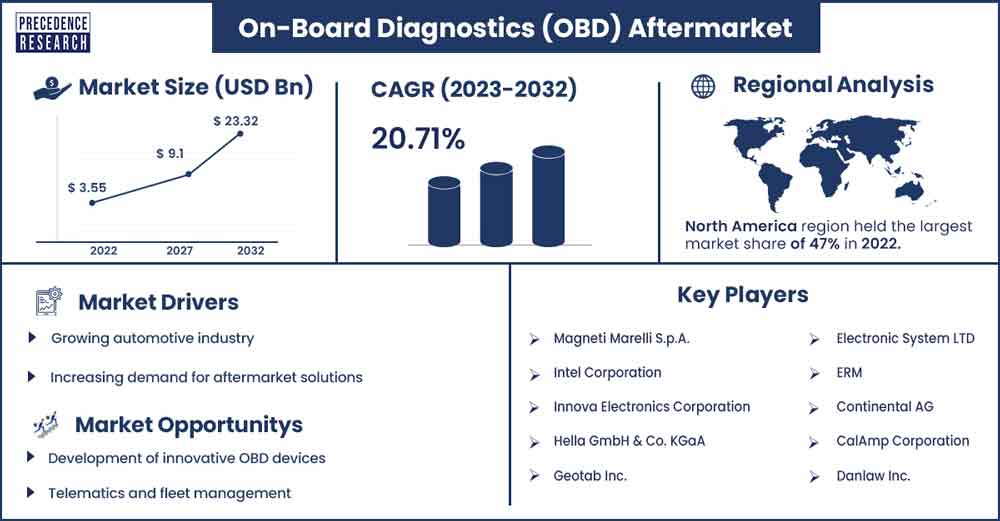 Market Overview
OBD, or on-board diagnostics, is the name of the computer system that monitors and controls an automobile's operation inside. This on-board computer system gathers data from the car's network of sensors, which it may utilize to control various systems or notify the driver of potential issues. The OBD aftermarket typically includes a range of products and services that can be added to a vehicle to provide additional functionality, diagnostics or customization beyond what the Original Equipment Manufacturers (OEM) offer.
The global on-board diagnostics aftermarket market is driven by several factors including the growing consumer demand, the increasing trend of vehicle connectivity, technological advancements, vehicle performance enhancement and others. Moreover, the increasing government emphasis on pollution is one of the critical influencing factors for the market growth over the anticipated timeframe. For instance, in March 2022, The first Zero Emission Vehicle Action Plan (2022–2024) and Queensland's Zero Emission Vehicle Strategy (2022–2032) were announced by the Queensland government. With the following goals, the 10-year plan underlines its commitment to helping Queensland reach its goal of zero net emissions by 2050:
By 2030, 50% of newly sold passenger cars will have zero emissions, rising to 100% by 2036.
By 2026, all qualifying passenger cars in the Queensland Government fleet will have zero emissions.
All newly acquired buses supported by TransLink will be zero-emission buses starting in South East Queensland in 2025, and across rural Queensland in 2025–2030.
Regional Insights
North America is expected to dominate the market over the forecast period. The regional market growth is attributed to the stringent emission regulations in the area. In addition, the growing sales of passenger cars in the region are also one of the main factors that penetrate the industry's growth. In North America, the US hold the largest market share in 2022.
Since the area is home to well-known automakers, innovative technologies are widely used. Americans are adopting autonomous vehicles at a rapid rate, which is driving up demand for OBD diagnostic equipment like the OBD2 scanner. Geotab telematics has made it feasible to translate car diagnostic codes between various models. It also makes it possible to employ electric car on-board diagnostics.
Furthermore, the OBD aftermarket market is mostly driven by government requirements about car safety and emissions. OBD systems are essential for assisting cars in meeting pollution regulations established by US organizations such as the Environmental Protection Agency (EPA). For emissions testing, emissions-related maintenance, and guaranteeing adherence to regional and national laws, the OBD aftermarket offers alternatives.
On-Board Diagnostics (OBD) Aftermarket Report Scope
| | |
| --- | --- |
| Report Coverage | Details |
| Market Revenue in 2023 | USD 4.29 Billion |
| Projected Forecast Revenue by 2032 | USD 23.32 Billion |
| Growth Rate from 2023 to 2032 | CAGR of 20.71% |
| Largest Market | North America |
| Base Year | 2022 |
| Forecast Period | 2023 to 2032 |
| Regions Covered | North America, Europe, Asia-Pacific, Latin America, and Middle East & Africa |

Market Dynamics
Drivers
Growing automotive industry
The growing automotive industry is expected to propel the market growth during the forecast period. An expanding automotive sector results in an increased number of automobiles on the road, hence expanding the market for OBD aftermarket products and services. There is a larger potential market for OBD-related solutions as more automobiles are produced and sold. For instance, according to the National Automobile Dealers Association, almost 80%, or 79.4%, of all newly sold vehicles in 2022 were light trucks, an increase of 1.6% from 2021. With 45.2% of all new light cars sold, crossovers continued to be the most popular vehicle category.
Emissions control
OBD was developed primarily to aid in the reduction of emissions from vehicles. OBD systems are helpful in this regard since they keep an eye on the operation of the main engine parts to detect any system malfunctions that can lead to higher emissions. OBD is so useful in this regard that EPA publications on the application of the Clean Air Act include references to it. Thus, the emission control is expected to drive the market growth over the projected period.
Restraints
Security concerns and compatibility issues
Data security and privacy are issues brought up by the gathering and sharing of private vehicle information. The protection of personal information is a growing concern for consumers and regulatory organizations, which might present difficulties for OBD aftermarket companies in terms of data processing and security compliance. Furthermore, a variety of vehicle makes and models with unique OBD protocols and interfaces provide challenges for the OBD aftermarket market. It can be difficult to ensure compatibility with every vehicle, and customers may experience difficulties utilizing some aftermarket accessories with their particular vehicle.
Regulatory compliance
Government rules and regulations apply to OBD systems. Ensuring that aftermarket OBD devices and services comply with regulatory requirements and uphold these standards might prove to be an intricate and expensive operation. Thus, regulatory compliance is expected to act as a major restraint for the market growth over the forecast period.
Opportunities
Development of innovative OBD devices
There is a constant demand for innovative OBD devices and solutions. Entrepreneurs can capitalize on this by creating new diagnostic tools, mobile apps or add-on devices that offer unique features, improved functionality, or enhanced user experience. For instance, a diagnostic tablet called the Innova 7111 Smart Diagnostic System (SDS) has been released. Innova Electronics Corporation is a supplier of test equipment and diagnostic reporting to the automobile aftermarket.
To help technicians and advanced automotive enthusiasts more effectively identify and repair issues with modern vehicles, Innova introduced the Smart Diagnostic System, the first tablet-based diagnostic system. This all-in-one solution combines a diagnostic tablet with the RepairSolutions2 knowledgebase to deliver a complete diagnostic system in a single form factor. Thereby, driving the market growth over the study period.
Telematics and fleet management
With the increase in the number of commercial fleets and the demand for efficient fleet management solutions, there is an opportunity to develop specialized OBD-based telematics and fleet management solutions that cater to the specific needs of businesses. For instance, estimates from Cox Automotive indicate that sales into big fleets excluding sales into dealer and manufacturer fleets, rose 27.7% year over year in March to 225,200 vehicles.
Recent Developments
b, at Automechanika in Frankfurt, the Bosch Automotive Aftermarket business will be showcasing a plethora of new and innovative products for the workshop sector. These enable independent and multi-brand workshops to efficiently and to a high degree of quality perform diagnostic, maintenance, and repair work on even the newest automotive models. Bosch has released new testing and diagnostic instruments with state-of-the-art measuring techniques that enable testing compliant with existing regulatory standards.
In April 2022, for battery diagnostics on electric cars, MAHLE Aftermarket will eventually employ the charging plug in addition to the current OBD port. To do this, the Dresden-based software company Volytica Diagnostics and the automobile supplier's service and replacement parts business are working together. It analyzes the cloud-based measured data and offers insightful details on the condition of the battery in an electric car.
Major Key Players
Magneti Marelli S.p.A.
Intel Corporation
Innova Electronics Corporation
Hella GmbH & Co. KGaA
Geotab Inc.
Electronic System LTD
ERM
Continental AG
CalAmp Corporation
Danlaw Inc.
Bosch Diagnostic (Robert Bosch GmbH)
Azuga Inc.
AVL DiTEST GmbH
Autel Intelligent Technology Corp., Ltd.
Market Segmentation
By Components
Empennage
Wings
Fuselage
Nacelle & Pylon
Nose
Others
By Application
Fleet Management
Consumer Telematics
Car Sharing
Used-based Insurance
By Platform
Fixed-Wing Aircraft

Military
Commercial
General Aviation Aircraft
Business Jet

Rotary-Wing Aircraft

Military Helicopters
Commercial Helicopters
UAVs
By End-User
Buy this Research Report@ https://www.precedenceresearch.com/checkout/3278
You can place an order or ask any questions, please feel free to contact at sales@precedenceresearch.com | +1 650 460 3308