The global on-board diagnostics (OBD) aftermarket size was estimated at USD 3.55 billion in 2022 and it is expected to hit around USD 23.32 billion by 2032, growing at a CAGR of 20.71% during the forecast period 2023 to 2032.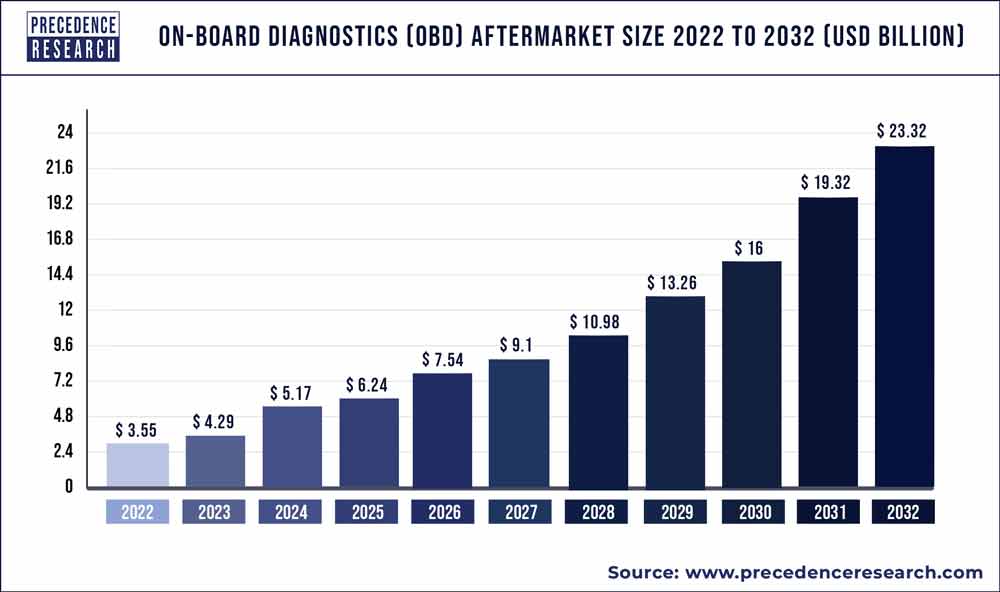 Access our Premium Real Time Data Intelligence Tool, Visit: Precedence Statistics
Key Takeaways:
North America contributed more than 47% of revenue share in 2022.
By Vehicle Type, the passenger vehicle segment led the global market with the largest market share in 2022.
By Application, the fleet management segment contributed more than 53% of revenue share in 2022.
By Component, the hardware segment accounted the maximum market share in 2022.
Market Overview:
The aftermarket industry for on-board diagnostics (OBD) has experienced significant growth. It revolves around the creation and distribution of solutions that aim to improve and expand the functionality of OBD systems found in modern vehicles. Initially, these systems were implemented by regulatory requirements to control emissions and ensure safety. However, they have now evolved into sophisticated onboard computer systems within contemporary automobiles. Their main responsibility involves contin­uously monit­oring and reporting essential data regarding a vehicle's performance. This includes analyzing factors such as engine health, fuel effic­iency, emissions levels, and various other param­eters to ensure optimal functioning.
The OBD after­market covers a diverse range of products and services designed to enhance the capabi­lities of the standard OBD system. This industry comprises diagnostic tools, software applications, and hardware devices that allow vehicle owners, mechanics, and fleet managers to access real-time data and conduct advanced diagnostics. These aftermarket solutions often provide additional insights beyond what the basic OBD system offers, including detailed fault codes, live data streaming, and performance tuning options.
Growth Factors:
The progression of vehicle technology has led to the inclusion of advanced onboard diagnostic (OBD) systems in modern cars. These systems possess the ability to continuously monitor various parameters, continually expanding their functionality. As a result, there is an increasing demand for aftermarket solutions that effectively unleash the complete potential of these OBD systems. Such solutions empower users with deeper insights into important aspects like performance and vehicle health. In light of the ongoing integration of electronics and connectivity features in vehicles, it is expected that the aftermarket OBD industry will further evolve to address the growing need for diagnostics and customization.
Furthermore, the growing fascination with customizing and personalizing vehicles serves as a major catalyst for the OBD Aftermarket's expansion. Enthusiasts and car owners alike are actively seeking methods to augment their vehicle's performance, fuel efficiency, and overall driving encounter. Aftermarket OBD solutions offer an avenue to achieve these aspirations by allowing users to optimize engine settings, monitor real-time data, and even undertake advanced modifications while ensuring compliance with regulatory standards.
Report Scope of the On-Board Diagnostics (OBD) Aftermarket:
| | |
| --- | --- |
| Report Coverage | Details |
| Market Size in 2023 | USD 4.29 Billion |
| Market Size by 2032 | USD 23.32 Billion |
| Growth Rate from 2023 to 2032 | CAGR of 20.71% |
| Largest Market | North America |
| Base Year | 2022 |
| Forecast Period | 2023 to 2032 |
| Segments Covered | By Components, By Application, By Platform, and By End-User |
| Regions Covered | North America, Europe, Asia-Pacific, Latin America, and Middle East & Africa |

Market Dynamics:
Driver:
Vehicle customization
Vehicle customization serves as a major driving force behind the growth of the on-board diagnostics (OBD) aftermarket. Car enthusiasts and owners, driven by a desire to personalize their vehicles and optimize performance, fuel this trend. Whether it involves boosting engine power, fine tuning fuel efficiency, or enhancing handling capabilities, aftermarket OBD systems empower users to delve into their vehicle's electronic systems and make precise adjustments.
OBD aftermarket products go beyond performance upgrades. They provide users with enhanced diagnostic and troubleshooting capabilities, which is particularly valuable for those involved in intricate customizations. This enables quick identification and resolution of any issues that may arise during the modification process, ensuring both reliability and compliance with emissions and safety regulations. Furthermore, OBD aftermarket solutions address the increasing enthusiasm for eco-friendly driving by enabling users to enhance fuel performance and track emissions instantaneously. Not only is this cost-effective, but it also promotes a cleaner and more eco-conscious driving experience.
Therefore, vehicle customization plays a vital role in driving the OBD Aftermarket. It attracts passionate car enthusiasts and owners who are eager to enhance their vehicle's performance, efficiency, and unique character. As technology advances and customization options increase, the OBD aftermarket is set to fulfill the desires of those seeking to personalize their vehicles.
Restraint:
Vehicle warranty concerns
Vehicle warranty concerns present a significant hindrance to the growth of the on-board diagnostics (OBD) aftermarket market. Many vehicle manufacturers explicitly state in their warranty policies that using or modifying aftermarket OBD devices may void warranty coverage. This poses a substantial deterrent to cautious vehicle owners who prioritize preserving their warranty benefits.
Despite the alluring advantages of aftermarket OBD solutions, such as performance enhancements, real-time data monitoring, and customization options, consumers often hesitate due to fears of warranty disputes and potential financial burdens resulting from unexpected repairs. To overcome this obstacle, there is an urgent need for enhanced clarity and standardized warranty policies that grant consumers the confidence to embrace aftermarket OBD products without fearing any negative repercussions.
Collaborative efforts between automakers and aftermarket OBD manufacturers aim to establish guidelines that facilitate warranty-friendly modifications. These guidelines have the potential to address concerns and promote wider acceptance within the market.
Opportunity:
Connected car ecosystem
As vehicles continue to be integrated into the Internet of Things (IoT), aftermarket OBD solutions have greater potential to thrive. These solutions utilize modern vehicles' extensive connectivity, offering a wide range of advanced features. By enabling real-time data transmission, remote diagnostics, and over-the-air updates, OBD aftermarket products significantly enhance the driving experience.
Connected cars enable the seamless transmission of crucial data from OBD devices to users' smartphones, tablets, or cloud-based platforms. This allows vehicle owners to conveniently monitor their vehicles' health and performance from anywhere. Real-time access empowers them with valuable insights into engine diagnostics, fuel efficiency, maintenance requirements, and more. This not only enhances convenience but also enables proactive maintenance and early issue detection, ultimately leading to time and cost savings.
Furthermore, the potential for aftermarket OBD solutions to provide remote over-the-air updates is advantageous as it improves their adaptability and longevity. This allows manufacturers to continuously enhance their products by delivering firmware and software updates directly to users' devices. These updates effectively address issues, enhance features, and ensure compatibility with the ever-evolving automotive landscape.
Therefore, the Connected Car Ecosystem aligns with the growing trend of vehicle connectivity and provides a fertile ground for the expansion of the OBD aftermarket. By tapping into a vast network of connected vehicles, aftermarket OBD solutions offer innovative features, remote monitoring, and proactive maintenance. This positions them as indispensable tools in the era of smart and connected automobiles. As vehicles continue to evolve in their connectivity and capabilities, the OBD aftermarket plays a pivotal role in enhancing the driving experience and vehicle management.
Impact of COVID-19:
During the early stages of the pandemic, the market faced temporary setbacks. Automotive production lines came to a halt, supply chains were disrupted, and economic uncertainties diminished consumers' purchasing power. Consequently, new vehicle sales declined and the demand for aftermarket OBD solutions decreased. However, individuals preferred personal vehicles over public transportation to minimize virus exposure. This led to a surge in used car sales and renewed interest in vehicle maintenance and customization. Consumers sought ways to enhance their existing vehicles' performance, safety, and efficiency without having to purchase a new one driving up demand for cost-effective OBD aftermarket products.
Therefore, the impact of the COVID-19 pandemic initially presented challenges for the OBD aftermarket. However, as the crisis progressed, it unveiled opportunities for growth. Both consumers and businesses sought ways to enhance their existing vehicles and optimize fleet management, thus contributing to the market's recovery and fostering future growth prospects.
Segments Insight:
Vehicle Type Insights:
According to the vehicle type, the passenger vehicle sector has held the major revenue share in 2022. The passenger vehicle segment includes a wide range of products and services designed to improve the performance, safety, and functionality of cars. Consumers in this segment seek OBD aftermarket solutions for various purposes. These include enhancing engine performance and fuel efficiency, monitoring vehicle health, and personalizing their driving experience. OBD solutions provide real-time data access for owners to diagnose issues and make informed decisions regarding maintenance and modifications.
Additionally, the passenger vehicle segment has experienced significant growth due to the rising popularity of connected cars. The demand for user-friendly OBD solutions that seamlessly connect with smart­phones and other devices has also contributed to this growth. As vehicles continue to advance technologically and become more interconnected, the OBD Aftermarket expects sustained growth in the passenger vehicle segment. This thriving market offers a wide range of innovative products and services that cater to the evolving needs and preferences of modern vehicle owners.
Application Insights:
Based on the application, fleet management segment is anticipated to hold the largest market share the market in 2022. The fleet management segment is a crucial component of the on-board diagnostics (OBD) aftermarket. It plays a vital role in enhancing the efficiency, safety, and cost-effectiveness of commercial vehicle operations. Fleet managers heavily depend on OBD aftermarket solutions to effectively monitor and control their vehicle fleets. Fleet managers can make well informed decisions by utilizing real-time data on various aspects, including vehicle performance, driver behavior, fuel consumption, and maintenance requirements. These data-driven decisions enable optimization of route planning, reduction in fuel usage, enhancement of driver safety, and extension of the vehicles' lifespan. Moreover, reliance on these OBD aftermarket solutions ensures compliance with environmental regulations and safety standards which mitigates the risk of fines and penalties.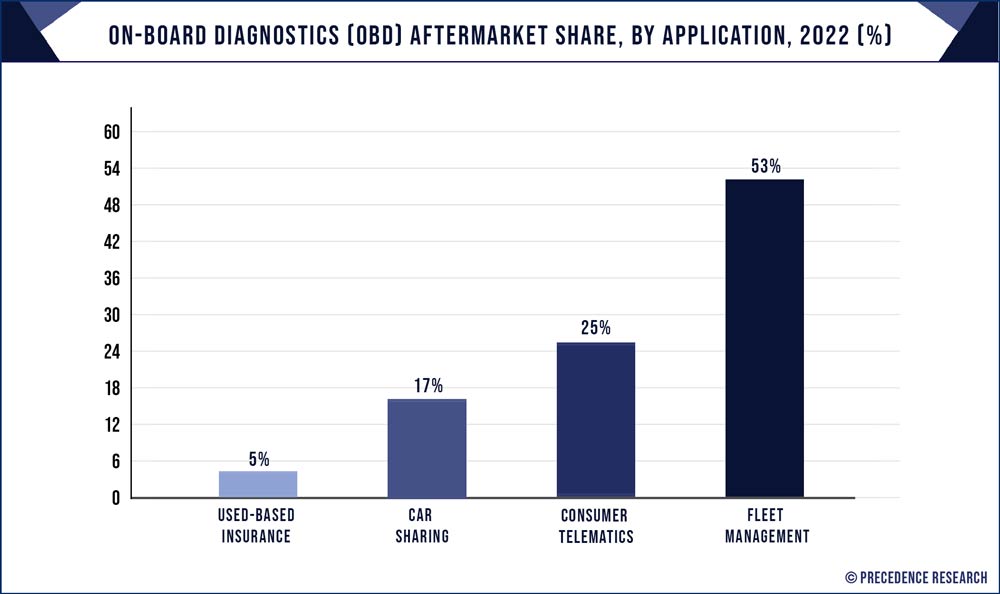 The fleet management segment in the OBD Aftermarket is expected to continue expanding as the demand for efficient and sustainable transportation grows. It offers innovative solutions to support the evolving needs of businesses operating vehicle fleets.
Component Insights:
Based on the component, the hardware sector is anticipated to hold the largest market share the market in 2022. The hardware segment of the on-board diagnostics (OBD) aftermarket includes a wide range of devices aimed at enhancing vehicle diagnostics, performance tuning, and data monitoring. These physical solutions consist of OBD scan tools, diagnostic adapters, performance chips, and various sensors that connect to a vehicle's OBD port.
Mechanics, automotive technicians, and car enthusiasts rely on these essential OBD hardware devices to access real-time data from a vehicle's onboard computer system for analysis. They enable comprehensive diagnostics and prompt issue identification with accurate resolutions. Moreover, these hardware components are instrumental in optimizing engine parameters for improved horse power, torque, and fuel efficiency. The hardware segment of the OBD Aftermarket is constantly innovating as vehicles become more complex and connected. This innovation aims to offer advanced and user-friendly solutions that cater to the evolving demands of the automotive industry.
Regional Insights:
North America has held the largest revenue share in 2022.
North America has experienced significant growth in aftermarket OBD solutions. This surge can be attributed to various factors, including the rising awareness of vehicle diagnostics, the increasing adoption of connected cars, and the growing demand for customization and performance enhancement.
Both individual vehicle owners and businesses in North America have demonstrated a strong interest in utilizing OBD aftermarket products. These products are sought after as they allow monitoring of vehicle health, improvement of fuel efficiency, and an overall enhanced driving experience. Additionally, the stringent emissions regulations and emphasis on road safety in this region have further driven the necessity for OBD solutions.
The North America OBD aftermarket, amidst the ever-evolving automotive landscape driven by technological advancements and sustainability concerns, stands steadfast as a frontrunner. It provides an extensive array of cutting-edge products and services meticulously designed to cater to the unique requirements and preferences of its astute clientele.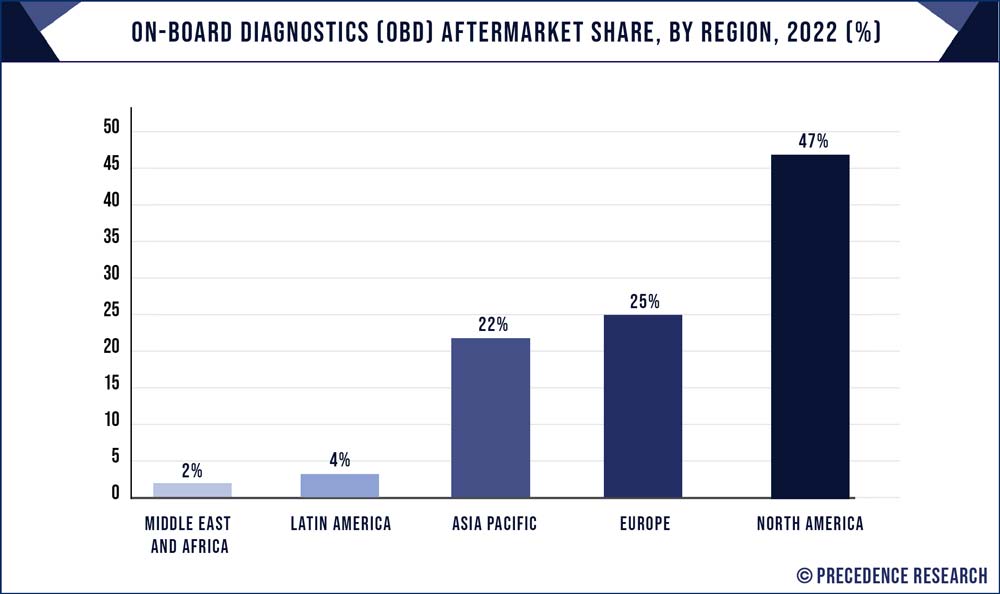 The Asia-Pacific On-board Diagnostics (OBD) Aftermarket thrives and expands rapidly within the automotive industry.
This region has experienced a surge in demand for OBD aftermarket solutions because of its booming automotive market, urbanization growth, and increasing awareness of vehicle diagnostics and maintenance. Consumers in Asia-Pacific are actively searching for ways to optimize their vehicles' performance, improve fuel efficiency, and monitor their overall health.
OBD aftermarket products provide effective solutions to fulfill these needs. Additionally, the region's strong emphasis on environmental sustainability and strict emissions regulations have fueled the adoption of OBD solutions even further, particularly for emissions monitoring and compliance.
The Asia-Pacific OBD After­market market benefits from the incre­asing presence of connected vehicles and the growing popul­arity of ride-sharing and delivery services. These developments necessitate efficient fleet management solutions. With a continued embrace of automotive technological advancements, the Asia-Pacific OBD aftermarket is positioned for sustained growth and innovation as it caters to a diverse and rapidly expanding customer base.
Recent Developments:
Innova Electronics Corporation, an esteemed provider of diagnostic reporting and testing equipment for the automotive aftermarket, has recently unveiled its newest software and firmware update for its OBD2 scanner tools and dongles in the present generation.
Bartec USA recently unveiled a new software update for its TPMS tool, boasting more extensive coverage of Rite-Sensor and a greater range of model year tools. This update also showcased Bartec's enhanced OBD II capabilities.
Key Market Players:
Magneti Marelli S.p.A.
Intel Corporation
Innova Electronics Corporation
Hella GmbH & Co. KGaA
Geotab Inc.
Electronic System LTD
ERM
Continental AG
CalAmp Corporation
Danlaw Inc.
Bosch Diagnostic (Robert Bosch GmbH)
Azuga Inc.
AVL DiTEST GmbH
Autel Intelligent Technology Corp., Ltd.
Segments Covered in the Report:
(Note*: We offer reports based on sub-segments as well. Kindly, let us know if you are interested)
By Components
Empennage
Wings
Fuselage
Nacelle & Pylon
Nose
Others
By Application
Fleet Management
Consumer Telematics
Car Sharing
Used-based Insurance
By Platform
Fixed-Wing Aircraft

Military
Commercial
General Aviation Aircraft
Business Jet

Rotary-Wing Aircraft

Military Helicopters
Commercial Helicopters
UAVs
By End-User
By Geography
North America
Europe
Asia-Pacific
Latin America
Middle East and Africa