The global on-board charger market size was worth USD 5.80 billion in 2022 and is projected to surpass around USD 20.49 billion by 2032, poised to grow at a CAGR of 13.50% over the forecast period 2023 to 2032.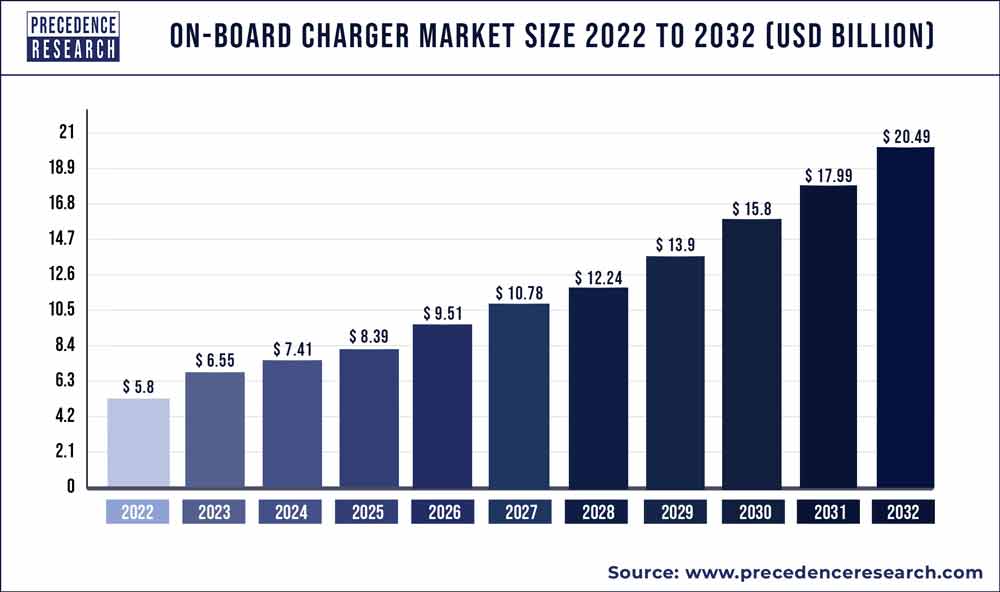 Access our Premium Real Time Data Intelligence Tool, Visit: Precedence Statistics
Key Takeaways:
By power output, the U.S. on-board charger market was valued at USD 458 million in 2022.
By power output, the 11 kW to 22 kW segment accounted market share of around 43% in 2022
By vehicle type, the passenger cars segment garnered 37% market share in 2022 and bus segment is projected to grow at a remarkable CAGR from 2023 to 2032.
By propulsion type, the BEV segment hit 69% market share in 2022 and PHEV segment will register notable growth from 2023 to 2032.
In 2022, the Asia Pacific region representing in excess of 40% of overall income
Europe is projected to witness significant growth from 2023 to 2032.
European plug-in passenger car sales registered at 8% in 2022 in contrast to 4% in 2021.
The costly cost of charging an electric vehicle at public charging stations is driving the current interest for on-board chargers. Business electric costs apply to public chargers close to streets, shopping centers, and organizations, which are more than private rates. This requires the utilization of on-board chargers for electric vehicles. In an electric vehicle, an on-board charger is utilized to charge the foothold battery by changing over the AC input from the lattice to the DC input important to charge the batteries. One of the essential reasons driving business sector extension is the expansion in the quantity of AC private and public charging stations all through the world. The AC level 1 on-board charger might be associated into standard electrical plugs and is utilized in a wide range of electric vehicles.
An on-board charger makes it simpler to charge the batteries of electric or cross breed vehicles. Roughly 80% of the time, drivers charge their vehicles at home. High voltage chargers have recently seen an extensive expansion popular because of their higher charging speed. For instance, Tesla has laid out 31,000+ supercharger networks around the United States; this charger considers 200 miles of driving in only 15 minutes of charging. Different players are supposed to stick to this same pattern later on years by delivering various compact superchargers.
Growth factors
Electric vehicle deals moved by 176% in the primary portion of 2022 contrasted with a similar period in 2021. It represented 26% of new vehicle deals in the car area. China arose as the world's driving EV community, representing 11% of the market. One more impact of the EV market blast is that lithium costs have ascended by around 17%. Thus, these factors lead to higher purchaser spending. Buyers overall spent around $12 billion USD on EV merchandise in 2020. Moreover, as per a Power Technology research, EV deals in the principal half of 2021 were 2.7 million units, with 5 million units anticipated before the years over. Accordingly, these factors add to advertise extension. The limitation on involving non-renewable energy source as a vehicle fuel upheld by different nations is probably going to expand deals of electric vehicles, which will drive the extension of the on-board charger industry.
The worldwide arrangement of electric charging stations is driving development in the locally available charger industry. Locally available chargers are utilized in electric vehicles that permit AC level 1 and level 2 charging. An on-board charger controls the progression of force from the network to the battery. This suggests that the On-board charger should satisfy the rules of the matrix in the spots where it will be used. The rising establishment of AC charging stations in arising countries is pushing the on-board charger business forward. As far as vehicle type, the on-board charger market is separated into battery electric vehicles and module crossover electric vehicles. The foundation for charging electric vehicles is basic for the inescapable utilization of electric vehicles. A few government projects have been sent off across the world to supply electric vehicle charging stations.
The Automotive Research Association of India, for instance, planned to introduce more than 200 EV charging stations around the country. Moreover, Tata Power, an Indian electric utility firm that is essential for the Tata Group (India), upholds the Indian Government's National Electric Mobility Mission by laying out the primary arrangement of electric vehicle charging stations in Mumbai (India) for India's blossoming EV environment.
Report Scope of the On-Board Charger Market
| | |
| --- | --- |
| Report Coverage | Details |
| Market Size by 2032 | USD 20.49 Billion |
| Growth Rate from 2023 to 2032 | CAGR of 13.50% |
| Asia Pacific Market Share in 2022 | 40% |
| BEV Segment Market Share in 2022 | 69% |
| Base Year | 2022 |
| Forecast Period | 2023 to 2032 |
| Segments Covered | Vehicle Type, Power Type, Propulsion Type, Sales Channel, Geography |
| Companies Mentioned | Tonhe Technology, Anghua, Wanma, Kongsberg, Lear, Delphi, Infineon |

Vehicle Type Insights
The passenger cars segment is supposed to rule the market. In view of vehicle type, this market might be isolated into traveler cars and business vehicles. In 2022, the passenger cars area will rule the overall market. Quick urbanization, which increments interest for monetary transportation mediums like as electric cars, is a key driver influencing market extension. When contrasted with IC vehicles, electric vehicles are more practical and have a lower natural effect. Thus, state run administrations of significant economies, for example, the China, India and USA support the utilization of such vehicles. Such government backing, joined with expanded public interest in EV innovation, is projected to fuel EV interest before very long.
The passenger cars portion is supposed to overwhelm the market. Since the EV Ob-Board charger business is inseparably connected to the EV business, development in the last option will ultimately prompt expanded interest for chargers. Despite the fact that there are restricted conceivable outcomes in the business market from the EV environment, what's to come looks encouraging as key makers offer new items. Business EV reception is more troublesome than passenger cars reception since such vehicles utilize greater power and require more upkeep. We guess that interest for business EV on-board chargers will ascend as the quantity of business EV models available grows all through the conjecture period.
Power Type Insights
The market is separated into two segments in view of force yield: 20kilowatt and >20. Vehicle on-board chargers convert power from substituting current to coordinate current and afterward put it into the vehicle's battery. Since power from the framework is consistently AC, AC is the most continuous charging choice for electric vehicles. A Level-1 AC charger takes around eight to nine hours to re-energize an EV's battery totally. Level-2 and Level-3 charges are speedier for EVs since they utilize bigger power limit chargers.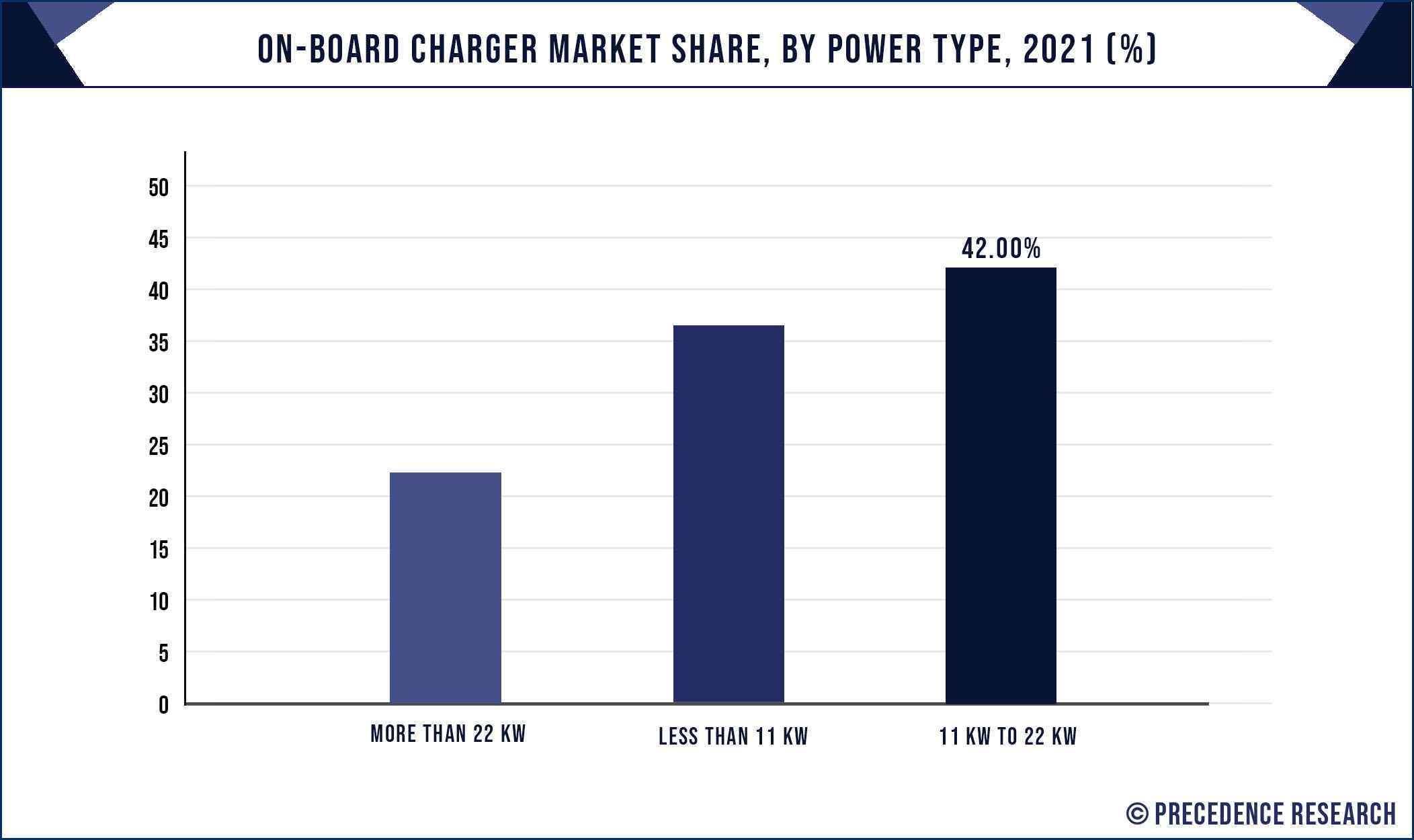 The quantity of kW power given by chargers is determined. Every KiloWatt Hour got by the battery equivalents to around 6.5 km of driving reach. With the approach of associated and independent EV's, vehicle configuration will develop more muddled, requiring the utilization of an OBC with a bigger power limit with regards to charging. Thus, OBC with under 20kilowatt power yield are presently more functional. Besides, as client interest for fast charging develops, OBC with more than 20 kilowatt power limit will exhibit a higher Compound annual growth rate during the projection time frame.
Technology Insights
Auto producers are logically gathering and putting resources into the plan and improvement of electric vehicles, which is likewise a pattern in the portability and cargo transportation enterprises. Thus, the electric vehicle on-board charger industry will extend in lockstep with the EV market. Right now, most of EVs available remember for board unidirectional battery charging strategies. A few vehicles use off-board chargers to charge their batteries. The ongoing spike in EV ventures by the transportation business mirrors a change in good examples. For instance, the production of remote, bi-directional, and quick chargers the vehicle to grid thought alludes to the straightforward methodology of connecting an EV's battery accusing arrangement of the power matrix. V2G is recognized by the way that it requires just battery chargers with bidirectional power stream capacities and association with Smart Grids.
Moreover, a few EV and EV charging producers have started to examine two-way charging innovations. For instance, Hyundai Mobis declared in August 2017 the presentation of a two-way ready charger for impending Ev and Plug - in half breed electric with phenomenal wellbeing effectiveness. Thus, the progression of battery charging innovation will produce beneficial possibilities for development plans throughout the projected time period.
Propulsion Type Insights
Remote charging for cell phones is as of now accessible, and it is likewise pertinent to electric vehicles. The vehicle's battery might be remotely re-energized by leaving the auto on the area and putting a charger on the ground. It works similarly as remote telephone chargers, however for a bigger scope. Notwithstanding, in light of the fact that the amount of energy returned in these remote frameworks is undeniably more than that of a remote cell charger, it should serious areas of strength for be protected.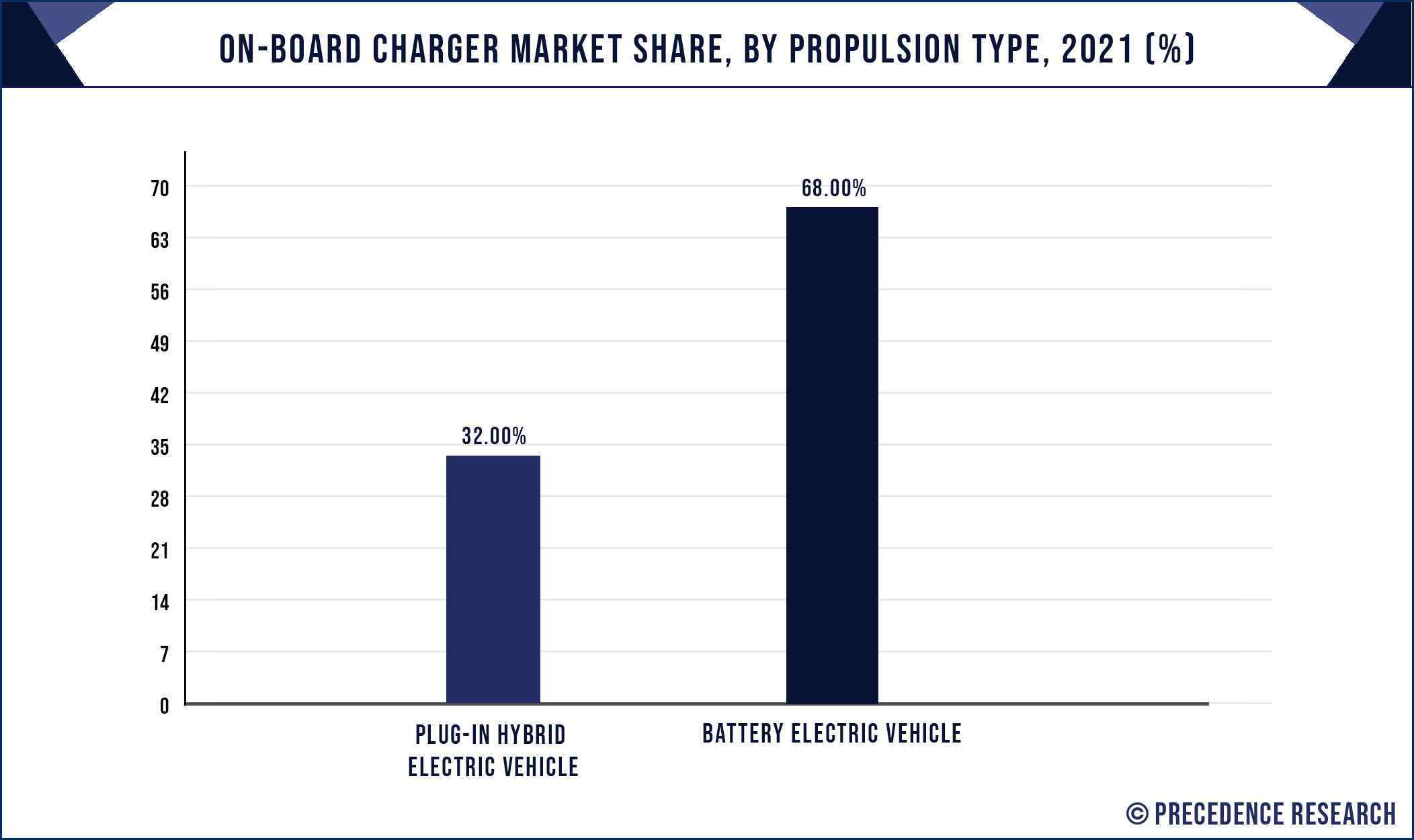 One of the essential concerns for shoppers buying an EV is range uneasiness, the fear of running out of battery power and not having the option to find a charging station close by. Power banks for cars are being created by charging gear creators, like how power banks for cell phones might be gained through a versatile application.
Geography Insights
In 2022, the Asia Pacific region accounted largest market share. Government drives to advance electric vehicle deals in countries, for example, China and India are improving provincial market development. For instance, the Chinese government's deals amounts for 2020, 2020, and 2021 are one of the essential drivers helping EV on-board charger deals in the country. Tesla Model 3, GAC Aion S and BYD Qin Pro EV are among the EVs in China that utilization on-board chargers.
Europe is anticipated to increment altogether all through the projection period. Europe's players are continuously attempting to expand their EV offers, which is expanding interest for on-board chargers. BMW plans to charge its SUVs, vehicles, and Mini vehicles in Europe by 2032, as per its vision. All the while, a flood in motivations for the acquisition of electric vehicles is one of the essential drivers driving business sector development in the locale.
In 2022, the Asia Pacific on-board charger market was assessed to be worth USD 1.58 billion. The developing metropolitan populace in India and China dirties the climate by producing ozone depleting substances from vehicles and production lines. Thus, legislatures are answering by supporting clean fuel-controlled vehicles, especially EVs, through an assortment of good government estimates remunerating the EV business. Besides, quick urbanization and savvy urban areas are anticipated to support EV extension, impelling the improvement of the electric vehicle on-board charger market around here.
Key market developments
BrusaElektronik delivered an improvement to their original remote charging in Jan 2019, permitting electrical vehicle drivers to re-energize the footing batteries of vehicles going in limit from 3.6 to 11 kilowatts
Bel Power Solutions delivered the BCL 25-700-7, a bidirectional on-board battery-powered battery that can interface up to four charging units in equal and has an effectiveness of more than 95%, in Jan 2021. As indicated by Bel Power, this charger might be associated with a charging station or straightforwardly to the framework to charge EV batteries.
STMicroelectronics will work with Renault Group, a French worldwide vehicle maker, in June 2021. The objective of this organization is to configuration, create, produce, and give STMicroelectronics items and related bundling answers for the Renault Group for the power gadgets frameworks of battery-controlled and half and half vehicles. Besides, these advances would considerably affect the driving reach and charging of electric vehicles by diminishing power misfortunes and helping productivity, bringing about less expensive battery costs, more kilometers per charge, more limited charging time, and lower client costs.
Key market players
Tonhe Technology
Anghua
Wanma
Kongsberg
Lear
Delphi
Infineon
Segments covered in the report
(Note*: We offer report based on sub segments as well. Kindly, let us know if you are interested)
By Vehicle Type
Boats
Vans
Passenger Cars
Buses
Medium and Heavy Duty Vehicles
Others
By Power Type
11 kW to 22 kW
Less than 11 kW
More than 22 kW
By Propulsion Type
By Sales Channel
Original Equipment Manufacturer (OEM)
Aftermarket
By Geography
North America
Europe
Asia-Pacific

China
India
Japan
South Korea
Malaysia
Philippines

Latin America

Brazil
Rest of Latin America

Middle East & Africa (MEA)

GCC
North Africa
South Africa
Rest of the Middle East & Africa