The global parking management market size is anticipated to reach around USD 12.91 billion by 2032 up from USD 5.38 billion in 2022 with a CAGR of 9.15% Between 2023 and 2032.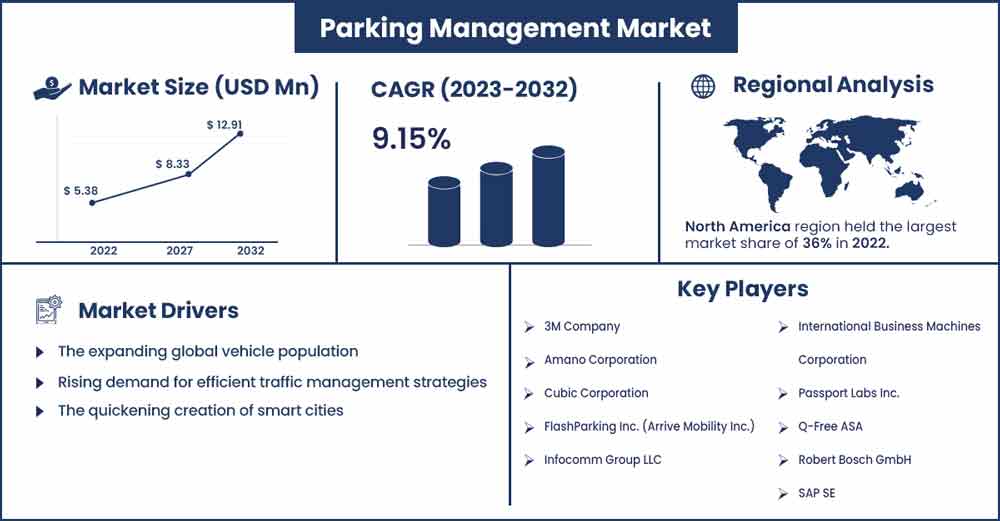 Programs, techniques, and policies that have been implemented to encourage the effective use of various parking resources and increase the amount of walking space are collectively referred to as parking management. It consists of boom barriers, security and surveillance systems, parking reservation systems, and management systems for parking. These gadgets help reduce the need for parking subsidies, expand the number of viable travel options, slow down traffic, produce a return on investment (ROI), and protect the security and safety of the car. Due to these characteristics, it has many uses in both on-premises and cloud solution deployment models for off-street and on-street parking spaces.
Market Growth:
The widespread adoption of parking management policies and solutions in the business, residential, and transportation sectors can be related to service consultants' increased demand for better mobility and revenue optimization. This is the main element fueling the market expansion, along with the beneficial activities being implemented by the government authorities for managing tows, resolving traffic congestion concerns, and mitigating overall operational expenditure (OPEX) and capital expenditure (CAPEX). Significant technology improvements, such as incorporating various parking management solutions with GPS, cameras, and near-field communication (NFC), are functioning as another growth-inducing factor in conjunction with this. By encouraging effective use of parking resources, these systems help to locate vacant spaces, monitor systems, provide improved signage and real-time parking indicators and reduce space wastage.
Parking Management Market Report Scope:
| | |
| --- | --- |
| Report Coverage | Details |
| Market Revenue in 2023 | USD 5.87 Billion |
| Projected Forecast Revenue by 2032 | USD 12.91 Billion |
| Growth Rate from 2023 to 2032 | CAGR of 9.15% |
| Largest Market | North America |
| Base Year | 2022 |
| Forecast Period | 2023 To 2032 |
| Regions Covered | North America, Europe, Asia-Pacific, Latin America, and Middle East & Africa |

Regional Analysis:
North America comprises nations with established economies, such as the US and Canada. The parking management market receives a substantial portion of its revenue from North America. Rapid technical breakthroughs, such the digitization in the US and Canada and giant IT corporations, are driving market growth in this area. The region can invest extensively in cutting-edge Parking Management solutions and services thanks to the developed economies of these nations. There are numerous parking management initiatives running right now in the area. The Asia Pacific area is projected to experience a CAGR of 12.3% throughout the forecast period. The government's growing interest in creating smart cities and the requirement for a systematic, efficient flow of traffic contribute to the region's growth. Parking management will continue to grow in Asia Pacific due to rising industrialization and urbanization.
Market Dynamics:
Market Drivers:
Parking management is the umbrella term for several initiatives, plans, and rules that lead to more effective use of parking resources. Through sensors in each parking area, parking management assists the vehicle in finding the available parking space. Managing parking costs and availability, particularly in busy and crowded places, helps lessen the obstruction of adjacent corridors. The demand for safety, security, and connectivity, as well as increased parking concerns due to an increase in automobiles, are significant drivers fueling the expansion of parking management. The availability of parking lots is being impacted by the growing number of automobiles on the planet, which increases the need for parking management systems because they aid in the efficient distribution and best use of parking space. Additionally, growing smartphone adoption and internet of things (IoT) adoption in parking is accelerating the growth of parking management systems over the projection period.
Market Restraints:
Parking management is crucial, but various obstacles prevent the market from expanding. Various hardware sensors, traffic control devices, computer servers, wireless and wired systems, and applications are used in parking management. It is challenging to combine the data since some incompatible devices have these parking data. The procedure is complicated by market limitations and the amalgamation of all hardware and software used in parking management.
Market Opportunities:
Urban regions have been changed into "smart cities" by technology, and these communities continue to sustain their economic, housing, and mobility needs by applying cutting-edge technologies. The government has launched a smart city plan to address the escalating traffic issues. It is anticipated that governments worldwide will offer fantastic chances for smart parking management systems. The parking management market has a strong possibility here, and parking management systems can supply the simple, space-efficient parking solutions that smart cities require.
Segments Insight:
Solution Insights:
Due to numerous advantages, such as demand-driven dynamic pricing, constant monitoring, and re-modeling, the revenue management sector held the most significant market share in 2022. The segment used advanced analytics daily to forecast and suggest future prices based on previous data, algorithms, and business regulations. Services like client banking, auditing, verifying transactions, digital payments, and thorough reporting are all examples of revenue management services. Revenue management also assists facility providers in managing their pricing strategy by allowing them to compare their charges to those of rivals.
Service Insights:
In 2022, the support and maintenance sector held the most significant market share, and this is because personnel need training and assistance during and after the adoption of parking management systems. The support and maintenance section also offers mobile application enhancement services to make apps more compatible with the most recent Operating System (OS) release. Preventive maintenance is necessary for the software and hardware used in parking management to reduce downtime and ensure systems operate smoothly, which is projected to fuel the segment's continued expansion.
Deployment Insights:
Due to its many advantages, such as improved security, fewer risks of downtime, and better accessibility, the on-premise segment will hold more than 60% of the market share in 2022. Data does not leave the organization's grounds, giving organizations better control and data protection. Regarding compliance concerns, the on-premise deployment may have a clear advantage. The increased stability of this deployment is another reason why many businesses rely on it; employees can still access the data even in the event of a network breakdown or a lost internet connection, preventing downtime.
Parking Site Insights:
Due to the rising number of vehicles on the road, which presents infrastructure difficulties, the off-street parking site category will hold a market share of over 70% in 2022. Off-street parking is frequently chosen as it is a quicker, more straightforward, and more dependable solution, playing a significant part in traffic management. This solution's inexpensive installation and maintenance costs are also anticipated to contribute to the segment's growth. The off-street parking area has a set architecture, including sensors, software, and communication protocols. The expansion of innovative city programs also drives the need for off-street parking locations. This market's growth is also aided by expanding smartphones and digital payment methods.
Application Insights:
In 2022, the market was controlled by the government sector. This is due to the necessity of creating and maintaining safe, hygienic, and efficient public parking facilities around the city. The government is making a number of attempts to alleviate the burden on public property by efficiently using the resources at its disposal. For instance, the South Delhi Municipal Corporation (SDMC) launched a smartphone app in October 2021 to alert customers of available parking spaces. The government also plans to link this app to other applications, including Fastag, Vahan, and the e-challan used by the traffic police. By making a payment online, users can reserve open parking places.
Recent Development:
July 2020 – To help safeguard possibly millions of drivers and passengers from the risks connected with the spread of COVID-19, Flowbird Group launched Park and Sanitize, a contactless hydro-alcoholic gel dispenser attached to Flowbird parking and transportation ticketing terminals.
June 2020 – The Panama City Beach neighbourhood and Passport Inc. worked together to give the city the technology required to improve parking.
May 2020 – APCOA PARKING and HERE Technologies have joined forces to create and market digital parking services and HD indoor maps of parking facilities in Europe. HERE Technologies is a prominent provider of location data and technology platforms.
March 2020 – A comprehensive parking guidance system was implemented by Q-Free in the Victorian Square parking garage in Sparks, Nevada. Vehicles will find parking spots more easily thanks to this technology, providing real-time information on available places. With the help of this arrangement, Q-Free will be better able to compete in the US market.
Major Key Players:
AstraZeneca
AbbVie Inc.
Akebia Therapeutics, Inc.
Amgen Inc.
F. Hoffmann-La Roche
FibroGen Inc.
Johnson & Johnson Inc.
Pfizer Inc.
Teva Pharmaceutical Industries Limited
Reata Pharmaceuticals, Inc.
GlaxoSmithKline plc.
Ardelyx, Inc.
Boehringer Ingelheim International GmbH
Novo Nordisk A/S
Novartis AG
Market Segmentation:
By Drug Class
ACE Inhibitors
Angiotensin Receptor Blockers (ARBs)
B-Blockers
Calcium Channel Blockers
Loop Diuretics
Erythropoiesis-Stimulating Agents (ESAs)
Phosphate Binders
Others
By Route of Administration
Oral
Subcutaneous
Intravenous
By Distribution Channel
Hospital Pharmacies
Retail Pharmacies
Online Pharmacies
Buy this Research Report@ https://www.precedenceresearch.com/checkout/2580
You can place an order or ask any questions, please feel free to contact at sales@precedenceresearch.com | +1 9197 992 333