The global personalized packaging market size surpassed USD 34.29 billion in 2022 and is projected to rise USD 51.74 billion by 2030, anticipated to grow at a CAGR of 5.28 percent during the projection period from 2022 to 2030.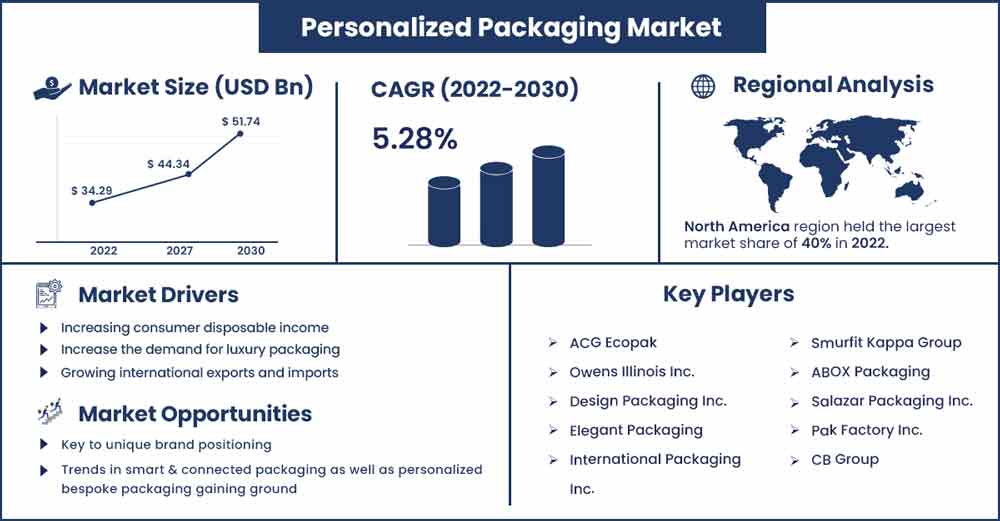 Global demand for packaging has increased as a result of quick technical advancement and ongoing product enhancement. These technological advancements have increased the desire for personalized packaging. The development of environmentally responsible and consumer-friendly packaging has also fueled the market's expansion. Additionally, the items are simple to ship over large distances in safety and security with the aid of personalized packaging. The nature of the product, its composition, and its structure are the key determinants of transportation costs.
The demands of end customers also vary as a result of geographic changes. In order to create unique and personalized product packaging that meets customer demands and offers ease to the consumer, many businesses are spending a large amount of money on research and development. The primary factors affecting client minds are ease of convenience, contentment, low weight, and product safety.
As a result, businesses all over the world are increasing their capacity for production and manufacturing in order to meet client expectations. Similar to how customer lifestyles or retailing techniques have changed, these changes are significant and help the industry expand and prosper. Over the course of the forecast period, these factors are anticipated to fuel market expansion for flexible packaging.
Customized packaging enables businesses to add a personalized touch and establish an emotional bond with their customers. Brand loyalty results from this, which eventually boosts sales. Additionally, bespoke packaging aids in providing customers with a tailored user experience. It also raises the brand value of the business. If the companies use personalized packaging, the buyers will be able to relate to the brand's primary colors, patterns, and logos just by glancing at the box. Additionally, your company's branding will be strengthened by this.
Some businesses have elevated customization to entirely new heights. Coca-Cola, for instance, began putting customer names on the bottles and cans of its soft drinks. They attracted a lot of attention from all around the world with this type of customized packaging. Additionally, their sales greatly increased as a result of this customized package marketing strategy.
The ability to develop their own distinctive packaging that accurately represents their brand is made possible by personalized packaging, which is wonderful for businesses.
Regional Snapshots:
The market for personalized packaging in Asia Pacific is anticipated to expand at the fastest rate over the anticipated period. The expansion of this regional market is due to the food industry's growing need for goods including alcoholic beverages, carbonated drinks, and others. Additionally, the per capita income of consumers in emerging nations is expanding significantly. This is further exacerbated by evolving eating patterns and lifestyles.
Additionally, the region's food consumption is rising. This is assisting in the market for personalized packaging's healthy expansion. Over the course of the forecast period, these factors are anticipated to fuel market expansion for flexible packaging. The flexible packaging market in North America had significant growth throughout the anticipated period. The increase is attributed to the region's consumers' need for packaging that is easy to carry and transport in addition to having attractive aesthetics. Over the course of the forecast period, this aspect is anticipated to fuel market expansion in North America.
Personalized Packaging Market Report Scope:
| | |
| --- | --- |
| Report Coverage | Details |
| Market Revenue in 2023 | USD 36.1 Billion |
| Projected Forecast Revenue in 2030 | USD 51.74 Billion |
| Growth Rate from 2022 to 2030 | CAGR of 5.28% |
| Largest Market | North America |
| Base Year | 2022 |
| Forecast Period | 2022 To 2030 |
| Regions Covered | North America, Europe, Asia-Pacific, Latin America, and Middle East & Africa |

Report Highlights:
The paper and paperboard category is anticipated to have the highest volume share by material type.
The plastics category is anticipated to maintain its market dominance in terms of value. In the market for personalized packaging, the glass sector is anticipated to develop at the quickest rate among the material types.
By packaging type, bottles are anticipated to dominate with the highest value share, and with the growing popularity of flexible packaging, bags and pouches are anticipated to represent the most lucrative segment.
By end use, the beverages segment is anticipated to account for more than 50% of the global personalized packaging market.
Market Dynamics:
Drivers:
The need for luxury packaging has increased as a result of rising consumer disposable income, especially in the APAC area, and this is helping to drive the market for bespoke packaging. To increase their presence in the steadily growing market, manufacturers in the area are increasing their capabilities and production capacity. The increase that has been occurring since the previous era is also being supported by the expanding use of e-retail around the globe. While use of bottled water has increased globally, carbonated beverage sales have decreased over the previous few years. This might present a number of opportunities.
Restraints:
The market for personalized packaging can be somewhat constrained by the regulations put in place for plastic packaging. Regulation adherence is essential since even the tiniest packing flaw might contaminate the product and reduce the manufacturer's profit. Control over moisture, ease of transportation, and light barriers are requirements for packaging for food and drinks, healthcare, and personal items. The US Environmental Protection Agency, the Food and Drug Administration, and the European Directive 94/62/EC on packaging and packaging waste are among the regulatory agencies that oversee personalized packaging.
Authorities in charge of regulation make sure that the raw material is biodegradable. The personalized packaging industry is putting more of an emphasis on developing packaging solutions that are both affordable and sustainable. Utilizing biodegradable raw materials is more expensive than using non-biodegradable ones. This raises production costs and restrains the market for personalized packaging's expansion.
Opportunities:
Customization is a hot trend, and the packaging may be the initial point of contact between the company and the buyer. The levers of personalisation are being pulled by customer brands ranging from those in fast-moving consumer goods to those at the forefront of high-end luxury products. The market for bespoke packaging will flourish as firms get a little bit closer to consumers' thoughts thanks to branding initiatives. These personalisation tendencies have been most prominent among beverage and food firms.
Many companies in various industrial sectors have jumped on the personalized packaging bandwagon in an effort to benefit from it. One of the alluring consumer value propositions that businesses have been attempting to harness for a distinctive positioning is the value of the strategic packaging. Given the fierce rivalry that personalized packaging fosters, customer interactions will only get more subtle over time. One of the main drivers of development for industry participants in personalized packaging is the insatiable desire to communicate personally with brands.
Challenges:
Personalized packaging may improve brand awareness and help companies connect with customers, but new designs require a lot more time and effort from companies, which may drive up production costs. Determining the optimal package design and marketing approach requires a significant investment of marketing resources. Campaigns for personalized packaging that are unsuccessful with customers may be time- and money-consuming, as well as detrimental to corporate profitability. Businesses must also stay up to speed on the most recent trends to avoid printing outdated or obsolete packaging.
Recent Developments:
For an undisclosed fee in Aug 2021, the American company CP Flexible Packaging purchased Fruth Custom Packaging along with its subsidiary, Cleanroom Film and Bag. The acquisitions will aid C-P in expanding the West Coast presence and packaging abilities for semiconductors, electronics, medical devices, and biopharmaceuticals.
Major Key Players:
ACG Ecopak
Owens Illinois Inc.
Design Packaging Inc.
Elegant Packaging
International Packaging Inc.
Smurfit Kappa Group
ABOX Packaging
Salazar Packaging Inc.
Pak Factory Inc.
CB Group
Prime Line Packaging
SoOPAK Company
The Mondi Group Plc.
ProAmpac LLC.
Huhtamaki Oyj
Glenroy Inc.
Market Segmentation:
By Packaging Type
Bottles
Containers & Jars
Bags & Pouches
Cartons
Envelopes
Boxes
By End-User Industry
Food
Beverage
Pharmaceutical
Personal Care
Logistics
Others
Buy this Research Report@ https://www.precedenceresearch.com/checkout/2305
You can place an order or ask any questions, please feel free to contact at sales@precedenceresearch.com | +1 9197 992 333