The global phosphoric acid market size surpassed USD 47.6 billion in 2022 and is projected to rise to USD 74.27 billion by 2032, anticipated to grow at a CAGR of 4.6 percent during the projection period from 2023 to 2032.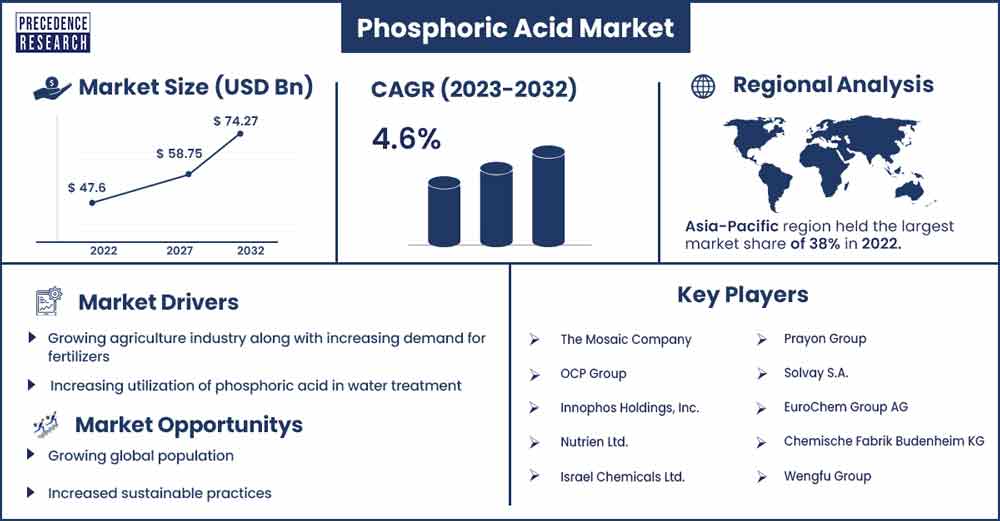 Market Overview
Phosphoric acid, also known as orthophosphoric acid, is a clear, colorless liquid or a solid compound, depending on its concentration. It is a triprotic acid that can donate up to 3 hydrogen ions (H+) in aqueous solutions. Phosphoric acid is often used in its concentrated form for various industrial purposes and as flavoring agent in some food & beverage products. Phosphoric acid is widely used in industries such as agriculture, metallurgy, and the manufacture of various chemicals. It plays a critical role in the production of phosphate fertilizers, as well as in rust removal, metal cleaning, and as an ingredient in various chemical reactions. In addition, food industries use it as an acidulant, flavor enhancer, and pH regulator.
The phosphoric acid market is driven by various factors including the increasing agriculture and fertilizer production, growing food and beverage industry, rising utilization in the water treatment industry, increasing construction and infrastructure development, growing application in dental and medical, rising research and development, and technological advancements. Furthermore, the growing investment is one of the industry critical factors for the market growth over the anticipated timeframe.
In May 2023, as part of an Australian partnership, Wesson Group's Lionsbridge and Westech Group built a $875 million phosphoric acid manufacturing facility in Safaga, Egypt. To carry out the project, the consortium will create a business called Osiris, based in the city on the Red Sea coast and have a 692K ton production capacity annually. The facility will be built in two stages. The first stage will generate 346,000 tons of phosphoric acid for $312 million, while the second phase will require up to $563 million in capital.
Additionally, according to the European Sustainable Phosphorus Platform, approximately 30% of the world's current 1.4 MtP/y capacity for purifying phosphoric acid is located in the EU, and more than half of it is in China. As previously mentioned, this capacity is already in use for other purposes (mostly food and beverage). To provide PPA for batteries and fuel cells, a 30% to 50% increase in the world's capacity for phosphoric acid purification is thus required, requiring an approximate worldwide investment of USD 21 billion. Europe will be dependent on imported purified acid for LFP batteries and PAFC fuel cells, among other uses, if this phosphoric acid purification capability is not developed in the EU.
Solenis increased its annual output of phosphoric acid by 100,000 metric tons, resulting in a $94 million gain in income and a 17% rise in the volume of phosphoric acid produced.
In October 2023, a combined phosphoric acid manufacturing plant was set to be established in the Red Sea city of Aqaba by the Jordan Phosphate Mines Company (JPMC) and Transpet of Turkey. The $400 million project will be the biggest Turkish-Jordanian investment in the phosphate fertilizer sector to date.
According to the data published by Harvard Business Review, by 2050, there is a projected rise in food demand of between 59% and 98%.
According to FAO, it is predicted that between 2005 and 2050, global food production will need to increase by almost 70% to feed the 9.1 billion people who inhabit the planet.
Phosphoric Acid Market Report Scope
| | |
| --- | --- |
| Report Coverage | Details |
| Market Revenue in 2023 | USD 49.55Billion |
| Projected Forecast Revenue by 2032 | USD 74.27 Billion |
| Growth Rate from 2023 to 2032 | CAGR of 4.6% |
| Largest Market | Asia-Pacific |
| Base Year | 2022 |
| Forecast Period | 2023 to 2032 |
| Regions Covered | North America, Europe, Asia-Pacific, Latin America, and Middle East & Africa |

Regional Insights
Asia Pacific is expected to hold the largest market share. The market growth in the region is attributed to the increasing agriculture and fertilizer demand. Countries like India and China a major consumers of phosphate fertilizers. Phosphoric acid is a key component in the production of these fertilizers, and the growing need for increased crop yields to feed the region's large population is a significant driver of phosphoric acid demand.
For instance, according to WorldData.info, India's population grew from 450.55 million to 1.43 billion between 1960 and 2023. This is a 216.5 percent gain over 63 years. India's largest growth, 2.36 percent, was noted in 1974. The lowest growth, at 0.01 percent in 2022.
In the region, China is expected to capture the largest market share. The growth in the country is attributed to the high production and consumption of phosphoric acid. For instance, according to INDEXBOX, about 68,000 tons of polyphosphoric and phosphoric acids were exported from China in March 2023, a 49% increase from February 2023 data. Furthermore, the nation possesses the greatest capability for producing fertilizers, which propels the expansion of the business.
Market Dynamics
Drivers
Growing agriculture industry along with increasing demand for fertilizers
Phosphoric acid is a crucial ingredient in the production of phosphate fertilizers, which are essential for crop growth. The global demand for food and the need to improve agriculture productivity drive the demand for phosphoric acid in the agriculture sector. The demand for phosphate fertilizers is directly linked to the agricultural sector. Farmers use these fertilizers to enhance the nutrient content of the soil, ensuring optimal crop growth and higher agricultural yields. The global population's need for food and the increasing demand for agricultural products drive the use of phosphate fertilizers.
Increasing utilization of phosphoric acid in water treatment
Phosphoric acid is used for pH adjustment and scale inhibition in water treatment processes. Increasing concerns about water treatment processes. Increasing concerns about water quality and the need for effective water treatment systems contribute to the demand for phosphoric acid in this sector.
Restraints
Concern over environment
Phosphoric acid production can have environmental implications, particularly when it comes to the extraction and processing of phosphate rock. These processes can lead to water pollution, habitat destruction, and soil erosion. As environmental regulations become stricter, producers may face higher compliance costs and need to adopt more sustainable practices. Thus, the environmental concern of phosphoric acid might be a major restraint for the market growth over the forecast period.
Competition from alternatives
In some applications, phosphoric acid faces competition from alternative chemicals or technologies that can achieve similar results. For instance, in certain industrial processes and water treatment applications, alternative acid or chemical treatments may be considered, potentially limiting phosphoric acid market share. For instance, Formic acid is used as a substitute for phosphoric acid in water treatment. In water treatment facilities, formic acid is utilized as a pH adjuster to treat sewage and wastewater. Compared to phosphoric and sulfuric acid, it is a more economical choice since it breaks down in wastewater without emitting any emissions or leaving phosphates behind, which lowers waste-water costs. Consequently, this impeded market expansion over the projected period.
Opportunities
Growing global population
The world population continues to grow, leading to increased food demand. Phosphoric acid is a crucial component of phosphate fertilizers, which are essential for enhancing crop yields. The increasing need for food security and agricultural productivity presents a significant opportunity for the phosphoric acid market. According to the United Nations, from an estimated 2.5 billion in 1950, the world's population has increased to 8.0 billion in mid-November 2022, with 1 billion more individuals since 2010 and 2 billion since 1998. Thus, the aforementioned facts are expected to offer a lucrative opportunity for market growth.
Increased sustainable practices
There is a growing emphasis on sustainable agriculture and responsible fertilizer use. Producers of phosphoric acid have an opportunity to develop more eco-friendly and sustainable production processes, which can align with changing consumer preferences and environmental regulations. Thus, this is expected to offer a lucrative opportunity for the market growth.
Recent Developments
In January 2022, after completing its transformation process, SABIC established a fully-fledged agri-nutrient firm to offer an end-to-end agricultural solution and ensure sustainable commercial growth in the agricultural sector. It is expected that this planned action would increase SABIC's phosphoric acid production.
In December 2022, LiqTech International, Inc. is a clean technology company that produces and sells highly specialized filtration systems and products partnered with Ecolotron Wastewater Solutions, Inc., an electrolytic water treatment company located in the United States, to commercialize a combined acid purification solution.
Phosphoric Acid Market Players
The Mosaic Company
OCP Group
Innophos Holdings, Inc.
Nutrien Ltd.
Israel Chemicals Ltd.
Prayon Group
Solvay S.A.
EuroChem Group AG
PotashCorp (Potash Corporation of Saskatchewan Inc.)
Jordan Phosphate Mines Company PLC
Chemische Fabrik Budenheim KG
Wengfu Group
Yuntianhua Group Co., Ltd.
Reade Advanced Materials
Segments Covered in the Report
By Process Type
Wet Process
Thermal Process
By Application
Fertilizers
Feed and Food Additives
Detergents
Water Treatment Chemicals
Metal Treatments
Others
Buy this Research Report@ https://www.precedenceresearch.com/checkout/3348
You can place an order or ask any questions, please feel free to contact at sales@precedenceresearch.com | +1 650 460 3308