The global predictive analytics market size exceeded USD 13.7 billion in 2022 and is expected to touch around USD 56.11 billion by 2032, growing at a noteworthy CAGR of 19.27% from 2022 to 2032.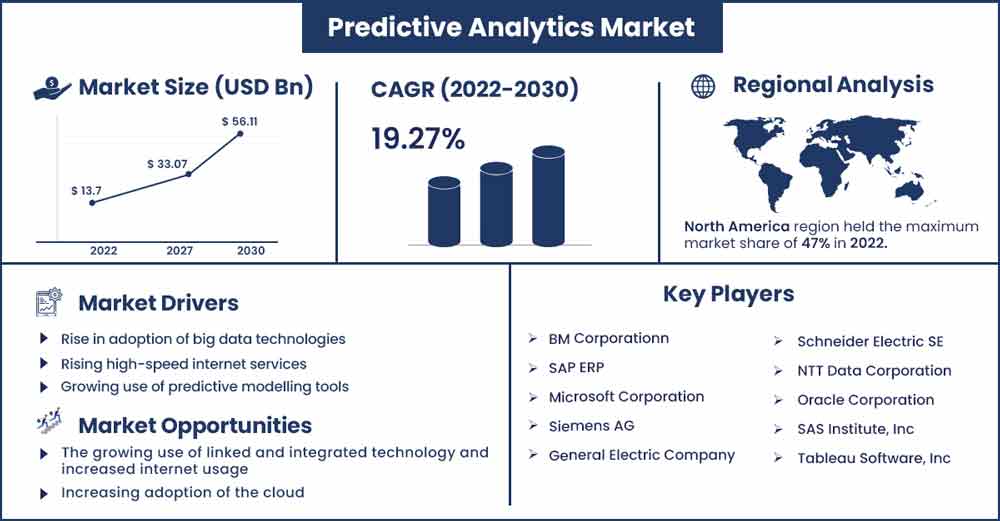 In the calculative approach of predictive analytics, past, as well as future behaviour and patterns, are examined. Several techniques, including automated machine learning algorithms and statistical analysis, are used to administrate these analytics. These procedures are followed in order to be prepared to develop predictive models. The probability or likelihood of an event occurring may then be calculated (quantitatively) using these models. Predictive analytics software analyses and measures the likelihood of customer, machine, and other behavior using the available factors.
The forecast would allow businesses to prepare in advance for the specific demands of the customers. Using consumer forecasts to create goods that provide different businesses a competitive edge. This technology will completely replace the outdated practice of businesses creating a product based on marketing research and then soliciting user input. Businesses all across the world are aware of how crucial customer delight is to preserving long-term client connections. However, there are few qualified people on the market that have an appropriate understanding of how a predictive analytics system works. This is a significant issue since qualified workers are needed for the efficient operation and installation of predictive analytics solutions, which is something that many firms on the worldwide market are concerned about. People need to be skilled enough to examine the projected data and act accordingly depending on the findings. Therefore, services like training and consultation have significantly increased in popularity in the market as a means of overcoming the aforementioned difficulty.
Report Highlights:
Predictive analytics solutions are being deployed across a variety of business verticals, which is projected to increase the need for pre-and post-deployment services.
Large enterprises are using predictive analytics solutions more frequently than SMEs to forecast future trends using current historical data.
The BFSI sector is predicted to have a substantial impact on the growth of the predictive analytics market.
The global market is anticipated to grow at the fastest rate in the retail and e-commerce segment because of customer preferences for a personalized purchasing experience.
North America will have the highest profit margins in terms of the region due to technological advancements and the prominence of market participants, particularly in the United States.
Predictive Analytics Market Report Scope:
| | |
| --- | --- |
| Report Coverage | Details |
| Market Revenue in 2023 | USD 16.34 Billion |
| Projected Forecast Revenue in 2030 | USD 56.11 Billion |
| Growth Rate from 2022 to 2030 | CAGR of 19.27% |
| Largest Market | North America |
| Base Year | 2022 |
| Forecast Period | 2022 To 2030 |
| Regions Covered | North America, Europe, Asia-Pacific, Latin America, and Middle East & Africa |

Regional Snapshots:
In the market for predictive analytics, North America is anticipated to hold the greatest market share. In comparison to other areas, North America is predicted to have the highest adoption of predictive analytics solutions. The concentration on innovations derived from R&D and diverse technology, as well as the presence of several industrialized economies like Canada and the US, are the key causes of this. The greatest market for predictive analytics solutions is in North America, which is a major center for massive data collection.
Market Dynamics:
Drivers:
The volume of data created has significantly grown as a direct result of more people using cell phones. This number is anticipated to increase as high-speed internet access becomes more widespread and affordable in both urban and rural areas. Globalization, economic development, and the availability of inexpensive, user-friendly cell phones are all factors encouraging countries to produce more data.
Due to the simplicity of data collection, business companies are expected to generate data at an exponential rate. In-house teams of scientists and analysts work for businesses today to collect, record, and evaluate both internal and external data gleaned via surveys and other data collection techniques. Additionally, venture capital firms have been huge supporters of big data initiatives globally. The digitalization of transactions is another factor fueling the growth of corporate data.
One of the main factors influencing the rise of predictive business analytics is the escalating efficiency of data processing technologies and solutions. Deep-learning algorithms and artificial intelligence have developed quickly, making it possible to carry out tasks that formerly required a great deal of knowledge and skill quickly and easily. There is currently a large selection of analytical software, ranging from basic spreadsheet statistical tools to statistical software suites. In-database analytics solutions are becoming more and more common as data quantities and analytical complexity increase exponentially.
Restraints:
There are several obstacles and constraints that will prevent the market from expanding overall. The market expansion is being constrained by reasons including a lack of highly skilled IT workers and expensive implementation costs. The application of this technology in various end-user sectors, which is expected to have slow development throughout the projected period, also faces more challenges related to data integrity. Further possible obstacles to the overall expansion of the worldwide market include high time requirements, the need for continual trial, and testing of sophisticated algorithms. However, the development of technologies like artificial intelligence (AI), machine learning, and sophisticated analytics that have untapped potential in developing countries presents positive growth possibilities. Another hard aspect of the business that has to be addressed is the security of the predictive data. Another obstacle for the market is the necessity for a significant volume of data to be available in order to monetize the assets of the data. Organizing the firms may face a brand-new difficulty as a result of the consolidation of data from the precise data source.
Opportunities:
Big data analytics have been widely used by enterprises and people due to the increasing requirement to store, process, and analyse vast volumes of structured and unstructured data, which is expected to fuel market expansion.
Big data is used by several companies, like Alphabet and Meta, to serve targeted advertisements to users of social media and the web. Additionally, big data investment will rise as a result of the enormous amount of data generated in different business sectors, boosting the expansion of the predictive analytics market. The volume of data that enterprises acquire is continually growing as a result of the expansion of the Internet of Things (IoT) trend and multimedia, which have generated a vast flow of data.
Challenges:
Predictive analysis market expansion is being hampered by the integration of data through data silos. Organizations nowadays must effectively extract value from information in order to lower risks, target key customers, and evaluate business success. Additionally, in order to monetize these data assets, access to sufficient data is required. Companies, particularly centralized corporate enterprises, could have extra challenges when attempting to synthesise data from many data sources into useful information. Data interchange and data ecosystems provide the instruments needed to examine the gathered data in a single location and assist in extracting and cross-referencing its essential elements for company operations. The assumptions established on the value of the data for each client group influence how data exchanges and data ecosystems grow. To assist customers in successfully aggregating and analysing data from various data sources, several predictive analytics vendors provide integrated data aggregation and data analytics platforms.
Recent Developments:
SAP and HPE teamed to deploy SAP HANA Enterprise Cloud with HPE GreenLake Cloud Services in August 2020. Customers will be able to maintain their SAP software environment and data on-premises thanks to this agreement.
TIBCO Software said in January 2021 that the purchase of Information Builders, Inc. (IBI), which it had first disclosed in October, had been completed successfully. As a result of the transaction, the superior TIBCO Connected Intelligence platform will get access to IBI's data management and analytics capabilities. After the transaction is complete, TIBCO software will focus on resource mapping and business alignment to maintain the health and support of its growing clientele and international partner network.
Major Key Players:
BM Corporationn
SAP ERP
Microsoft Corporation
Siemens AG
General Electric Company
Schneider Electric SE
NTT Data Corporation
Oracle Corporation
SAS Institute, Inc
Tableau Software, Inc
Market Segmentation:
By Solution
Customer Analytics
Financial Analytics
Marketing & Sales Analytics
Network Analytics
Risk Analytics
Supply Chain Analytics
Web & Social Media Analytics
Others
By Service
Deployment/ Installation
Support & Maintenance
Training & Consulting
By Enterprise Size
Small & Medium Enterprises
Large Enterprises
By Component
By Deployment Type
By End-Use
Aerospace & Defense
Automotive & Transportation
BFSI
Healthcare
IT & Telecommunication
Media & Entertainment
Retail & Ecommerce
Others
Buy this Research Report@ https://www.precedenceresearch.com/checkout/2304
You can place an order or ask any questions, please feel free to contact at sales@precedenceresearch.com | +1 9197 992 333