The global pressure vessels market size surpassed USD 24.08 billion in 2022 and it is expected to rake around USD 39.04 billion by 2032, poised to grow at a CAGR of 5% from 2023 to 2032.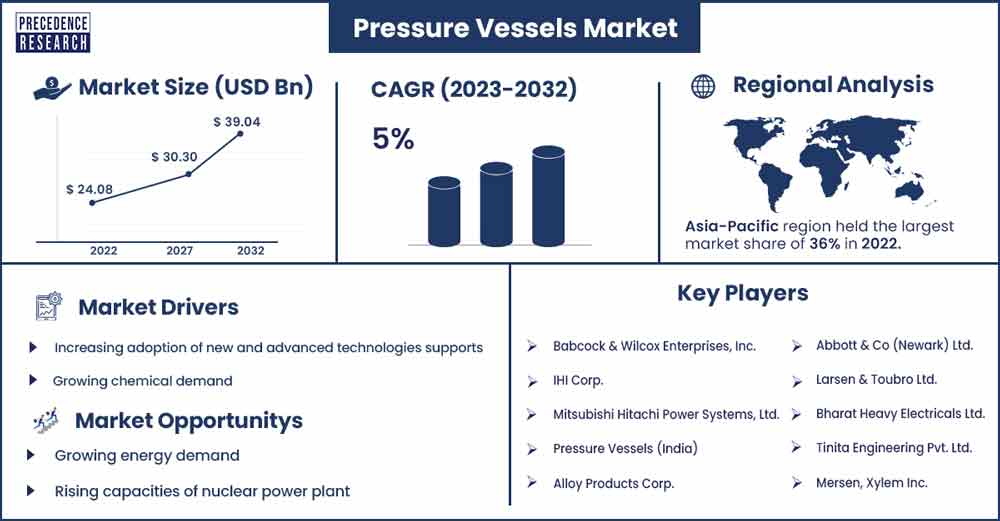 Market Overview
The pressure vessel market is the economy sector that deals with producing, distributing, and maintaining containers made to retain gases or liquids at pressures significantly higher than ambient pressure. These containers are employed in various sectors, including chemical, oil and gas, electricity production, and others, where controlling pressured materials is essential to industrial operations. The market includes tanks, boilers, and other related machinery in addition to these vessels' manufacturing, marketing, and servicing.
Pressure vessels are necessary to expand several sectors, including power production, chemical processing, oil and gas. There is a constant need for new pressure vessels due to aging infrastructure and the requirement for equipment improvements. Due to design, material, and manufacturing process innovations, pressure vessels have become more robust and efficient, which has propelled market expansion. Pressure vessels are more in demand in power plants due to the growing need for power generation brought on by the world's growing energy needs.
According to the Center for Sustainable Systems statistics, it is found that energy consumption in the U.S. holds 2.5 gallons of oil, with 261 cubic feet of natural gas and 8.27 pounds of coal every day.
The Petroleum Planning & Analysis Cell showed that during August 2023, indigenous crude oil and condensate production was 2.49MMT. It was even registered that the oil production was 0.28MMT and 1.61MMT, with ONGC and PSC documented production of 0.60MMT.
Globalization and the growth of international trade resulted in a rise in the need for goods transportation, which uses pressure vessels for various functions. As industries adhere to strict rules and standards about the security and quality of pressure vessels, the market is stimulated.
Regional Snapshot
Asia-Pacific is expected to be the dominant in the pressure vessels market during the forecast period. Over the past few decades, Asia Pacific region has witnessed rapid industrialization and urbanization. This has increased demand for various industrial equipment, such as pressure vessels and essential components in multiple industries, including manufacturing, petrochemicals, energy, and chemicals. Pressure vessels are crucial to storage, reaction, and distillation.
This ongoing need has further stimulated the pressure vessel market in the area. The Asia Pacific region's energy consumption has significantly increased due to rising populations and developing economy. As a result, there is an increasing need for power plants, particularly thermal power plants, which mainly depend on pressure vessels for processes like steam generation.
Asia-Pacific frequently has easy access to raw materials, such as steel and alloys, necessary for constructing pressure vessels. There is a cost-benefit to the production process due to this proximity to raw materials. As a result of the policies and incentives that many Asia Pacific nations have put in place to support domestic manufacturing, there is a greater need for industrial equipment, particularly pressure vessels. Government expenditures in energy, chemical processing, and infrastructure have also supported the market.
In August 2023, as the government looks to increase investment in the expanding space business, companies such as Hindustan Aeronautics and Larsen & Toubro are being evaluated to compete in India's efforts to sell off its small satellite launching rocket, a source told Reuters. The Indian Space Research Organization (ISRO), the country's space agency, created the Small Satellite Launch Vehicle (SSLV) as an affordable way to send satellites that weighed up to 500 kg (1,102 lb) into low-Earth orbit.
In August 2023, On August 21, Bharat Heavy Electricals (BHEL) shares surged by 2% following the announcement of a contract win from Mahan Energen, an Adani group subordinate valued at about Rs 4,000 crores. The latter is anticipated to receive power-generating machinery from the state-owned enterprise for an impending 2x800 power plant in Bandhaura, Madhya Pradesh.
Pressure Vessels Market Report Scope
| | |
| --- | --- |
| Report Coverage | Details |
| Market Revenue in 2023 | USD 25.16 Billion |
| Projected Forecast Revenue by 2032 | USD 39.04 Billion |
| Growth Rate from 2023 to 2032 | CAGR of 5% |
| Largest Market | Asia Pacific |
| Base Year | 2022 |
| Forecast Period | 2023 to 2032 |
| Regions Covered | North America, Europe, Asia-Pacific, Latin America, and Middle East & Africa |

Market Dynamics
Driver
Growing chemical demand
As the need for chemicals develops, manufacturers must raise the volume of products they can produce, which calls for larger, more durable pressure vessels to accommodate the growing number of chemical operations. Improvements in material science and engineering have created pressure vessel designs that are more robust and effective.
These developments make operating at higher temperatures and pressures possible, opening previously unachievable chemical processes. Because of the nature of chemical processes, deterioration in the form of corrosion is common. Pressure vessel constructions composed of corrosion-resistant solid materials, like specialty alloys and composites, are in greater demand from manufacturers, stimulating materials science innovation. A wide variety of chemicals with differing characteristics and reactivity are used in chemical synthesis. Since pressure vessels can be made of different materials and in varied designs to suit various chemical reactions, they are essential for supporting these multiple processes.
Restraint
Fluctuation in the economy
Businesses and industries frequently have less access to finance during economic downturns; thus, they could be reluctant to engage in new initiatives, such as building or expanding facilities that need pressure vessels. Consequently, there is a decline in the demand for pressure vessels, which causes the market to slow down.
Pressure vessel demand is directly correlated with the performance of the oil and gas, chemical processing, and power generation industries. These industries are vulnerable to changes in the economy. These industries are less inclined to invest in new equipment, particularly pressure vessels when they experience decreased demand or lower product pricing. Businesses frequently become more sensitive to cost changes due to economic swings. Businesses have become more frugal with spending and have searched for ways to save costs.
Opportunities
Growing energy demand
There's a growing need for effective energy storage solutions as the world turns increasingly toward renewable energy sources, including geothermal, wind, and solar. Pressure vessels are essential for storing and controlling energy, including compressed air, hydrogen, and thermal energy. The shift to an economy centered around hydrogen is gaining traction as a workable way to decarbonize several industries, including industry and transportation. Pressure vessels play a crucial role in transporting and storing hydrogen gas.
Pressure vessels are utilized in many industrial processes, including the production of chemicals, food processing, and medicines. These industries will see increased demand for pressure vessels as global industrialization progresses. For instance, In March 2023, a contract worth over $9 million was given to Babcock & Wilcox's B&W Environmental business section to develop and provide two cooling systems for an environmentally friendly hydrogen production facility in the Middle East.
Rising capacities of nuclear power plant
The requirement for premium pressure vessels rises in direct proportion to the size of nuclear power reactors. Nuclear reactors' high-pressure, high-temperature environments depend heavily on these vessels for containment and regulation. Pressure vessel design, manufacturing, and inspection require specific knowledge and experience, which is needed as the need for larger nuclear reactors increases. Businesses with a proven track record can introduce their technology and expertise to new markets.
In areas where nuclear reactors are being built, expanding the market for pressure vessels with the rise of nuclear power can boost economic activity and create jobs in manufacturing, engineering, and allied industries. The demand for larger and more effective nuclear reactors has spurred advancements in pressure vessel technology.
Recent Developments
In June 2023, water treatment and delivery system provider AqueoUS Vets, which offers vertically integrated solutions, recently disclosed the strategic acquisition of Dixie Tank Company, a producer of carbon and stainless pressure vessels, steel tanks, filters, water heaters, and custom fabrications for the industrial, water, and hot water markets. With the acquisition, AqueoUS Vets may now operate out of the East Coast and offer a broader range of American clients. The private transaction's financial details were kept under wraps.
In February 2023, Shell pledged a vessel to deliver high-end marine towed streamers seismic acquisition services every 12 months over two years to PXGEO, a provider of maritime geophysical services.
In August 2022, the pipeline, petrochemical, refining, and power generation industries' leading provider of technology-enabled asset inspections and reliability management solutions, Quest Integrity, is a subsidiary of Team, Inc., and will be acquired by Baker Hughes. Delivering customers meaningful data in a broader industrial infrastructure range enhances Baker Hughes' current asset integrity services.
Major Key Players
Babcock & Wilcox Enterprises, Inc.
IHI Corp.
Mitsubishi Hitachi Power Systems, Ltd.
Pressure Vessels (India)
Alloy Products Corp.
Samuel, Son & Co.
Doosan Heavy Industries & Construction.
Abbott & Co (Newark) Ltd.
Larsen & Toubro Ltd.
Bharat Heavy Electricals Ltd.
Tinita Engineering Pvt. Ltd.
Mersen, Xylem Inc.
WCR Inc.
Market Segmentation
By Product
Nuclear Reactor
Boiler
Separator
Others
By Material
Titanium
Hastelloy
Tantalum
Steel

Duplex Steel
Stainless Steel
Super Duplex Steel
Carbon Steel
Others

Nickel & Nickel Alloys
Others
By End-Use
Chemicals & Petrochemicals
Power Generation
Oil & Gas
Others
Buy this Research Report@ https://www.precedenceresearch.com/checkout/1122
You can place an order or ask any questions, please feel free to contact at sales@precedenceresearch.com | +1 9197 992 333