The global process spectroscopy market revenue was evaluated at USD 20.58 billion in 2022 and is expected to attain around USD 41.21 billion by 2032, growing at a CAGR of 7.19 % from 2023 to 2032.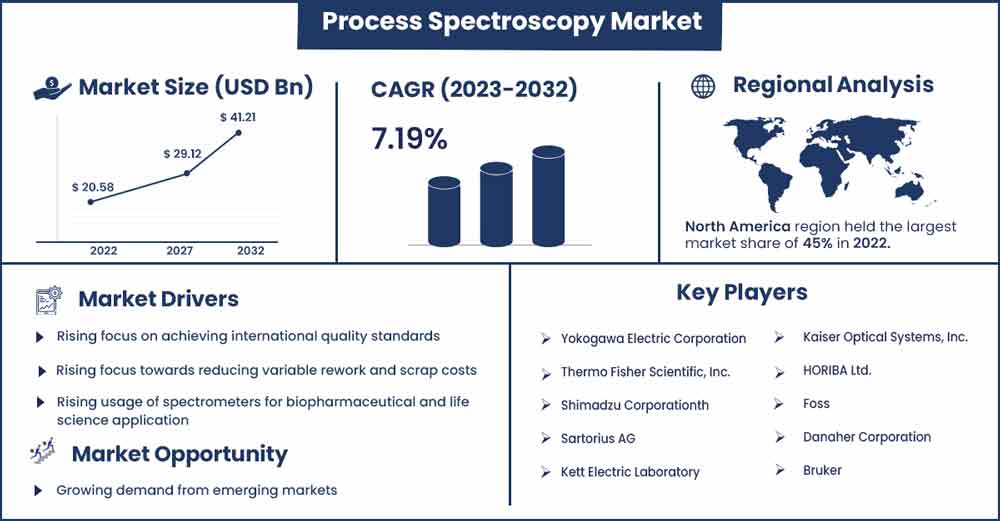 Process spectroscopy uses tools like spectrometers, sensors, and software to study the make-up and properties of materials in the present during manufacturing processes. Using this data enables process optimization, product quality improvement, waste reduction, and energy conservation. The rising need for process optimization and quality control across a variety of industries is what is driving the market for process spectroscopy. Due to regulatory requirements for process monitoring and control, process spectroscopy has seen particularly considerable expansion in the pharmaceutical business.
The growing application of spectroscopy in food and beverage processing, the advancement of spectrometer technology, and the growing emphasis on environmentally friendly manufacturing methods are further market-driving factors. Due to its many advantageous characteristics, it has emerged as one of the best methods for evaluating finished items.
The application of spectroscopy in processes can reduce the overall cost of monitoring operations and save time and money. Process spectroscopy is being utilised more frequently in the process of ensuring the safety of medications, in the need for dependable water and wastewater treatment, and in the growth of oil and gas process operations. The expansion of the global process spectroscopy market is positively impacted by rising customer awareness of the importance of good product quality. Thus, the growing demand for higher-quality products is one of the key drivers influencing the expanding use of process spectroscopy in the global market.
Report Highlights:
On the basis of technology, the process spectroscopy market is segmented into mass, atomic, and molecular spectroscopy. The molecular spectroscopy dominated the market in 2022 and is anticipated to retain its dominance during the forecast period
On the basis of components, the process spectroscopy market is segmented into hardware and software. The hardware segment held the greatest process spectroscopy market share in 2022 and is expected to retain its dominance during the forecast period whereas the software segment anticipated to witness the highest CAGR.
On the basis of application, the process spectroscopy market is further bifurcated into polymer, pharmaceuticals, water & wastewater management, pulp & paper, oil & gas, metal & mining, chemical, food & agriculture, and others.
On the basis of geography, North America accounted for the largest revenue share of the process spectroscopy market in 2022 and is expected to maintain its dominance during the forecast period.
Process Spectroscopy Market Report Scope:
| | |
| --- | --- |
| Report Coverage | Details |
| Market Revenue in 2023 | USD 22.06 Billion |
| Projected Forecast Revenue by 2032 | USD 41.21 Billion |
| Growth Rate from 2023 to 2032 | CAGR of 7.19% |
| Largest Market | North America |
| Base Year | 2022 |
| Forecast Period | 2023 to 2032 |
| Regions Covered | North America, Europe, Asia-Pacific, Latin America, and Middle East & Africa |

Regional Snapshots:
North America dominated the process spectroscopy market in 2021 and is anticipated to continue to do so over the projected period. North America's market is expanding significantly as a result of increased shale gas production in the U.S. and Canada. The area is well-equipped with the infrastructure for various R&D across all the major industrial sectors, including food and beverage, pharmaceutical, and chemicals, and offers the potential for investments in a variety of technological developments.
Asia Pacific is anticipated to grow at the quickest rate over the forecast period due to its strong manufacturing hub and robust R&D processes. The usage of spectroscopy tools and techniques has increased as a result of the employment of spectroscopic technologies for the extraction, processing, and distribution of oil and gas in these countries, which is driving the market at a quick rate. The usage of spectroscopic methods has increased significantly as a result of all of these factors, promoting regional growth.
Market Dynamics:
Drivers:
Fluorescence spectroscopy is frequently used to quantify intracellular ion concentrations, investigate molecular rotation, and accurately control sample temperatures for protein and peptide research. An increase in the adoption of various spectroscopic technologies for a range of life science applications is what is driving the market. Characterizing bio-labels for live cell imaging, GPCR oligomerization, bacterial strain detection, cellular signaling-based platelet response analysis, analysis of changes in protein tertiary structure, and testing the thermal stability of pharmaceuticals and biocatalysts are a few of these applications in the life sciences. Major rivals in the process spectroscopy area are continually developing cutting-edge spectrometers in order to maintain a competitive advantage in the market.
Several industries throughout the world, including food and beverage, pharmaceutical, chemical, and agricultural, are working to enhance product quality to meet worldwide standards of quality like ISO or Six Sigma certification. Today, ISO is represented in various nations by over 162 standard groups. Furthermore, according to Six Sigma data, over 150 businesses claim to have effectively implemented Six Sigma frameworks. These certifications apply to both corporate operations and the manufacturing of items within an industry. Consumer demand for high-quality packaged foods, pharmaceuticals, agricultural seeds, and chemicals is rising. Thus, it is projected that these factors will drive growth in the process spectroscopy market globally throughout the course of the forecast year.
Opportunities:
Raman spectroscopy is increasingly being used for field hazardous chemical identification, pharmaceutical quality control, and airport security screening, which is propelling the market. These spectrometers, which have a very low rate of false alarms for non-metallic containers and offer outstanding detecting capabilities, are often used in airports. Raman analyzers also allow for the fast identification of substances that are contained in sealed, opaque containers, including explosives, pharmaceuticals, dangerous industrial chemicals, chemical warfare agents, and other substances. They are frequently used in the detection of hazardous compounds and incident response. The market for Raman spectroscopy is growing as a result of the usage of these spectroscopes in EOD, hazmat response, law enforcement, CBRN, and parcel screening at customs, ports, and borders.
Recent Developments:
In June 2021, SCIEX introduced a brand-new precise mass LC-MS/MS apparatus ZenoTOF 7600. This innovation will help accelerate the creation of novel precision diagnostics and biotherapeutics while resolving actual analytical problems.
Major Key Players:
Yokogawa Electric Corporation
Thermo Fisher Scientific, Inc.
Shimadzu Corporationth
Sartorius AG
Kett Electric Laboratory
Kaiser Optical Systems, Inc.
HORIBA Ltd.
Foss
Danaher Corporation
Bruker
Agilent Technologies, Inc.
Market Segmentation:
By Technology
Atomic Spectroscopy
Mass Spectroscopy
Molecular Spectroscopy
NIR
FT-IR
Raman
NMR
Others
By Component
By Application
Polymer
Pharmaceuticals
Water & Wastewater Management
Pulp & Paper
Oil & Gas
Metal & Mining
Chemical
Food & Agriculture
Others
Buy this Research Report@ https://www.precedenceresearch.com/checkout/2740
You can place an order or ask any questions, please feel free to contact at sales@precedenceresearch.com | +1 9197 992 333