The global process spectroscopy market size accounted for USD 20.58 billion in 2022 and it is expected to hit around USD 41.21 billion by 2032, poised to grow at a CAGR of 7.19% from 2023 to 2032.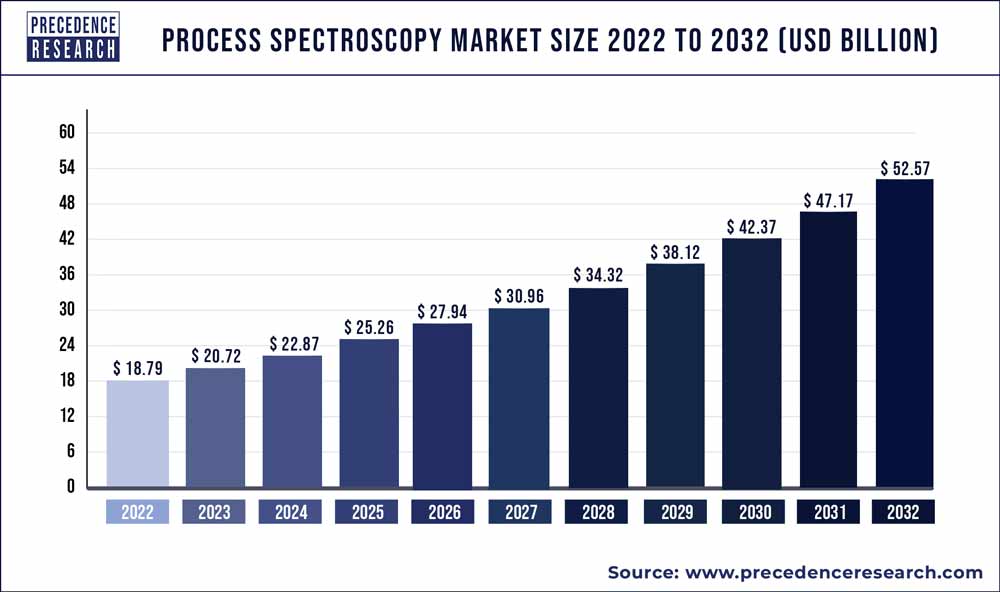 Key Takeaways:
North America generated more than 45% of the revenue share in 2022
By technology, the molecular spectroscopy segment dominated the market and generated more than 46% of the revenue share in 2022.
By component, the hardware segment captured more than 78% of revenue share in 2022.
By application, the pharmaceutical segment contributed more than 32% of revenue share in 2022.
The process spectroscopy market refers to the use of spectroscopic techniques to monitor and control chemical and physical processes in various industries such as pharmaceuticals, food and beverage, oil and gas, and chemicals. Process spectroscopy involves the use of instruments such as spectrometers, sensors, and software to analyze the composition and characteristics of materials in real-time during production processes. This information is used to optimize process conditions, improve product quality, and reduce waste and energy consumption. The market for process spectroscopy is driven by the increasing demand for quality control and process optimization in various industries.
The pharmaceutical industry, in particular, has seen significant growth in the adoption of process spectroscopy due to regulatory requirements for process monitoring and control. Other factors driving the market include the increasing use of spectroscopy in food and beverage processing, the development of advanced spectrometer technologies, and the increasing focus on sustainable production practices. It has become one of the best techniques for analyzing finalized products owing to its various beneficial features. Processes that use spectroscopy can save time and money by lowering the overall cost of monitoring operations, among other things. Increasingly, process spectroscopy is being used in the medication safety process, in the demand for reliable water and wastewater treatment, and in the expansion of oil and gas process operations. Growing consumer awareness of the value of high product quality has a positive impact on the growth of the worldwide process spectroscopy market. Consequently, one of the main factors contributing to the increased use of process spectroscopy in the global market is the rising demand for products of higher quality.
Report Scope of the Process Spectroscopy Market
| | |
| --- | --- |
| Report Coverage | Details |
| Market Size in 2023 | USD 22.06 Billion |
| Market Size by 2032 | USD 41.21 Billion |
| Growth Rate from 2023 to 2032 | CAGR of 7.19% |
| Largest Market | North America |
| Fastest Growing Market | Asia Pacific |
| Base Year | 2022 |
| Forecast Period | 2023 to 2032 |
| Segments Covered | By Technology, By Component and By Application |
| Regions Covered | North America, Europe, Asia-Pacific, Latin America and Middle East & Africa |

Growth Factors:
There are following factors which are expected to boost the sterilization pouch market growth:-
Rising focus on achieving international quality standards
Rising focus towards avoiding variable rework and scrap costs
Pharmaceuticals and healthcare to drive the market demand
Key Market Drivers:
Rising focus on achieving international quality standards
To satisfy international standards of quality like ISO or Six Sigma certification, several industries around the world, including pharmaceuticals, food and beverage, agriculture, pharmaceutical, and chemical are attempting to improve the quality of their product. Nowadays, there are over 162 standard groups that represent ISO in different countries. Additionally, more than 150 firms claim to have used Six Sigma frameworks for operations successfully, according to Six Sigma data.
Both production and the corporate operations of goods within an industry are subject to these certifications. High-quality packaged meals, medicines, chemicals, and agricultural seeds are becoming more and more in demand among consumers. These elements are therefore anticipated to grow the process spectroscopy market globally throughout the course of the forecast period.
Rising focus towards reducing variable rework and scrap costs
The entire manufacturing process can be controlled and supervised by the product makers with the help of process spectroscopy. The raw material's quality is evaluated and tested using spectroscopy, and quality checks are carried out at each stage of production. This helps product creators analyse and predict the quality of the finished product, especially those working in the chemical, pharmaceutical, and food industries. Manufacturing is stopped at any steps where the results are unfavourable. By doing this, less scrap and rework are produced at the end of the process. Also, it shortens the time to market by lowering the cost of keeping big stockpiles. These elements are therefore anticipated to grow the process spectroscopy market globally throughout the course of the forecast period.
Rising usage of spectrometers for biopharmaceutical and life science application
To measure intracellular ion concentrations, examine molecular rotation, and precisely regulate sample temperatures for protein and peptide analysis, fluorescence spectroscopy is widely used. The market is being driven by an increase in the use of various spectroscopic technologies for a variety of life science applications. These life science applications include characterising bio-labels for live cell imaging, GPCR oligomerization, bacterial strain detection, platelet response analysis using cellular signalling, analysis of changes in protein tertiary structure, and testing thermal stability of pharmaceuticals and biocatalysts.
In order to maintain a competitive advantage in the market, major competitors in the process spectroscopy space are constantly creating cutting-edge spectrometers. For instance, in November 2021 at the American Society for Mass Spectrometry (ASMS) Symposium on Mass Spectrometry and Associated Subjects, Pennsylvania, U.S., Thermo Fisher Scientific Inc. introduced new-generation mass spectrometry instruments, procedures, and software. Orbitrap Exploris MX mass detector, which enables biopharmaceutical laboratories to adopt multi-attribute method (MAM) and perform intact analysis of monoclonal antibodies, oligonucleotide mass determination, and peptide mapping, was a component of the launched device.
Key Market Challenges:
There are following factor which can restrain the market from growing
Huge capital investment and lack of skilled labour
High Cost of Sterilization Pouches
Huge capital investment and lack of skilled labour
The cost of implementing process spectroscopy can be high, which can be a challenge for small and medium-sized enterprises. Manufacturers of spectroscopes demand high prices for these devices, which restricts their availability. The total cost is increased by the spectroscope's high maintenance and operational requirements. These elements are therefore anticipated to restrain the demand for process spectroscopy over the forecast period.
Professionals with the necessary education and expertise are needed to handle and operate spectroscopes. If workers lack the necessary training, it will be more expensive to supply it. Therefore, during the course of the forecast period, these factors are anticipated to restrain the expansion of the global process spectroscopy market.
Key Market Opportunities:
The sterilization pouch market presents several opportunities for growth and expansion in the coming years. Here are some of the key opportunities:
Growing demand from emerging markets
Advancements in Packaging Technology
Growing demand from emerging markets
The market is being driven by an increase in the use of Raman spectroscopy for field hazardous chemical identification, pharmaceutical quality control, and airport security screening. Airports frequently use these spectrometers, which offer remarkable detection capabilities with a very low rate of false alarms for non-metallic containers. Raman analyzers also make it possible to quickly identify substances such as explosives, drugs, hazardous industrial chemicals, chemical warfare agents, and other substances in sealed, opaque containers. They are widely utilized in incident response and the identification of dangerous chemicals.
Due to the use of these spectroscopes in hazmat response, EOD, CBRN, law enforcement, and parcel screening at customs, ports, and borders, the market for Raman spectroscopy is expanding.
To stay competitive, major market companies are making significant investments in R&D for Raman spectrometers and releasing cutting-edge products on the market. For instance, Timegate Instruments Ltd. will introduce the PicoRaman M3, a third-generation instrument that combines actual fluorescence rejection with patented time gated raman technology, in June 2022.
The benefits of this device include its widespread use for non-destructive analysis and its ability to monitor highly specific compounds quickly and continuously in real-time online. The PicoRaman M3 spectrometer is also used in research and process sectors, such as the biopharmaceutical industry, to track bioprocesses and determine nutrients.
Development of portable and handheld devices
The development of portable and handheld devices for process spectroscopy is a significant growth opportunity. These devices would allow for real-time monitoring of processes in the field, making them ideal for applications such as environmental monitoring and food safety.
Segments Insight:
Technology Insights:
Based on technology, the process spectroscopy market is segmented into mass, atomic, and molecular spectroscopy. Molecular spectroscopy is further divided into nuclear magnetic resonance (NMR), near infrared (NIR), Fourier-transform infrared (FT-IR), and Raman technology. Molecular spectroscopy devices are being increasingly miniaturized, and advancements in Raman technologies are predicted to fuel market expansion. increased demands in the chemical industries and petrochemical, as well as rising standards in the pharmaceutical and life sciences sectors.
Furthermore, mass spectrometry has become a potent analytical tool used in the pharmaceutical and medical life sciences. Mass spectrometry is used in the drug research and development process of the pharmaceutical business, which results in liquid chromatography-mass spectrometry having improved performance in pharmacodynamics, drug metabolism, and pharmacokinetic investigations.
Component Insights:
On the basis of component, process spectroscopy market is segmented into hardware and software. The hardware segment held the greatest process spectroscopy market share in 2022 and is expected to retain its dominance during the forecast period whereas software segment anticipated to witness the highest CAGR. To create the finished result, the makers of spectroscopic equipment can design their own product or put the parts together. Thermo Fisher Scientific, Inc., Danaher Corporation, and Agilent Technologies, Inc. are a few of the top competitors.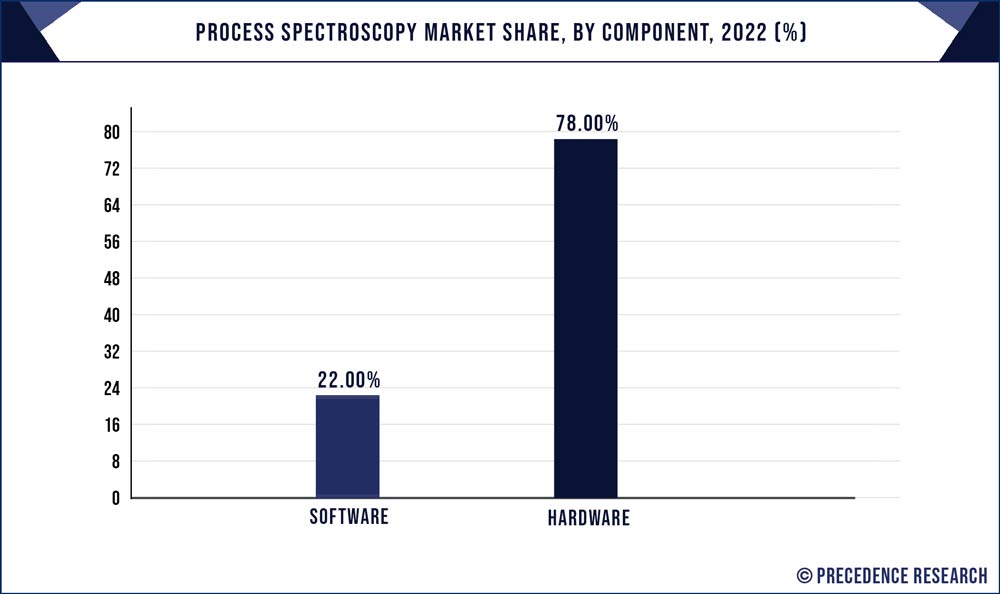 In addition to standard solutions, the businesses provide their clients with analytical tools for data storage and analysis. The GRAMS Spectroscopy Software suite is available from Thermo Fisher Scientific, Inc. to collaborate on data sets and analyse the data sets. Hardware.
The light sources, spectrometers, analyzers, accessories, and systems that are being used in process spectroscopy. Software: Software used in process spectroscopy includes tools for spectrum analysis, Linux drivers, pro-tools for spectroscopy, and other things. The cost of spectrometers is heavily influenced by the cost, accessibility, and quality of the raw materials and manufactured components.
Application Insights:
On the basis of application, process spectroscopy market is further bifurcated into polymer, pharmaceuticals, pulp & paper, water & wastewater management, oil & gas, chemical, metal & mining, food & agriculture, and others. The pharmaceuticals segment held the greatest process spectroscopy market share in 2022 and is expected to retain its dominance during the forecast period.
The water & waste water and food & agriculture segments are expected to grow at a highest rate. To lessen and combat the effects of untreated wastewater on the environment, numerous new wastewater treatment plants (WWTP) have been constructed in recent years. To lower the level of wastewater contamination, the complex operations of WWTPs require ongoing monitoring.
Regional Insights:
On the basis of geography, North America accounted for the largest revenue share of the process spectroscopy market in 2022 and is expected to dominate the market during the forecast period. The market is witnessing the significant growth in North America owing to the rising production of shale gas in the U.S. and Canada. The region has the potential for investments in a variety of technical advancements and is well-equipped with the infrastructure for varied R&D across all the major industrial sectors, including food and beverage, pharmaceutical, and chemicals.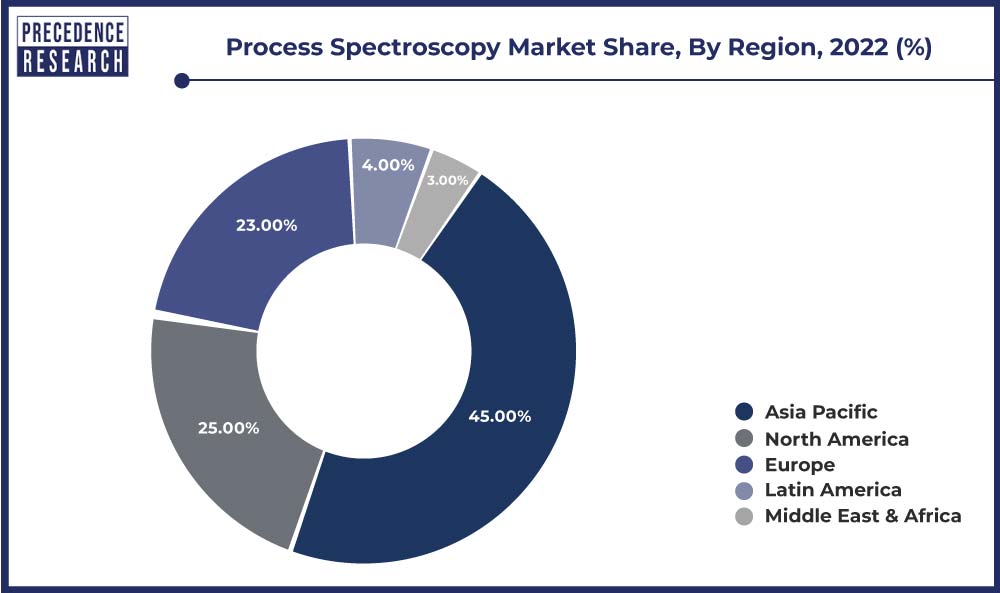 Asia Pacific is expected to have the fastest growth during the forecast period owing to its developed R&D processes and strong manufacturing hub. The use of spectroscopic technologies for the extraction, processing, and distribution of oil and gas in these nations has led to a rise in the use of spectroscopy tools and techniques, which is fuelling the market size at a significant rate. All these variables have greatly boosted the use of spectroscopic techniques, aiding in regional development.
Key Industry Developments:
March 2020 - Thermo Fisher Scientific introduces software and analytical equipment to Streamline Laboratory Operations. Thermo Scientific's new Vanquish Core HPLC Systems boost the Vanquish platform's performance and offer a solution that will increase productivity in everyday laboratories. The Vanquish Core HPLC System is built to maintain constant throughput of reliable results, from automatically monitoring and identifying solvent and waste levels with the Vanquish Solvent Monitor through continuous background monitoring of system health.
August 2020 - Shimadzu Corporation and HORIBA's Raman spectrometers reached a fundamental agreement to start working together on the development and marketing of LC-Raman analytical and measuring devices..
June 2021 - ZenoTOF 7600 system is a brand-new precise mass LC-MS/MS apparatus from SCIEX, a leader in life science analytical technology. By producing data that was previously unachievable, the new method enables scientists to characterise, identify, and quantify molecules better than ever before. This innovation will help accelerate the creation of novel precision diagnostics and biotherapeutics while resolving actual analytical problems.
Key Market Players:
Yokogawa Electric Corporation
Thermo Fisher Scientific, Inc.
Shimadzu Corporationth
Sartorius AG
Kett Electric Laboratory
Kaiser Optical Systems, Inc.
HORIBA Ltd.
Foss
Danaher Corporation
Bruker
Agilent Technologies, Inc.
Segments Covered in the Report:
(Note*: We offer report based on sub segments as well. Kindly, let us know if you are interested)
By Technology
Atomic Spectroscopy
Mass Spectroscopy
Molecular Spectroscopy

NIR
FT-IR
Raman
NMR
Others
By Component
By Application
Polymer
Pharmaceuticals
Water & Wastewater Management
Pulp & Paper
Oil & Gas
Metal & Mining
Chemical
Food & Agriculture
Others
By Geography
North America
Europe
Asia-Pacific
Latin America
The Middle East and Africa