The global pulse oximeters market size surpassed USD 2.1 billion in 2022 and is projected to rise to USD 5.13 billion by 2032, anticipated to grow at a strong CAGR of 9.40 percent during the projection period from 2023 to 2032.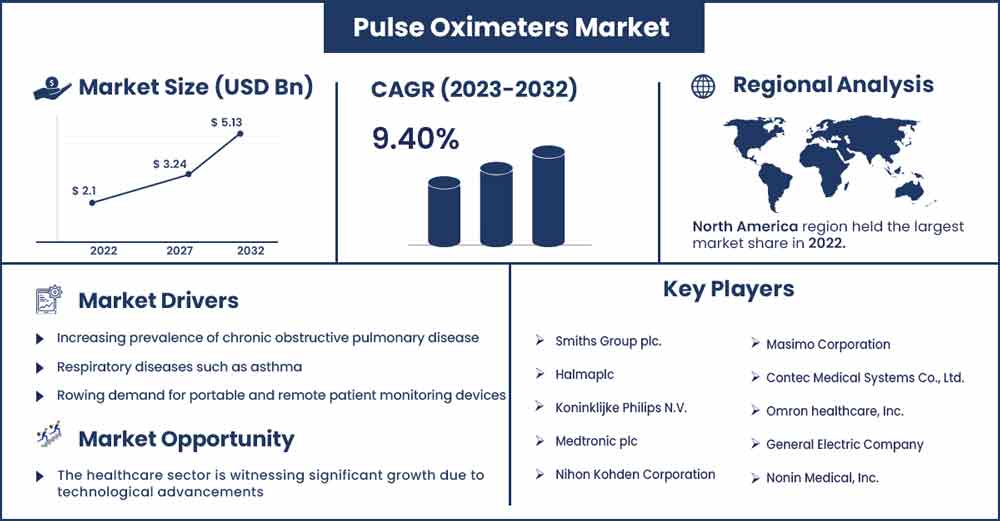 Market Overview:
The pulse oximeters market offers dedicated solutions for the healthcare industry in the form of medical devices that are used to measure oxygen saturation level and pulse rate noninvasively. These devices are commonly used in medical settings as well as by individuals for personal health monitoring. The rise in the incidence of cardiovascular and respiratory disorders, the increase in demand for minimally invasive devices will be seen. Moreover, the creation of new pulse oximeters by several key players are the main factor driving the growth of the worldwide pulse oximeters market.
Regional Snapshot:
North America is expected to hold the largest share of the market throughout the forecast period. Large patient population, significant healthcare needs, advanced healthcare infrastructure and higher adoption of medical technologies are a few factors to support the market's growth in North America. In addition, the strong support from the medical industry and government for the adoption of advanced medical devices promotes the growth of the market.
Asia Pacific is expected to witness the fastest rate of growth during the forecast period. The emerging healthcare sector along with substantial advancements in medical devices supplement the market's growth in Asia Pacific. The rising investment in the development of advanced medical devices also promotes the market's growth.
Report Highlights:
By product type, the portable pulse oximeters market is expected to hold the largest share and expand profitably over the coming years. Due to the high prevalence of respiratory disorders, rising hospitalization rates, and more straightforward usage of mobile devices in emergencies, this category generates the most significant revenue share.
By end use, the home healthcare segment is expected to hold a significant growth during the forecast period. The rising demand for home-care settings, especially for the elderly population, promotes the growth of the segment.
Pulse Oximeters Market Report Scope:
| | |
| --- | --- |
| Report Coverage | Details |
| Market Revenue in 2023 | USD 2.28 Billion |
| Projected Forecast Revenue in 2032 | USD 5.13 Billion |
| Growth Rate from 2023 to 2032 | CAGR of 9.40% |
| Largest Market | North America |
| Base Year | 2022 |
| Forecast Period | 2023 to 2032 |
| Regions Covered | North America, Europe, Asia-Pacific, Latin America, and Middle East & Africa |

Market Dynamics:
Driver:
Rising demand for home-care settings for patients
The rising demand for home care settings is a significant driver for the pulse oximeters market, as more individuals are seeking to monitor health at home. Pulse oximeters are convenient and non-invasive devices that can measure oxygen saturation levels and pulse rate, making them suitable for home use. With the growing preference for home-based healthcare, the demand for pulse oximeters has increased leading to the expansion of the market.
Restraint:
Accuracy and reliability
The amount of hemoglobin that has been oxygenated in the blood is measured by pulse oximetry. However, it cannot determine whether enough blood is circulating through the tissues. Maintaining high levels of accuracy and reliability is crucial for pulse oximeters to gain trust among healthcare professionals and patients. Thus, the accuracy and reliability issues create a restraint for the pulse oximeters market to grow.
Opportunity:
Technological advancements
The healthcare sector is witnessing significant growth due to technological advancements in medical devices. One of the technological advancements in the sector is the development of low power-consuming oximeters. Low power technology's ultralow energy usage is intended to increase battery life. Healthcare facilities generally make sure they use a variety of low-power medical devices. Thus, the development of such devices will enhance the monitoring and management of patient conditions. Technology such as finger pulse oximeters, with a duration of up to 160 hours, has optimized energy usage. Hence, all such developments and advancements are observed to create an opportunity for the market to grow.
Challenge:
Availability of alternative devices
The availability of alternative health monitoring devices, such as wearables with pulse oximetry features, might have posed competition for traditional pulse oximeters. Consumers and healthcare facilities may become more price-sensitive, which could impact profit margins for manufacturers and retailers. This factor also forces healthcare providers to opt for another healthcare monitoring devices. Thus, the element creates a challenge for the market to grow.
Recent Developments:
In March 2023, a pioneer in pulse oximetry and cutting-edge noninvasive monitoring technologies launched the Masimo Freedom wristwatch as the newest member of its wearable product family. The Masimo Freedom smartwatch, created to revolutionize the wearable technology sector, allows you to control your well-being and privacy via accurate and ongoing health tracking. It also includes a revolutionary hardware feature intended to lessen radiation while protecting from privacy invasion.
In November 2022, Pulse oximeters should be modified, according to a United States Food and Drug Administration panel, since they might not provide reliable findings to persons of color. Pulse oximeters detect oxygen levels, but research has revealed that the small gadgets overstate oxygen levels in persons with darker skin, potentially exacerbating racial and ethnic health inequalities, according to the FDA.
In October 2022, Max Ventilator revealed plans to broaden its market by releasing sophisticated gadgets, including monitors, ECGs, and pulse oximeters. According to a news release from the firm, it has developed solutions that provide top-notch quality at a reasonable price.
Major Key Players:
Smiths Group plc.
Halmaplc
Koninklijke Philips N.V.
Medtronic plc
Nihon Kohden Corporation
Masimo Corporation
Contec Medical Systems Co., Ltd.
Omron healthcare, Inc.
General Electric Company
Nonin Medical, Inc.
Market Segmentation:n
By Product Type
Handheld Oximeters
Fingertip Oximeters
TabletopOximeters
By End-user
Ambulatory Surgical Centers
Hospitals
Home Healthcares
Buy this Research Report@ https://www.precedenceresearch.com/checkout/1036
You can place an order or ask any questions, please feel free to contact at sales@precedenceresearch.com | +1 9197 992 333