The global single-photon emission computed tomography (SPECT) market size exceeded USD 2.78 billion in 2022 and is expected to hold around USD 5.31 billion by 2032, expanding at a CAGR of 6.69% during the forecast period 2023 to 2032.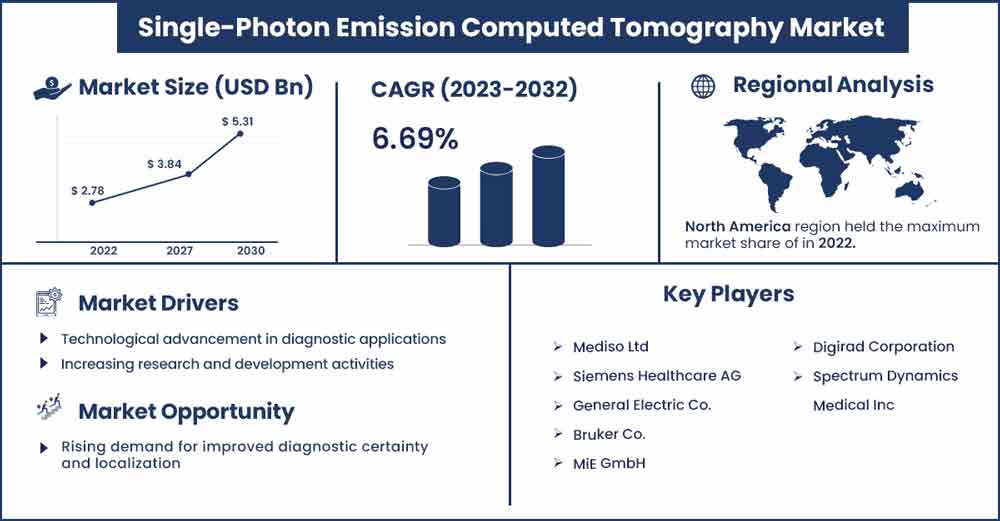 Market Overview:
An imaging examination that demonstrates how blood flows to tissues and organs is called a single photon emission computed tomography (SPECT) scan. Seizures, strokes, infections, stress fractures, and spinal tumors can all be identified with its aid. Medical imaging technology, single photon emission computed tomography (SPECT), is based on tomographic reconstruction techniques and traditional nuclear medicine imaging. Like positron emission tomography (PET), the pictures show helpful information about the patients. In contrast to other medical imaging modalities utilized for clinical diagnostic purposes, SPECT and PET offer data depending on the spatial concentration of administered radiopharmaceuticals.
Regional Snapshot:
The region of North America holds the largest share of the market. The rising number of cancer cases and the presence of prominent market players will lead to the market's growth. The increasing adoption of advanced medical imaging technologies and growing investments in the healthcare sector, along with the focus on early diagnosis and treatments to prevent the spread of different diseases, is another aspect leading to the increased adoption of medical imaging technologies in the region.
The Asia Pacific region is expected to experience the most substantial growth during the period forecast. It is due to the availability of government funds for developing pharmaceutical industries in the area. The market for pharmaceutical contract manufacturing in Asia-Pacific will experience the fastest growth due to the large population, low labor costs, relaxed regulations, abundant availability of raw materials, improved infrastructure, increased demand for generics, and increased production capacities.
Report Highlights:
Based on type, the hybrid SPECT systems segment is expected to be the most attractive segment of the market. As healthcare providers switch from standalone to hybrid modalities, the market for hybrid SPECT systems is anticipated to expand. New hybrid scanners and technological advancements aid the development. Oncologists still often employ standalone SPECT systems, but the quick spread of hybrid systems within healthcare facilities might curb their expansion.
By product, the single imaging gamma cameras segment holds the largest share of the market. Healthcare professionals continue to place a high value on single-imaging gamma cameras because of their ability to record static and moving pictures of specific body areas. High-quality images provided by SPECT/CT make it a useful diagnostic tool.
By application, the category with the highest revenue share is the cardiology market since more patients have heart-related illnesses, which has increased demand for SPECT scanners. The category is expanding as more people become aware of the need for cardiac checks and early diagnosis, which SPECT scanners aid. Additionally, the rise in cancer cases has increased the need for SPECT scanners that monitor the progression of the disease.
By end-user, due to rising healthcare costs, the high purchasing capacity of SPECT scanners, and cutting-edge imaging technology, the hospital sector leads the market. Specialty diagnostic facilities are the market category expanding at the highest rate, owing to increasing investment and qualified personnel.
Single-Photon Emission Computed Tomography Market Report Scope:
| | |
| --- | --- |
| Report Coverage | Details |
| Market Revenue in 2023 | USD 2.97 Billion |
| Projected Forecast Revenue in 2032 | USD 5.31 Billion |
| Growth Rate from 2023 to 2032 | CAGR of 6.69% |
| Largest Market | North America |
| Base Year | 2022 |
| Forecast Period | 2023 To 2032 |
| Regions Covered | North America, Europe, Asia-Pacific, Latin America, and Middle East & Africa |

Market Dynamics:
Driver:
Increasing research and development activities
Research and development activities explore new applications and clinical uses for SPECT imaging. By expanding the range of conditions and diseases that can be diagnosed and monitored using SPECT, researchers can create additional opportunities for the utilization of SPECT systems. This increased scope of applications can lead to higher demand for SPECT imaging, stimulating market growth. R&D efforts lead to technological advancements in SPECT imaging systems, including improvements in image quality, resolution, sensitivity, and acquisition speed. These advancements make SPECT a more reliable and efficient imaging modality, enhancing its diagnostic capabilities. As a result, healthcare providers are more likely to adopt SPECT systems, thereby driving market growth.
Restraint:
Availability of alternative imaging techniques
SPECT imaging requires specialized equipment and expertise, which may not be readily available in all healthcare facilities. This can result in limited access to SPECT imaging services, particularly in rural or underdeveloped areas. Patients in these regions may face challenges in accessing SPECT scans, leading to delayed or inadequate diagnosis and treatment. SPECT competes with other advanced imaging modalities such as positron emission tomography (PET) and magnetic resonance imaging (MRI). PET offers higher resolution and sensitivity, while MRI provides excellent anatomical detail. These alternative imaging techniques may be preferred in certain clinical scenarios, limiting the demand for SPECT scans.
Opportunity:
Rising demand for improved diagnostic certainty and localization
The enhanced localization and diagnostic accuracy for a broad range of applications is the main benefit of SPECT/CT. The seamless capture of functional and anatomical imaging data results in additional benefits for patients and doctors. SPECT/CT reduces logistical delays, which enhances picture attenuation correction. The instantaneous accessibility of supplementary picture data is a benefit. As the awareness for early and raid diagnosis increases, the demand for improved diagnostic methods is growing simultaneously. This requirement in the healthcare sector is observed to offer a plethora of opportunities for the market by growing the implementation and application of SPECT systems.
Challenge:
The risk of inaccurate estimation of blood flow
The capacity of single photon emission computed tomography (SPECT) to detect multiple vessels and microvascular coronary artery disease is limited. Measuring myocardial flow reserve (MFR) and absolute myocardial blood flow (MBF) is possible using gamma cameras equipped with cadmium zinc telluride detectors. However, there is little to no proof of its repeatability and little evidence of its accuracy. So, the systems are sometimes prone to offer inaccurate estimation of blood flow, this element creates a challenge for the market's growth by limiting the users' acceptance of the technology.
Recent Developments:
In May 2023, The CT 3500, a brand-new computed tomography (CT) system from Philips, was launched that includes several AI-powered capabilities to improve picture quality and boost radiology workflow efficiency. Precise Position, a component of the CT 3500 device that automates patient orientation decisions, is one of its critical components for enhancing radiology processes. According to Philips, this innovation can save the time it takes to place a patient by up to 23% while also improving positioning accuracy by 50%.
In June 2022, as per Siemens Healthineers, the Symbia Pro.spectaTM SPECT/CT Scanner received 510(k) approval from the Food and Drug Administration (FDA). The single-photon emission computed tomography/computed tomography (SPECT/CT) system was introduced by Siemens Healthineers at the Molecular Imaging (SNMMI) 2022 Annual Meeting and Society of Nuclear Medicine. The company claims it delivers cutting-edge imaging technology. One of the main advantages is the capacity to capture up to 64 low-dose CT slices to provide detailed picture quality, as is automatic SPECT motion correction.
Major Key Players:
Mediso Ltd
Siemens Healthcare AG
General Electric Co.
Bruker Co.
MiE GmbH
Digirad Corporation
Spectrum Dynamics Medical Inc
Market Segmentation:
By Type
Standalone SPECT Systems
Hybrid SPECT Systems
By Product
Single Imaging Gamma Cameras
SPECT/CT
By Application
Cariology
Oncology
Neurology
Others
By End-User
Hospitals
Ambulatory Surgical Centers
Diagnostic Centeres
Buy this Research Report@ https://www.precedenceresearch.com/checkout/2591
You can place an order or ask any questions, please feel free to contact at sales@precedenceresearch.com | +1 9197 992 333