The global technical insulation market size surpassed USD 7.79 billion in 2022 and it is expected to rake around USD 10.51 billion by 2032, poised to grow at a CAGR of 3.10% from 2023 to 2032.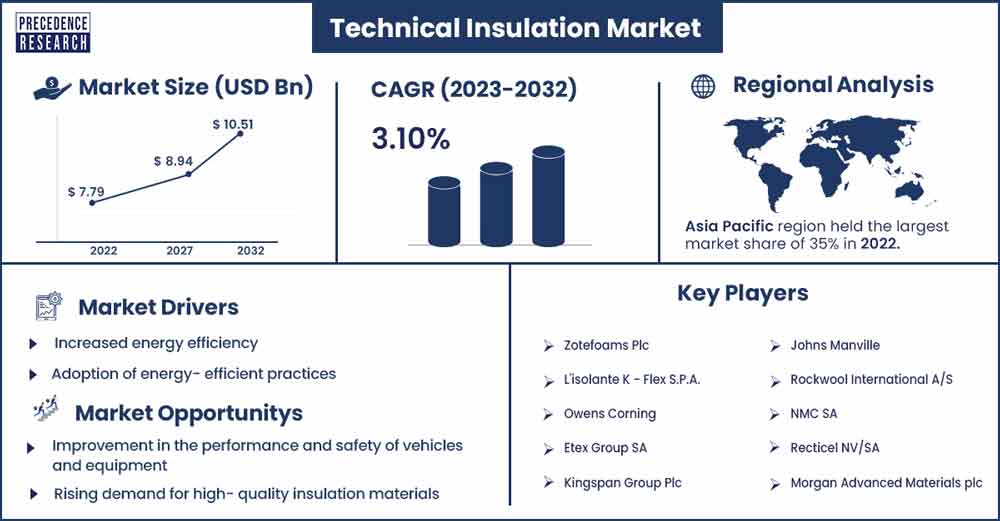 Market Overview
The industry that provides products and services to lessen heat transfer, regulate temperature, and manage energy efficiency in various applications, such as buildings, industrial facilities, and transportation, is called the technical insulation market that includes multiple items, including insulation, coatings, and systems that shield buildings and machinery from temperature changes, moisture, and other environmental elements. The market provides services to industries like manufacturing, transportation, and construction to improve energy efficiency, security, and sustainability in various contexts.
The need for environmentally friendly insulation materials has increased as the importance of green building techniques and sustainable construction has grown. Increased consumer uptake has been observed for products with great energy efficiency and minimal environmental impact, including those manufactured from recycled or renewable materials. Government rules and initiatives to reduce energy use and greenhouse gas emissions have considerably driven the technical insulation market.
In August 2023, Holcim purchased Cooper Standard Technical Rubber GmbH (CSTR). CSTR, based in Mannheim, Germany, has 130 skilled workers, a cutting-edge production facility, and an innovative R&D division that will help Holcim's roofing business expand throughout Europe.
The increase has been attributed to the requirement for increased insulation levels in both commercial and residential structures in building rules and standards. Innovations in insulation materials and manufacturing techniques have enhanced the efficacy and adaptability of technical insulation solutions. These developments have produced more effective and affordable solutions, drawing on a broader consumer base.
Businesses and homes are becoming increasingly aware of the value of good insulation to reduce heating and cooling costs due to rising energy rates. As a result, the need for technologically improved insulating materials has increased. It is becoming more popular to use insulation materials, such as non-toxic and inflammable materials, that adhere to strict health and safety regulations. This is especially crucial in situations where safety is essential, including in industrial settings.
The demand for insulation has increased across several industries, including production, petrochemicals, and power production, due to rising economies' rapid urbanization and industrialization. This pattern is undeniable in areas with rapid economic expansion. Energy-efficient construction solutions have come under focus due to growing worries about climate change and lowering carbon emissions. In accordance with international efforts to address climate change, technical insulation helps reduce heat loss and the energy needed for heating and cooling.
In September 2023, Avery Dennison Performance Tapes has revealed the introduction of the newly created Volt Tough range of electrical insulating tape solutions. This cutting-edge selection of single-sided, electrically insulative film tapes is designed to address the issues with inadequate electricity insulation in EV battery packs.
Regional Snapshot
Asia Pacific is expected to dominate the global technical insulation market. In recent decades, the Asia Pacific area has experienced unprecedented levels of urbanization and industrialization, which has increased demand for building supplies and insulation products, notably in nations including China, India, South Korea, and Singapore, among others.
The rate of industrialization in India has witness a shift of 5.2% in May 2023, the rising industrialization in the country is observed to supplement the market's expansion in the upcoming period.
Governments in Asia Pacific have been making significant investments in infrastructure projects, such as transportation, which call for high-tech insulation materials for thermal and acoustic reasons, creating a sizable market for technical insulation. Because of reasons including population increase, economic development, and government initiatives, the building industry in Asia and the Pacific has been expanding significantly. This has resulted in a high demand for insulating materials in residential and commercial construction projects.
There has been a shift toward adopting insulating materials that aid in lowering energy consumption in buildings and industrial facilities as environmental issues and the need for energy conservation become more widely understood. The demand for technological insulation solutions has increased due to this trend. Research and development initiatives to produce cutting-edge insulating materials have grown. The demand for technical insulation is further increased by these technologies' capacity to meet specific requirements, including fire resistance, moisture control, and sustainability. The top four countries that deal with the technical insulation market are China, India, South Korea, and Japan.
Technical Insulation Market Report Scope
| | |
| --- | --- |
| Report Coverage | Details |
| Market Revenue in 2023 | USD 7.99 Billion |
| Projected Forecast Revenue by 2032 | USD 10.51 Billion |
| Growth Rate from 2023 to 2032 | CAGR of 3.1% |
| Largest Market | North America |
| Base Year | 2022 |
| Forecast Period | 2023 to 2032 |
| Regions Covered | North America, Europe, Asia-Pacific, Latin America, and Middle East & Africa |

Market Dynamics
Drivers
Fluctuating energy costs
Rising energy costs for businesses and industries strongly encourage increased energy efficiency. One of the main ways to accomplish this is with adequate insulation. It aids in reducing heat gain or loss in structures and industrial processes, reducing overall energy usage. Energy costs may fluctuate in an unpredictably wide range due to economic reasons, including inflation, currency changes, and geopolitical events.
Further highlighting the need for technical insulation, industries require solutions that deliver consistent energy savings despite these unstable conditions. Industries are working to lessen their carbon impact in response to rising environmental awareness. Effective insulation makes reduced reliance on heating, cooling, and other energy-intensive operations possible, which makes a considerable contribution to this objective. Energy price fluctuations magnify the financial advantages of eco-friendly insulating techniques.
Adoption of energy-efficient practices
Technical insulation plays a critical role in developing renewable energy, including wind, solar, and geothermal projects, by improving the effectiveness and performance of energy generation and storage systems. International attempts to minimize energy usage have been sparked by growing worries about climate change and the need to counteract its effects. Energy efficiency in buildings and industrial operations is now required by strict standards and norms established by governments and regulatory agencies worldwide.
Businesses understand that investing in energy-efficient measures, such as superior technical insulation, can result in significant long-term returns. The long-term savings of cutting energy use outweigh the short-term expenditures. The development of highly effective, lightweight, and lasting insulating solutions has been made possible by ongoing innovation in insulation materials and technology, expanding the variety of applications and the performance of technical insulation.
Restraints
Regulatory compliance and standards
Technical insulation products and installation procedures are subject to strict regulations by regulatory agencies. These specifications guarantee that items adhere to stringent quality, toughness, and safety requirements. As an illustration, the National Fire Protection Association (NFPA), ASTM International, and ASHRAE all create standards for insulating materials in various industries in the United States.
Regulations governing occupational safety and health control how insulating materials are handled, installed, and disposed of. Workers are safeguarded against potential risks by complying with regulations on particular installation techniques or materials. Due to their adverse environmental effects, many materials are subject to tight laws in many places. For instance, asbestos-based insulation has been subject to severe regulation and limitations due to its link to health risks.
Skilled labor shortage
There is no one-size-fits-all approach to technical insulation. For the insulation to work at its best, each industry has specific standards that must be met. Skilled workers are required to evaluate these needs and carry out exact installations. A lack of insulation may result in inefficiencies, higher energy costs, or even safety risks. Skilled workers must ensure the insulation is done correctly and will function efficiently over time. Technical insulation installation calls for a specific skill set. The workers must understand the materials, their characteristics, and the specialized applications for various industries. Frequently, this information necessitates years of experience and training.
Opportunities
Improvement in the performance and safety of vehicles and equipment
Energy-efficient cars and equipment are in greater demand as sustainability and minimizing environmental effects become increasingly important. Technical insulation is essential in attaining this objective and improving the system's overall energy efficiency by reducing heat absorption or loss. As a result, emissions and fuel consumption are decreased, supporting international efforts to address climate change. Consumer desire for quieter automobiles is growing in the automotive sector. Thermally insulating and effective sound barriers are provided by technical insulation materials. They improve passenger and operator comfort by attenuating vibrations and lowering noise levels, resulting in a better user experience.
Rising demand for high- quality insulation materials
Rising environmental concerns, especially climate change, have sparked a trend towards sustainable manufacturing and building techniques. High-quality insulating materials lessen greenhouse gas emissions and assist in reducing energy usage for heating and cooling. The global construction industry is continuously increasing activity, particularly in emerging economies. The need for advanced insulation materials is driven by increased construction projects and the requirement to meet energy efficiency regulations. The technical insulation market allows businesses to differentiate themselves through innovation and customization. This may entail discovering unique solutions for challenging insulating problems or producing specialized materials for sectors.
Recent Developments
In May 2023, Keta Spire KT-857 is a brand-new polyetheretherketone (PEEK) extrusion compound that Solvay explicitly developed for copper magnet insulation of wires in electric motors. The shift by OEMs toward higher-density packs and electric powertrains running at 800V or more to alleviate consumers' range anxiety served as the impetus for creating the specially developed insulating material.
In March 2023, British Gas recently unveiled new electric vehicles, solar energy, home energy efficiency, and insulation services to assist consumers in hastening the process of decarbonizing their houses and reducing their energy costs. These are also available along with the current heat pump price guarantee and the newest smart home Hive technology, which enables consumers to control their energy usage and reduce their bill costs.
In March 2022, leading cement manufacturer ACC introduced ACC Airium, a thermal insulation and temperature control concrete system. The ACC Airium concrete system, which uses mineral foam-based insulating technology, is a long-lasting roofing solution that protects the surface during installation. It is offered at low densities, 300 kg/m3 and higher.
Major Key Players
Zotefoams Plc
L'isolante K - Flex S.P.A.
Owens Corning
Etex Group SA
Kingspan Group Plc
Johns Manville
Rockwool International A/S
NMC SA
Recticel NV/SA
Morgan Advanced Materials plc
Unifrax I LLC
Armacell International S.A.
Aspen Aerogels, Inc.
Knauf Insulation
Saint-Gobain
Palziv Inc.
Market Segmentation
By Type
Cold-Flexible Insulation
Hot Insulation
Cold-Rigid Insulation
By Application
HVAC
Heating & Plumbing
Refrigeration
Acoustic
By End-Use
Energy
Industrial & OEM
Commercial Buildings
Buy this Research Report@ https://www.precedenceresearch.com/checkout/1123
You can place an order or ask any questions, please feel free to contact at sales@precedenceresearch.com | +1 9197 992 333