The global thermal camera market size was evaluated at USD 2.16 billion in 2022 and is expected to attain around USD 7.91 billion by 2032, growing at a CAGR of 13.86% from 2023 to 2032.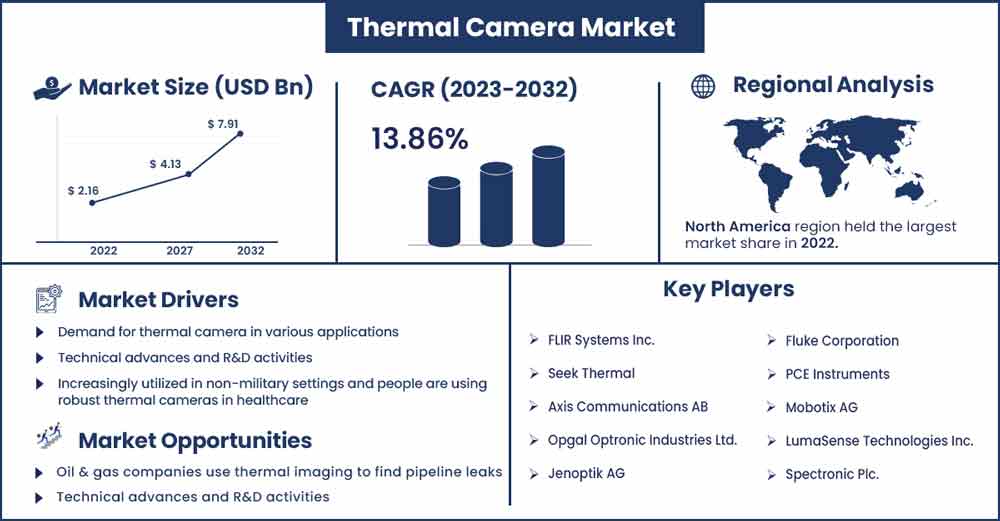 A thermal camera is a non-contact piece of equipment that uses infrared light to detect heat and create images for photography. The increasing need for thermal cameras in the automotive and healthcare sectors is predicted to drive the worldwide market growth for thermal cameras. Rising demand for sophisticated thermal imaging solutions in end-use sectors including the healthcare & life science sector and the military & defense sector is propelling the market forward.
Using a thermal camera and infrared (IR) radiation that an object emits, thermal imaging captures the image of the object. Images are produced using thermal imagers without the need of visible light. Despite the fact that heat and light both belong to the electromagnetic spectrum, a camera that can detect visible light cannot also detect thermal energy. Thermal cameras gather IR radiation, which is then converted into analog or digital video outputs to create images. Thermo cameras are currently commonly utilized for tasks including firefighting, autonomous cars & automated braking, skin temperature screening, industrial inspections, scientific research, and building inspections. They were originally developed for surveillance and military activities (insulation, insulation, moisture, roofing, and others).
Report Highlights:
The market for portable thermal cameras is estimated to grow at the fastest rate throughout the forecasted period. The rising need for these tools to measure body temperature and for other healthcare-related applications has led to an increase in the demand for these cameras as well.
The sector of cooled thermal cameras will hold the biggest market share. Because of their high capture rate and wide thermal isolation band, thermal imaging systems with cooled detectors are expected to see fast adoption throughout the projected period.
Healthcare and life sciences will be the sector of the economy with the greatest CAGR. Researchers and healthcare institutions all around the world use thermal cameras to track and record changes in skin temperature for diagnostic purposes.
Due to the growing need for thermal imaging technology in the manufacturing and commercial sectors, North America is predicted to have the largest market share. Additionally, it is projected that the military and defense sector's increasing need for these cameras for security and surveillance applications would positively impact the market's growth in North America.
Regional Snapshots:
Due to the technical developments that have been noticed in this specific industry, North America has emerged as the region with the greatest market. Another important factor contributing to the market's expansion is the presence of big players in this area. The government's significant expenditure in military and defense has been identified as a key factor in the expansion of the thermal imaging industry.
Because of recent developments in the military field, the Asia Pacific area has also proven to be a sizable market for this technology.
Thermal Camera Market Report Scope:
| | |
| --- | --- |
| Report Coverage | Details |
| Market Revenue in 2023 | USD 2.46 Billion |
| Projected Forecast Revenue in 2032 | USD 7.91 Billion |
| Growth Rate from 2023 to 2032 | CAGR of 13.86% |
| Largest Market | North America |
| Base Year | 2022 |
| Forecast Period | 2023 To 2032 |
| Regions Covered | North America, Europe, Asia-Pacific, Latin America, and Middle East & Africa |

Market Dynamics:
Drivers:
The rising demand from all major sectors is driving the rapid growth of the global thermal camera market. Additionally, the market is expanding as a result of the rapid improvements in thermal imaging and expanding applications in the fields of defense, homeland security, healthcare, and business. Blind spots can be removed, blind spots can be detected that conventional cameras would miss, and assisted driving systems can perform better thanks to thermal imaging technology. These cameras are perfect for tough working environments including electric utilities, petrochemical industries, and metallurgy because they provide high-quality, lightning-fast photos.
By enhancing vision for drivers in poor lighting and severe weather, thermal cameras are used in the automobile sector to lower accidents and preserve safety. The automotive sector is collaborating with providers of thermal imaging systems to develop cutting-edge thermal imaging technologies. For instance, Magnetic Marely, an Italian researcher and producer of high-tech automotive components, and the Viper thermal detection camera. Thermal imaging technology is also utilized for non-destructive testing of automobile components including tires, brakes, and micro-components in order to assure vehicle safety while saving time and money.
Restraints:
Breast cancer, diabetic neuropathy, and peripheral vascular disorders have all been effectively diagnosed using immunoreactive trypsinogen (IRT). With the use of an infrared camera, problems in brain imaging, gynecology, cardiology, neonatology, fever detection, and kidney transplantation can be identified (also known as a thermal imager). An electronic representation of the item being measured that shows the apparent surface temperature is created from the infrared data by the camera. Due to a defect in the thermal camera, it is difficult to comprehend photos of objects with changing temperatures. Accurate temperature measurement is challenging due to surface reflections and emissivity fluctuations. Thermal imaging cameras are not utilized to examine submerged things.
Opportunities:
Worldwide, the demand from consumers for thermal imaging solutions is rising quickly. The key driver of the market's expansion is mostly attributed to this rising demand. Healthcare and biological sciences, industry, the military, and other fields all require improved thermal imaging. The widespread use of advanced driver assistance technologies has been a key driver of growth for this specific business, which is predicted to continue expanding.
Wireless temperature sensors have been a key element that has allowed the sector to generate a sizable amount of money over time. Due to the numerous development prospects provided by the enhanced solutions provided to various sectors, the pandemic's onset had a significant influence on the thermal imaging market. With the aid of such cutting-edge technologies, it was simple to identify the fast rise in body temperature that was seen throughout the epidemic. With the aid of cutting-edge technologies created with the use of thermal imaging methods, the likely instances of infection were isolated from the general populace.
The system's integration of intelligent robots has made it easier to keep an eye on industrial plants' output. With the aid of technological technology, the need for a qualified staff has significantly decreased. With the use of this technology, the different guidelines established throughout the epidemic were adhered to.
Challenge:
During the projection period, a decline in defense spending from the nations with the greatest defense budgets is anticipated to impede market growth for robust thermal cameras. Countries with the greatest budgets are cutting their defense spending, despite the Middle East, Eastern Europe, and Asian nations increasing their defense spending. The usual cause of this is a decline in demand for robust thermal cameras as a result of the price of crude oil. Additionally, industrialized nations like the United States, Russia, Saudi Arabia, and others that make significant contributions to global defense spending have seen declines in their defense budgets. As a result, these factors are anticipated to limit market growth over the forecast period.
Recent Developments:
Ranger HDC MR, a high-definition mid-range piece of surveillance equipment, was introduced by FLIR Systems in March 2020. This system was primarily developed to identify various illegal activities in poor climatic conditions.
During the public health emergency caused by the corona virus sickness and the enforcement of tele thermographic devices, the US Food and Drug Administration published a new regulation. This strategy aims to increase the use of thermal imaging cameras and integrated solutions for medical applications during COVID 19-related public health emergencies.
Major Key Players:
FLIR Systems Inc.
Seek Thermal
Axis Communications AB
Opgal Optronic Industries Ltd.
Jenoptik AG
Fluke Corporation
PCE Instruments
Mobotix AG
LumaSense Technologies Inc.
Spectronic Plc.
Optris GmbH
Schneider Electric SE
DIAS Infrared GmbH
InfraTec GmbH
Ulirvision Technology Co. Ltd.
HikVision Digital Technology Co.
Micro-Epsilon
Caterpillar Inc.
Bullit Mobile Ltd.
3M Scott
Market Segmentation:
By Product
By Technology
By End Use
Military and Defense
Industrial
Commercial
Healthcare and Lifesciences
Residential
Automotive
Oil and Gas
Buy this Research Report@ https://www.precedenceresearch.com/checkout/2472
You can place an order or ask any questions, please feel free to contact at sales@precedenceresearch.com | +1 9197 992 333