The global video analytics market size was evaluated at USD 6.02 billion in 2022 and is expected to touch around USD 50.7 billion by 2032, growing at a noteworthy CAGR of 23.8% from 2022 to 2032.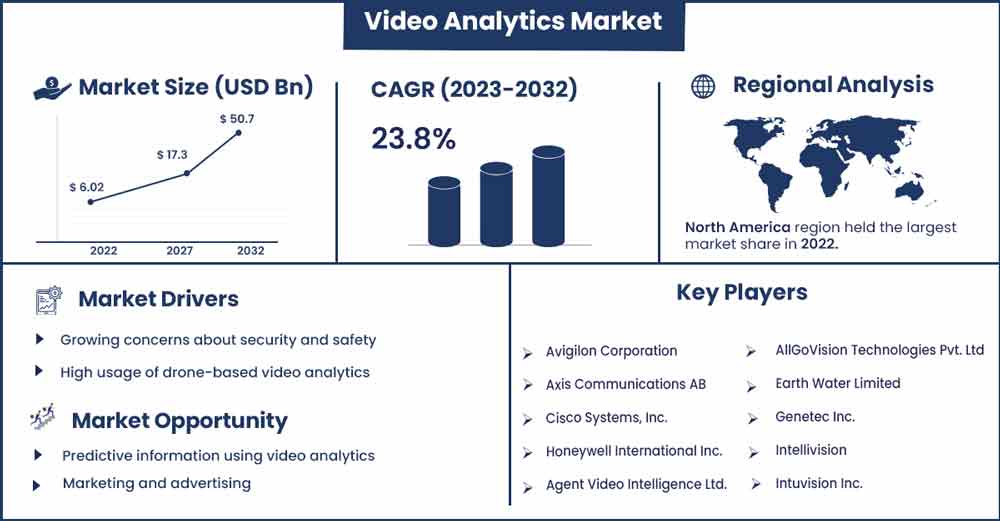 The general public's growing concerns about security and safety are the main elements fueling the expansion of the video analytics market. The expanding use of video analytics to reduce crime rates through prompt notifications of suspicious or unusual behavior is another significant factor driving the market.
Due to new features like improved accuracy, dependability, and cost-effectiveness as well as its growing significance in business intelligence, the demand for video analytics is rising.
Market Overview
Video content analytics can automate the management and monitoring of video feeds and provide real-time video analysis for better security, monitoring, and reporting when integrated into the existing surveillance system. This automates the administration and oversight of video feeds. Video analysis software is increasingly in demand in the security, healthcare, and retail industries due to its part in maintaining employee and visitor security. Video analytics has the ability to recognize intruders and spot suspicious behavior. It can also notify security personnel of these events so that they can be stopped in their tracks.
Rising demand for IP-based security systems and infrastructure, as well as growing worries about people's safety and security, are expected to drive the growth of the video analytics market.
Regulations and rules in the realm of video surveillance have also been made possible by growing concerns about invasions of privacy and personal integrity. These and other similar reasons are fueling the market's expansion.
Regional Insights
North America is expected to lead the market due to rising investments and the widespread adoption of video surveillance systems for better security and safety goals. The concentration of significant suppliers in the area encourages the development and application of video analytics to improve safety.
The government's initiatives to enhance security and substantial investment are expected to fuel the growth of the analytics market. It is anticipated that the country will prepare for an increase in the use of security systems at key infrastructure and public places in accordance with the promises made by the recently elected president of the United States.
Nonetheless, the Asia Pacific analytics market is anticipated to grow at the quickest rate due to the region's increasing influx of megacities and smart city initiatives. As there are so many dominant local and regional producers, the market is very fragmented in the Asia Pacific.
Video Analytics Market Report Scope:
| | |
| --- | --- |
| Report Coverage | Details |
| Market Revenue in 2023 | USD 7.42 Billion |
| Projected Forecast Revenue by 2032 | USD 50.7 Billion |
| Growth Rate from 2023 to 2032 | CAGR of 23.8% |
| Largest Market | North America |
| Base Year | 2022 |
| Forecast Period | 2023 to 2032 |
| Regions Covered | North America, Europe, Asia-Pacific, Latin America, and Middle East & Africa |

Report Highlights
Based on type, software and services make up the segments of the analytics market. In 2022, the software sector is anticipated to rule the worldwide market. Yet during the forecast period, the services segment is anticipated to increase at the greatest CAGR. As these solutions are being installed more frequently and there is a greater need for support services to keep them operating properly, there is expected to be a development in the market for related professional and managed services.
Several businesses provide a broad selection of detection filters that give the ability to distinguish between object behaviour that is acceptable for each surveillance scenario, ensuring that categorization is always accurate.
Based on deployment, in 2022, the on-premise segment led the total video analytics market. During the projected period, this dominance is anticipated to persist. This is attributable to the on-premise deployment model's popularity by sectors like banking, financial services & insurance (BFSI), education, and healthcare, which are susceptible to cyberattacks or data breaches because to the sensitive information they handle.
On the basis of application, crowd management, facial recognition, intrusion detection, licence plate recognition, motion detection, and other technologies are divided into segments of the global market. Over the course of the forecast, the crowd management analytics segment is anticipated to rule the world market.
However, during the projected period, the facial recognition segment is anticipated to develop at the greatest CAGR. The increasing use of facial recognition solutions across sectors for recognizing, identifying, or authenticating anyone might be linked to the market growth of this analytics sub segment.
On the basis of end-use, there has been a paradigm shift in the global demand for video analytics due to shifting consumer preferences.
Retail end-use dominated the market and had a 2022. The category is anticipated to maintain its dominance over the course of the forecast period due to the rising application breadth of video analytics in the retail industry.
Market Dynamics
Driver
High usage of drone-based video analytics
Drone usage has grown during the past few years, especially in the aerospace and defence industries. According to data from the Federal Aviation Administration, there are 1,563,263 drones registered in the US, of which 441,709 are operated for commercial purposes. Several difficult-to-reach sites have undergone drone assessments. Making a 3600 time-lapse movie of a location is one of the most significant uses for drones. High-resolution images are taken from all angles as a certain region is carefully and repeatedly covered by drones. With a 3600-capture area, drones surpass the constraints of traditional cameras.
Restraint
Increasing data attacks and cybersecurity
Cybersecurity is one of the most important factors for effective business operations. Recent years have seen a sharp rise in cyberattacks and data breaches, which largely target mobile and IoT devices. The frequency of cyberattacks increased between 2016 and 2017. The majority of firms are vulnerable to data loss because they are unaware of this issue and do not have effective cybersecurity measures in place. A breach occurs every 39 seconds, and phishing and social engineering attacks hit 62 percent of businesses in 2018, according to research from Cybint Solutions. By 2023, the US is expected to be in charge of half of all data breach activities, according to a Norton report. Because of this, the market for video analytics systems faces a lot of challenges from such data breaches and cyberattacks in the future.
Opportunity
Marketing and advertising
Video analytics can be used to track customer behavior and preferences, providing valuable insights for marketing and advertising campaigns which will drive the growth of the market. For example, retailers can use video analytics to track which products customers are interested in and adjust their displays and promotions accordingly.
Challenge
Interoperability complexities and support for older equipment of surveillance systems
One of the key problems affecting the development of the video analytics market and experience is the interoperability of surveillance systems. It also complicates and takes a long time to analyse a lot of CCTV. The abundance of sellers present in the market is the main driver of interopera. Each vendor has a different encrypted enclosure and preferred video format for processing. The lack of standardization makes it challenging to integrate, view, and exchange data from various systems. Standardizing video analytics is crucial because many new technologies are being developed to improve the system's ability to represent the characteristics of objects, events, and scene contents. Furthermore, it is anticipated that suppliers in this industry will have difficulties due to the compatibility of video surveillance systems.
Recent Developments
In July 2022, ZeroEyes, the business that created the sole AI-based gun detection video analytics platform approved under the SAFETY Act of the U.S. Department of Homeland Security, was given a Direct-to-Phase II SBIR (Small Business Innovation Research) grant by the U.S. Air Force AFWERX for the investigation and development of automated threat detection for unmanned ground vehicles (U.G.V.s).
On July 2022, end users from all around the world learned about the many benefits that A.I. Boxes offered. Using accurate deep-learning technology, a wide range of unique capabilities that go far beyond the typical security applications of surveillance cameras are included. The same cameras are still utilised for safety, risk management, and loss prevention, but they can now add a lot more value due to their sophisticated deep-learning capabilities and A.I. Boxes. Certain AI boxes come packed with deep learning analytics, allowing them to add AI functionality to ordinary cameras. Store managers can then provide context for the previously captured video footage from their security cameras. They make it possible for common surveillance cameras to classify and differentiate between people, objects, and colours.
Major Key Players:
Avigilon Corporation (Canada)
Axis Communications AB (Sweden)
Cisco Systems, Inc. (U.S.)
Honeywell International Inc. (U.S.)
Agent Video Intelligence Ltd. (U.S.)
AllGoVision Technologies Pvt. Ltd (India)
Earth Water Limited (U.S.)
Genetec Inc., (Canada)
Intellivision (U.S.)
Intuvision Inc., (U.S.)
Market Segmentation:
By Type
By Deployment
By Application
Crowd Management
Facial Recognition
Intrusion Detection
License Plate Recognition
Motion Detection
Others
By End-Use
BFSI
City
Critical Infrastructure
Education
Government
Retail
Transportation
Others
Buy this Research Report@ https://www.precedenceresearch.com/checkout/2791
You can place an order or ask any questions, please feel free to contact at sales@precedenceresearch.com | +1 9197 992 333