The global water heater market size surpassed USD 32.38 billion in 2022 and is projected to rise to USD 49.77 billion by 2030, anticipated to grow at a strong CAGR of 5.52 percent during the projection period from 2022 to 2030.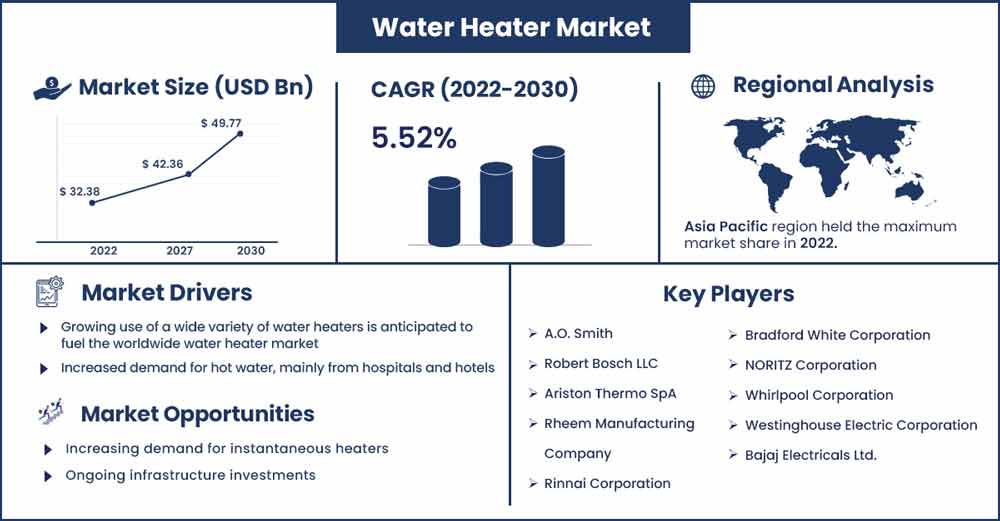 Customers who are interested in installing water heaters have a number of crucial needs, such as those relating to energy effectiveness, cost-effectiveness, and the need for less storage space. Along with focusing on the aforementioned requirements, vendors are also introducing innovative technologies in water heaters.
Leading water heater manufacturers also place a strong emphasis on filtration technologies that are sterilizing and anti-corrosive. Having access to clean, soft water is very important when using water heaters. Electric water heaters that are easy to install and need little maintenance are also being developed by manufacturers. Heat pump technology & condensing gas-fired systems are two examples of cutting-edge technologies in the worldwide market for water heaters.
Geothermal and solar technology are also being incorporated by manufacturers into their product ranges. Consumers are increasingly choosing more efficiency water heaters as replacements.
Manufacturers are realizing the immense potential in the solar business, which has led to the development of solar water heaters.
The demand for products in the electric category is anticipated to be driven by significant investments in product research and invention. Important manufacturers like A.O. Smith as well as NORITZ Corporation make investments in the production of new products and technologies that enhance customer satisfaction while reducing operating expenses. Industry growth is anticipated to be fueled by the creation of products with features including water filtration, corrosion resistance, remote control, and monitoring.
Demand for the solar market is expected to increase as a result of favorable steps to enhance air quality and rising public awareness of the benefits of using renewable energy sources. Additionally, market development is predicted to be fueled by the increasing emphasis that various industry participants are placing on product aesthetics and design, combined with continued industry competition.
Report Highlights:
During the forecast period, the solar category is expected to increase at a CAGR of 5.1% due to the rising consumer demand for water heating systems that are both ecologically and energy-efficient.
The storage segment dominated the market for water heaters and generated 55% of global revenue in 2021 because of the product's high potential for energy conversion and low maintenance needs.
The 30-100 liter capacity category led the water heater market in 2021 due to its broad applicability for usage in both commercial and residential settings, including banking, health clinics, resorts, and government organizations.
In 2021, the residential sector is anticipated to dominate the water heater market, accounting for 54.9% of total revenue.
Factors driving the demand for water heaters in the Asia Pacific region include the expanding accessibility of gas and power in rural regions, increased infrastructure investment, rapid development in the building industry, and industrial expansion in the region.
Water Heater Market Report Scope:
| | |
| --- | --- |
| Report Coverage | Details |
| Market Revenue in 2023 | USD 34.17 Billion |
| Projected Forecast Revenue in 2030 | USD 49.77 Billion |
| Growth Rate from 2022 to 2030 | CAGR of 5.52% |
| Largest Market | Asia Pacific |
| Base Year | 2022 |
| Forecast Period | 2022 To 2030 |
| Regions Covered | North America, Europe, Asia-Pacific, Latin America, and Middle East & Africa |

Regional Snapshots:
The water heater market is anticipated to benefit greatly from Asia Pacific. Over the projected period, demand for water heaters is anticipated to expand as a result of economic expansion in nations like China and India as well as more access to gas and electricity in rural areas.
During the anticipated time, it is predicted that the European water heater market would expand. The expansion can be attributed to an increase in demand from a range of commercial and industrial end-users for outstanding and reliable water heaters. In addition, the region's harsh cold is probably going to increase the demand for water heaters. The water heater industry in North America is probably going to present some exciting chances. In North America, there has been a surge in residential buildings as a result of the country's rapid internal and foreign migration. The developed industrial infrastructure in the area is also projected to increase the need for water heaters, which will lead to faster regional market growth.
Market Dynamics:
Drivers:
The industrial and commercial sectors' growing use of a wide variety of water heaters is anticipated to fuel the worldwide water heater market. Increased demand for hot water, mainly from hospitals and hotels, is anticipated to fuel market growth. The need for water heaters is also anticipated to increase due to increased product consumption across a variety of industrial sectors, including the food and beverage processing and chemical industries.
Leading manufacturers are making investments in the creation of new goods and technologies that will improve the customer experience while lowering maintenance costs. During the anticipated period, the worldwide market for water heaters is anticipated to grow as a result of the introduction of devices with characteristics like corrosion resistance, remote control, water filtration, and monitoring.
Furthermore, the need for electric-based water heaters has increased over time due to rising energy-efficiency concerns. The rise in pre-plumbed, unvented systems in new buildings is another factor driving up demand for electric heaters. Smart heating controls are now being used in the production of electric heaters to make them easier to use. Electric heaters are commonly utilized in the commercial sector to expedite production. Additionally, the replacement of water heaters has increased as a result of energy efficiency standards in numerous countries. As a result, the need for highly efficient tankless electric water heaters is rising.
Restraints:
Manufacturers of water heaters must make sure that their product meets requirements for both quality and energy efficiency. Analysis by Coherent Market Insights shows that home energy usage for water heating is the second largest, making up around 20% of the total energy used for HVAC in the residential sector globally. Additionally, insufficient thermal insulation, durability, and energy efficiency are other concerns that may soon limit market expansion. A 30-gallon electric water heater must have an energy factor (EF) rating of 0.95 or higher in the United States in order to comply with the National Appliance Energy Conservation Act (NAECA) of 2015.
Opportunities:
Utilizing renewable energy sources instead of fossil fuels is anticipated to provide profitable growth prospects. Due to a rising understanding of the advantages of renewable energy, its cost-effectiveness, and its superior outcomes, consumers are turning more and more toward it. To save power costs, solar heaters are frequently installed in both residential and commercial buildings. Additionally, a number of governments provide low-interest loans and incentives for the installation of solar heaters, which is anticipated to result in a rise in the use of solar water heaters in the near future.
Additionally, it is anticipated that market participants would benefit significantly from advancements in already used technology. Despite the fact that water heaters are often used, manufacturers are concentrating on incorporating cutting-edge features and technology into their next goods. Manufacturers are concentrating on developing water heaters with greater wattage for faster water heating, automatic water supply, pre-set time supply, manual water control, larger storage tanks, energy-efficient design, etc. Customers are moving toward automated products and choosing energy-efficient water heaters. In turn, this is anticipated to provide market participants with good development possibilities in the foreseeable future.
Challenge:
Over the projection period, it is anticipated that a lack of knowledge among the people, particularly in rural regions, will impede market expansion. Additionally, the availability of roof space, high installation costs for solar water heaters, and cost restraints are anticipated to impede market expansion in the near term. Storage-type water heaters must abide by energy efficiency criteria as well as size requirements, as per NACEA rules in the US. Additionally, storage-type water heaters require a lot of room for installation; in North America and Europe, they are frequently seen in closets or multi-family buildings. This is thus anticipated to impede acceptance and, as a result, limit the market's expansion throughout the projection period.
Recent Developments:
Major market participants prioritize new releases in order to diversify their product offerings. For instance, in the 2019 AHR EXPO in January, Rheem Manufacturing Company displayed its sustainable air and water technologies.
Major Key Players:
A.O. Smith
Robert Bosch LLC
Ariston Thermo SpA
Rheem Manufacturing Company
Rinnai Corporation
Bradford White Corporation
NORITZ Corporation
Whirlpool Corporation
Westinghouse Electric Corporation
Bajaj Electricals Ltd.
Haier Inc.
Havells India Ltd
Lennox International Inc.
FERROLI S.p.A
Kenmore
Market Segmentation:
By Product
By Technology
By Capacity
Below 30 Liters
30 - 100 Liters
100 - 250 Liters
250 - 400 Liters
Above 400 Liters
By Application
Residential
Commercial
Industrial
Buy this Research Report@ https://www.precedenceresearch.com/checkout/2371
You can place an order or ask any questions, please feel free to contact at sales@precedenceresearch.com | +1 9197 992 333