The global water heater market size was exhibited at USD 32.38 billion in 2022 and is expected to surpass around USD 49.77 billion by 2030, poised to grow at a projected CAGR of 5.52% during the forecast period 2022 to 2030.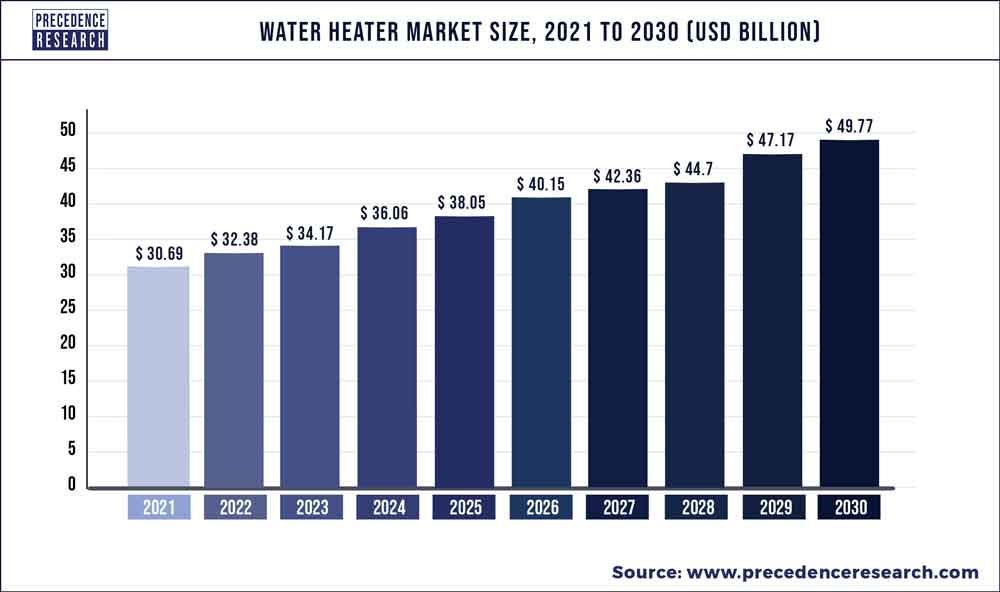 Access our Premium Real Time Data Intelligence Tool, Visit: Precedence Statistics
Key Takeaways:
Due to the market's dominance by electric water heaters and their 51.3% revenue share in 2021.
The solar category is expected to grow at a CAGR of 5.1% from 2022 to 2030.
In 2021, The storage segment led the market for water heaters and contributed 55% of worldwide revenue.
The tankless category is projected to grow at a CAGR of 4.8% from 2022 to 2030.
In 2021, The residential sector is predicted to lead the water heater market and account for 54.9% of the revenue share.
The water heaters market with a capacity of less than 30 liters is predicted to grow at a CAGR of 4.2% from 2022 to 2030.
A water heater, sometimes known as a storage water heater, is a residential device used to heat water. It employs a hot water storage tank to maximize its heating capability and deliver quick hot water anytime it is required. Oil, electricity, propane, natural gas, and oil are among the fuels used by conventional storage water heaters.
Growth Factor
The rising need for hot water for different domestic uses, such as cooking, washing, bathing, and cleaning, is predicted to drive the worldwide water heater market. As various states and towns around the nation pursue legislative initiatives to reduce greenhouse gas emissions as well as energy usage in buildings, green technology and sustainability are becoming increasingly important. The demand for intelligent water heating as well as energy-efficient systems for heating water is expected to rise in the next years as a result of stricter building standards and regulations. It is projected that the market for water heaters run by solar energy would expand as a consequence of effective actions to enhance air quality as well as raise public awareness of the use of renewable solutions. Moreover, it is anticipated that the market growth will be pushed by the continuous industry competition as well as the growing attention that different market players are paying to product design. The demand for the product is expected to be fueled by the rising usage of a wide range of water heaters in the industrial and commercial sectors. A surge in hot water usage, mostly from healthcare facilities and hotels, is anticipated to boost the market. Since the product is utilized in several industrial industries, including the production of food and drinks industries, the need for water heaters is also anticipated to increase. Significant expenditures in product development and innovation are anticipated to drive the market for electric water heaters. Leading manufacturers take part in the release of cutting-edge products and technologies that enhance customer experience and save operational expenses.
The commercial and residential sectors' demand for hot water is anticipated to drive market expansion.
Growing demand for energy-efficient heating equipment as a result of excessive energy use and rising power costs
The growing use of quick heating technology due to the major benefits that water heaters provide.
The market will be driven by rising disposable income and robust GDP growth across emerging economies.
Report Scope of the Water Heater Market
Report Coverage
Details
Market Size in 2022
USD 32.38 Billion
Market Size by 2030
USD 49.77 Billion
Growth Rate from 2022 to 2030
CAGR of 5.52%
Base Year
2021
Forecast Period
2022 to 2030
Segments Covered

By Product
By Technology
By Capacity
By Application

Regions Covered

North America
Europe
Asia-Pacific
Latin America
Middle East & Africa

Key Market Drivers
Easy installation and maintenance
Storage water heaters help to increase heating capacity by employing hot water storage tanks. Storage heaters are produced in a variety of sizes to meet market demand. Storage heaters are easier to maintain and repair than various forms of water heaters, and their installation is less expensive. Because storage heaters have a history of bursting, vendors are focusing on providing frequent water heater services.
Additionally, storage heaters require space for the tank, thus manufacturers are focusing on making storage heaters smaller in order to address the space issue. It has also lately become increasingly common to use conventional storage heaters that operate on different fuels, such as fuel oil and natural gas.
Key Market Challenges
Higher installation and maintenance cost
In order to meet the anticipated efficiency rate and calculate the total lifetime cost, which includes the initial cost, operating cost, and unit replacement cost, the water heating system must always be installed in compliance with the minimum applicable mechanical, plumbing, electrical, and other codes. Commercial water heater adoption is hampered by high upfront running costs brought on by greater costs for unit replacement or maintenance. The location of the water heater has a significant influence on this heater's running costs, particularly if the unit is inadequately insulated.
Key Market Opportunities
Increasing demand for instantaneous heaters
Instant heating technology use is expected to rise as a result of its primary benefits, which include low standby losses and high supply output compared to traditional storage units. Increased demand for commercial applications due to sophisticated monitoring features, including Wi-fi among others, will favorably impact the size of the global water heater market.
Ongoing infrastructure investments
The market for commercial water heaters is anticipated to increase at a rate of over 6% through 2027 as a result of the service sector's strong expansion and the continued construction of high-rise structures in new cities. The construction of new shopping centers and offices, hotels, and academic buildings will enhance the business environment. The market statistics will be enhanced by strict building efficiency regulations and rules paired with an increase in smart city development initiatives.
Segments Insight
Product Type Insights
Due to the market's dominance by electric water heaters and their 51.3% revenue share in 2021, primarily in the nations of the Asia Pacific and Africa, growing electrification rates and improved consumer accessibility were major factors. Energy efficiency increased environmental sustainability, and temperature control is predicted to be the main drivers of product demand throughout the projection period.
Due to the growing demand from consumers for water heating systems that are both environmentally friendly and energy efficient, the solar category is predicted to grow at a CAGR of 5.1% during the projection period. Industry expansion is anticipated to be boosted by the growing focus of different product producers on creating new systems and technologies that operate more efficiently. Demand for solar goods is expected to increase as a result of strict government regulations to minimize greenhouse gas emissions and a growing focus on energy conservation due to the swift depletion of nonrenewable resources.
Furthermore, it is anticipated that rising environmental consciousness for both developed and emerging countries will fuel demand. During the projected period, it is anticipated that gas water heaters would be used extensively as a result of the growth of piped gas networks in several developing countries. Additionally, it is anticipated that increased emphasis on product innovation and distinctiveness would increase demand for gas water heaters, supporting the expansion of the entire sector.
Technology Insights
Due to the significant potential for energy conversion and minimal maintenance requirements of the product, the storage segment led the market for water heaters and contributed 55% of worldwide revenue in 2021. Demand for the device is also being fueled by an increase in industrial and commercial applications being installed in various chilly areas throughout the world. Due to product benefits such as quick hot water delivery and minimal standby heating losses, the tankless category is predicted to grow at a CAGR of 4.8% between 2022 and 2030. Tankless devices also consume less energy than storage water heaters, which will increase their appeal over the next years.
Products without tanks provide benefits such as better temperature control, more energy efficiency, and more environmental sustainability. Demand for these items is anticipated to increase throughout the projection period as a result of rising product acceptance across several business sectors due to improved operational advantages. Due to major product features like providing cooling and heating from a single unit, the hybrid category is predicted to have increasing demand. These devices are more energy-efficient than electric ones because they don't generate power directly; instead, they use electricity to move heat from one place to another.
Capacity Insights
Due to its widespread suitability for use in both residential and commercial settings, including banks, healthcare facilities, hotels, government institutions, hotels, and shopping centers, the 30–100 liter capacity segment dominated the water heater market in 2021 and accounted for 29.4% of total revenue. Demand for the 100-250 liter sector is anticipated to increase as a result of increasing urbanization and ongoing migration to metropolitan areas. The product's availability in a variety of applications satisfies a variety of consumer requests, including its usage in kitchens, swimming pools, and restrooms, so promoting market expansion.
Due to the growing deployment of low-capacity heating systems, particularly in residential settings, the market for water heaters with a capacity of fewer than 30 liters is predicted to grow at a CAGR of 4.2% during the projected period. Additionally, the installation of water heaters with a capacity of fewer than 30 liters is anticipated to increase in the upcoming years due to the growing usage of storage tanks. Due to a variety of industrial applications, both alone and in conjunction with heat exchangers, the demand for water heaters with a capacity exceeding 400 liters increased at a CAGR of 5.2% over the predicted period. Growth in this market is anticipated to be aided by the ability of water heaters with a capacity of more than 400 liters to pair heat pumps with thermal solar systems.
Application Insights
The residential sector is expected to lead the market for water heaters and account for 54.9% of the revenue share in 2021. Market growth is anticipated to be fueled by the rising need for dependable, affordable, and environmentally friendly water heating technologies, notably in the industrial and residential sectors. Additionally, it is anticipated that the ability of water heaters to operate at lower costs up to 75% less expensive in the summer and 30% to 40% less expensive in the winter will increase product demand throughout the course of the projection period. Construction, food & beverage, pharmaceutical, power, and agricultural industries all utilize water heaters, which is expected to drive the industry's expansion. Water heaters are used for producing steam, preventing frost, and heating water in the construction sector.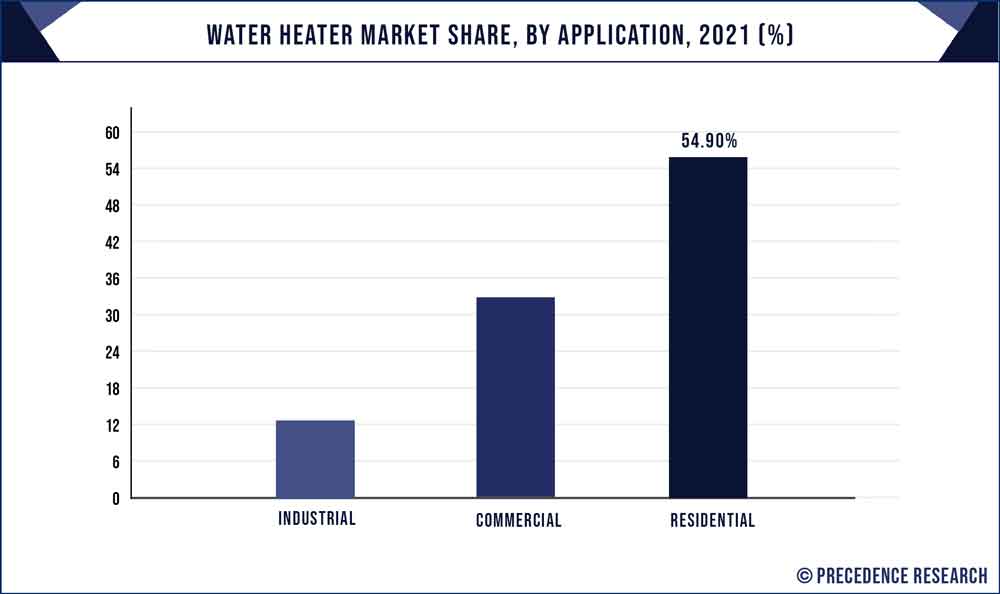 Due to increased government expenditure on the construction of healthcare facilities, which in turn would greatly increase the number of water heater installations, the product demand in the commercial sector is anticipated to increase at a CAGR of 4.6% over the projection period. Furthermore, the market is anticipated to grow because of the rising use of tankless solutions in commercial settings.
Regional Insights
The growing availability of gas and power in rural areas, rising infrastructure investment, brisk growth in the building sector, and industrial expansion in South Asian and South East Asian countries are all factors driving the need for water heaters in the Asia Pacific region. Additionally, it is anticipated that the focus on carbon neutrality and energy-efficiency regulations would accelerate market growth.
Increasing investment and innovation in the building industry, funding for R&D, and the adoption of mandatory CO2 emission reduction measures are the primary factors driving the demand for water heaters in China and will continue to do so throughout the course of the forecast period. The increasing need for better and dependable water heaters from various commercial and industrial end-users is what is driving the expansion of water heaters in the European area. Additionally, the region's extremely cold weather and the consequent requirement for hot water to maintain the necessary environmental conditions are projected to increase product demand.
Recent Developments
In order to increase their market presence, major corporations in the industry engage in mergers and acquisitions. For instance, PB Heat, a producer of cast iron and stainless steel boilers, was bought by Noritz Corporation, a tankless water heater manufacturer with headquarters in Japan, in January 2019.
Key Market Players
A.O. Smith
Robert Bosch LLC
Ariston Thermo SpA
Rheem Manufacturing Company
Rinnai Corporation
Bradford White Corporation
NORITZ Corporation
Whirlpool Corporation
Westinghouse Electric Corporation
Bajaj Electricals Ltd.
Haier Inc.
Havells India Ltd
Lennox International Inc.
FERROLI S.p.A
Kenmore
Segment Covered in the Report
(Note*: We offer reports based on sub-segments as well. Kindly, let us know if you are interested)
By Product
By Technology
By Capacity
Below 30 Liters
30 - 100 Liters
100 - 250 Liters
250 - 400 Liters
Above 400 Liters
By Application
Residential
Commercial
Industrial
By Geography
North America
Europe
Asia-Pacific
Latin America
Middle East & Africa (MEA)