The global printing packaging market size was reached at USD 309.8 billion in 2022 and is expected to hit around USD 500.32 billion by 2032, growing at a CAGR of 4.91% during the forecast period from 2023 to 2032.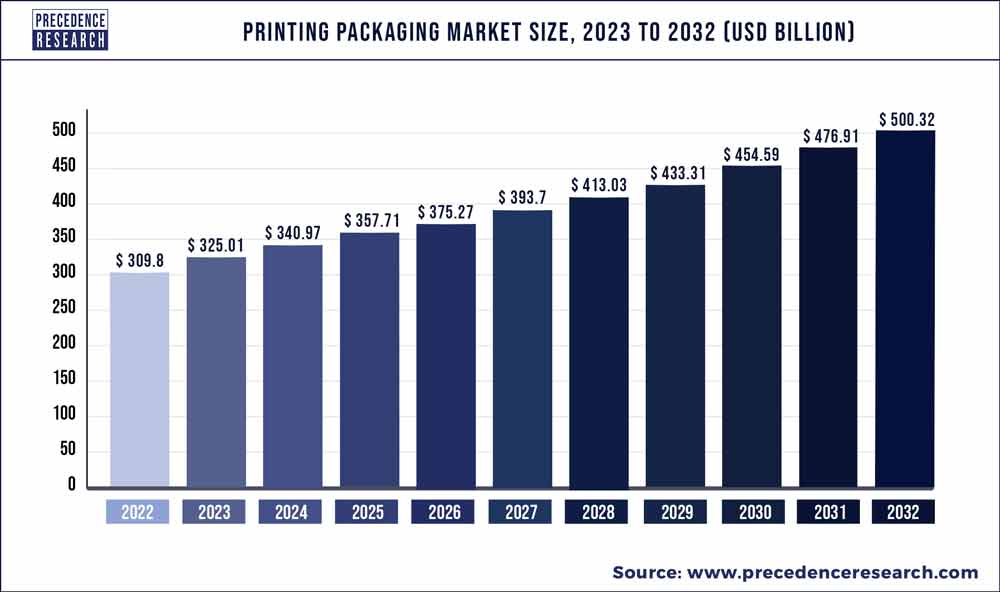 Access our Premium Real Time Data Intelligence Tool, Visit: Precedence Statistics
Packaging is any lithographic, flexographic, gravure, or letterpress printing that identifies or beautifies paper, paperboard, or cardboard products for use as containers, enclosures, wrappings, or boxes. Factors such as Growing demand for innovative printing and the rapid rise in digital print technology drive the market.
Key Takeaways:
Asia Pacific dominated the market in 2022.
By Type, the corrugated segment dominated the market and generated to largest market share in 2022.
By Printing Technology, the flexography segment captured the maximum market share in 2022.
By Ink, the aqueous segment recorded the maximum market share and is expected to expand at the fastest CAGR between 2023 and 2032.
By Application, the food & beverages segment generated to the largest share in 2022.
Report Scope of the Printing Packaging Market:
| | |
| --- | --- |
| Report Coverage | Details |
| Market Size in 2023 | USD 325.01 Billion |
| Market Size by 2032 | USD 500.32 Billion |
| Growth Rate from 2023 to 2032 | CAGR of 4.91% |
| Largest Market | Asia Pacific |
| Base Year | 2022 |
| Forecast Period | 2023 to 2032 |
| Segments Covered | By Type, By Printing Technology, By Ink, and By Application |
| Regions Covered | North America, Europe, Asia-Pacific, Latin America and Middle East & Africa |

Market Dynamics:
Drivers: Shift to 3D printing in the packaging printing industry
One of the significant trends in the global packaging printing market is the increasing shift of packaging manufacturers toward 3D printing. It generates an unimaginable physical object of any shape or geometry from a digital 3D model or electronic data sources, increasing the aesthetic value of packaging pictorial Compared to other techniques; 3d printing allows for faster manufacturing and the production of models and prototypes at a lower cost.
It enables the creation of s customized package design-based company's needs company. The growing demand for custom plans, particularly in the food and beverage and personal care industries, is expected to significantly impact printing packaging demand in the coming years.
The increasing influence of digital in the package printing market
The utilization of digital printing has become increasingly prevalent in the manufacturing of packaging due to its ability to provide cost and time-efficient solutions. One of the major benefits of digital printing is its capacity to save time, as there is no need to change plates continually, unlike conventional printing methods. In addition, the technology's plateless nature makes it an environmentally friendly option.
For instance, flatbed printing produces fewer waste cartridges and generates less air pollution, leading to a smaller carbon footprint than traditional printing methods. As a result, the implementation of digital printing in packaging production offers an eco-friendly solution that benefits both businesses and the environment.
Restraint: Rising raw material prices
The global surge in petrochemical raw material prices has impacted various industries that rely on these materials for their products. The price hike has affected several derivatives, such as UV resins, polyurethane resins, solvent glycols, and acrylic resins. Additionally, the skyrocketing prices of pigment raw materials, including titanium dioxide (TiO2), have added to the challenges faced by manufacturers worldwide.
The closure of polyester resin factories in Singapore and Sweden and an explosion at a Chinese factory have further compounded the issue, leading to a diversion of products to local markets and contributing to the escalation of prices. As a result of these challenges, the prices of printing inks, coatings, and laminating adhesives, widely used in packaging and printing applications, have also surged significantly.
The current scenario of rising raw material prices and changing freight rates has made the situation even more challenging for the packaging industry, where ocean freight rates are continuously fluctuating. Overall, the market is experiencing an unprecedented surge in the prices of primary feedstocks, and the situation is rapidly worsening, affecting various industries globally.
Opportunity: Increasing demand for sustainable printing
Printing sustainably can positively impact the environment by reducing the use of non-renewable resources and reducing waste. Utilizing process-free plates like cold press plates can aid in the elimination of volatile compounds that are harmful to the environment. The use of digital printers eliminates the need for plate replacement, thus conserving time and resources.
In addition, the use of water-based and UV-curable inks in printing can significantly reduce the emissions of volatile organic compounds. The increasing demand for environmentally conscious printing methods creates new prospects in the packaging printing market, providing a significant opportunity for the industry to meet the growing demand for sustainable and eco-friendly printing practices.
Segments Insight:
Type Insights:
The global printing packaging market is segmented based on the type into corrugated, flexible, folding cartons, labels & tags, and others. The corrugated segment dominated the market in 2022 with a maximum share. Corrugated containers are a versatile packaging solution used in the shipping, warehouse, distribution, and logistics markets. Given its high strength-to-weight ratio, it is an ideal option for these applications.
Demand for corrugated packaging is expected to rise due to advanced technologies. Corrugated packaging software is customized for one-of-a-kind packaging applications such as cutting and printing custom designs. Vendors are looking for innovative packaging and POS display techniques as competition heats up. As a result, they prefer customized designs, which can be accomplished with specialized software.
Printing Technology Insights:
Based on the printing technology, the global printing packaging market is segmented into flexography, gravure, offset, screen printing, and digital. The Flexography segment accounts for the largest market share in 2022 and is expected to grow faster during the forecast period. The application of flexography technology in packaging printing is highly advantageous due to its versatility. It is commonly used in various industries, including newspaper and print media, self-adhesive labels, flexible packaging, food packaging, and medical packaging.
The growth of automation in flexography has significantly contributed to its development. Although skilled operators were previously responsible for ensuring quality results in flexography, recent advancements now allow OEMs to collaborate throughout the entire process, from file preparation to finishing. Automation trends in flexo presses are being driven by the rapid evolution of techniques, makeready, and plate preparation, resulting in faster turnaround times. Manufacturers are seeking to provide operators with an almost fully integrated solution. Another factor driving the growth of flexography is market volatility.
As demand shifts towards alternative packaging formats and electronic media, traditional flexographic print production markets such as newspapers, envelopes, bags, and sacks are experiencing a decline, highlighting a shift in demand in its core global regions.
The packaging sector, which represents flexography's core activities and volume, is under pressure due to changing consumer habits. To meet the changing demand for lower volume runs, flexography is expected to adapt and provide efficient changeover processes.
Ink Insights:
Based on the ink segment, the global printing packaging market is segmented into solvent-based, UV-based, aqueous, and others. In 2022, the aqueous segment held the largest market share and is expected to grow faster during the forecast period. This segment is expected to grow significantly during the forecast period owing to the increasing demand for aqueous printing packaging.
One of the primary reasons for the growth of the aqueous segment is the rising awareness among consumers about the environmental hazards associated with volatile organic compounds (VOCs). Aqueous inks have emerged as a better alternative to solvent-based inks as they help in reducing VOC emissions, promote better health and safety practices in the manufacturing process, and contribute to long-term sustainability.
Furthermore, switching to aqueous inks has proved to be a cost-effective solution for many manufacturers in the printing packaging industry. This is due to the advancements in printing equipment and the development of new liquid resin chemistry, which has resulted in the formulation of a high-performance aqueous ink system.
Application Insights:
Based on the application, the market is segmented into food & beverage, household & cosmetics, pharmaceutical, and others. In 2022, the food & beverages segment dominated the market with a maximum share. The market is witnessing an upsurge in demand for printing in food packaging due to changing consumer eating habits and lifestyles. The high barrier properties, extended shelf life, and safety of food products make them popular.
An increase in per capita disposable income and population growth is expected to boost the market demand. Printed packaging materials are used to convey product information and market products to consumers. Packaging printing can be done directly on a variety of materials such as plastics, paper, board, and cork. Consumers now demand more transparency in food packaging, leading to a surge in demand for packaging printing in the food sector.
The demand for minimally processed, natural, and high-quality food products that have a longer shelf life and do not contain preservatives is high. Packaged food products offer various benefits such as contamination protection, convenience, portion control, and sustainability, which reduce food waste and loss by preventing food-borne diseases and chemical contamination while preserving food quality.
Regional Insights:
Asia Pacific dominated the global printing packaging market, with diverse printing technologies and applications catering to various industries. The growth of the packaging industry in countries like Japan, China, India, and South Korea, along with the rising demand for packaging printing, has boosted the market's prospects in the region.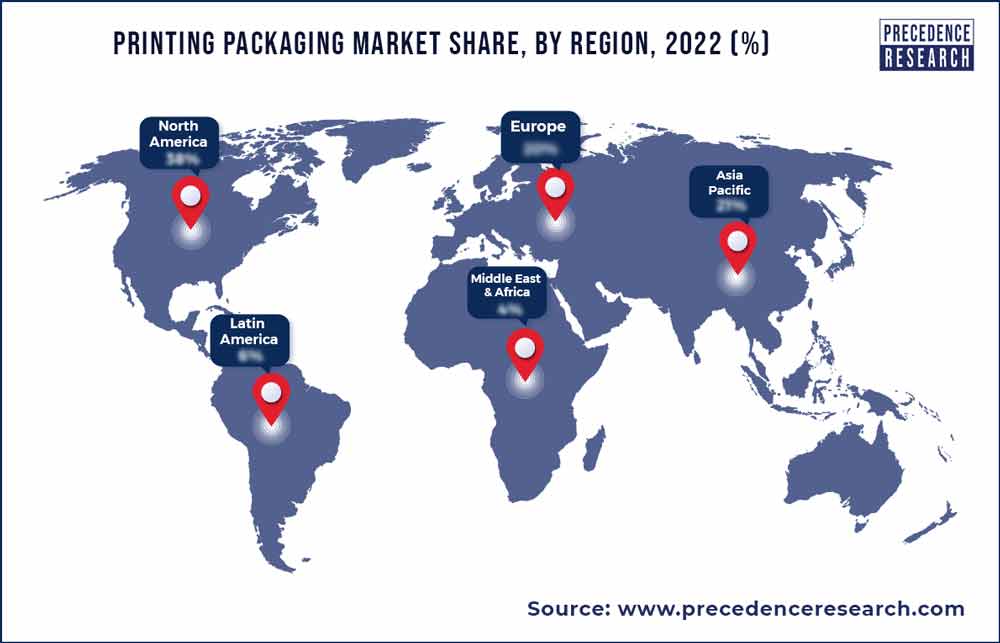 The increasing number of nuclear families, changing packaging materials, growing customer preferences, and an aging population are some of the factors driving the packaging industry's growth. With the increasing demand for packaged beverages like bottled water, alcoholic drinks, and carbonated soft drinks, the demand for packaging printing is also expected to rise.
The packaging printing market is further driven by sustainable printing practices, cost-effectiveness, reduced packaging waste, and the popularity of flexible packaging solutions. Additionally, the convenience offered by packaging in the healthcare sector is expected to contribute to the market's growth.
Recent Developments:
In 2022, Avery Dennison Graphics Solutions announced a partnership with Siser North America to enter the DIY/crafter market. Siser has been in the consumer craft market for over 40 years as a market leader in heat-transfer vinyl and a specialist in personalization and modification.
In 2019, Mondi Plc. Launched myMomdi.net, a web platform for outstanding print and design to distinguish their uncoated fine paper (UFP) brands. It informs professionals in the printing and design industries about high-quality paper brands, as well as paper recommendations, local distributor contact information, and multimedia content about packaging printing.
Key Market Players:
Mondi
Sonoco Products Company
Graphics Packaging International LLC
Amcor plc
Quantum Print and Packaging Store
WS Packaging Group
Duncan Printing Group
Ahlstrom-Munksjo
Autajan CS
Avery Dennison Corporation
Segments Covered in the Report:
(Note*: We offer report based on sub segments as well. Kindly, let us know if you are interested)
By Type
Corrugated
Flexible
Folding Cartons
Label & Tags
Others
By Printing Technology
Flexography
Gravure
Offset
Screen Printing
Digital
By Ink
Solvent-based
UV-based
Aqueous
Others
By Application
Food & Beverage
Household & Cosmetics
Pharmaceutical
Others
By Geography
North America
Europe
Asia-Pacific
Latin America
The Middle East and Africa