The global probiotic ingredients market size was estimated at USD 5.59 billion in 2022 and is projected to worth around USD 17.60 billion by 2032, with a registered CAGR of 12.20% from 2023 to 2032.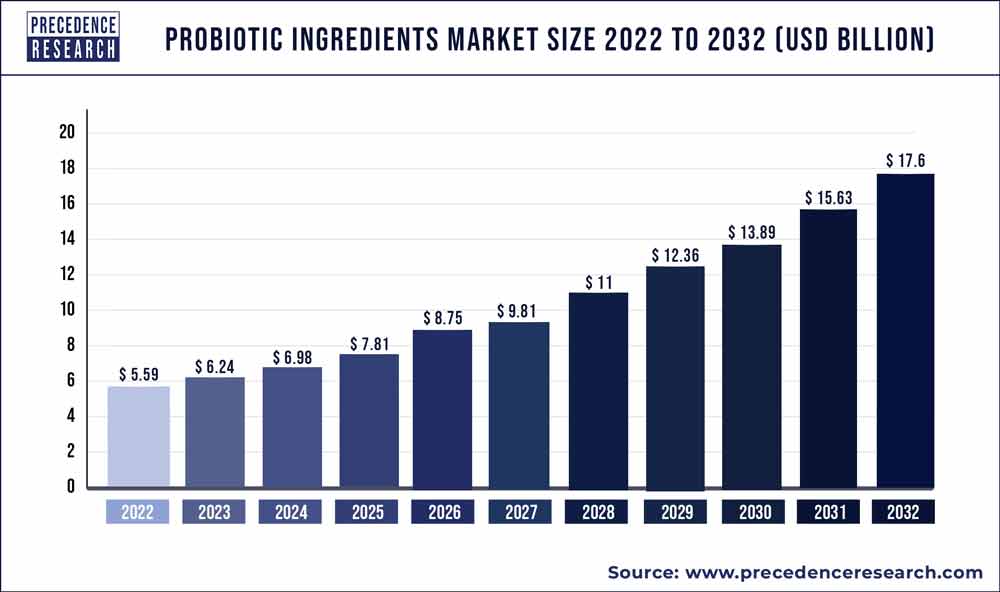 Key Takeaway:
Europe market has captured revenue share of 39% in 2022.
Asia Pacific is expected to grow at a CAGR of 9.4% between 2023 to 2032.
By application, the food & beverage segment has captured revenue share of over 73.20% in 2022 and it is expected to reach at a 8.2% over the forecast period.
By application, the dietary supplements segment has captured 20% revenue share in 2022.
By end-user, the human probiotics segment is expected to reach at a CAGR of 8.4% over the forecast period.
By end user, the animal probiotics segment was accounted for USD 158.9 million in 2022.
By form, dry/powder segment has dominated the market with a highest revenue share in 2022.
By ingredient, the bacteria segment has held revenue of USD 2.24 billion in 2022.
Probiotics are microorganisms that assist people and creatures with keeping a solid microbial equilibrium in their digestive organs. Probiotics are microscopic organisms that advance the body's stomach related juices and compounds, guaranteeing proper processing. They can be consumed orally or as an enhancement. Probiotics additionally shield great microbes from possibly risky microorganisms.
Probiotics are presently being used to recognize and treat mental issues and stomach related and neurological problems. They additionally safeguard proteins and lipids from oxidative harm and wipe out diseases in the body. Customers are turning out to be more wellbeing cognizant and zeroing in on their ways of life and diets, bringing about a blast popular for probiotic-strengthened food varieties and drinks around the world. To satisfy purchaser interest, food makers are creating different new items with directions and pictures in light of the on-going good dieting pattern.
Report Scope of the Probiotic Ingredients Market
| | |
| --- | --- |
| Report Coverage | Details |
| Market Size by 2032 | USD 17.60 Billion |
| Growth Rate from 2023 to 2032 | CAGR of 12.20% |
| Europe Market Share in 2022 | 39% |
| Fastest Growing Region | Asia Pacific |
| Base Year | 2022 |
| Forecast Period | 2023 to 2032 |
| Segments Covered | ProbioFerm, Glac Biotech, DSM, Vitakem Nutraceutical, Inc., Bio Gaia, Probium, Kerry Group |
| Companies Mentioned | ProbioFerm, Glac Biotech, DSM, Vitakem Nutraceutical, Inc., Bio Gaia, Probium, Kerry Group |
Type Insights
Bifidobacterium Animalis
Bifidobacteriumanimalis are non-pathogenic microscopic organisms that possibly incorporate the accompanying, against diarrheal and mucosal safeguarding properties. By balancing the arrangement of the typical microflora, the normally happening bacterial parts in Bifidobacterium animalis probiotic supplement might further develop assimilation and assist with keeping up with sufficient colonization of the gastrointestinal lot. During aging, they make lactic corrosive, hydrogen peroxide, and different synthetic compounds, establishing an acidic climate that is hostile to microorganisms. During colonization in the GI lot, microorganisms might fabricate a defensive digestive obstruction, which might shield the mucosal epithelium from hurt, safeguards the epithelial hindrance's trustworthiness from conceivable harm by poisons and certain synthetic compounds, and brings down the chance for microbe connection. This likewise safeguards against bacterial contamination and movement.
Bifidobacterium Breve
Bifidobacterium breve is a probiotic bacterial animal types having a place with the Bifidobacterium sort. Bifidobacteria are microscopic organisms that stay in people's digestion tracts in a cooperative relationship. They've been utilized to get anything from blockage the runs to bad tempered inside condition to the normal cold and influenza. A portion of these applications have been upheld by logical proof, while others have not. B. breve is a nonmotile, gram-positive, anaerobic bar formed bacterium that makes branches with its neighbours.
Bifidobacterium Longum
Bifidobacterium longum is a catalase-negative, Gram-positive, pole moulded microorganisms tracked down in the human gastrointestinal framework. It is one of 32 Bifidobacterium animal types. It's a microaerotolerant anaerobe that is believed to be one among the first to colonize a baby's gastrointestinal framework. Bifidobacterium longum produces white, reflexive provinces with a curved shape when developed on broad anaerobic media. While Bifidobacterium longum isn't found in that frame of mind in the grown-up gastrointestinal lot, it is viewed as a part of the stomach microbiota, and its development of lactic corrosive is remembered to restrain the development of hurtful microorganisms. Bifidobacterium longum is a non-pathogenic growth that is ordinarily utilized in cooking.
Lactobacillus Reuteri
Lactobacillus reuteri is a very much concentrated on probiotic microscopic organisms that can colonize many creatures. Lactobacillus reuteri is available in a few pieces of the human body, including the gastrointestinal framework, urinary parcel, skin, and bosom milk. Lactobacillus reuteri overflow fluctuates from one individual to another. L. reuteri has been displayed to have various positive properties. To start, L. reuteri can make antimicrobial mixtures like natural acids, ethanol, and reuterin. Lactobacillus can restrict the colonization of pathogenic microorganisms and adjust the commensal microbiota synthesis in the host because of its antimicrobial activity. Second, L. reuteri can possibly further develop the host insusceptible framework. Some Lactobacillus reuteri strains, for instance, can bring down supportive of fiery cytokine creation while expanding administrative cell development and capability.
Application Insights
Based on Food and Beverages Market
The rising exploration on science and development has moved buyer mindfulness from customary to utilitarian food sources that are more nutritious and better. The ideation of practical food depends on the expansion of probiotics that advance mental reaction, worked on safe framework, and general prosperity. At the point when there is no proven treatment for worldwide pandemic coronavirus causing irresistible viral illness COVID-19, elective food and wholesome intercessions through diet are concentrated on more than ever to restrict the disease. While simultaneously, it's important to refresh, change, and fix the approaches and guidelines for the food makers managing such useful food varieties to shield customers from bogus and deceiving claims. This audit paper endeavours to broadly give experiences into security and administrative contemplations for probiotic-based food sources and drinks.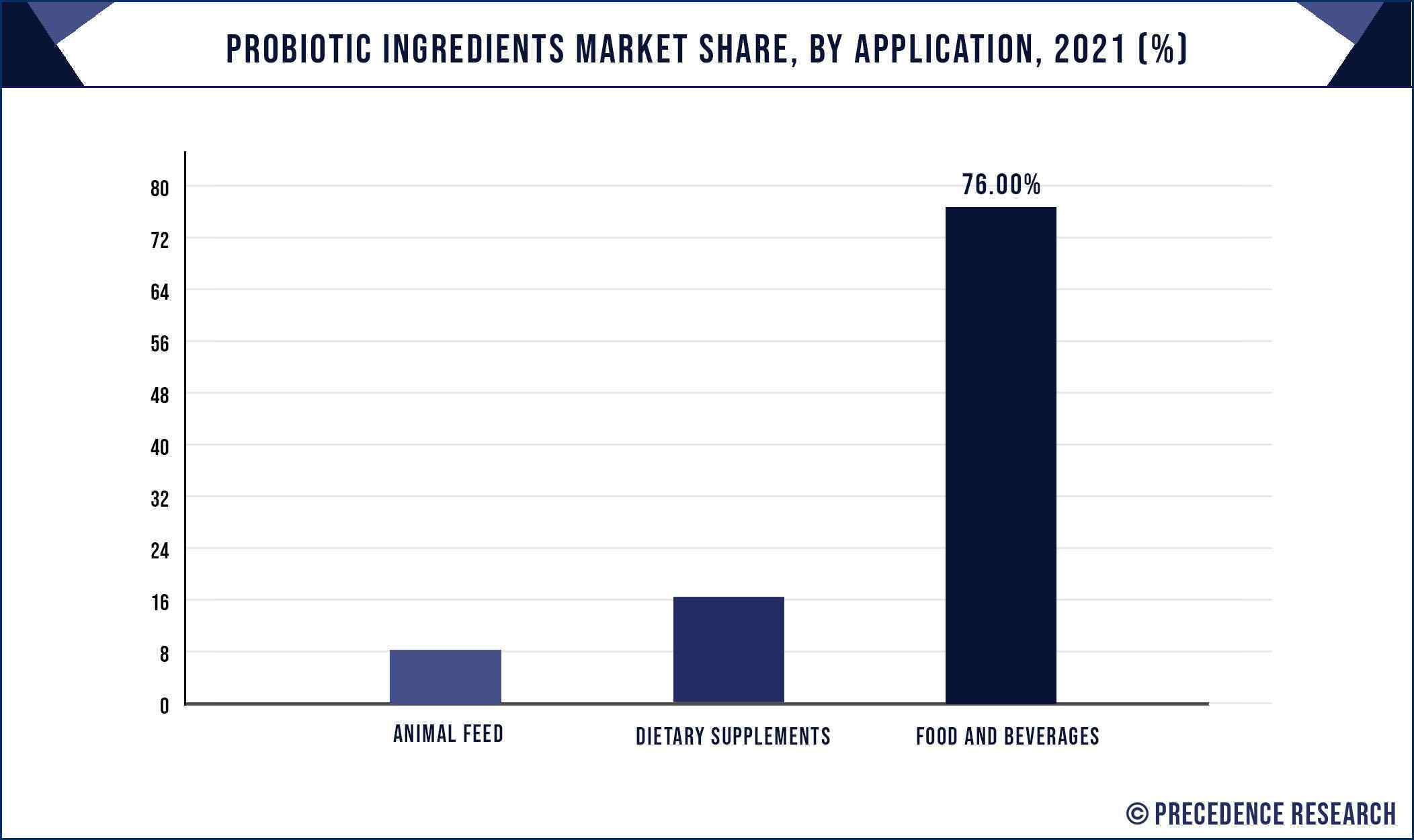 Based on Dietary Supplements
The worldwide probiotics dietary enhancements market was assessed at USD 6,123.5 million of every 2021 and is supposed to develop at a build yearly development rate (CAGR) of 7.5% from 2022 to 2030. The predominance of stomach related messes is duplicating at a quicker rate, as most would consider being normal to bring about expanded interest for probiotic items. Probiotics help in treating illnesses, like digestive aggravation, urogenital contaminations, and anti-infection related looseness of the bowels, by battling against terrible microorganisms in the stomach. Increasing mindfulness levels among buyers toward preventive medical care are probably going to help the development of the worldwide market in the years to come. Probiotics help in upgrading resistance by further developing stomach wellbeing. Yogurt is a broadly consumed wellspring of probiotics.
Based on Animal Feed
Probiotic on their gainful impact on wellbeing and feeling of development, probiotics are comprehensively utilized in creature takes care of, especially for pigs and poultry. That sort of equations might contain at least one chose types of microorganisms, and contingent upon the species and period of host creatures they might be managed as a powder, suspension, cases, pellet, gel or glue. They are utilized occasionally or continually, straightforwardly per os or as an added substance to take care of and premixes. Probiotic societies utilized as feed added substances should meet a few explicit measures.Probiotics' immunoregulatory component, which depends on the natural or versatile resistant framework, is especially critical in creature wellbeing and disease. Microorganism microscopic organisms, harms, and certain unfamiliar antigens are found in the gastro-digestive lumen, as well as significant supplements and accommodating organisms. The cycle may be associated with changes in bodily fluid or chloride creation, or changes in epithelial cell articulation of intersection proteins, but the particulars of this technique for activity are yet obscure. Creatures, then again, have a versatile insusceptible framework. In sensitivity and immune system illness settings, for instance, creature safe reactions ought to be expanded in specific conditions yet hindered in others.
Components Insights
Based on Bacteria
Probiotic microbes have numerous valuable wellbeing impacts, and one of them is their capacity to tie aflatoxin. Confirmations from in vitro, creature and human clinical examinations have upheld the expected capacity of probiotic microscopic organisms as adsorbent of aflatoxin. Albeit the component of which probiotic microbes tie to aflatoxin is hazy and writing on the instrument is scant, a great deal of studies has tracked down promising and productive results. It is critical to concentrate on the compound cooperation between the cell mass of probiotic microorganisms, and its connected parts with aflatoxin particles as such information can give further defense of probiotics as adsorbent of aflatoxin. As useful food varieties, probiotic microbes are of an incredible interest as human openness to aflatoxin is pervasive and its application as one of the dietary ways to deal with forestall humans openness to this food-borne impurity is critical.
Based on Yeast
The existence of commensal parasitic species in the human stomach demonstrates that creatures from this realm can possibly help the host also. Saccharomyces boulardii, a yeast strain detached around quite a while back, is the most very much described probiotic yeast. However generally it hereditarily looks like Saccharomyces cerevisiae, explicit phenotypic contrasts improve it appropriate for the stomach microenvironment like better corrosive and intensity resilience. A few investigations utilizing creature has propose that S. boulardii can be utilized as a biotherapeutic in people. No matter what their non human beginning, such non pathogenic yeasts satisfy the significant measures for probiotic definition. Interest in probiotic yeasts has expanded, particularly comparable to creature feed yet additionally for human applications. Be that as it may, a few uncommon instances of Saccharomyces boulardi fungemia have been accounted for, despite the fact that they are basically confined to immuno-compromised patients or related with patients being defiled through a focal venous catheter
End User Insights
In 2022, the grown-ups section drove the market with an income portion of 54%. Grown-ups' gastrointestinal issues are on the ascent, provoking the presentation of probiotic supplements. For instance, Bausch Health will offer its OTC probiotic supplement, ENVIVE, in the United States in April 2021. Grown-ups may drink it consistently and it assists with diminishing the recurrence of five gastrointestinal side effects: looseness of the bowels, stoppage, gas, swelling, and uneasiness. Probiotic probiotics for babies are much of the time accessible in powder or fluid structure, with no unmistakable flavour. Thus, these things might be essentially mixed with new-born child formulae, siphoned bosom milk, and different fluids gave to the child. Tweaked item offering, especially expected to meet infants' metabolic and gastrointestinal necessities
Geography
In light of geology, the probiotic ingredients market is essentially fragmented into Europe, North America, Pacific region, South America, Central America, Middle East region. Europe Region accounted largest revenue share 39% in 2022.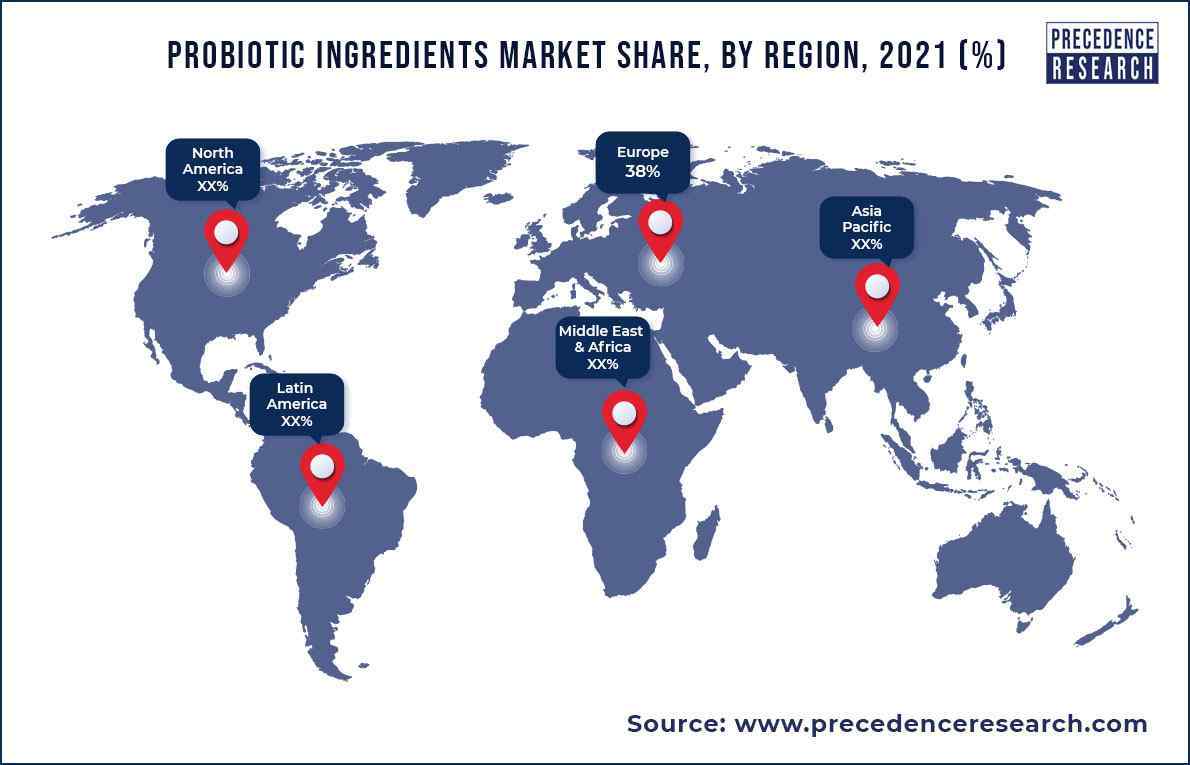 The Asia Pacific probiotics industry is quickly progressing with the rising utilization of drugs and nutraceuticals. In Asia Pacific, nutrients and dietary enhancements request expanded during the COVID-19 pandemic. For instance, individuals have been zeroing in on their wellbeing since the rise of the pandemic, and purchasers are searching out resistance supporting items like L-ascorbic acid or ginseng.
Key Market Players
ProbioFerm
Glac Biotech
DSM
Vitakem Nutraceutical, Inc.
Bio Gaia
Probium

Kerry Group
Key Market Developments
Bowman Daniels Midland Company purchased Deerland Probiotics and Enzymes in November 2021, a probiotic, prebiotic, and chemical innovation pioneer with worldwide deals and assembling in the United States and Europe. The buy will empower ADM to involve Deerland's abilities and portfolio to give collaborations to its Health and Wellness business while likewise supporting advancement all through the Nutrition specialty unit.
Probi entered an essential joint endeavour with the US-based wellbeing and health organization Viva5 Group.
Segments Covered in the report
(Note*: We offer report based on sub segments as well. Kindly, let us know if you are interested)
By Type
Bifidobacterium animalis
Bifidobacterium breve
Bifidobacterium longum
Lactobacillus Reuteri
By Application
Food and Beverages

Dairy Products
Non-dairy Products

Vegetable-based probiotic products
Fruit-based probiotic products
Meat-based probiotic products

Dietary Supplements

Tablets
Probiotic Drinks
Powders
Capsules
Powder
Granule

Animal Feed
By Components
By Form
By End User
Human Probiotic
Animal Probiotic
By Geography
North America
Europe
Asia-Pacific

China
India
Japan
South Korea
Malaysia
Philippines

Latin America

Brazil
Rest of Latin America

Middle East & Africa (MEA)

GCC
North Africa
South Africa
Rest of the Middle East & Africa