The global recyclable packaging market size accounted for USD 26.88 billion in the year 2022 and it is predicted to hit around USD 48.36 billion by 2032, poised to reach at a CAGR of 6.1% from 2023 to 2032.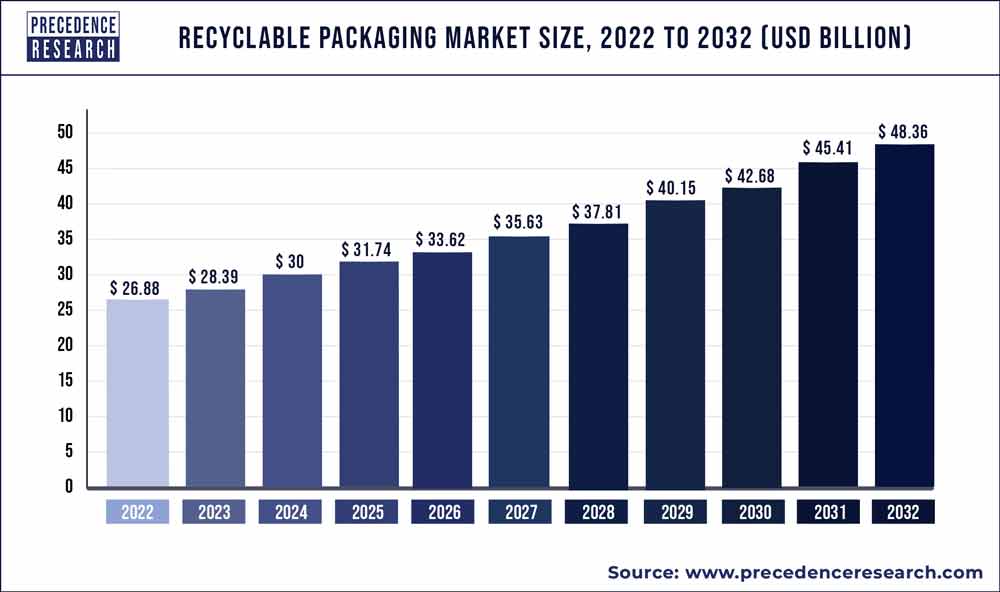 Recyclable packaging is used to enclose or protect products for storage, distribution, and sale, and is utilized with recyclable resources like glass, corrugated cardboard, corrugated cardboard, card, metal, paper, and others. Recyclable packaging materials offer several benefits, including the preservation of natural resources, the reduction of manufacturing energy, and the decrease in greenhouse gas emissions, all of which contribute to lowering the carbon footprint. Recyclable packaging makes trash management simpler because it may be recycled, reused, or biodegraded.
The phrase "recyclable packaging" refers to items sold in recyclable packaging by businesses, individuals, and partnerships. These items are used to enclose or protect goods made of recyclable materials such as glass, card, metal, corrugated cardboard, paper, and others for distribution, storage, sale, and usage. The preservation of natural resources, the reduction of manufacturing energy, and the decrease of greenhouse gas emissions are just a few advantages of recyclable packaging materials, all of which help reduce the carbon footprint. Because recyclable packaging may be recycled, reused, or biodegraded, waste management is made easier. Therefore, it is anticipated that throughout the projection period, demand for recyclable packaging would increase as recycling regulations become more stringent.
The market for recyclable packaging has seen the emergence of eco-friendly packaging as a major trend. Biodegradable, reusable, recyclable, non-toxic, and made from recycled materials are all characteristics of eco-friendly packaging. Utilizing eco-friendly packaging reduces carbon footprint, encourages green living, aids in energy conservation, and also guards against noise, water, and air pollution. For instance, the American multinational consumer products business P&G (Procter & Gamble) began choosing eco-friendly packaging in April 2020. For their deodorant products, companies like Old Spice and Secret Sporting have introduced new environmentally friendly packaging.
Although recyclable packaging is utilized in almost every industry, it is most frequently observed in the food and beverage, wholesale, FMCG, healthcare, retail, and other sectors, to name a few. This brand-new packaging idea has also created new opportunities for creativity, enabling business owners to venture into unexplored terrain.
Growth Factors
Eco-friendly packaging has emerged as a key trend in the recyclable packaging market. Eco-friendly packaging is biodegradable, recyclable, reusable, non-toxic, and constructed from recycled items. The use of eco-friendly packaging decreases carbon footprint and promotes green living which helps to conserve energy and also prevents air, water, and noise pollution. For instance, in April 2020, P&G (Procter & Gamble), an American multinational consumer goods corporation, started opting for eco-friendly packaging. Brands such as Old Spice and Secret Sporting started new eco-friendly packaging for their deodorant products.
Report Scope of the Recyclable Packaging Market
Report Coverage
Details
Market Size in 2023
USD 28.39 Billion
Market Size by 2032
USD 48.36 Billion
Growth Rate from 2023 to 2032
CAGR of 6.1%
Largest Market
Europe
Fastest Growing Market
Asia Pacific
Base Year
2022
Forecast Period
2023 to 2032
Segments Covered

By Packaging Material Type
By Type of Packaging
By End-User Industry

Regions Covered

North America
Europe
Asia-Pacific
Latin America
Middle East & Africa

Key Market Drivers
Growth in FMCG sector and rise in household recycling
The significant expansion of recycled consumer goods for recyclables including paperboard, glass, and metal continues to hold great potential for the market for recycled packaging. While it is estimated that plastic packaging only results in roughly 28% of packaging materials being recovered in the US in industries like food and beverage, that percentage is only significantly higher in Europe, at 40%. However, recycling rates for the typical recycling materials—metal, glass, and paperboard—remain over 80%.
The demand for food and beverages is still at an all-time high in the Asia Pacific, where this trend is predicted to spur significant expansion in new markets. Demand in the Asia Pacific continues to outpace demand in Europe and North America, giving the industry in the area more energy to expand. Over 40% of plastic items globally still wind up in landfills, and 25% are destined for incineration. The market for recycled packaging is expected to rise as a result of growing environmental consciousness, e-impact commerce on the packaging, and the availability of substitutes.
Growing environmental concern and demand for eco-friendly packaging
An important aspect of the environmental issue of reducing, reusing, and recycling is recyclable packaging. It is a significant step in the direction of packaging that is more ecologically friendly. The packaging market has an indirect and direct impact on every industry, including personal care, pharmaceuticals, food and beverage, medicine, and healthcare. This will probably have a long-term positive impact on the worldwide market for recyclable packaging. Another factor influencing the market for recyclable packaging is the rising demand for ecologically friendly products. The worldwide market for recyclable packaging is projected to advance as a result of changes in consumer lifestyle and the purchasing of goods in smaller, proportionate amounts.
Key Market Challenges
The large cost of recycling - Recycling is a process that includes infrastructure, which in turn necessitates high expenditures as well as manpower and technological know-how. With the aid of a well-designed program and the appropriate technology, recycling packaging items may be more effective in terms of energy and other resources.
Key Market Opportunities
Rising efficiency in e-commerce
The demand for strong, secure, and efficient packages continues to benefit throughout the transit of diverse commodities, and the e-commerce industry remains a significant driver for packaging efficiency. Prior to now, the availability of raw materials and the quality of the supply remained important obstacles, and the effectiveness of recycled packaging was a big global problem.
The landscape of the recycled packaging industry is expected to alter soon as a result of expanding regulations in the sector and technological advances in materials like molded fiber. Along with material developments like molded fiber, the technology used to create the material has undergone a sea shift that has enhanced both the quality and rate of production of the final product. With the removal of obstacles to aesthetically pleasing designs and the promise of smooth product finishes, emerging technologies like UFP promise to remain at the forefront of development. Additionally, as e-commerce develops, so does the need for more product information because customers frequently do not view things in their whole form before making a purchase.
Additionally, the UFP technology paves the path for simple labeling, distinctive color coding, and considerable benefits for recyclable materials like molded fibers. The rise of e-commerce, the expansion of technology to support recycling regulations, significant cost-saving benefits, and increased e-commerce growth will all contribute to the market for recycled packaging throughout the projection period.
Increasing knowledge about the importance of recyclable packaging
Consumer awareness of the advantages of recyclable packaging is likely to increase quickly over the course of the anticipated time period, accelerating the expansion of the recyclable packaging market share. Recyclable packaging is a sustainable type of packaging that helps to safeguard the environment by lowering greenhouse gas emissions and packaging trash generation.
In addition, it is anticipated that the introduction of biodegradable packaging materials by businesses, such as bioplastics and biopolymers, for the packaging of a variety of products, including food and beverages, will lead to a significant increase in the size of the recyclable packaging market in the anticipated time period.
Segments Insight
Packaging Material Type Insights
Over the projected period, the paper sector is anticipated to account for the biggest revenue share by packaging material type. Due to well-established recycling streams and procedures, paper-based packaging has the greatest recycling rate of any form of packaging. Before the fibers are too weak to be reused, paper trash can be recycled seven times. Paper packaging provides customers with practical storage that is attractive, simple to use, and particularly ecologically friendly, which are significant reasons fostering this market's expansion.
End User Industry Insights
The beverages section is anticipated to outperform the other categories in terms of revenue share throughout the projection period, according to the end-user industry. Water to alcohol is only a few of the many beverages available, all of which need packaging to be served to customers. Beverages come in a variety of recyclable packaging forms, including glass, aluminum cans, recyclable plastic bottles, and new paper-based water boxes, all of which can help this sector's revenue development.
Regional Insights
With the highest revenue share across regional markets, Europe became the biggest market for accounting and budgeting software in 2022. The region's adoption of stricter goals, such as the requirement for only recyclable packaging and fines for introducing non-recyclable packaging, is largely responsible for the region's revenue growth. Additionally, many businesses are going above and beyond the European Union's already strict recycling standards with Extended Producer Responsibilities, especially in nations like France, Germany, and the United Kingdom (EPRs). Due to the presence of key industry players in the area, such as Amcor, DS Smith, Mondi, and Tetra Laval, the recyclable packaging market in Europe is anticipated to experience strong revenue growth throughout the course of the projection period.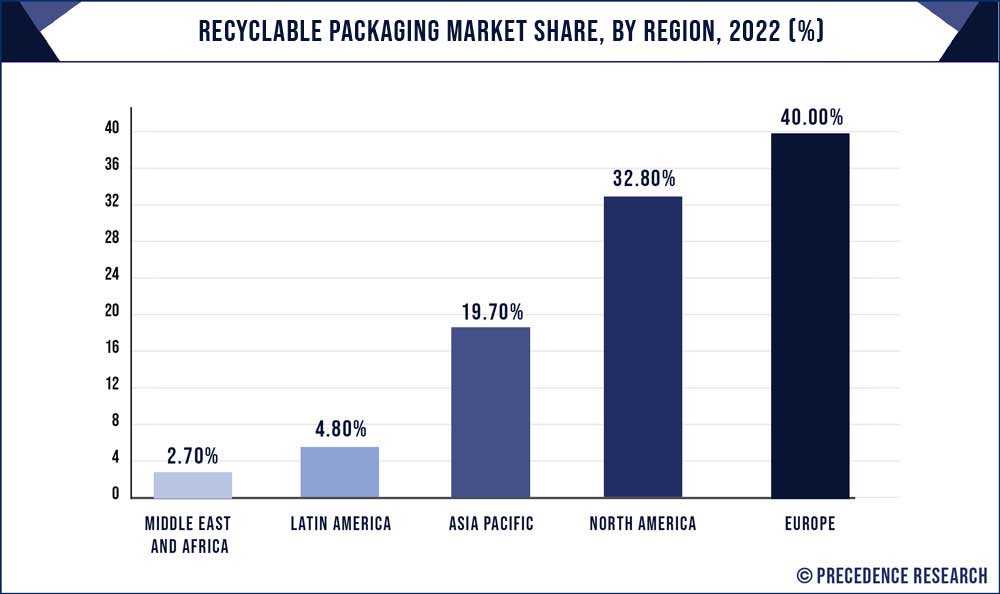 Over the projected period, the market for recyclable packaging in Asia-Pacific is anticipated to develop at the quickest CAGR. The main drivers fueling the growth of the APAC market are rising consumer awareness of recyclable packaging and the popularity of eCommerce. The region's countries, like China and Indonesia, have statewide bans on single-use plastics, which has helped the APAC industry expand.
Recent Developments
Tetra Pak and Stora Enso joined together in July 2021 to boost Poland's beverage carton recycling capacity. The partnership will set up a sizable carton repulping factory at Stora Enso's Ostroka manufacturing site in Poland following a full feasibility assessment. The line will double Poland's ability to recycle beverage cartons annually from 25,000 to 75,000 tonnes.
A new partnership with DuPontTM Tyvek® and recycling partner Freepoint Eco-Systems was announced in Sep 2021, Technipaq Inc., which is a top producer of sterilizable flexible packaging solutions and a DuPontTM Tyvek Converter, is excited to support the company's current sustainability as well as recycling initiatives.
Key Market Players
Amcor
Tetra Laval
Ardagh Group SA
Ball Corporation
Elopak AS
Emerald Packaging
PlastiPak Holdings Inc.
Sealed Air Corporation
Uflex Limited
WestRock Company
Be Green Packaging
DS Smith
DuPont
Evergreen Packaging
Mondi
Bemis Company
Graham
International Paper
TIPA Corp
Nampak
Segments Covered in the Report
(Note*: We offer reports based on sub-segments as well. Kindly, let us know if you are interested)
By Packaging Material Type
Glass
Paper
Plastic
Tinplate
Wood
Aluminum
Biodegradable plastics
Recycled papers
By Type of Packaging
Paper & cardboard
Bubble wrap
Void fill packing
Pouches & envelopes
By End-User Industry
Food
Beverage
Pharmaceutical
Personal Care
Logistics
Others
By Geography
North America
Europe
Asia-Pacific
Latin America
Middle East & Africa (MEA)