The global RF components market size was evaluated at USD 31.64 billion in 2022 and is expected to hit around USD 101.09 billion by 2032 with a noteworthy CAGR of 12.32% from 2023 to 2032.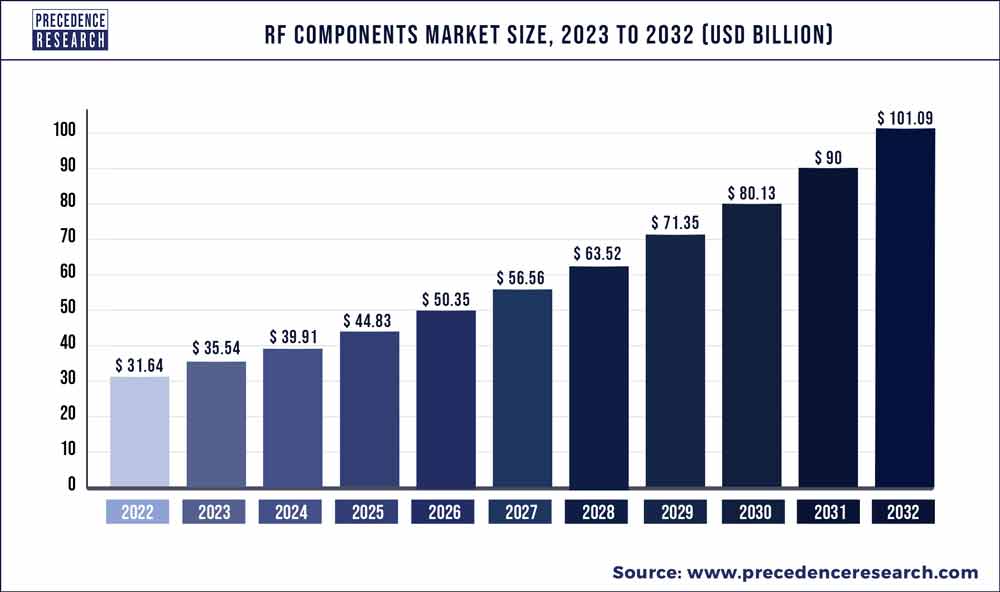 Key Takeaways:
By geography, the Asia Pacific leads the market and generated more than 33% of the revenue share in 2022.
By product, the power amplifiers segment captured more than 35% of revenue share in 2022.
By application, the consumer electronics segment contributed more than 64% of revenue share in 2022.
The demand for high-end telecommunication devices and the growing use of consumer electronics are projected to benefit the expansion of the RF components industry. Moreover, the sector for RF components is expected to expand because of the advancement in technology.
The RF shipboard systems that provide radar communications, electronic support (ES) and electronics attack (EA) activities have been required to operate at ever-higher levels of capability owing to the shifting roles of modern navies. As a result, topside antennas and related equipment are now widely used in naval vessels.
The idea of multifunction RF systems has generated much interest as a strategy to counter this tendency. The Active Electronically Scanned Array (AESA) technology is used in the multifunctional RF system to condense RF functionalities within limited electronics and antenna apertures. Thus, implementing the naval RF system is another factor driving the market growth.
The increasing penetration of electronic devices is significantly driving the growth of the radio frequency components market. Along with this, the growing advancements and innovations in smart sensor products are propelling the market growth of RF components.
For instance, for integration into wearable technology such as fitness trackers, smart scales, sports watches, and smartwatches, Skyworks provides a range of front-end modules and low-noise amplifiers. These parts are made to fit high-performance semiconductors into small, lightweight devices while assisting in the resolution of complex analog designs frequently found in wearable technology. Therefore, it is anticipated that the growing demand for these wearables will fuel the expansion of the RF components market during the upcoming years.
The price of raw materials has increased due to the rising demand for semiconductors in various applications, including the wireless systems, automotive, and consumer electronics sectors. The market has been significantly impacted by the high-rate volatility of many of the raw materials required to produce RF components, as well as by the rising energy costs, fluctuating copper and aluminum prices, and the increasing cost of energy. These factors are expected to repress the market over the forecast period.
Additionally, structural health monitoring (SHM) is essential for guaranteeing the security of immense structures like buildings, pipelines, and trains throughout their operational lifespans. Due to its inexpensive, passive, and maintenance-free advantages, radio frequency identification (RFID), combined with sensors, has gained more attention in SHM over the past few years. As a result, this encourages the deployment of RFID-based SHM beyond small-scale, experimental constructions. First, different topologies that convert RFID into passive wireless sensors are examined, along with their functioning mechanisms and unique applications in SHM, based on an investigation of the fundamentals of the RFID sensing system.
Following that, a summary of the technical issues and their fixes is given based on a thorough investigation. Finally, further directions regarding prognostics for structural health and printable, flexible sensor tags are recommended. This will encourage the use of RFID in SHM and soon generate prospects for the RF component market.
Report Scope of the RF Components Market
| | |
| --- | --- |
| Report Coverage | Details |
| Market Size in 2023 | USD 35.54 Billion |
| Market Size by 2032 | USD 101.09 Billion |
| Growth Rate from 2023 to 2032 | CAGR of 12.32% |
| Base Year | 2022 |
| Forecast Period | 2023 to 2032 |
| Segments Covered | By Product and By Application |
| Regions Covered | North America, Europe, Asia-Pacific, Latin America and Middle East & Africa |

COVID-19 Impact
The market for RF Components is anticipated to be impacted by the COVID-19 pandemic's sudden emergence. In the first half of 2020, the COVID-19 epidemic significantly negatively influenced the market expansion for RF components. To stop the COVID-19 virus from spreading, various regulatory and governmental organizations implemented strict lockdowns at the beginning of 2020. This has led to trade restrictions and disruptions in the raw material and component supply chains, which has decreased market demand for RF components during the epidemic. However, several RF component makers restructured their supply chains by working with local raw material suppliers as of 2022. This should lessen the COVID-19 pandemic's effects on producers in the upcoming years.
Segments Insight
Product Insights
The market for RF components is divided into filters, modulators & demodulators, duplexers, antenna switches, and power amplifiers. The power amplifiers segment generates more than 35% of revenue share in 2022. RF filters rank among the most significant due to their widespread application in electrical, electronic, and communication fields.
For instance, RF filters have always been essential for mobile devices. They are now even more so in the world of 5G since they are vital for enabling the promised high bandwidth, which is anticipated to be the driving force behind many 5G use cases. As a result, in the years to come, RF filters will drive the advancement of 5G technology and the market for RF components.
Application Insights
The RF component market is divided into automotive, consumer electronics, military, and wireless communication segments based on application. The consumer electronics segment generates more than 64% revenue share in 2022. Due to the rapid development and acceptance of industrial IoT technology, the consumer electronics sector has experienced tremendous growth over the past ten years.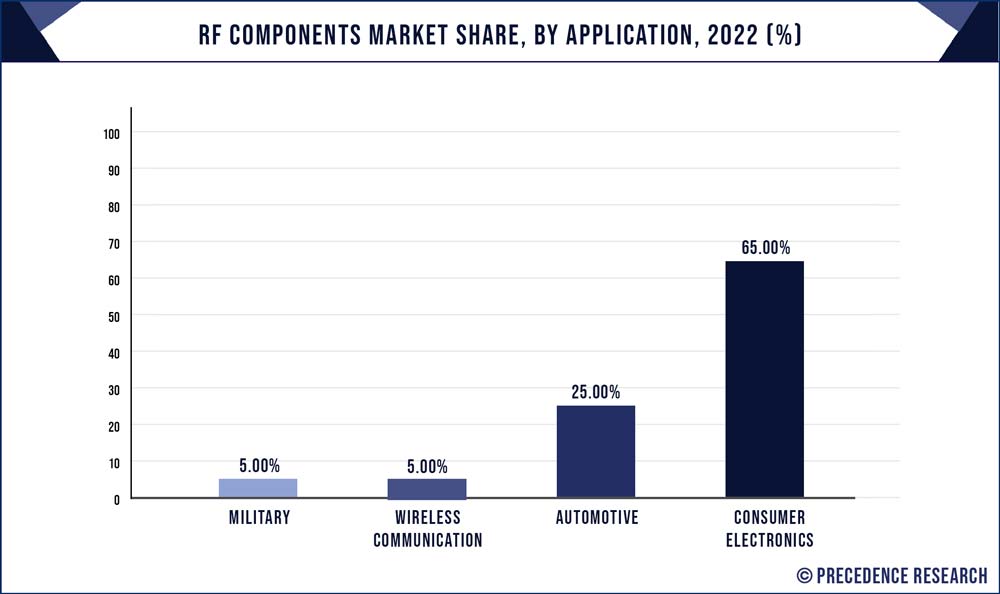 One of the most popular uses for RF amplifiers has been to increase the bandwidth and usefulness of electronic devices. Due to the booming telecommunications industry, RF power amplifiers and other semiconductor products have been gaining traction globally. As a result, these factors support the consumer electronics sector and drive RF components' market revenue.
RF Components Market Share, By Region, 2022 (%)
| | |
| --- | --- |
| Regions | Revenue Share in 2022 (%) |
| Asia Pacific | 33% |
| North America | 29% |
| Europe | 26% |
| Latin America | 8.5% |
| MEA | 3.5% |

Regional Insights
On the basis of geography, The Asia Pacific leads the market and captured more than 33% of the revenue share in 2022. Due to improvements in consumer electronics and rising demand for defense equipment, Asia-Pacific is anticipated to experience the fastest growth during the global RF component market forecast period. Significant growth in South Korea and other important emerging economies will also help to increase demand for the RF component market.
With a sustainable budget and a second phase of funding planned for the next five years, China's massive capital investment project to support the domestic semiconductor industry has begun. RF components are crucial to many wireless applications, including base stations and 5G smartphones.
For instance, by focusing on RF modules, Huawei offers a chance to consider what areas require its attention to build the essential technologies, designs, and intellectual property (IP), which may be expected to generate to design of a whole integrated module system in China. This expands the market for RF components' potential future growth.
The Indian government has also taken many steps to encourage "Make in India" operations through policy assistance programs to modernize India's armed forces and reduce reliance on outside sources for defense procurement, according to statistics from the India Brand Equity Foundation. Examples include the production of drones and unmanned aerial vehicles (UAVs) and strategic systems at the factory run by Aerolloy Technologies, a wholly owned subsidiary of PTC Industries.
Recent Developments
In September 2021, the world's lowest power L1/L5 GNSS receiver chip, BCM4778 from Broadcom Inc., was designed for smartphones and wireless wearable applications. This third-generation chip is 35% tinier and uses 5X less power than the preceding generation while still having the most recent GNSS improvements.
In October 2022, to streamline and speed up the development of Matter devices for smart homes and buildings, NXP Semiconductors recently announced new development platforms that support Matter. With the help of these new Matter development platforms, designers can easily take advantage of NXP's extensive portfolio of processing, connectivity, and security solutions. This will build various IoT devices, from simple gateways with Thread Border Router and Matter Controller capabilities to more complex sensors and actuators that run on batteries.
In March 2022, Resonant Inc., a pioneer in RF filter design, was acquired by Murata Manufacturing Co., Ltd. (hereafter referred to as "Murata Manufacturing" or "Murata") and finalized the transaction.
In November 2022, A 4x4-channel, 76-81GHz transceiver from Renesas Electronics Corporation, a leading provider of advanced semiconductor solutions, was developed to suit the stringent criteria of ADAS (advanced driver assistance systems) and Level 3 and higher autonomous driving applications. Renesas will include the new RAA270205 high-definition radar transceiver in its expanding sensor fusion portfolio, which blends radar, vision systems, and other sensing modalities, drawing on automotive knowledge gathered through years of international customer engagements.
In November 2021, Renesas added the first commercial dual-beam active beamforming IC range to its satellite communications product line.
Company Profiles and Competitive Intelligence
The key players operating in the global RF components market:
Murata Manufacturing Co., Ltd.
Texas Instruments Inc.
Toshiba Electronics Devices & Storage Corporation
Broadcom, Inc.
TDK Corporation
NXP Semiconductors N.V.
Fujitsu LTD.
Renesas Electronics Corporation
Skyworks Solution Inc.
ROHM Co., Ltd.
Segment Covered in the Report
(Note*: We offer report based on sub segments as well. Kindly, let us know if you are interested)
By Product
Filters
Power Amplifier
Modulators and Demodulators
Antenna Switches
Duplexer
Others
By Application
Automotive
Consumer Electronics
Wireless Communication
Military
By Geography
North America
Europe
Asia-Pacific
Latin America
The Middle East and Africa