The global roofing materials market was estimated to US$ 130 billion in 2022 and is expected to hit around US$ 193.35 billion by 2032, poised to grow at a CAGR of 4.10% during the forecast period 2023 to 2032.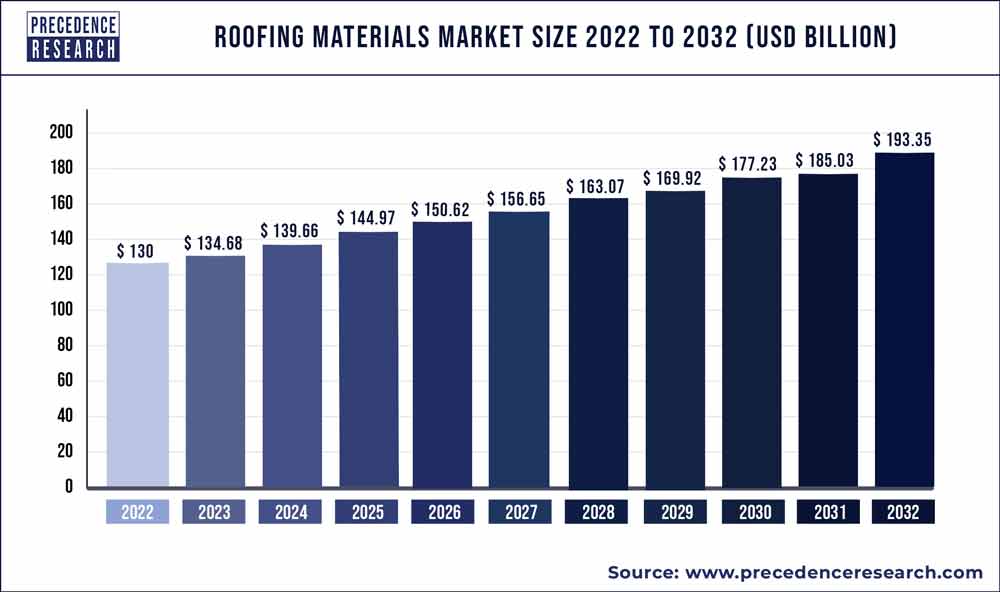 Access our Premium Real Time Data Intelligence Tool, Visit: Precedence Statistics
Roofing Materials Market Size in the Asia Pacific 2023 To 2032
The Asia Pacific roofing materials market was valued to US$ 39 billion in 2022 and is predicted to be worth around US$ 58.57 billion by 2032, at a CAGR of 3.5% between 2023 to 2032.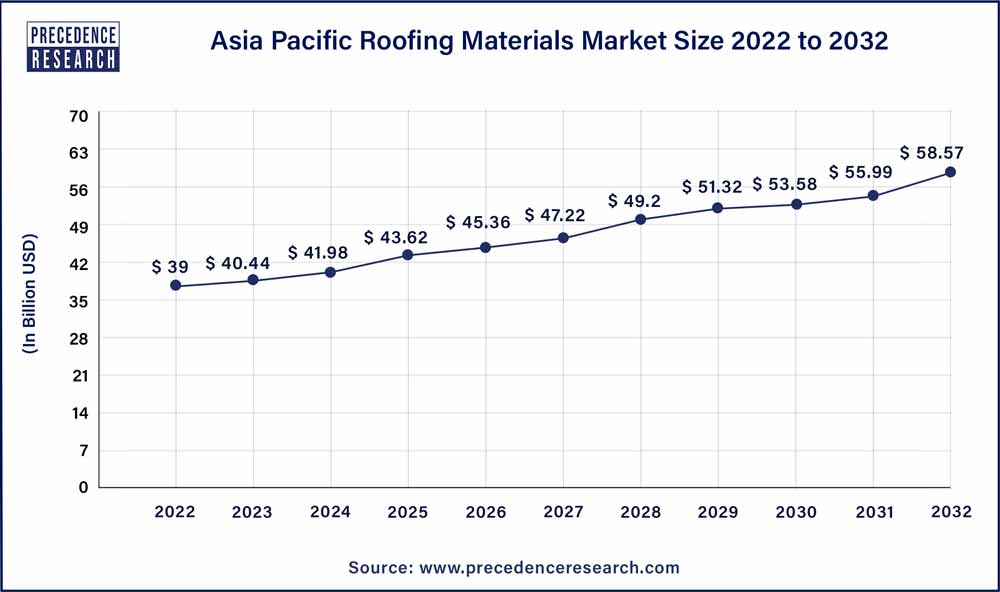 Asia Pacific roofing material market captured more than 30% shares in 2022. This dominance is credited to strong profitable regional growth. In addition, presence of various manufacturers of the product along with the huge population of the region is boosting the growth of the product. Furthermore, this region comprise of more than55% of the global population along with production hub for automotive and electronics industry. Farther rising disposable income and growing domestic sector across Indonesia, China, India, and South Korea are fueling the industry growth.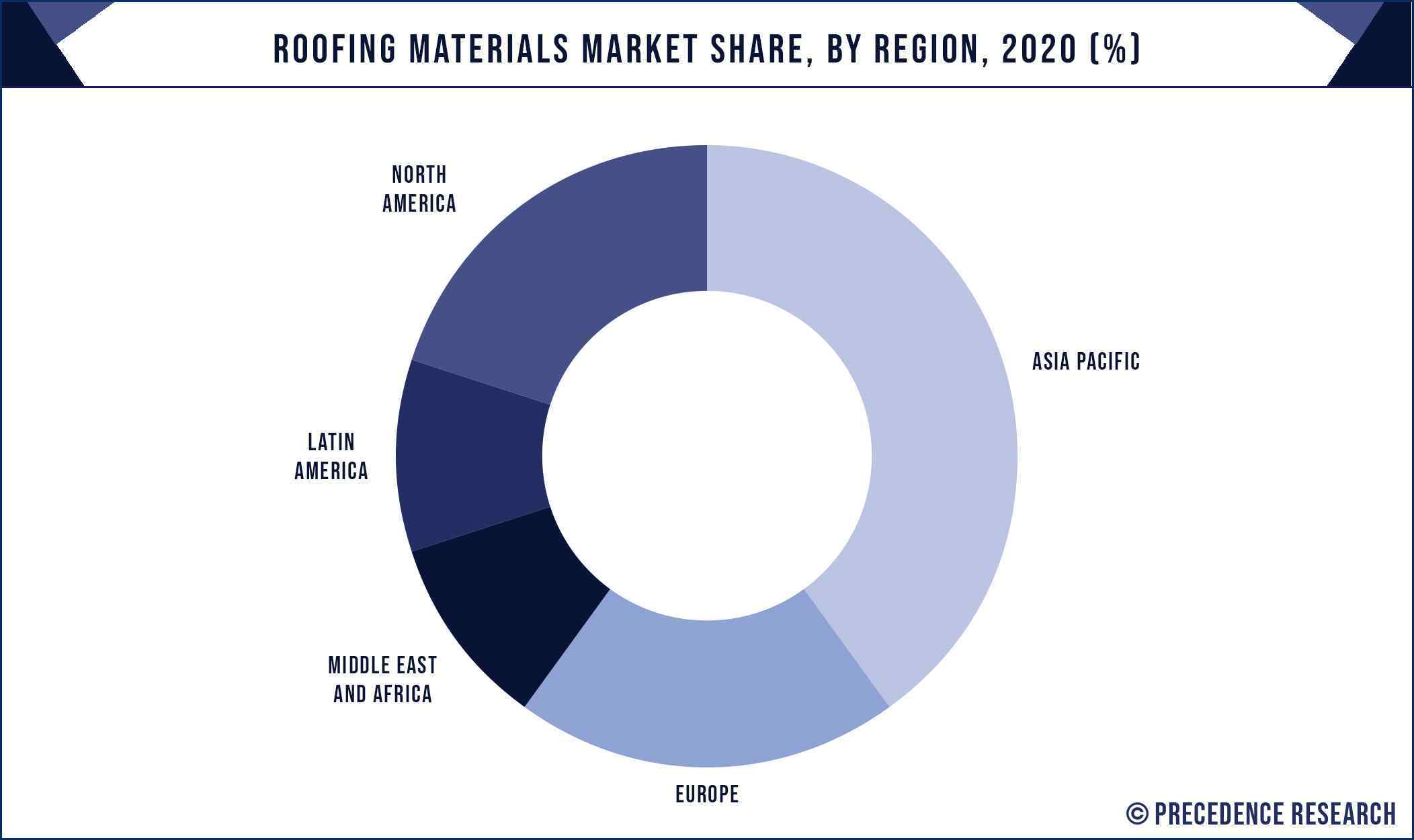 The roofing material demand in the region Asia Pacific is in line with the progress of the sector of construction, which comprise of home renovation and new construction conditioning. Rise in industrial operations, especially in India and China coupled with population expansion, has led to an increased demand for structure and construction activities, latterly driving the demand for roofing material.
In Middle East and Africa, the demand for roofing material is primarily driven by the rapid growth of the domestic construction sector in Kenya, Nigeria, Egypt, and Ethiopia. In addition, the constant construction smash in Qatar, Saudi Arabia, and UAE are producing high demand for the material of roofing.
Growth Factors
Roofing material is material used in the furthermost layer on the roof of home or industrial or commercial space. A wide range of material used in the process is concrete & claytiles, bituminous, elastomers, Metal and plastics, among others. The material offers a wide range of advantages to the structure including water proofing and temperature control. Rising disposable income, increased affordability and easy availability of loans have led homeowners to spend further on home refurbishment and renovation. The rising consumer interest regarding home renovation and enhancing the aesthetics of structures of living provided myriad opportunities for rising products sales. Likewise, strict energy-effective home regulations and growing interest of customers in green buildings will support the penetration of product during the forecast forthcoming time period.
In addition, the emergence of reflective coatings techniques which is further applied over a dark-colored roofing materials is likely to have a positive impact over the market. In addition, reflective coatings show the property of superior heat reflection and it also reduce the overall consumption of energy of the building structure. Superior aesthetics, durability, and installation ease associated with these products are projected to propel the demand for the product. In addition, the usage of 3D printing technology in order to produce numerous roofing structural components systems is likely to boost the demand for roofing materials during the forecast period.
The COVID-19 epidemic has negatively affected the construction industry across the globe. The first half of the year 2020 majorly impacted the construction sector. Further, halt of major marketable & domestic construction systems and countrywide lockdown showcased exponential drop in the deals of roofing material.
Report Scope of the Roofing Materials Market
| | |
| --- | --- |
| Report Coverage | Details |
| Market Size | USD 193.35 Billion by 2032 |
| Growth Rate | CAGR of 4.10% from 2023 to 2032 |
| Base Year | 2022 |
| Largest Market | Asia Pacific |
| Fastest Growing Market | North America |
| Forecast Period | 2023 to 2032 |
| Segments Covered | Type, Application, Construction, Region |
| Companies Mentioned | 3M Company, Atlas Roofing Corporation, BASF SE, Johns Manville, Duro-Last, Inc., E. I. Du Pont De Nemours, Inc., Owens Corning, Sika AG, Standard Industries Inc., The Dow Chemical Company |
Product Insight
Concrete and clay tiles dominated the roofing material market with an economic growth in 2022. These tiles offer advantages similar as superior aesthetics, durability, versatility, and ease of recycling, and hence drive product demand.
The segment named asphalt shingles is likely to register a highest CAGR in during the forecast period. In addition, properties similar as cost- effectiveness, ease of installation, and longer lifetime are anticipated to drive the demand for the product. In addition, it provides water-and algae-resistant parcels with superior quality, which is likely to further boost the segment growth.
In 2022, the segment named metal roof accounted for a share of more than 20% of the market. In addition, metal roofs exhibit superior quality of durability and fire resistance, which is estimated to fuel its demand in new activities of construction. Likewise, the adoption of Metal roofing in artificial operations on account of advantages similar as easy installation is anticipated to drive the segment growth.
The plastic roofs segment is anticipated to register significant CAGR during the forecast period owing to advantages similar as low conservation and ease of installation.
Application Insight
Residential application emerged as the leading segment in 2022 with a share of over 50% in terms of profit in 2022. Growing institutional and governmental support for the housing development structure in arising economies is the factor propelling the demand for roofing material for domestic purposes. Furthermore, the crucial factors driving the demand for roofing material for domestic operations include adding population and growing preference for single- family housing structures. Likewise, the easy availability of low- interest rates and credits plays an essential part in the overall demand for residential buildings.
Upsurge in investments for the construction and renovation of social architectures, similar as hospitals, educational buildings, government services, and correction installations is anticipated to drive the demand for roofing material for non-residential application.
Likewise, the surge in popularity of online shopping is anticipated to boost the growth of marketable construction units similar as sorting installations, storages, and distribution centers. Growing investments in the development of data centers by major technology enterprises similar as Microsoft, Google, and Amazon is also projected to positively impact the implicit demand for roofing material.
Key Market Developments
In January 2021, the key player named LafargeHolcim announced its new market strategy which was the acquisition with the company named Firestone Building Products (FSBP). FSBP is a US-based company and is a market leader in commercial roofing and building envelope solutions. Therefore, this acquisition will aid the company, LafargeHolcimin order to become the global leader in sustainable building solutions and innovative.
The roofing material market is highly fragmented with the presence of several local and global companies. These market players are striving to gain higher market share by adopting strategies, such as investments, partnerships, and acquisitions & mergers. Companies are also spending on the development of improved products. Moreover, they are also focusing on maintaining competitive pricing.
Key players operating in the market are majorly focusing towards increasing their market share by offering a varied range of easy, durable and quick to install roofing materials. Moreover, these key players have further developed an extensive authorized roofing contractor's network in order to ensure the roof installation quality in order to increase their customer base. Also, the key market players include in the study of roofing material market are Boral Ltd., GAF Materials Corporation, BraasMonier Building Group, Atlas Roofing Corporation, Owens Corning, Carlisle Companies Inc. and Johns Manvill.
Some of the prominent players in the global Roofing materials Market include:
3M Company

Atlas Roofing Corporation

BASF SE

Johns Manville

Duro-Last, Inc.

E. I. Du Pont De Nemours, Inc.

Owens Corning

Sika AG

Standard Industries Inc.

The Dow Chemical Company
Segments Covered in the Report
By Product
Asphalt Shingles

Concrete & Clay Tiles

Metal Roofs

Plastics

Bituminous

Elastomer

Others
By Application
Non residential

Residential
By Construction
New construction

Reroofing
By Geography
North America
Europe
Asia-Pacific

China
India
Japan
South Korea
Malaysia
Philippines

Latin America

Brazil
Rest of Latin America

Middle East & Africa (MEA)

GCC
North Africa
South Africa
Rest of the Middle East & Africa