The global rooftop solar photovoltaic market size was valued at USD 101.55 billion in 2022 and is expected to hit around USD 434.63 billion by 2032, poised to grow at a compound annual growth rate (CAGR) of 15.70% from 2023 to 2032.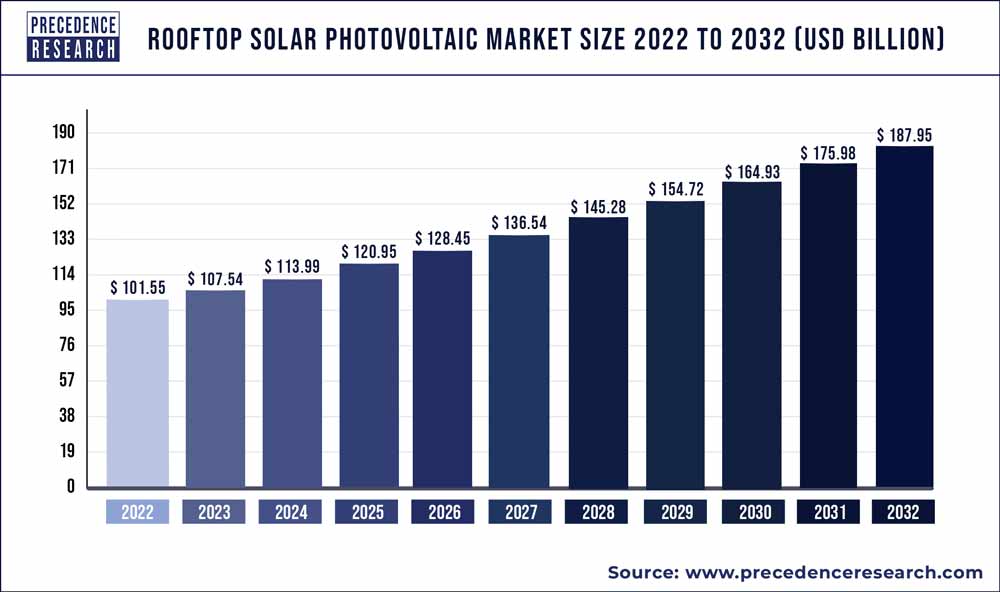 Access our Premium Real Time Data Intelligence Tool, Visit: Precedence Statistics
Key Takeaways:
Asia Pacific region accounted largest market share of around 42% in 2022
On-grid segment has contributed 77% of revenue share in 2022
By technology, thin film segment accounted market share of over 37% in 2022
In 2022, crystalline silicon segment has garnered 32% market share
By application, the industrial sector garnered 43% of market share in 2022
In 2022, commercial segment accounted 32% of market share
A photovoltaic (PV) system consists of one or more solar panels, an inverter, and other mechanical and electrical components that harness solar energy to produce electricity. The photovoltaic effect is the mechanism through which sunlight, which is composed of energy packets called photons, strikes a solar panel and generates an electric current. Each panel generates a relatively little quantity of electricity, but when connected to other panels, a solar array can generate much more energy. Moreover, the size of solar photovoltaic systems can range widely, from compact rooftop or portable systems to enormous utility-scale generation facilities.
The most well-known aspect of solar energy is that it is a clean, environmentally friendly form of energy. Your carbon footprint can be significantly reduced by using solar energy. Nothing about solar energy pollutes the environment. It is therefore secure and environmentally responsible. It is independent, and adding solar panels to your roof is a secure and simple way to support a sustainable future.
Growth factors
The rooftop solar model is crucial in assisting distribution businesses in lowering their peak-hour demand while also lowering the transmission and distribution losses connected to on-site electricity generation and consumption. The model is essential for preventing the need for commercial transmission system investments. Most importantly, it lessens reliance on grid power and diesel generators by serving as a constant, long-term, and reliable source of energy for users.
Comparing the rooftop solar concept to commercial and industrial electricity shows how cost-effective it is. The tariff rates have been reduced by up to 25%. The residential sector benefits from the rooftop solar concept as well because it may provide power directly to their buildings through the grid. In terms of tariff rates, this model is not only affordable but also has the potential to be longer-lasting and more reliable. Rooftop solar systems are a practical choice since they can be erected in a variety of places, including the rooftops of residential and commercial buildings as well as over parking lots, using the balance of the system, which includes inverters, and monitoring equipment. Rooftop solar applications can use capacities ranging from 1 Watt to several GW, both on and off the grid. This makes rooftop solar panels a widely favored source of energy over other environmentally friendly alternatives. Rooftop solar system demand is primarily fueled by a number of incentive programs, including premiums for the feed-in of excess power produced by self-consumption systems, tax credits, traditional feed-in tariffs or Power Purchase Agreements, and renewable portfolio standards and tenders that are technology-specific.
Moreover, the technology advancements lead to more efficient solar panels that further driver the growth of the market.
Report Scope of the Rooftop Solar Photovoltaic Market
| | |
| --- | --- |
| Report Coverage | Details |
| Market Size in 2023 | USD 116.99 Billion |
| Market Size by 2032 | USD 434.63 Billion |
| Growth Rate from 2023 to 2032 | CAGR of 15.70% |
| Base Year | 2022 |
| Forecast Period | 2023 to 2032 |
| Segments Covered | Technology, Grid Type, End Use, Geography |
| Companies Mentioned | Sharp Corporation, Pristine Sun LLC, Solimpeks Corp., Yingli Solar, Vikram Solar Limited, Trina Solar Limited, KYOCERA Corporation, JA Solar Co., Ltd., Canadian Solar Inc., RelyOn Solar Pvt, Ltd, Sunshot Technologies |

Technology Insights
Depending upon the technology, the crystalline silicon segment is the dominant player and is anticipated to have the biggest impact on rooftop solar photovoltaic market due to its long lasting application. There are numerous 20–25 year warranties, and 30-year guarantees are typical. According to some estimations, crystalline solar panels could continue to provide electricity that is useful for up to 50 years. Moreover, it is more resistance to breakages the tempered glass shields the crystalline cells and enables them to survive flying debris, such as that produced by a windstorm. Tempered glass is incompatible with thin film, while flat glass is more delicate. But other surfaces, including plastic and metal, can also be coated with thin layer to increase their durability.
The cost of thin film panels, which is around 30% less than that of crystalline panels, has been one of its main advantages. This is primarily because of the module and the installation procedure.
Rooftop Solar Photovoltaic Market Share, By Grid Type, 2022 (%)
| | |
| --- | --- |
| Grid Type | Revenue Share in 2022 (%) |
| Off-grid | 26% |
| On-grid | 74% |

Grid Insights
During the projected period, the off-grid segment is anticipated to be growth at a highest CAGR from 2023 to 2032. Government demands for solutions with a sustainability focus are driving the off-grid solar business. Intense electricity prices and the almost complete depletion of fossil fuel reserves may drive up demand. Using off-grid solar power systems to power remote communities and illuminate villages can also increase demand. Solar panel manufacturers may receive subsidies, and incentives may be given to communities to install solar panels, which could promote market expansion.
On-grid solar power systems are directly connected to the utility power grid and use a solar power system to generate electricity. This is anticipated to show significant improvements in the rooftop solar photovoltaic market. These systems feed surplus solar electricity generated back into the utility grid, and consumers are paid for the extra power used. The electrical grid and these systems function together. The system operates on grid electricity when there is not enough sunshine to meet the needs of your company. When power usage is excessive and you want to lower your electricity bills, these systems are best suited. It is possible to deploy on-grid systems with or without net metering. These systems do not function when the power is down since they are linked to the main grid.
End Use Insights
On the basis of end use, the residential segment is dominating the market. The demand for solar photovoltaic systems in the residential sector is growing primarily due to anticipated electricity cost savings, the necessity for a backup electrical supply, and the desire to reduce the risk of climate change. Moreover, in recent years, the price of residential rooftop solar PV applications has dropped significantly. Global residential photovoltaic capacity has significantly increased as a result of cost reduction.
Large power facilities typically deliver electricity across large networks to final consumers. Transmission across long distances results in power losses. Considering the close distance, rooftop solar power is beneficial in improving electricity efficiency. Domestic energy is now in charge of its own bills and energy consumption. Additionally, since solar power systems are robust, there is less danger of service disruption.
The industrial segment has shown significant increase in the rooftop solar photovoltaic market. As the solar energy is environment friendly and does not harm the climate, it is mostly preferred. As industries are bound with certain rules and regulations by government, it has been imposed to industries to use alternative energy in order to save natural resources and more depend on solar energy.
Rooftop Solar Photovoltaic Market Share, By Region, 2022 (%)
| | |
| --- | --- |
| Regions | Revenue Share in 2022 (%) |
| North America | 32.3% |
| Asia Pacific | 42% |
| Europe | 18.2% |
| Latin America | 5.2% |
| MEA | 2.3% |

Regional Insights
The highest market share and dominant position in the rooftop solar photovoltaic industry belongs to Asia-Pacific due to high demand of energy. This region includes countries like China, India, Japan, South Korea, and rest of the world. The rise in urbanization and industrialization is responsible for the growing needs of energy. The residential need of energy and their consumption has seen a sudden strike due to rising living standards of people in this region. The industry in China, Japan, and India is being driven by favorable government policies that offer financial incentives and subsidies for solar PV projects, together with the existence of major market participants.
Europe is anticipated to hold a significant portion. In Europe, Germany is anticipated to hold a sizable portion of the market. The expanding rooftop solar photovoltaic capacity is being boosted by the trend of producing more electricity using renewable sources. The market in the region is also being driven by strict regulatory regulations pertaining to the deployment of sustainable energy. By expanding access to renewable energy, it is anticipated to lessen reliance on conventional and imported energy. Solar energy usage is more dependable than using conventional electricity.
Key market developments
Khimji Ramdas (KR) has announced a strategic partnership with Nafath RE, a top SME in the renewable energy sector, to design, develop, install, and commission Solar Energy systems in the Sultanate of Oman. This comes as Oman begins to work toward achieving its ambitious goal of converting 30% of its energy sources to renewable energy by 2032. The partnership signing ceremony was organized to mark the installation of Oman's first significant 1 MW rooftop solar PV plant.
Key market players
Sharp Corporation
Pristine Sun LLC
Solimpeks Corp.
Yingli Solar
Vikram Solar Limited
Trina Solar Limited
KYOCERA Corporation
JA Solar Co., Ltd.
Canadian Solar Inc.
RelyOn Solar Pvt Ltd
Sunshot Technologies
Segments covered in the report
(Note*: We offer report based on sub segments as well. Kindly, let us know if you are interested)
By Technology
Thin Film

Crystalline Silicon

Others
By Grid Type
By End Use
Residential

Industrial

Commercial
By Geography
North America
Europe
Asia-Pacific

China
India
Japan
South Korea
Malaysia
Philippines

Latin America

Brazil
Rest of Latin America

Middle East & Africa (MEA)

GCC
North Africa
South Africa
Rest of the Middle East & Africa