The global silicon tetrachloride market size was valued at USD 2.18 billion in 2021 and is expected to hit USD 3.35 billion by 2030, exhibiting growth at a CAGR of 4.9% during the forecast period 2022 to 2030.
Crucial factors accountable for market growth are:
High demand for smartphones and other hand-held multimedia devices
Growing demand for fiber optics
Development of advanced communication equipment's
Increasing applications of fiber optics in aerospace and oil and gas industries
High growth in the consumer electronics sector
Growing semiconductor market
Increasing market for solar PV
Launch of 5G services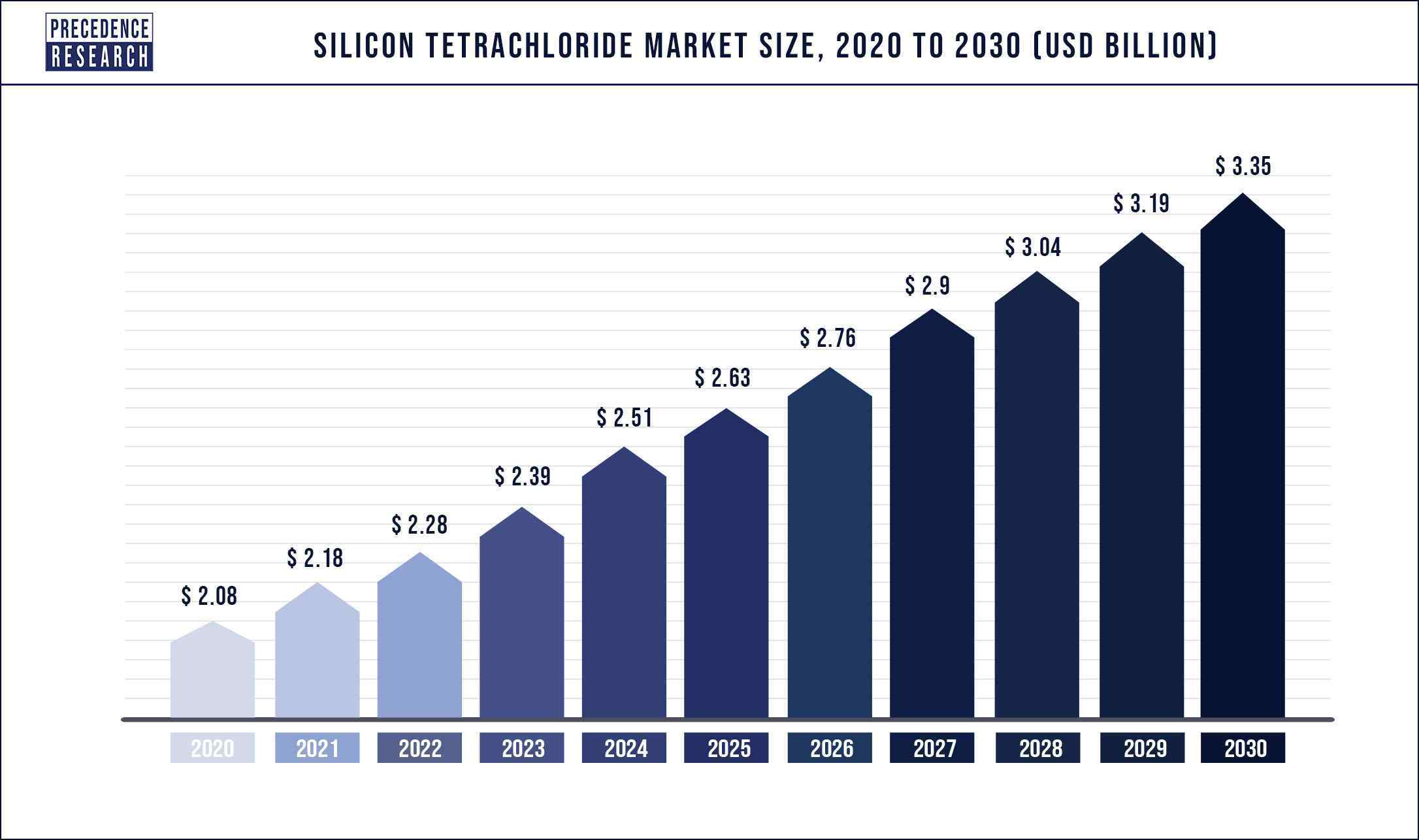 Major Trends in the Silicon Tetrachloride Industry:
Rising consumption of silicon tetrachloride for polysilicon manufacturing is the primary driver of the silicon tetrachloride market. Hence, burgeoning demand for polysilicon is ultimately propelling the growth of the silicon tetrachloride market. Solar technology is among the fastest-growing segment in the energy and power industry. More than 90% of the solar cells are manufactured from polysilicon. Growing energy demand, environmental concerns regarding fossil fuels, rapidly declining cost of photovoltaic cells, and increasing awareness regarding green energy are some of the factors likely to boost the demand for polysilicon. Furthermore, huge investment in solar technology from several governments across the globe is further stimulates silicon tetrachloride consumption in solar applications.
Fiber optics is considered the backbone of the 21st-century's advanced growth, especially in the communication sector. Germanium tetrachloride (GeCl4) along with silicon tetrachloride (SiCl4) are the major raw materials used for optical fiber manufacturing. Optical fibers are manufactured from processes like plasma chemical vapor deposition/modified chemical vapor deposition where high purity silicon tetrachloride is required. Since the last decade, optical fiber is witnessing significant growth owing to the rapidly advancing telecom industry, deployment of 3G/4G/5G, LTE, FTTX, and growing integration of IoT are likely to propel the demand for optical fiber. The growing need for optical fiber for a high-speed broadband network is likely to create lucrative opportunities for silicon tetrachloride, especially in under developed and developing economies. The share of internet users was less than 1% of the total population in 1995 and which is increased to around 40% in 2016. The growing trend towards IoT is likely to boost the demand for fiber optics which positively affects the silicon tetrachloride. Even during the pandemic, several companies such as Apple, Samsung, and Google among others have introduced their IoT-based products at Consumer Electronics Show (CES) and Mobile World Congress. Fiber optics are likely to grow at more than 10% of CAGR during the next five years which is likely to support the growth of the silica tetrachloride during the forecast period.
COVID-19 Impact on Global Silicon Tetrachloride Market
The silicon tetrachloride market has adversely affected due to the swift spread of the COVID-19 pandemic. Major consumers and producers of silicon tetrachloride such as the U.S., China, India, and Europe have been severely affected by COVID-19 that leading to supply chain disruptions. Major end consumers of silicon tetrachloride such as solar technology and fiber optics are also among the severely affected sectors which further strengthen the impact on the silicon tetrachloride market. China is the major raw material provider for the solar and fiber optic industries and international border closure has restricted the import-export of the required resources.
Scope of the Silicon Tetrachloride Market
| | |
| --- | --- |
| Report Highlights | Details |
| Market Size | USD 3.35 Billion by 2030 |
| Growth Rate | CAGR of 4.9% From 2022 to 2030 |
| Base Year | 2021 |
| Historic Data | 2017 to 2021 |
| Forecast Period | 2022 to 2030 |
| Segments Covered | Grade, Derivatives, Application |
| Regional Scope | North America, Europe, Asia Pacific, Latin America, Middle East & Africa (MEA) |
| Companies Mentioned | Momentive Performance Materials, Heraeus Holding, Linde Plc, Evonik Industries AG, Dow Corning (Dow), Air Products and Chemicals Inc., Tokuyama Chemicals (Zhejiang) CO. Ltd., OCI Co. Ltd., Shandong Xinlong Group Co. Ltd., Air Liquide S.A. |
Significant Market Trends:
Electronics Grade Segment Reported Foremost Market Stake in 2020
The electronics grade displayed the major share in the worldwide silicon tetrachloride market in 2020. Major applications in the field of semiconductors and PV (photovoltaic) cells are the significant factors for highest industry stake of electronics grade segment. The aspects such as implementation in new sectors are anticipated to hold the dominance of electronics grade silicon tetrachloride in the near future.
Polysilicon Derivatives Dominated the Market Revenue
Polysilicon is a chief feedstock substance used for the manufacturing of solar cells in recent times. Other factors aiding high market share of polysilicon are greater demand in electronics and solar photovoltaic industry.
Chemical Intermediate Will Dominate the Silicon Tetrachloride Market Revenue By Application
Silicon tetrachloride is used as an intermediary for manufacturing silicon-based commodity. Optic fiber preform segment is expected to grow at the highest growth rete through the estimate duration.
North America is Estimated to be the Largest Market for Silicon Tetrachloride
The comprehensive research account covers substantial projections and inclinations of silicon tetrachloride throughout chief regions encompassing Africa, Asia Pacific, Europe, Latin America, North America, Middle East, and. By region, silicon tetrachloride market is led by Asia Pacific due to high demand for fiber optics and high smartphone use. North America accounted for subsequent highest stake chiefly due to existence of skilled professionals and early adoption of latest communication technologies. Asia-Pacific is also estimated to observe a rapid progress rate, in consequence of increasing outlay by governments on state-of-the-art technologies.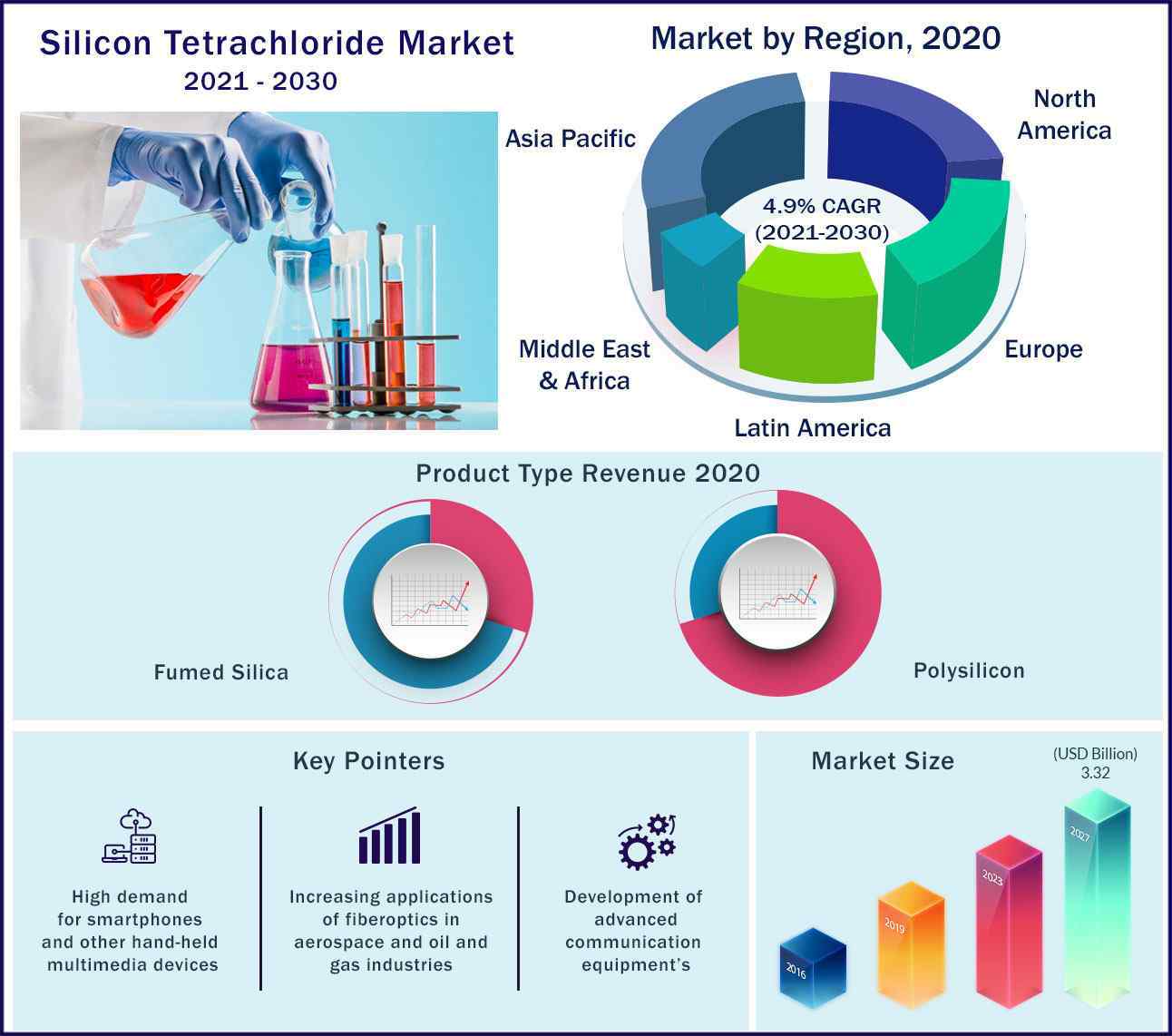 Top Players contending in the Market:
The companies focusing on research and development are expected to lead the global silicon tetrachloride market. Leading competitors contending in global silicon tetrachloride market are as follows:
Momentive Performance Materials
Heraeus Holding
Linde Plc
Evonik Industries AG
Dow Corning (Dow)
Air Products and Chemicals Inc.
Tokuyama Chemicals (Zhejiang) CO. Ltd.
OCI Co. Ltd.
Shandong Xinlong Group Co. Ltd.
Hubei Jingxing Service and Technology Co. Ltd.
Air Liquide S.A.
American Elements
In order to well recognize the present status of silicon tetrachloride, and policies implemented by the foremost nations, Precedence Research projected the future progress of the silicon tetrachloride market. This research report bids quantitative and qualitative insights on silicon tetrachloride market and valuation of market size and progress trend for probable market segments.
Major Market Segments Covered:
By Grade
Technical Grade
Electronics Grade
By Derivatives
By Application
Silicone Rubber
Optic Fiber Preform
Chemical Intermediate
Others
By Geography
North America
Europe

Germany
France
United Kingdom
Rest of Europe

Asia Pacific

China
Japan
India
Southeast Asia
Rest of Asia Pacific

Latin America

Brazil
Rest of Latin America

Middle East & Africa (MEA)

GCC
North Africa
South Africa
Rest of Middle East & Africa